Things To Do This Summer in Halton , Hamilton and Niagara
Welcome to our summer adventure guide in the beautiful regions of Halton and Hamilton! With the warm sun shining, clear blue skies, and endless possibilities, it's time to embark on a thrilling journey and make the most of this summer season.
Halton and Hamilton offer an abundance of exciting activities and attractions for every kind of adventurer. Whether you're a nature enthusiast, a history buff, a food lover, or simply seeking some outdoor fun, this region has something special in store for you.
Nature lovers can explore the breathtaking Royal Botanical Gardens in Burlington, stroll through the mesmerizing trails of Crawford Lake Conservation Area, or embark on a thrilling hike along the stunning Bruce Trail. You can also cool off at the splash pads or enjoy a day of swimming at the pristine beaches nearby.
For those interested in history and culture, Halton and Hamilton boast a rich heritage. Discover the fascinating Canadian Warplane Heritage Museum, explore the historical sites of Dundurn Castle and Griffin House, or take a step back in time at the Ireland House Museum.
Food enthusiasts will delight in the diverse culinary scene, with vibrant farmers' markets offering fresh produce and local delicacies. Enjoy a farm-to-table dining experience or embark on a wine tour in the scenic vineyards of Niagara Escarpment.
Whether you're seeking adventure, relaxation, or cultural immersion, Halton and Hamilton have it all. Join us as we delve into the best summer activities, hidden gems, and memorable experiences that will make this season one to remember. So, let's dive in and create unforgettable memories in Halton and Hamilton this summer!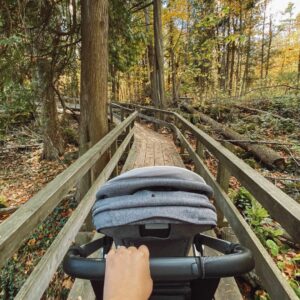 Here are some of the best-loved and most recommended stroller-friendly trails in Burlington, Oakville and Hamilton. We asked our followers with wee ones where they love to walk with their wagons and wheels.