Burlington has 10 skateboard and scooter parks spread out across the city. Each one has different benefits, and we've laid it all out here to help you choose your next destination.
Looking for more skate parks to visit? Take a short drive to a neighbouring city to test out their facilities. Click here to find a new-to-you park: Hamilton Skate Parks and Oakville Skate Parks.
Skateboard and Scooter Parks in Burlington
Brant Hills
2300 Duncaster Drive (Brant Street between Upper Middle and Dundas Street)
This skate park is small, which makes it less busy than some of the bigger parks. Perfect for a novice to practise on, with a small bowl, short rail, and a couple of ramps. Located beside the tennis courts at Brant Hills Community Centre.
DesJardines Park
1811 Imperial Way (Appleby Line and Upper Middle)
This park has a few apparatuses like a ramp, a rail and raised platforms which are a great intro to learning to ride down the stairs (eek!). Not very big, but there's a park nearby to play at if you need a break.
Kilbride Skate Park
2175 Blessington St. (Off Killbride, between McNevin and Twiss)
Kilbride Skateboard area is a multi-use skatepark for scooters, skateboards and bikes. It is 33 feet wide by 84 feet long that features a quarter pipe with a 4-foot high platform, 2 sided ramp with rail, another rail at ground level and a half-circuit concrete pump track.
Kiwanis Skate Park
494 Townsend Ave (King Road and Plains RoadEast area)
This skate park is mostly a flat surface with a rail and a small ramp. It's perfect for novices on skateboards and scooters.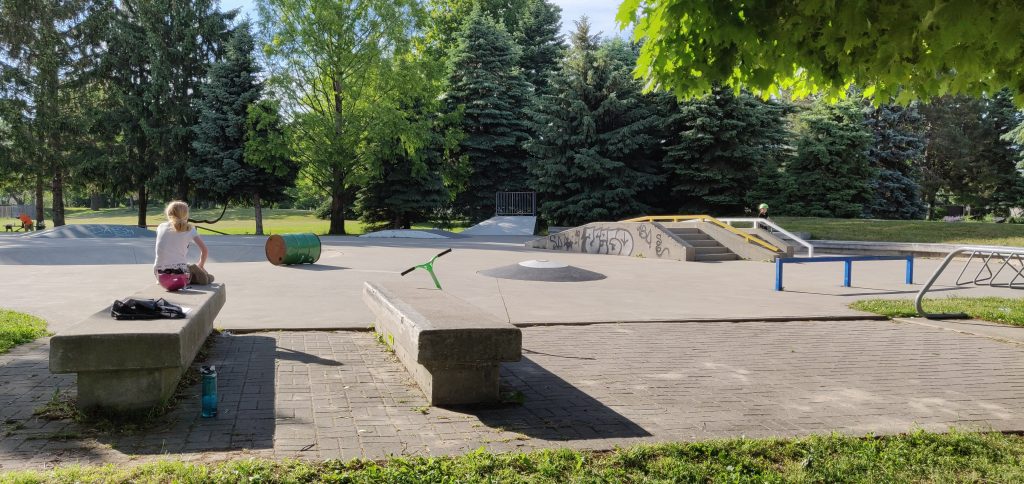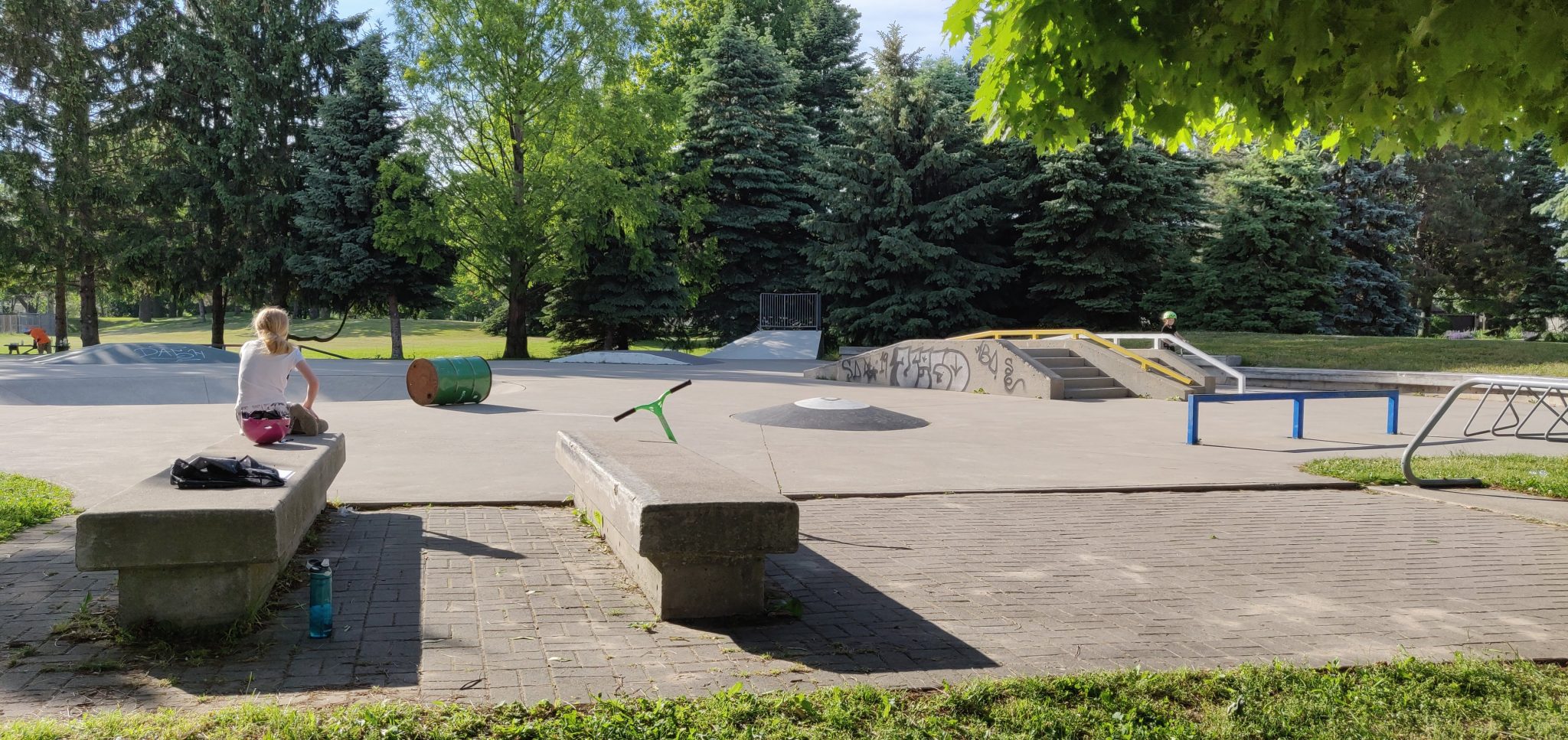 Maple Skateboard and Scooter Park
750 Maple Avenue (Maple Ave, between Lakeshore and Fairview)
Maple Park is my home park and it's a great one (if I do say so myself!). The skatepark has a little something for each age group and skill level. There's a deep bowl, rails and ramps, plus curved walls and stairs. It's a favourite for many skill levelled riders. Lots of parking is available, so come to visit!
Mountainside Skate Park
2205 Mount Forest Drive (just off Mount Forest Drive)
My kids have always liked this skate park because it's a great mix of easy and challenging obstacles. Ramps, jumps, bumps and rails.
Nelson Skate Park
4183 New Street (New Street right in the middle of Walkers and Appleby Lines)
This is a great mid-size skate park with stairs, rails, and ramps. Right beside a newly-renovated park and the Nelson Dirt Jumps so bring your BMX bike, too!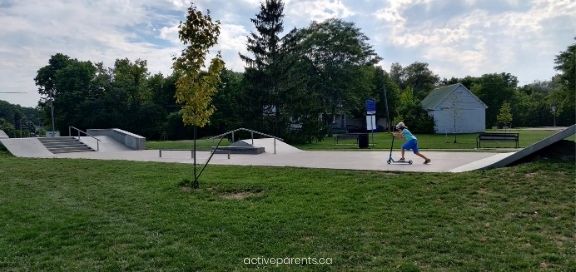 Norton Skate Park
3035 Tim Dobbie Drive (at Alton Library)
Located at Norton Park, right beside the Alton Library branch, this is Burlington's biggest skate park. It's always a favourite for skaters of every age and skill level, but if you're a seasoned skater, this is a place to be challenged! So many ramps and rails and grinds. Every skateboarder to scooter fan will love it.
Orchard Skateboard Park
2255 Sutton Drive
This skate space is a long concrete slab with ramps, stairs and a rail. The length is great for gaining speed!
Palladium Skate Park
4130 Palladium Way (Walkers Line just north of Dundas)
Lots of space to roll around at Palladium! Rails and ramps to challenge your skaters.
Safety First when Skateboarding and Scootering in Burlington
Before you head out, make sure you've got all of the safety gear you need to make your day as safe as it is fun. There is nothing fun about head injuries. Read some safety tips here from the Hamilton Police Services:
Why is Safety Important?
It is easy to lose your balance on a skateboard, especially for beginners. Most injuries that occur happen to people under the age of 15, many of which are beginner skateboarders.
However, experienced skateboarders have accidents too. As the difficulty of their tricks increases, so does their risk of falling and getting hurt.
Wearing Appropriate Gear
It is important that you wear the proper safety gear to avoid injury.
Here are some tips to get you started….
Skateboard – Ensure that your skateboard is in good working condition. Check for cracks, damaged wheels and loose parts before you skate.
Helmet – A helmet is a MUST! Get a helmet that is specifically designed for skateboarding.
Shoes – Never wear sandals when you skateboard. Invest in a good pair of closed shoes with soles that have a good grip.
Knee & Elbow Pads – Pads are recommended for beginner and experienced skateboarders. Ensure that your pads have a hard plastic shield on the outside with no cracks. The pads should fit snugly and still allow you to move freely.
Where to Ride
It is important to ride on surfaces that are smooth and free of rocks, sticks and other obstacles. Skate parks are a great place to ride, however, ensure that you obey all the rules governing the use of the park.


Looking for other great ways to spend some time outdoors?
Try geocaching with the kids! It's a free treasure hunt in the city.
Creek walking in an adventure to cool you down.
Check out one of our favourite day trips and destinations!
find more parks in the area here
We can help you find more outdoor fun here, or check our Calendar and see what's happening right now! If you're in a playground mood, we've got tons of recommendations for them below!