Burlington is consistently voted one of the best cities for families in Canada, and we couldn't agree more. But it doesn't have to cost an arm and a leg to play here! We have a long list of great things to do with kids in Burlington today. Some are well-known places to visit and some are hidden gems only the locals know about. We are bringing you our favourite free and cheap things to do with kids in Burlington. And expect this list to grow as we find more and more free, local adventures.
Love Cheap Thrills? Don't miss these Free Things in Hamilton!
Our favourite inexpensive and Free Things To Do In Burlington With Kids
Ice Skate at Burlington Rotary Centennial Pond at Spencer Smith Park
Ice skating at the waterfront is a great family activity. Skaters of all ages and abilities love spending a winter day here. The rink has some skate aids they lend out, and they lend out skates and helmets at no cost. Lending is available evenings, weekends and school holidays (but not during weekdays).
There are washrooms on-site and parking is free and paid depending on the day/time you go. Cost: Free!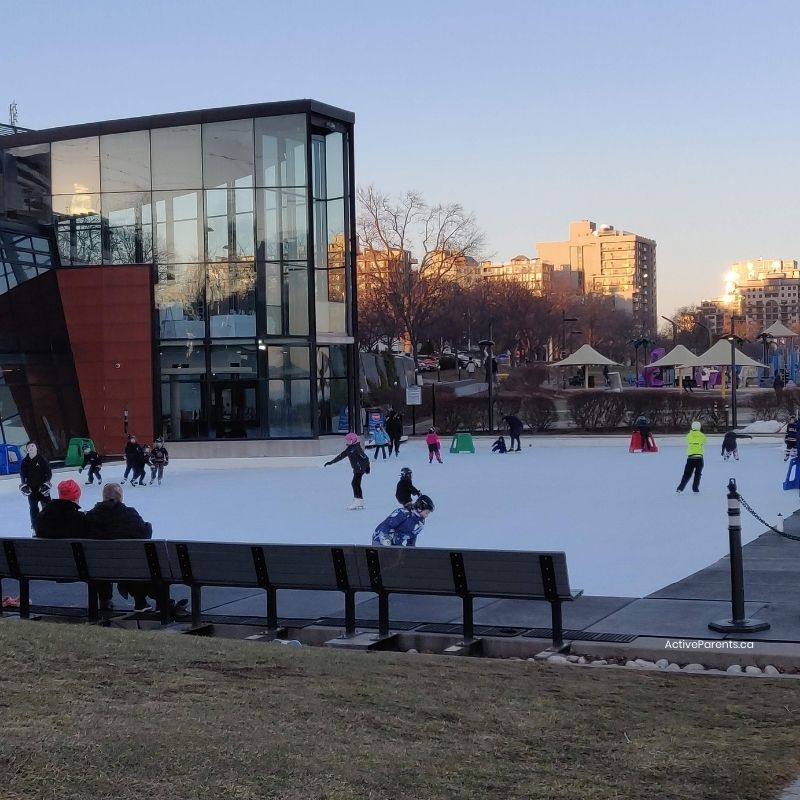 Find a new hill to toboggan
Burlington has 6 sites designated as official sledding hills. Sledding is one of the best wintery things to do in Burlington if you ask my kids. Find a new hill near you here. Cost: Free!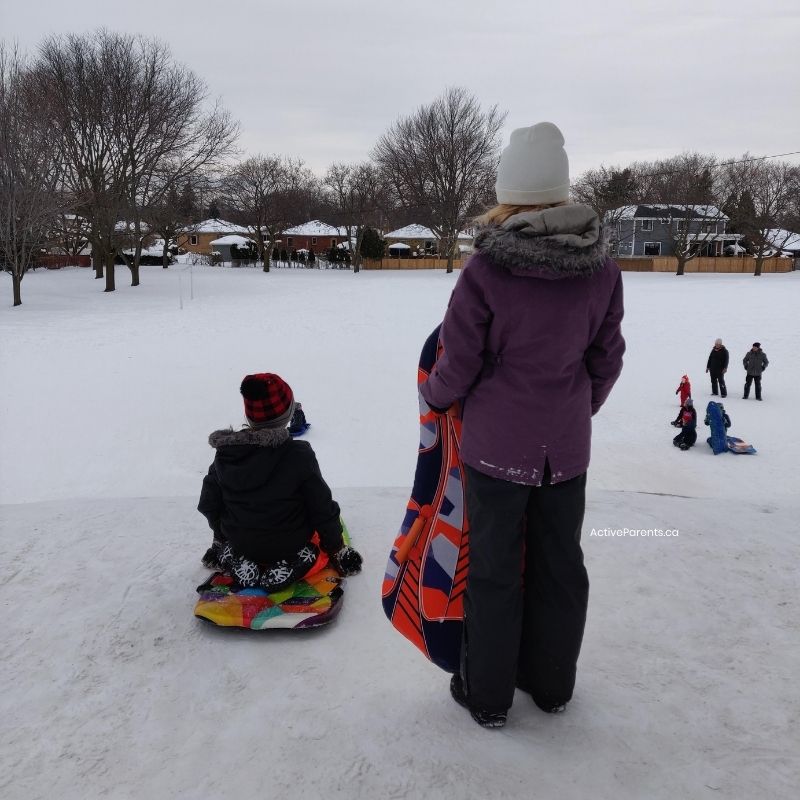 Cross Country Ski
Burlington has some great locations for cross-country skiing. Read about them here. Cost: It Varies depending on where you go.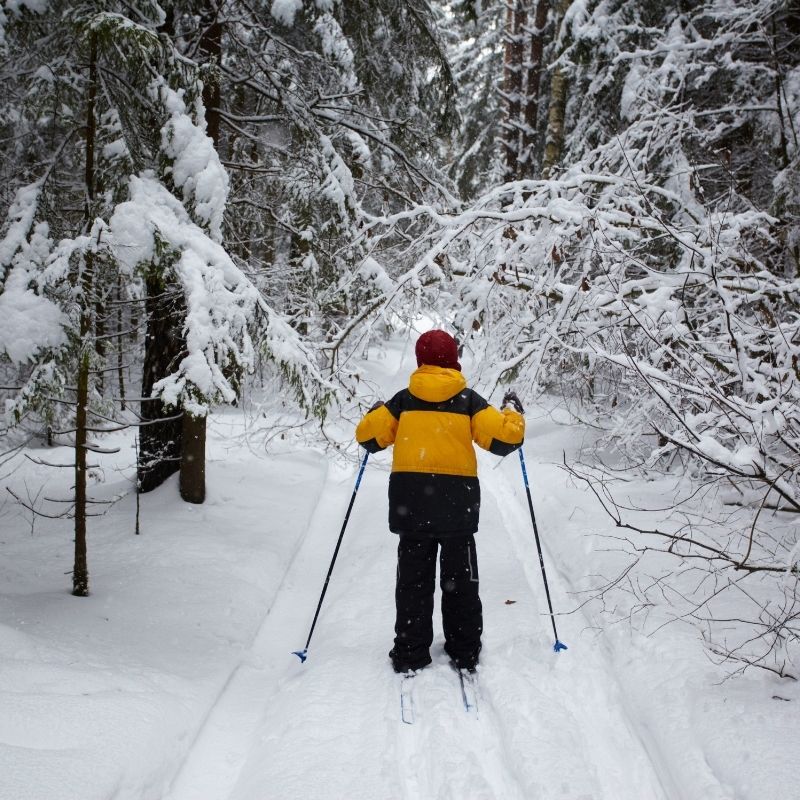 Spring, Summer and Fall…
Some of our best days have been spent creek walking in Burlington. We are huge fans of exploring Bronte Creek as it runs through Hidden Valley Park. The water is cool and refreshing, and there are so many creatures to discover if you have a keen eye! Watch for crayfish, frogs, turtles, small and large fish, and more! We even found an animal skull that made for some great show-and-telling!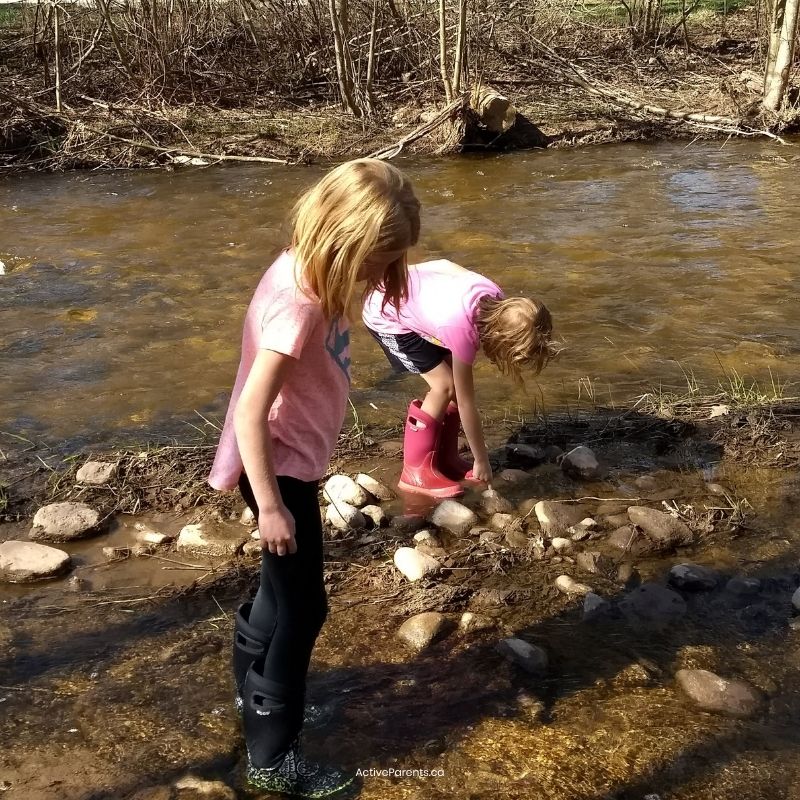 Try geocaching with the kids
Geocaching is so much fun, especially for kids. It's easy – and free – too! Using an app on your phone, follow the coordinates to a hidden "cache". At this cache, you can find a small container with a log book. Add your name to the log book and see if you recognize any other names. You can log your find in the app. Many of the caches are containers with trinkets in them, take one and leave one! Read more on Geocaching here. Cost: Free!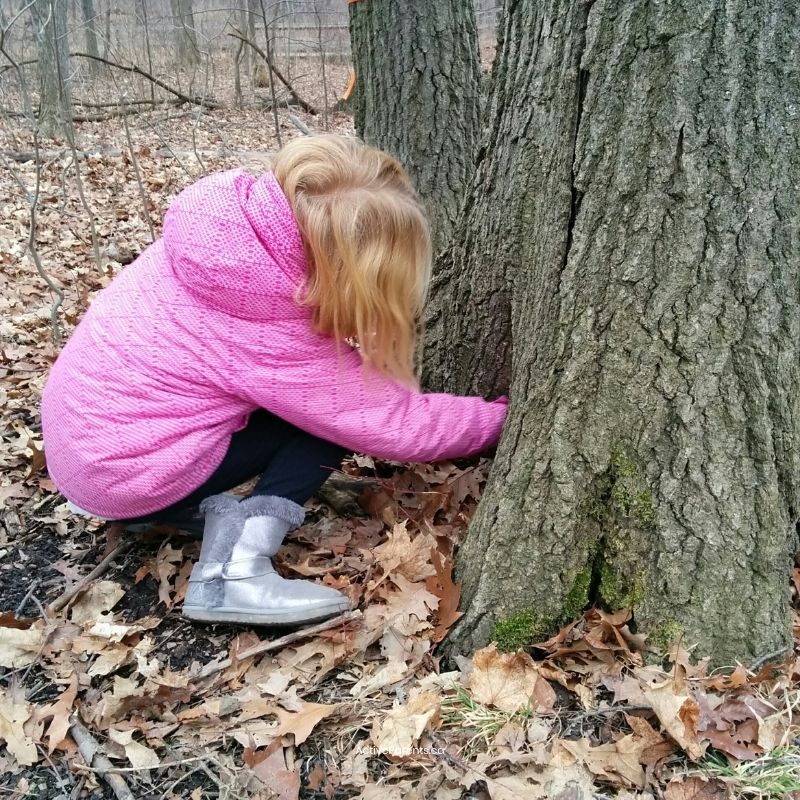 Spend The Day At Lowville Park
Lowville Park has quickly become our favourite park to visit every season. There is a ton of parking, washrooms and lots of picnic space. Kids will love the playground, the wooded paths and of course, playing in the creek. This is another opportunity to learn all about animals and their ecosystems, or just to inspect them up close.
Wander down the wooded path and you'll find this epic staircase. The photo below is from the summer, but be sure to visit in the winter for some amazing tobogganing! During spring and summer, reservations are required. You can book your free visit here. Cost: Free!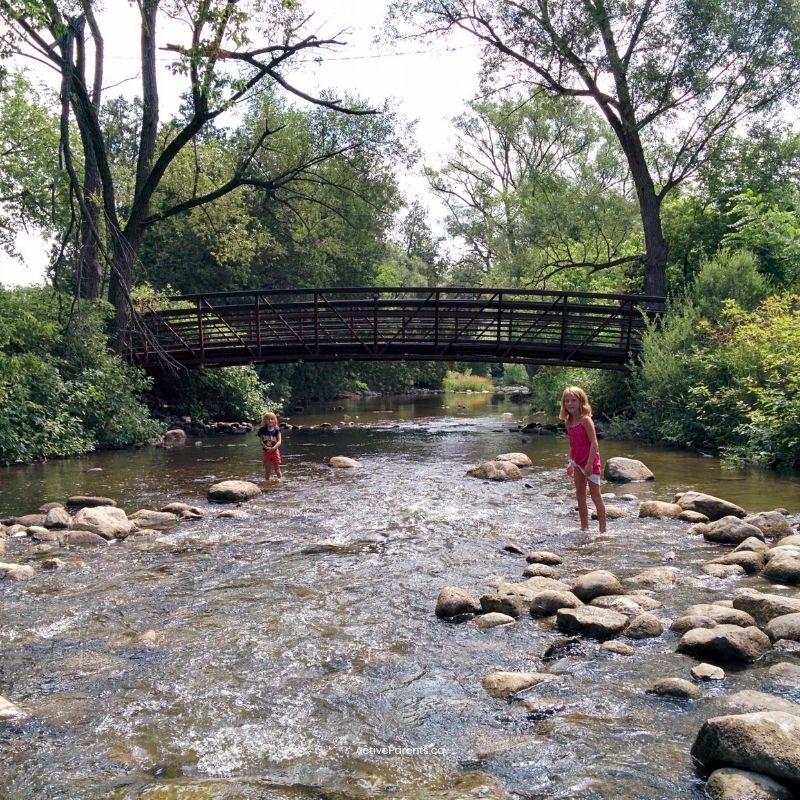 Ride The Dirt Jumps at Nelson Park
This is a must-do if you've got a little daredevil or an experienced rider looking for more fun. They'll love the dirt jumps at Nelson Park, and I've seen kids of all ages zoom up and down them – even glider bikes! The dirt jumps are one of the coolest free things to do in Burlington. They are centrally located at Nelson Park, on New Street.
You'll also find a playground, skate park, and community centre with an outdoor pool and splash pad here. Excitement central! Cost: Free!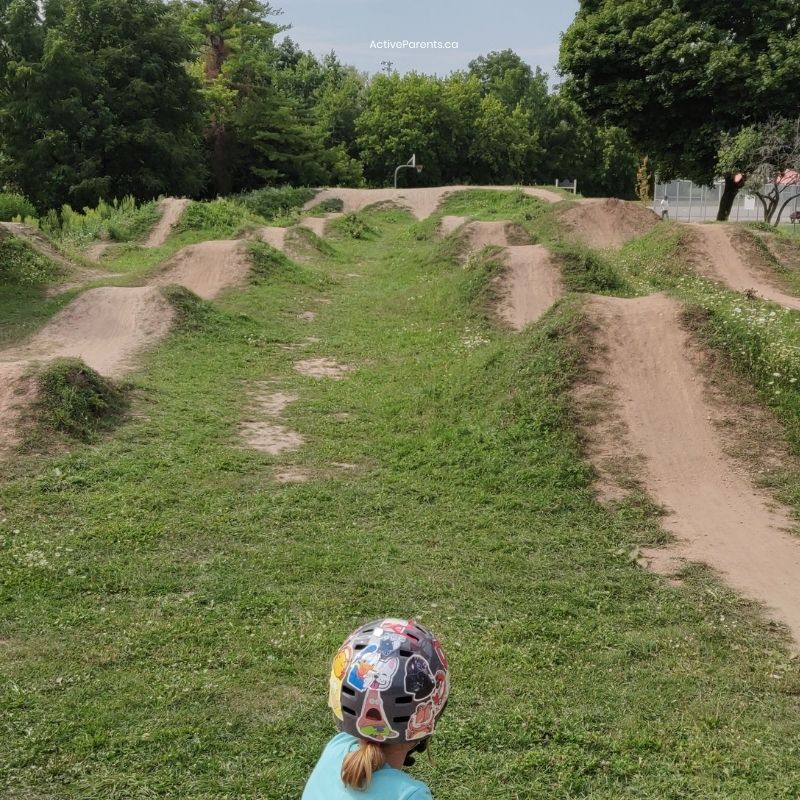 Cool Down At The Nelson Splash Pad
Burlington is home to a bunch of great splash pads, outdoor pools and wading pools that are open all summer long. Pictured below is the Nelson Pool Spray Pad, located inside/beside Nelson Pool. While it's not free to access, it's possibly the best splash pad in the city.
With your paid admission, you also get access to Nelson Pool, definitely Burlington's most beautiful outdoor pool. See our photos here. Registration recommended. Cost: approx. $3.50 per person.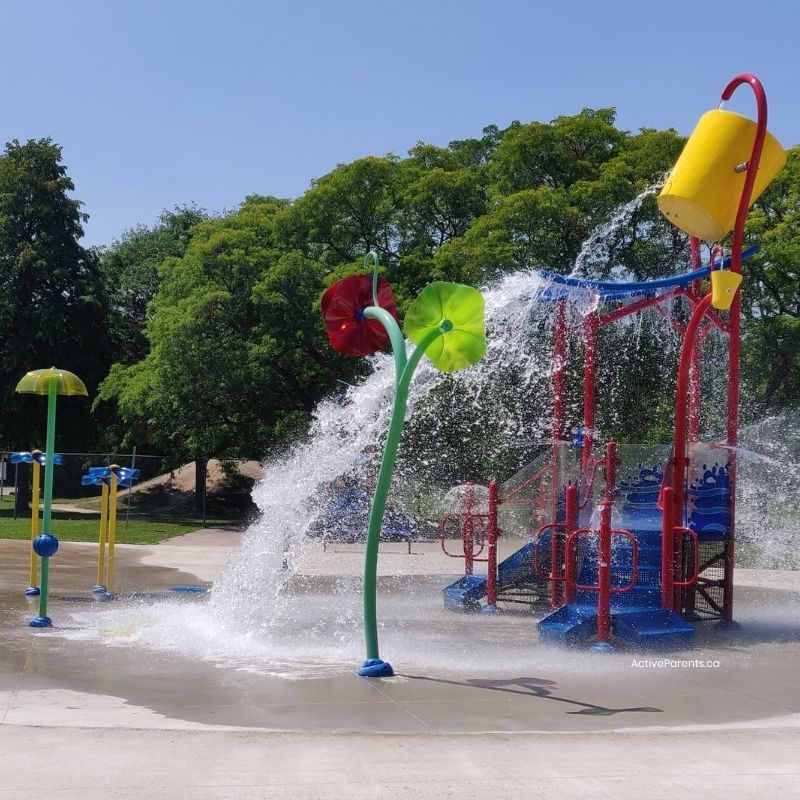 burlington's best skate parks
Burlington is home to 10 skate parks, each with its own selection of equipment and challenging levels. Read about them all here. Locals also love skating the Maple Hydro path that runs from Graham's Lane almost all the way to the Lake Ontario waterfront. Cost: Free!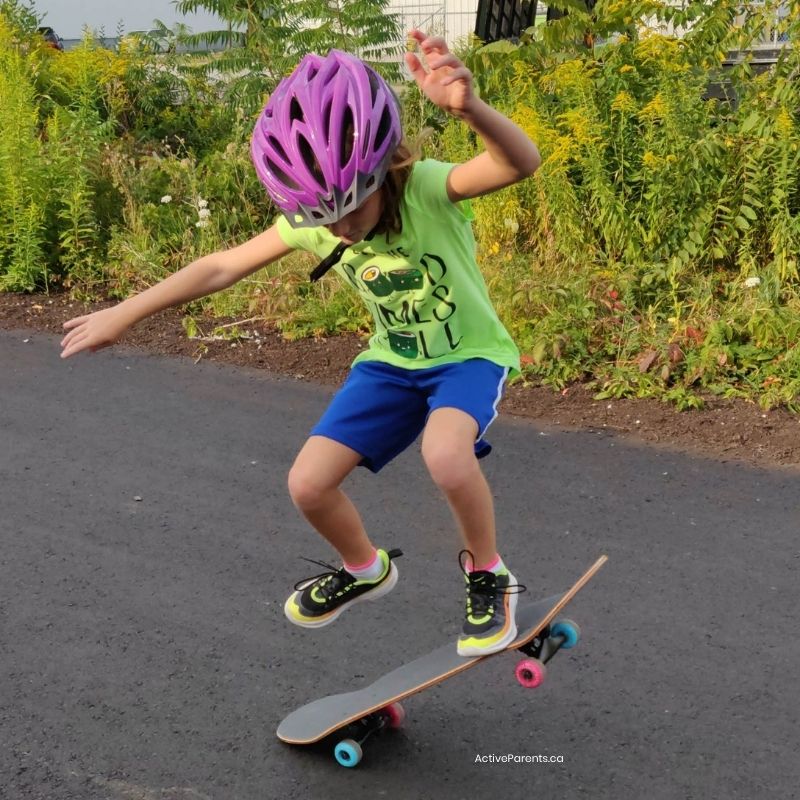 Burlington Play Equipment Lending Library
Residents of Burlington can sign our play equipment for free for 5 days of play! They have everything from snowshoes to a disk golf set to lifejackets! Try Spike Ball, Pickle Ball or any other sport you can imagine! See the entire library here. Cost: Free with a security deposit.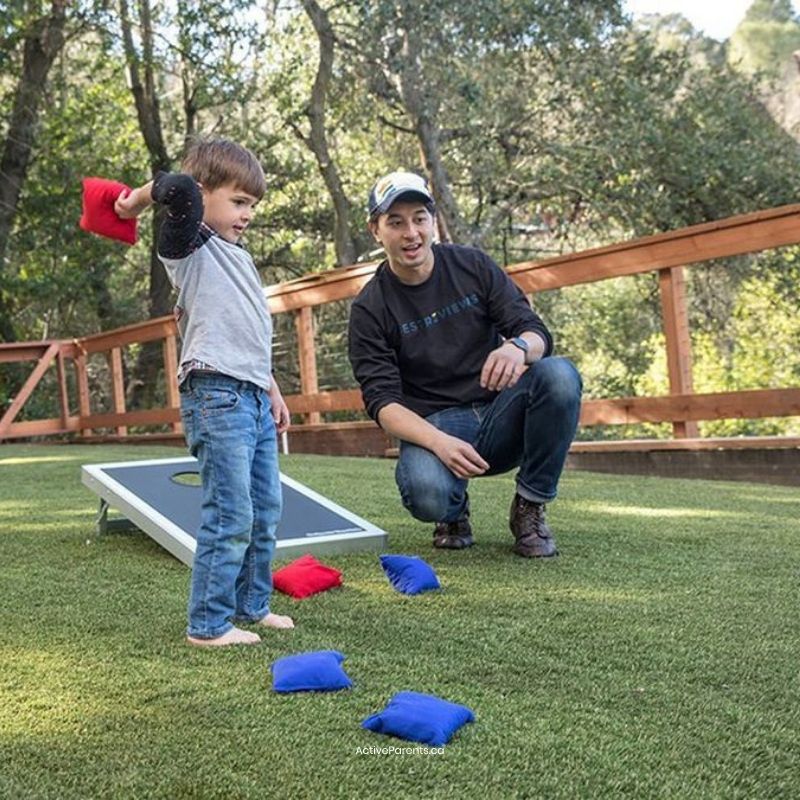 Watch the Burlington Canal Lift Bridge
One of my favourite things to do with kids is to watch the lift bridge go up and down. The bridge goes up every hour and half hour for pleasure boats and on-demand for ships. The best viewing spot we've found is sitting on the concrete blocks on the edge of the pier at the base of the bridge.
There isn't parking right at this location. We park at Beachway Park and ride bikes or scooters over to the bridge. It's not a far ride. My kids are pretty fascinated by how the bridge goes up and the counterweights come down. We usually watch it go once, have a snack sitting on the concrete blocks, and watch a second time before riding back to the car.
Such a simple thing to do in Burlington with kids in tow. Cost: Free!

Walk The Gnome Trail
Bronte Creek Provincial Park is home to the cutest little community. Kids love to wander down the Gnome Trail, tucked away down a tree-covered path. It's located near the play barn, look for the directional signs. And be sure to look up, too! Cost: Admission to Bronte Creek is $18 per vehicle.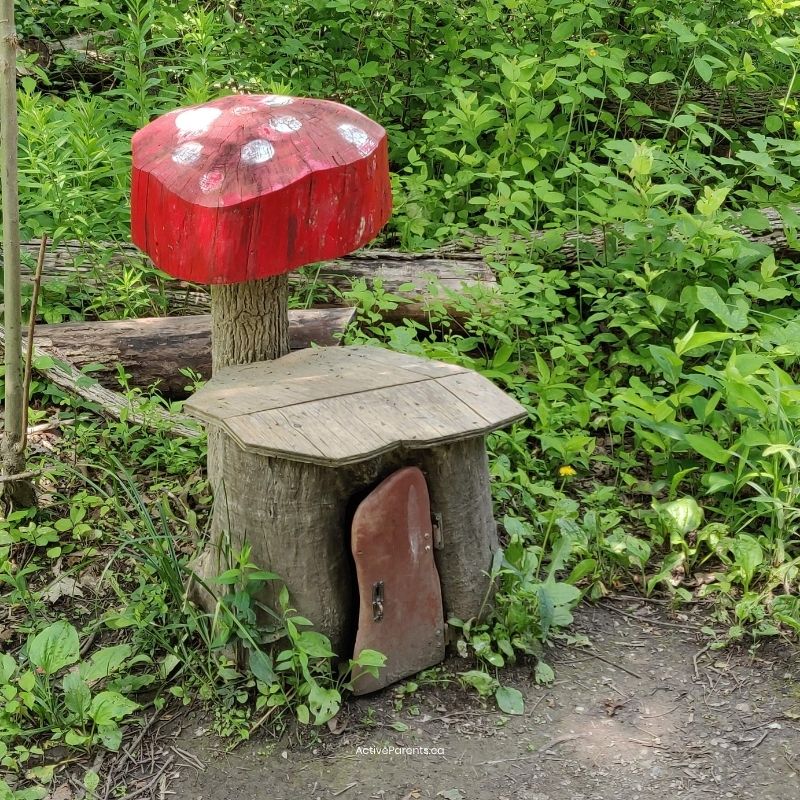 Find a Construction Site to observe
I have spent countless hours over the years watching cranes, diggers, cement mixers, and dump trucks. We've met some wonderful construction workers who are happy to wave at the kids and say hello. Everywhere seems to be under construction these days, but our fave spots to watch are the high rises being built in Burlington's Downtown. There are a few to choose from, and they are all at different stages, so there's lots of variety to see.
Another great visual (while sad at the same time) is watching a house demolition before the new home is built on the land. It is sure to spark a ton of questions and oohs and ahhs from your kids. This is one of the easiest free things to do in Burlington with kids.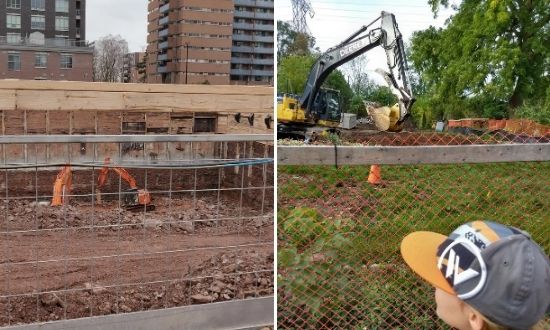 treat yourself to some ice cream
Burlington is home to a triple-scoop of great ice cream shops. Is there a better way to cool down on a warm day? We don't think so! Find the local ice cream shops here. Cost: about $5 per person.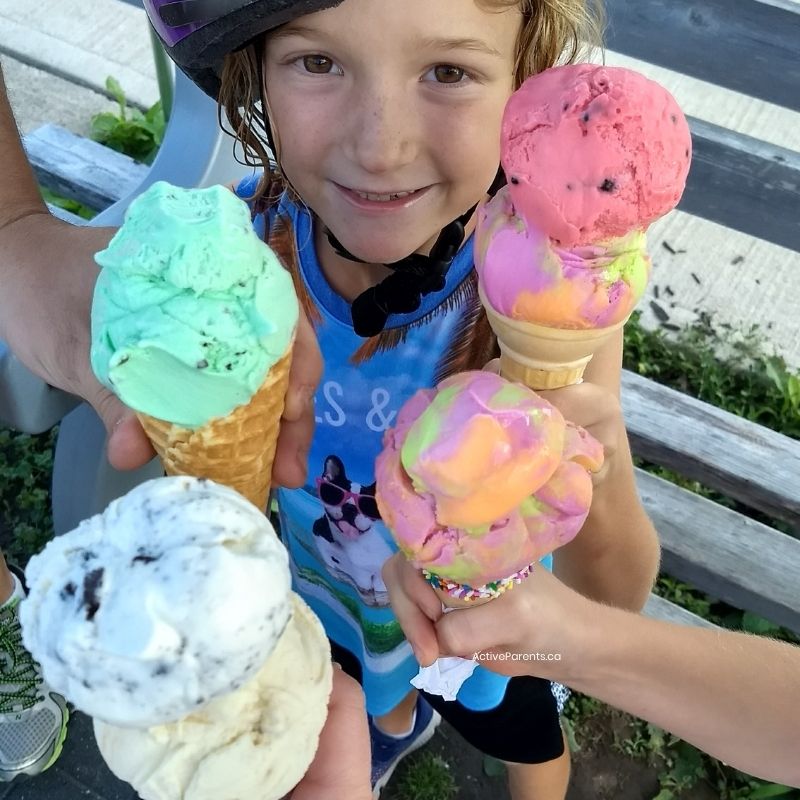 hike the kid-friendly cherry hill creek trails
Cherry Hill…If you know, you know! And if you don't, I recommend you visit. This is one of the most-recommended hikes to do in Burlington with kids. The path is stroller and kid-friendly (and gramma friendly, too!). Bring some seeds to feed the birds and get your photo snapped near this massive upturned tree with its root system exposed. Keep walking and find the boardwalk trails with more animal and bird-watching opportunities. Paid parking. Cost: Free.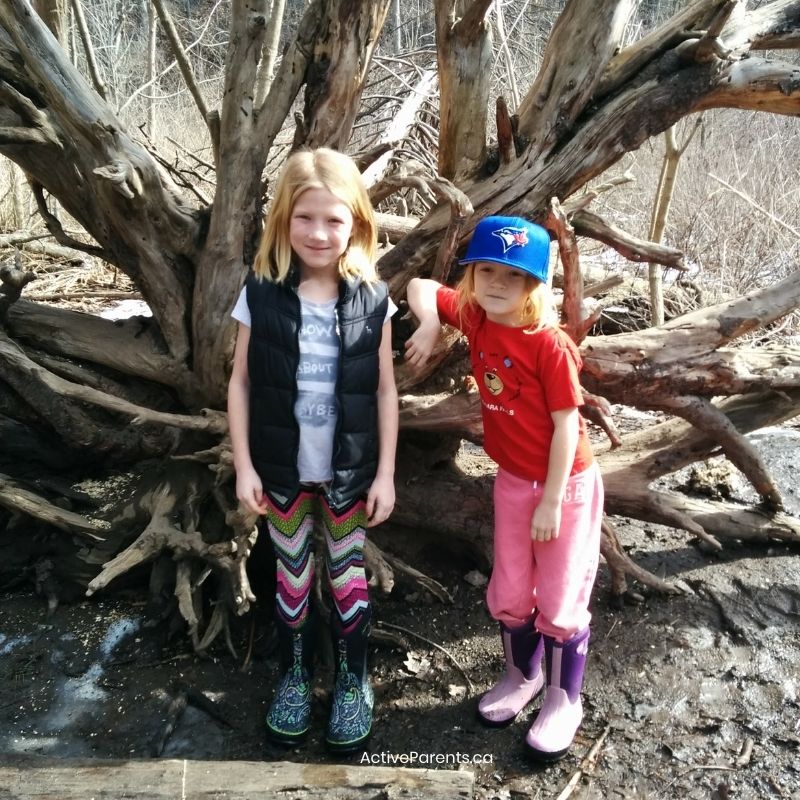 Drop into a Burlington public library
Whether you are a resident or not, the library is always welcoming. Kid-friendly spaces, thousands of books, crafts, toys and cosy reading spaces invite you to stay as long as you want to. Story times and special art programs are free to sign up for. Borrow an activity kit while you're there and bring the fun of the library home! Find a library here. Cost: Free!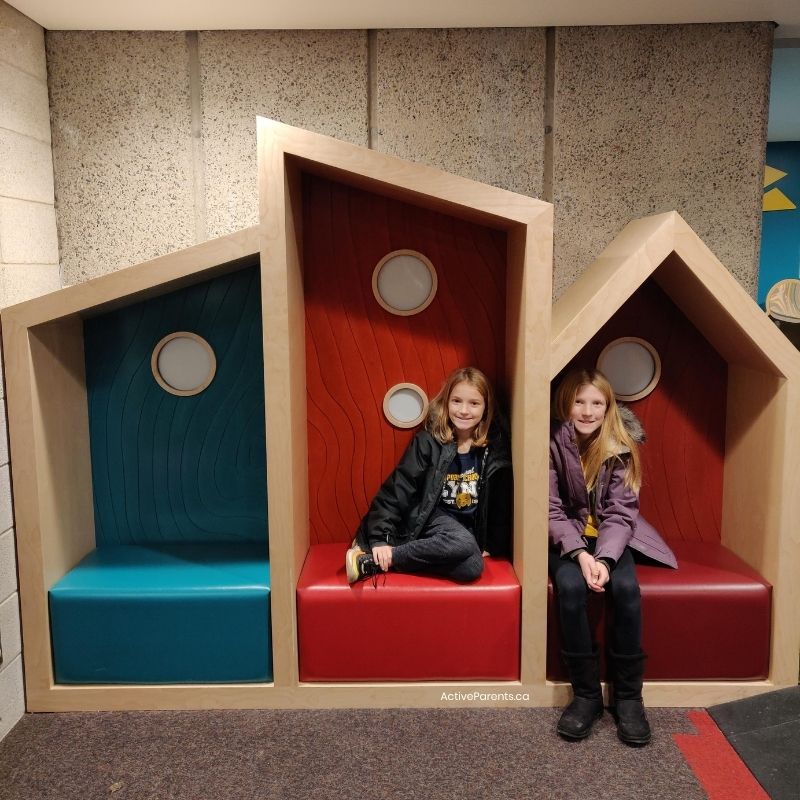 indoor ice skating rinks in Burlington
Whether you're beating the chill in the winter and mixing up your summer fun, indoor ice skating is always a great time. Burlington has multiple rinks with multiple skate times, and even sticks and pucks sessions for anyone who needs to practice their puck handling. See more info here. Cost: approx. $3.50 per person.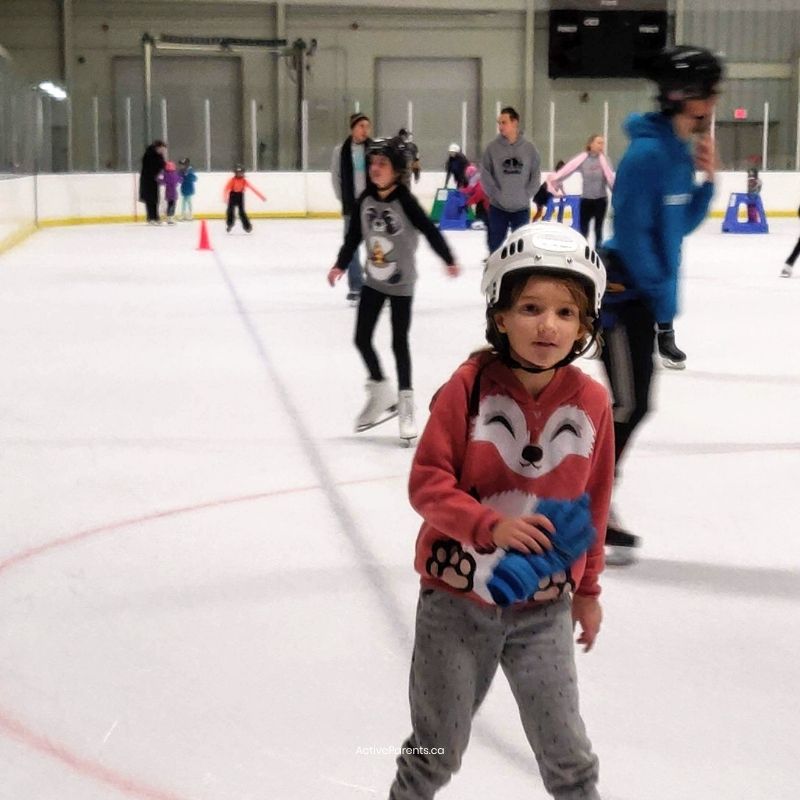 Walk the Labyrinth at central park
Tucked in just behind the Rotary Youth Centre on Guelph line is the Central Park Labyrinth. A labyrinth is a geometric pattern with one path that leads into its centre and back out again. We did have great fun pretending it was a path we had to take to reach the pirate ship on the other side and earn back our treasure.
There is an excellent playground for little ones just behind the labyrinth. It's not a big park but perfect for toddlers and my 5-year-old enjoyed it too. One thing I really liked was how much shade was around the park. A perfect spot to have a snack or picnic lunch! And one of the simplest free things to do in Burlington with kids. Cost: Free!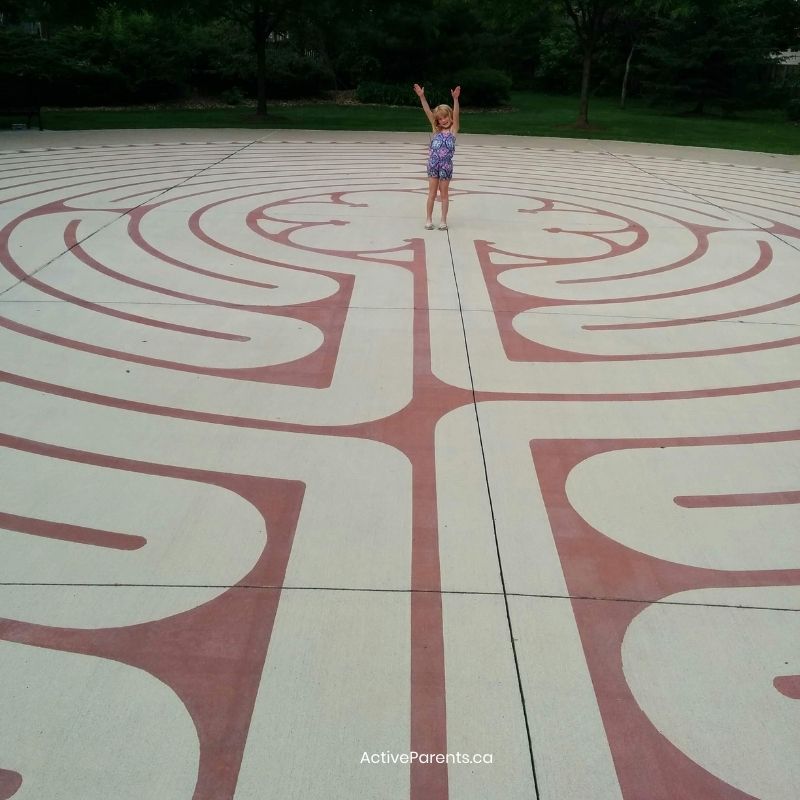 Trainspotting at this awesome spot
Do you have kids who are obsessed with trains? Many of us do! The footbridge at Laking Garden is perfect! Spacious, high rails, and no road traffic to worry about. To find it, go West on Plains Rd. Just past the RBG is a bridge, go over it and immediately on the other side turn left. There is a small sign that says "Laking Garden". If you reach the light at Hwy 6 you've gone too far. Turn left into the parking lot and walk up the bridge.
We were lucky and saw 2 trains within a half-hour of arriving. I'm not entirely sure what the schedule is but this is a popular spot for trainspotters. We took a snack and a few balls and toys to pass the time while we waited. If you walk over the bridge and down the ramp on the other side there is some shaded grassy space to play and have a snack. It's the entrance to Laking Garden at the RBG.
*Do you have a photo of watching the trains from Laking Garden? We'd love to feature it here!
Any favourite spots to share? Or ideas for free activities that can be done anytime? Please post in the comments and help another parent out.