Mini golf is a classic pastime that's been enjoyed by people of all ages for decades. It's a fun and easy activity that's perfect for a family outing or a date night. In this article, we'll be exploring some of the best local mini-golf courses in Hamilton, Burlington and Oakville.
New for 2023! We see you, Waterloo Region parents! With our latest update to this article, we looped in the best courses to play mini golf in Kitchener, Cambridge and you too, Brantford!
My summer is complete until I've played a few rounds of mini-golf! These mini-putt courses in Hamilton, Burlington and Oakville, and are family favourites. Mini golf is a great summer activity for families because you don't have to have a whole lot of skills to enjoy yourself. We have a few great mini-golf courses near us and they have unique greens and are fun to play at.
Each mini putt course has been updated for 2023 with updated pricing and more listed below. Have a correction or an addition? Let us know here.
Included In This List
More Fun Adventures For Families
Looking for more outdoor fun for the whole family? We've got you covered with our Day Trip ideas, Must-Visit Parks and Outdoor Activities. Find hundreds – yes hundreds! – of great things to do in the summer right here! And new for 2023 – Disc Golf Courses Near You!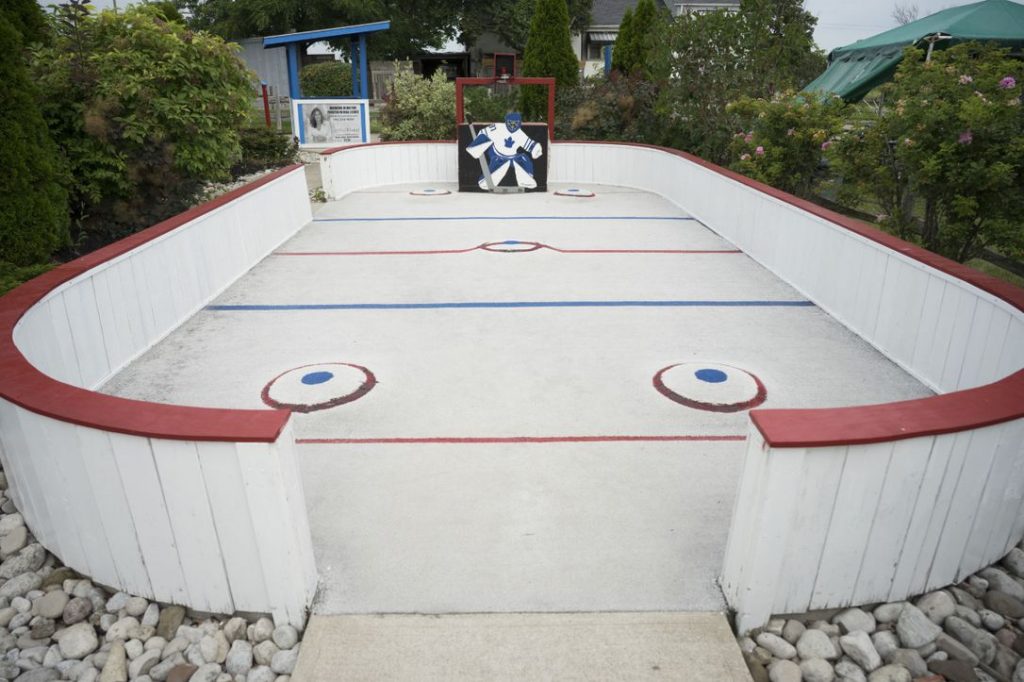 Vic Hadfield Golf and Learning Centre
Oakville – 340 Burnhamthorpe Rd East | WEBSITE
The Vic Hadfield mini-golf course in Oakville is a full 18-hole course perfect for all skill levels. Vic Hadfield is an Oakville boy who played hockey and set records with the New York Rangers in the '70s. Turns out, he also loves golf! If you have a hockey fan, they're going to love this ice rink-themed hole.
2022 Pricing: Adult – $11.00, Juniors (12 + under) – $10.00, Seniors (60 +) – $10.00.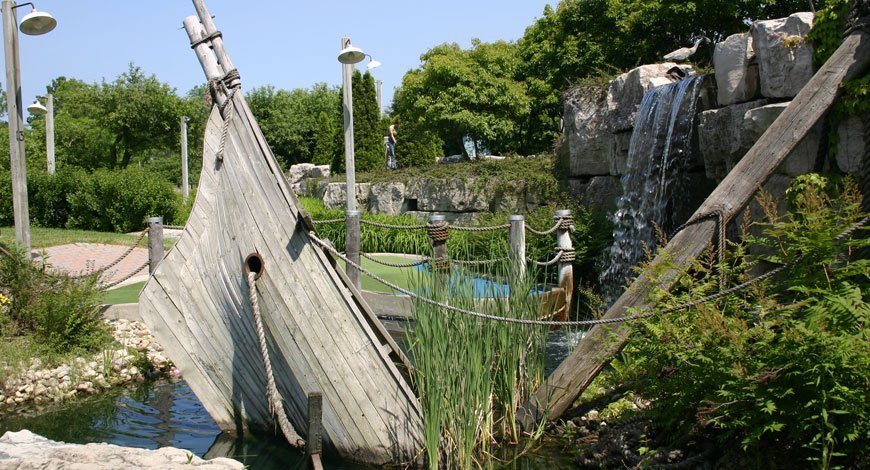 Adventure Village Mini-Golf in Hamilton at Confederation Park
Hamilton – 580 Van Wagners Beach Road | WEBSITE
Adventure Village in Hamilton has a ton of ways to entertain the entire family from batting cages to rock and mineral mining! You will definitely find us here a few times each season. Their 18-hole mini-golf course in Hamiton is a big hit for families and for date nights. The course surrounds a large wooden pirate ship that looks like it sunk over 100 years ago. We are fans of the railway crossing hole and the water fountain hole.
You can choose to play mini-putt only or check out their combo and all-day-play deals to get the biggest bang for you buck. You really can spend a full day playing at Adventure Village. Book your tee time online or walk up to the ticket booth and pay in person. Be warned, on a summer day, you could be in for a wait of over an hour.
Pricing: 13+ years old are $13.00 and children 12 and under are $10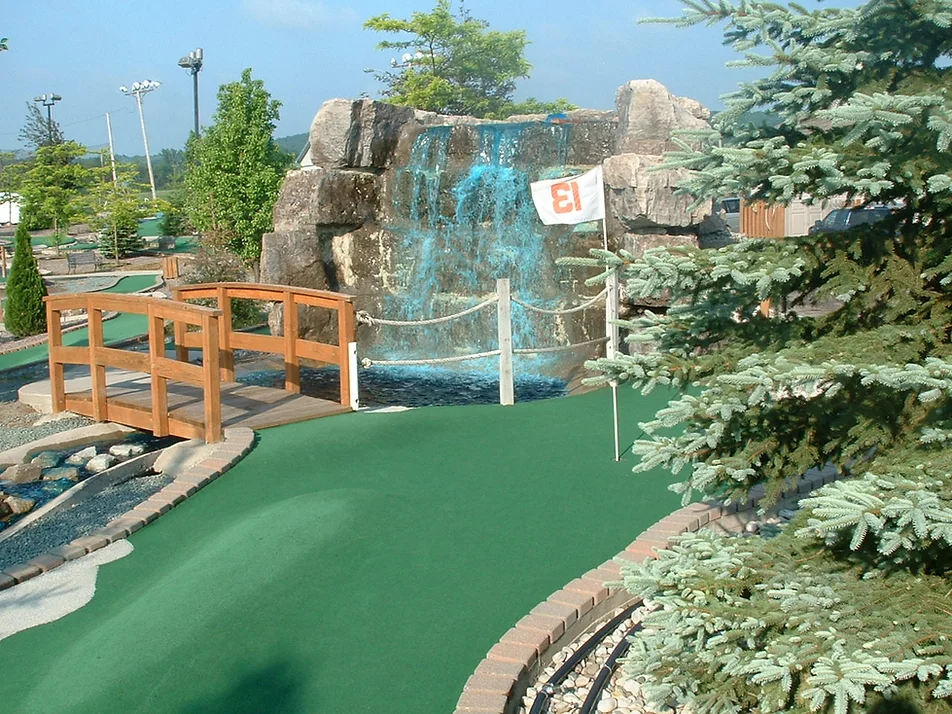 Within Range Golf Centres
3050 Guelph Line in Burlington | WEBSITE
Book a tee time and play a round of 18 holes with the family at this mini-golf course in Burlington. It's a great-looking course, with lots of hills and water traps to keep you on your toes. Come for a quick round or have your birthday party here. Parties include a round of golf, food, drinks, snacks and more.
Mini Putt Prices: Adults 18+: $10.62, Teens 13-17 and Seniors: $9.73, Kids under 12 $8.85 (all prices + HST)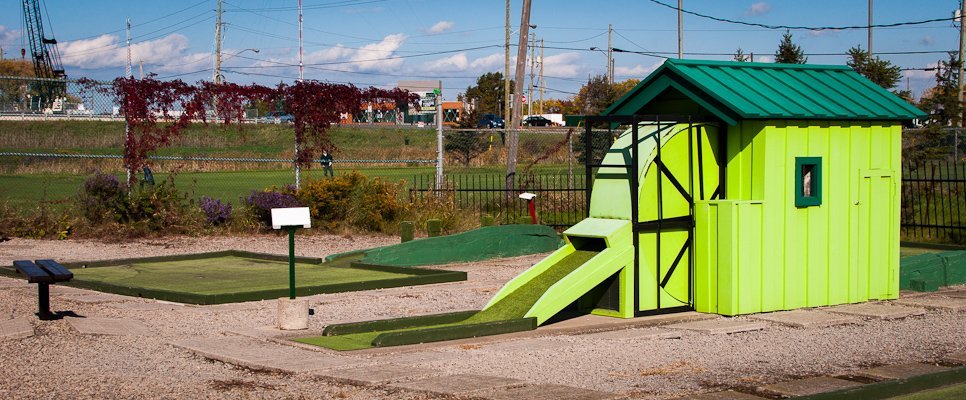 Pros Golf Centre and Mini Putt – TBD
Closed – Stoney Creek – 22 Green Mountain RD E | WEBSITE
Pros Golf Centre's mini-golf in Hamilton features unique holes like the golf ball-eating mechanical water-wheel, a medieval castle, and even an ol' wagon, Pros Golf Centre's 18-hole miniature golf course is a throwback to original mini-putt courses!
Prices: General admission $6.20, Children under 12 $4.43 + HST
Bingeman's Mini Golf
website | 425 Bingemans Centre Drive, Kitchener.
Bingeman's is known for fun and excitement, so of course they offer not one, but two outdoor courses for mini golf in Kitchener. You can choose to play either the 'Town Boulevard' or 'Country Lane' course. Each course is 18 holes of big fun.
Price: $10.25 per golfer, per course.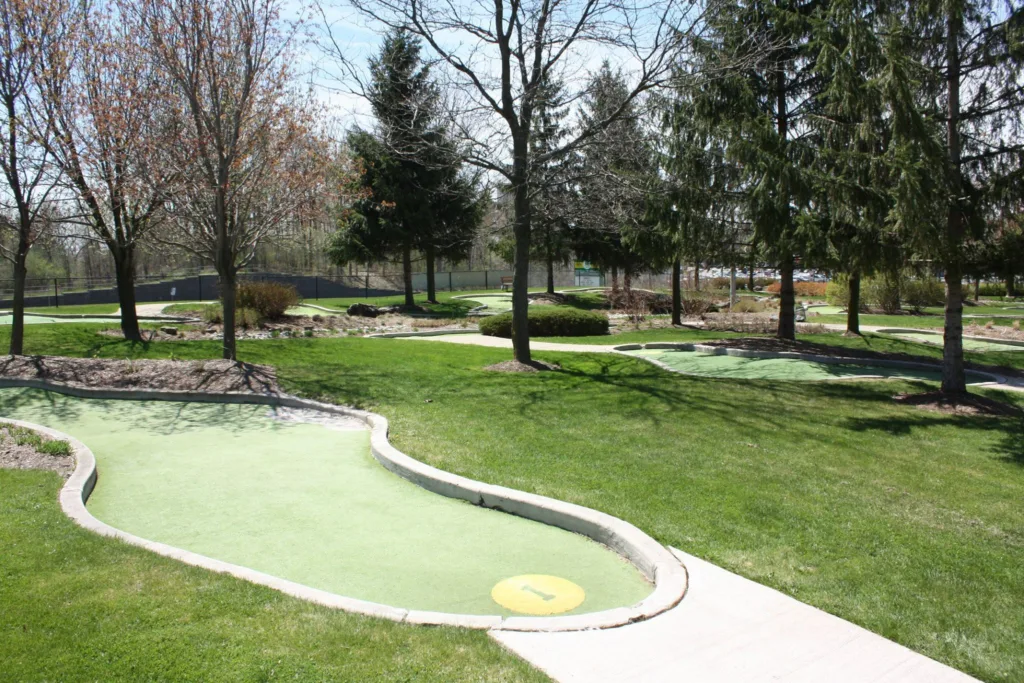 Wedges 'N Woods
website | 155 Can-Amera Parkway, Cambridge.
In addition to their driving range and their golf academy teaching lessons, Wedges 'N Woods also has an 18-hole mini putt course your family will love. Watch for the bunkers and water traps!
Price: Regular $8.75, Seniors $7.75, Elementary age kids $5.75 and toddlers are $3.75. Replay the course for 1/2 on the same day. Mini putt on Tuesdays for 1/2 price.
North Field Golf Centre
website | 513 King George Road Hwy #24, Brantford.
Northfield Golf Centre is a recreational facility for golfers of all ages. Serving families for over 30 years, they have a driving range, full 18-hole old tyme miniature golf course, snack bar, and golf shop. For your night time golfing experience (after the sun sets) the miniputt course is floodlit. Visit on Tuesdays and enjoy 2 for 1 golfing.
More Ideas For Family Fun
We've been to so many cool places, and we've made it our mission to share all the fabulous locations we find with you. Whether you're planning a day trip or looking for the best playgrounds, we've got your back. We are all about discovering the most amazing indoor play areas, farms and animal experiences, and a whole bunch of other visit-worthy local attractions. Check out our latest blog posts below to make sure you have an absolutely epic weekend!