There's nothing better than fresh, local produce, and it doesn't get any fresher than picking your own right at the farm! Read on for local pick your own farms. Whether you like to pick yourself, or just buy your produce at the peak of freshness, we've compiled a list of local pick your own farms who offer one or both options. Be diligent and watch their websites and social media pages because picking seasons – especially in 2020 – can be short.
Hamilton Area Pick Your Own Farms
Brantwood Farms
Website   |   251 Powerline Rd Brantford, (519) 759-4383
Now booking online for strawberry picking. Each $14 booking reserves a row for up to 5 people and includes the minimum purchase and a picking basket to take home. Book online at http://www.brantwoodfarms.com/  You can also check out their online market store, with fresh produce, bakery, dairy, eggs, preserves and more and order curbside pick up.
G and C Produce
Website   |   451 Book Rd. East, Ancaster, (905) 648-0259
Seven generations of farmers have made G and C  Produce what it is today! Pick your own or buy already picked, some other fresh-picked seasonal produce items are available as well. Because G and C Produce is a smaller farm, we suggest you call ahead to confirm what is picking on the day you plan to visit.
Jerry's Berries Pick your own Raspberries
Website   |   15 Orkney Road, Hamilton, (519) 647-2815
Jerry's are hoping to be open mid-July for picking. Social distancing measures include assigning designated picking areas. Watch the website or Facebook page for updates.
Josmar Acres Farm
Website   |    568 Lynden Rd, RR#2 Lynden, (519) 647-2025
Combining Garden Centre, Pick your Own and Farmers Market there is something for everyone here.  COVID-19 guidelines are to limit your family to one unit/row.
Lindley's Farm & Market
Website   |   900 Fiddler's Green Road,  Ancaster, (905) 648-4212 (Harvest Hotline)
Just off Highway 6 near the Alexander Graham Bell Parkway is Lindley's Market. Call the hotline for details of opening hours (which may change due to weather) and details on the pick your own options (strawberries and raspberries) being offered.
Puddicome Farm & Estate Winery
Website   |   1468 #8 Highway, Winona, Hamilton, ON, L8E 5K9 (905) 643-1015
Located in Winona/Hamilton, Puddicombe is a new favourite for our family. We discovered it last year and picked our own apples. PYO cherries are coming soon, and they want you to know that masks and gloves are mandatory. Apples, pears, and pumpkins are offered into the Fall.  The Country Store contains lots of goodies – it is limited to 5 customers at a time at the moment, so be prepared, but their wine and cider are worth the wait!
Tigchelaar Berry Farms
Website   |   4161 Jordan Rd, Jordan, ON (905) 658-2265
A little further out, but just off the highway in Jordan Station, is Tigchelaar Berry Farms.  Highly recommended to call before coming to make sure they are not sold out for the day.  Hand sanitizer is available at the entrance to the field, and beware there is no wagon courier service this year, so be prepared for a walk to the fields.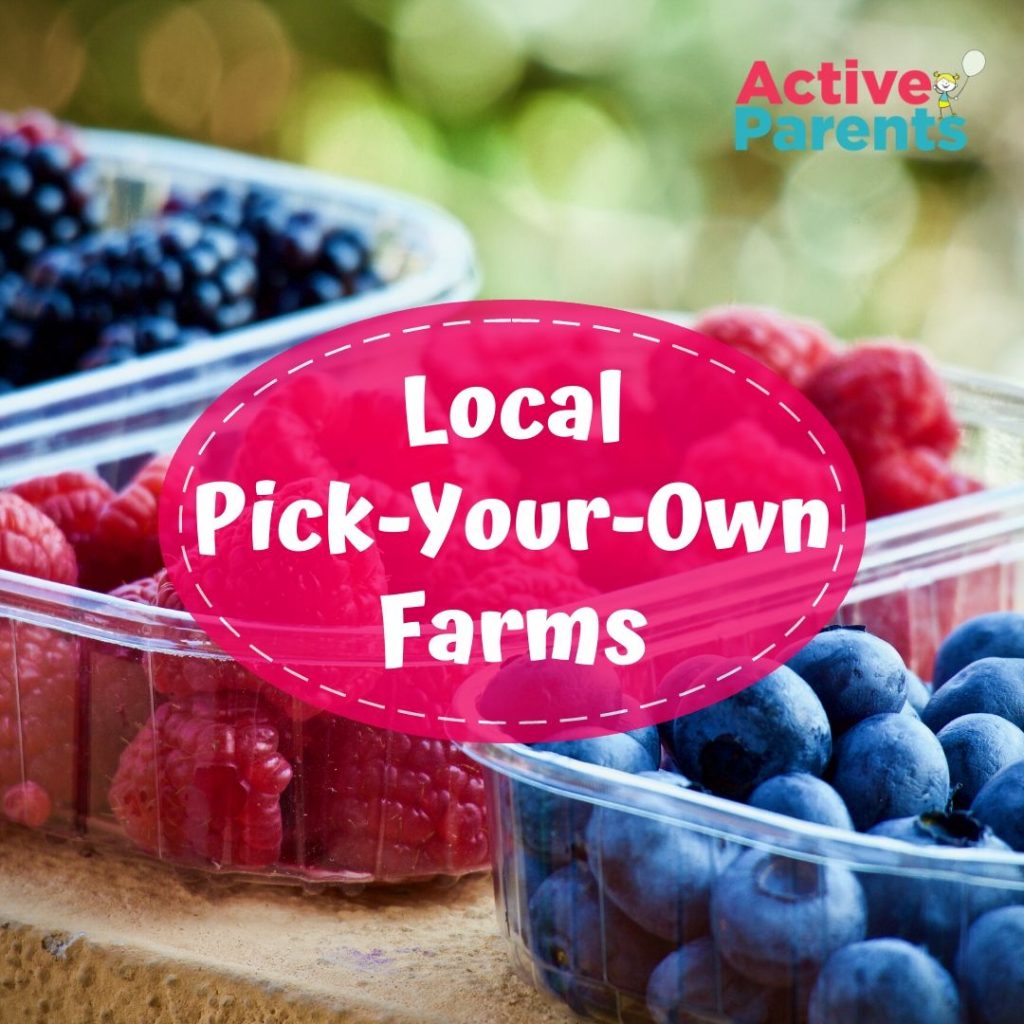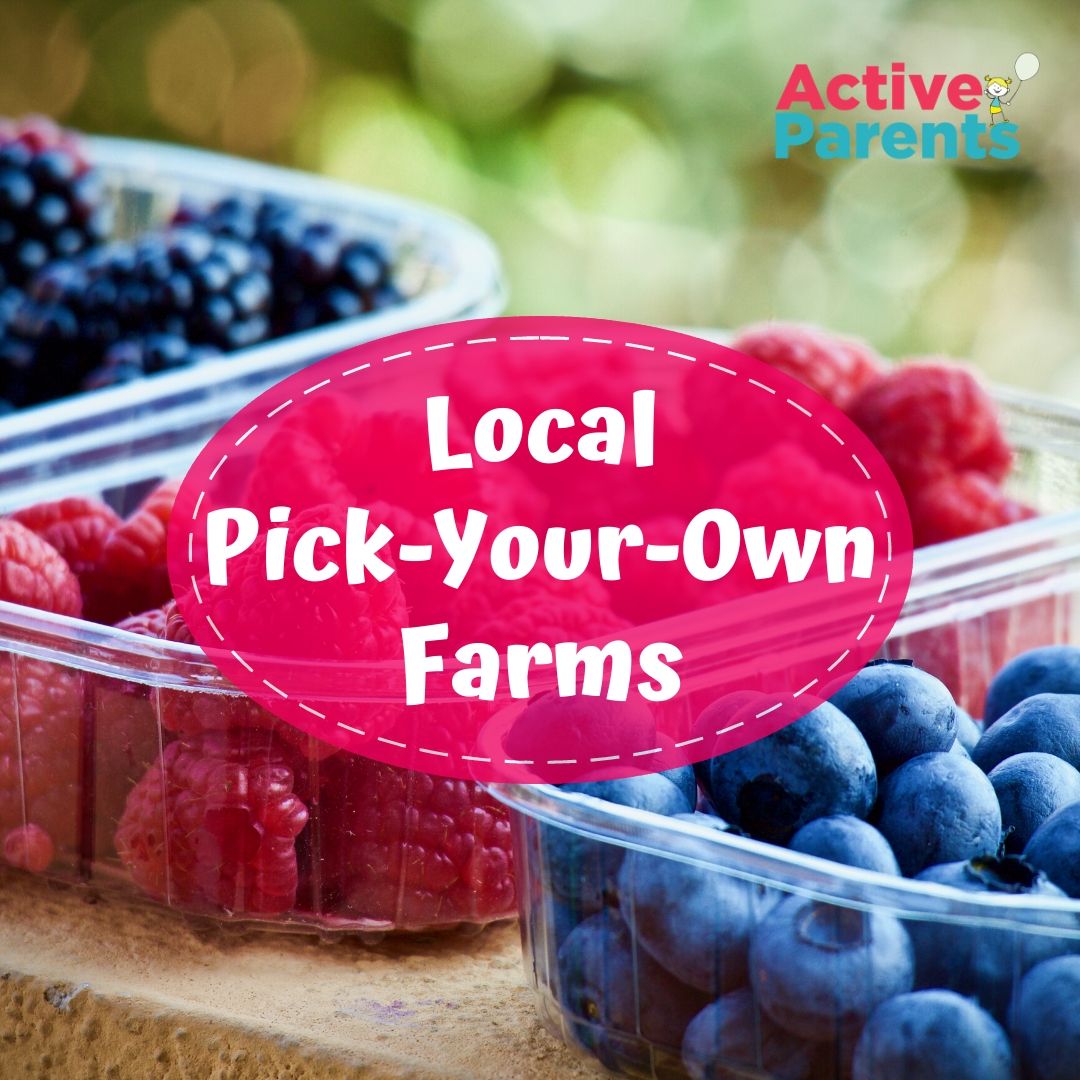 Burlington, Milton, and Oakville Area Pick-Your-Own Farms
Andrews Farm Market & Winery (Andrew's Scenic Acres)
Website   |   9365 10th Sideroad, Halton Hills, (905) 878 5807
Strawberries and raspberries are currently available, and Andrews have let us know there will be no cherry-picking this year, though pre-picked ones will be available in the farm store. Keep an eye on the website for other pick-your-own favourites such as blueberries, and currants to become available.  Wagon rides will be limited to those with mobility issues so be prepared for a ½ km walk. COVID-19 protocols include limiting guests and creating a one-way system, and staff will be wearing gloves and/or masks where appropriate.
Hutchinson Farm
Website   |   6202 Walkers Line, Burlington, (905) 335-2515
Right up Walkers Line, Hutchinson's offers PYO raspberries, and red, white and black currants. You can also get freshly picked beets, peas, cherry tomatoes, zucchini, and fresh honey, too! Be sure to check their frequently updated website to see what's picking on your visit day.
Stonehaven Farms
Website   |   7388 Guelph Line, Cambellville (905) 878-1870
You can check out Stonehaven Farms' new online store "Country Counter" to order baked goods, gourmet food items and fresh produce for pick-up since access to the market and Kid Zone area is not permitted this year. Currently offering pick-your-own strawberries on a walk-in basis. Highly recommended you call ahead to make sure of availability.
Uncle Scott's Farm
Facebook   |   6583 Walkers Line, Burlington, (905) 319-3298
Another Farm on Walkers Line, Uncle Scott's offers PYO strawberries and raspberries. Keep an eye on their Facebook page to get up to the minute info on what's picking and opening hours. They recommend you bring a mask in case social distancing is difficult.
And finally, an update from Springridge Farm. While they haven't offered PYO in a while, Springridge has always been a destination for fun on the farm. However, things at Springridge are very different at the moment and while the Fun Farmyard and Cafe are closed, you can still buy from their bakery, or look up their online market for curbside pick up of your favourite treats.
Have you been to another local farm that we should know about? Please share in the comments and connect us to a great local spot to support!
Now Trending…
Beat the heat with an ice cream treat! Choose one of these top-rated-by-readers ice cream shops in Hamilton, Burlington or Oakville!
Stay home and be creative! Lots of local shops offer curbside pick up and delivery for their Grab and Go Creative Kits!
And it wouldn't be summer without a dip at the splash pad! Hamilton has over 60 to choose from and Burlington's are open!