Updated for 2023! There's nothing better than fresh, local produce, and it doesn't get any fresher than picking your own right at the farm! Read on for local pick-your-own farms. Whether you like to pick yourself, or just buy your produce at the peak of freshness, we've compiled a list of local pick-your-own farms that offer one or both options. Be diligent and watch their websites and social media pages because picking seasons can be short.
Pick-Your-Own Farms In And Near Hamilton
Brantwood Farms
Website | 251 Powerline Rd Brantford and 89 St. George Road, Paris. (519) 759-4383
Pick your own fruit, vegetables and flowers at Brantwood Farms. Open 9 am -6 pm Mon to Sat and 10 am – 5 pm on Sun. Strawberry picking happens at their second location- 89 St George Rd, Paris. It is about 5 minutes from our main location. Enter "Brantwood Farms North" into your GPS. The minimum purchase is 1L per person over 23 months. Container price not included. Cash & cards accepted.
G and C Produce
Website | 451 Book Rd. East, Ancaster, (905) 648-0259
Opening in June for strawberries! Pick in Liters, 3L, or 6 Qts containers. Litre containers are provided and they loan the 3L or 6 Qts for picking. They also sell already picked produce from the Table Open from 9 am to 4 pm Mon to Sat including holidays. Seven generations of farmers have made G and C Produce what it is today! Pick your own or buy already picked, some other fresh-picked seasonal produce items are available as well. Because G and C Produce is a smaller farm, we suggest you call ahead to confirm what is picking on the day you plan to visit.
Jerry's Berries Pick your own Farms For Raspberries
Website | 15 Orkney Road, Hamilton, (519) 647-2815
Jerry's is hoping to be open in mid-July for picking. Pick your own or buy pre-picked raspberries by the pint. Watch the website or Facebook page for updates.
Josmar Acres Farm
Website | 568 Lynden Rd, RR#2 Lynden, (519) 647-2025
The strawberry patch will open as of June 20231! Current business hours are Mon to Fri 9 am – 5:30 pm and Sat 9 am – 5pm, closed Sun. Call 519-647-2025 for current patch conditions.
Lindley's Farm & Market
Website | 900 Fiddler's Green Road, Ancaster, (905) 648-4212 (Harvest Hotline pre-recorded message)
Just off Highway 6 near the Alexander Graham Bell Parkway is Lindley's Market. The Farm Market opens June 1. There's strawberries, raspberries, currents & gooseberries, and pumpkins for the pickin'. You-pick hours are from 8 am till 2 pm. Call the hotline for details and to know what's left and to check on weather conditions.
Puddicome Farm & Estate Winery
Website | 1468 #8 Highway, Winona, Hamilton, ON, L8E 5K9 (905) 643-1015
PYO strawberries in June and July, sweet cherries in July, sour cherries, blueberries and raspberries in July and August and peaches in August and September. Apples, pears, and pumpkins are offered into the Fall. Seasonal PYO hours are 7 days a week from 8:30 am – 4:30 pm. Country Store contains lots of baking, fudge, preserves and gift baskets. It's open Mon to Fri 9 am – 6 pm and Sat and Sun 9 am – 5pm.
Tigchelaar Berry Farms
Website | 4161 Jordan Rd, Jordan, ON (905) 658-2265
A little further out, but just off the highway in Jordan Station, is Tigchelaar Berry Farms. The Farm's PYO hours are Mon to Fri 8 am – 7 pm, Sat and holidays 8 am – 5 pm and closed Sun. It's highly recommended to call before coming to make sure they are not sold out for the day. The voicemail is updated daily with weather and picking conditions.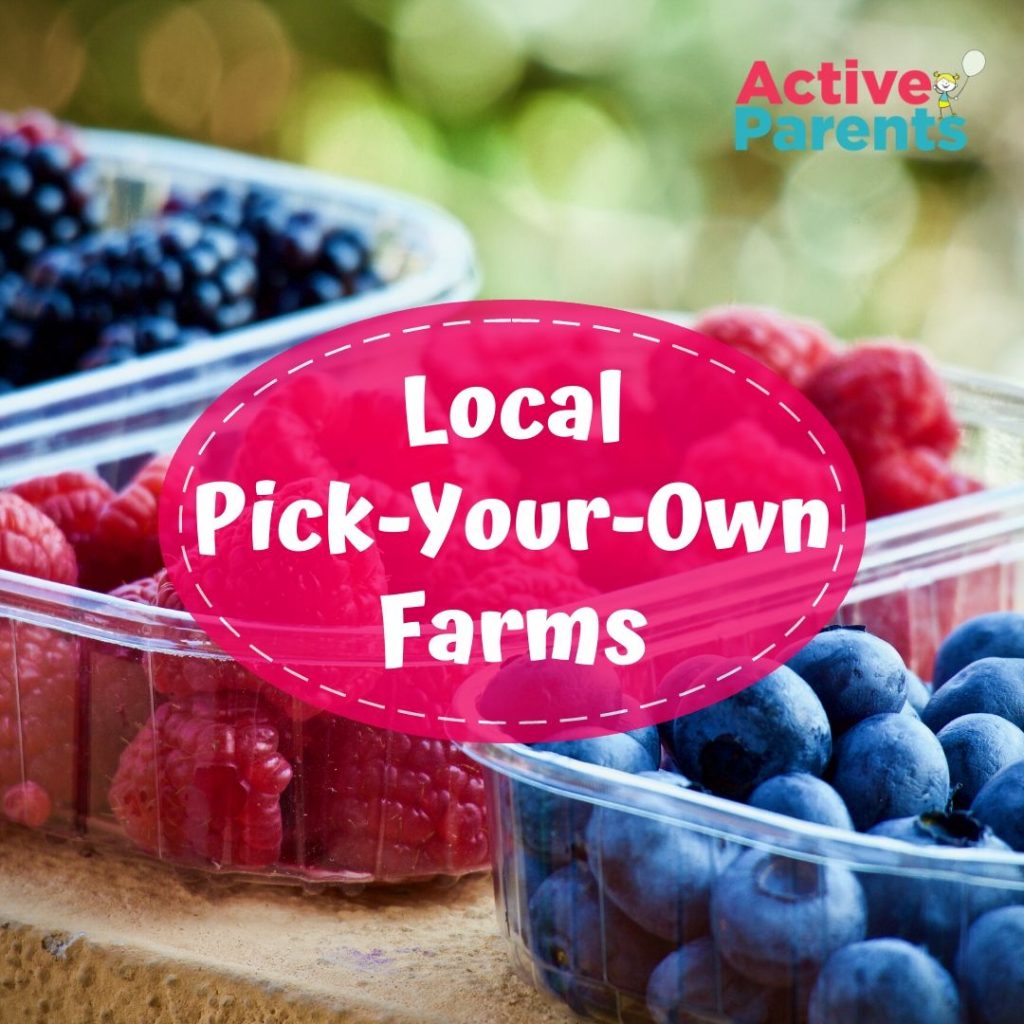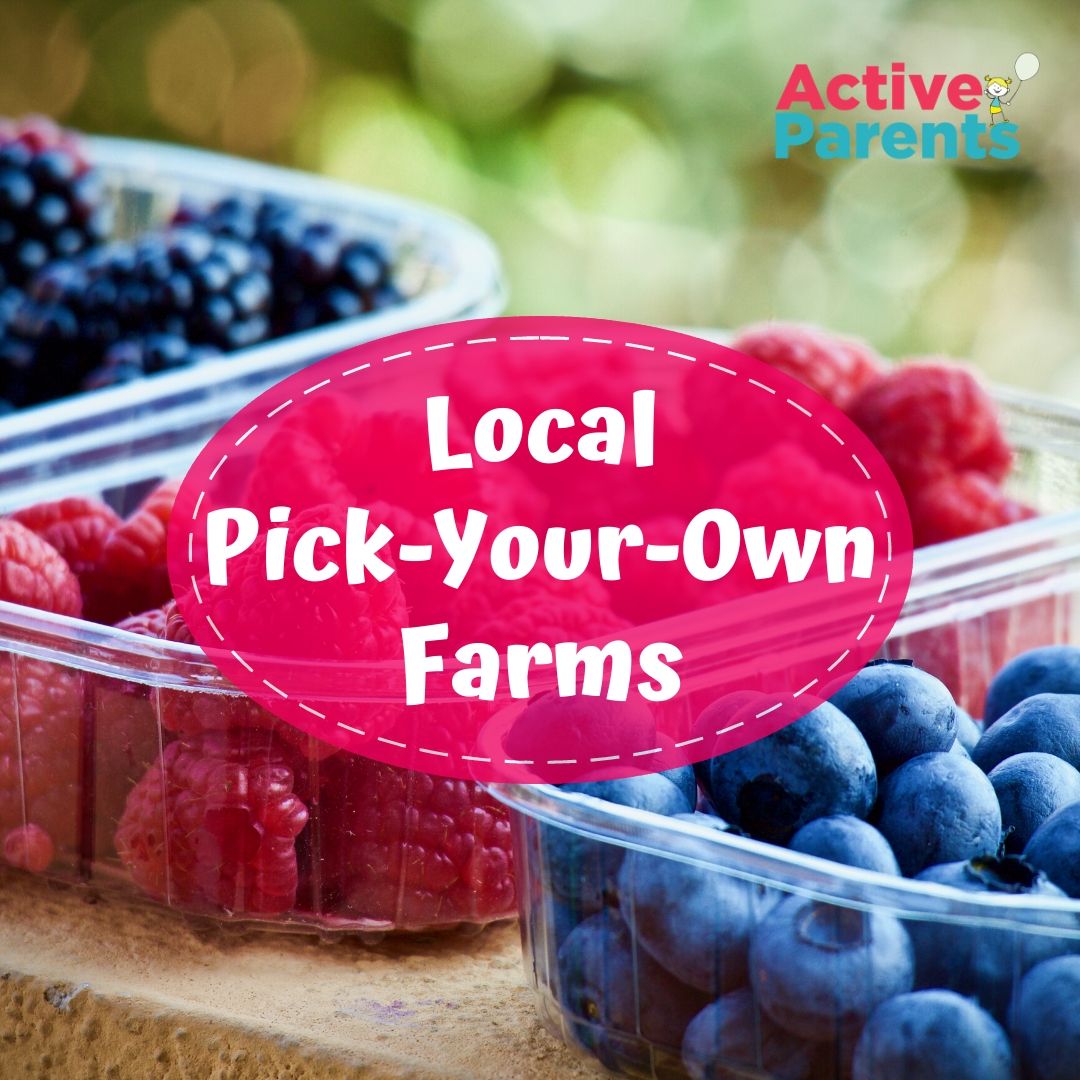 Burlington, Milton, and Oakville Area Pick-Your-Own Farms
Andrews Farm Market & Winery (Andrew's Scenic Acres)
Website | 9365 10th Sideroad, Halton Hills, (905) 878 5807
May 13-14 was the season's grand opening weekend. Admission is $15 + HST per person, and children 5 and under are free. Asparagus and rhubarb picking begin in May and berries are available after that. Keep an eye on the website for other pick-your-own favourites such as blueberries, and currants to become available.  Wagon rides are first come first served at no extra cost. No outside food is permitted. Farm hours are Tues to Sun and holidays from 10 am – 5 pm. Last entry is at 4 pm and pick your own farms fields close at 4:30 pm.
Hutchinson Farm
Website | 6202 Walkers Line, Burlington, (905) 335-2515
Right up Walkers Line, Hutchinson's offers a variety of ready-picked fruits and veggies and fresh honey, too! Be sure to check their frequently updated website to see what's picking on your visit day. Open 9-6 on weekdays and 9-5 on weekends. Closed on Mon July – Oct.
Uncle Scott's Farm
Facebook | 6583 Walkers Line, Burlington, (905) 319-3298
Another Farm on Walkers Line, Uncle Scott's pick your own farm offers PYO strawberries and peas in June and July. Keep an eye on their Facebook page to get up-to-the-minute info on what's picking and opening hours.
And finally, an update from Springridge Farm. While they haven't offered PYO in a while, Springridge has always been a destination for fun on the farm. They are open daily from 9 am – 5 pm including holidays. Children will enjoy the farm yard and animals and the barn market has baking, preserves, prepared foods and unique gifts.
Have you been to another local farm that we should know about? Please share in the comments and connect us to a great local spot to support!