Updated for 2023
There are so many beautiful beaches in Hamilton and Burlington! Most are free or cost a small fee to visit for the day. You can't go wrong with a trip to the beach near Hamilton or the surrounding area. They are close by, and each offers something a little different from the others. We've gathered information on the best beaches near Burlington, Hamilton and Niagara to help you plan a beach day to remember.
Before you head out, please be sure to check the water quality if it's been particularly hot for a few days. Some beaches close when the water isn't safe for swimming. Your only job is to decide if you will be visiting a Burlington beach, a Hamilton beach or a Niagara beach today!
Looking for splash pads? Click here.
Burlington Beach
Address: 1100 Lakeshore Rd, Burlington, ON L7S 1A7 | website
My favourite thing about Burlington Beach is its proximity to home! This is one of the most popular beaches near me, and we spend a lot of time here every season. It's been a very popular destination for the past few summers, so be prepared for lots of other locals to enjoy it, too. Burlington Beach has a sandy shoreline and the water is very shallow, which means you can walk quite a distance out into the lake and still barely have the water hit 4′ high.
If you want to lug less to the beach, you can rent some beach space, plastic chairs, water and sand toys from Burlington Beach Rentals or bring your own. Plan for a full day at Burlington Beach because they have washrooms, outdoor showers, a snack bar and a playground, too. With its popularity, parking can be difficult, to say the least. Arrive early to get a parking spot, and if possible visit on a weekday.
You can find the parking prices and how to book your visit here.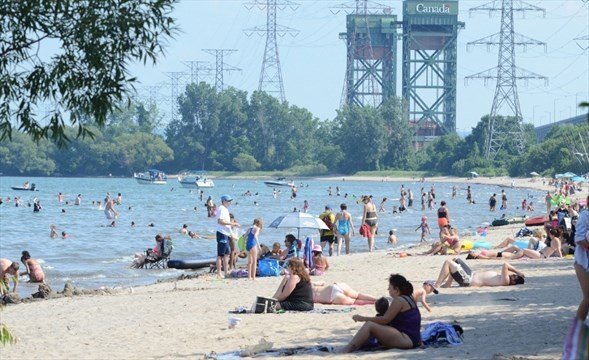 Christie Lake Conservation Area
Address: 1000 ON-5, Dundas, ON L9H 5E2 | website
From the Hamilton Conservation website: "Located in the heart of the conservation area, Christie Lake's 360-metre sandy beach is a great place to enjoy the summer sun! Build a sandcastle, while you enjoy views of the forested area across the lake." As far as local beaches go, this one is just a stone's throw away!
Our readers rate this as one of the best beaches in Hamilton, especially for canoeing and paddleboarding. Extend your visit and play some disc golf. No reservations are required for visits to Hamilton Conservation areas. Watch their Twitter page for daily and throughout-the-day capacity updates. Hamilton Conservation will close access and parking lots should they reach capacity.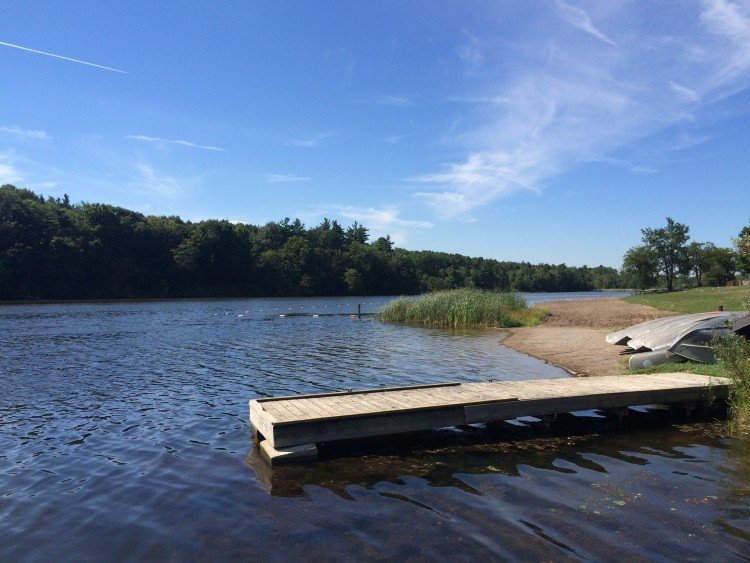 Kelso Beach
Address: 5234 Kelso Road, Milton, ON, L9E 0C6 | website
Did you know we had such a great beach so close to home? Kelso Beach is a spot my friend recommended to us when we were on the search for beaches near Burlington. She noted some of the attributes as the ability to swim in a natural lake, camp if you choose, bring a picnic, rent a canoe and even try our balance on a stand-up paddle board. There is a lifeguard on duty.
Reservations need to be made to visit, which ensures you won't run into massive crowds. Part of a 35-hectare lake, there is plenty of space to splash around with the kids, set up beach chairs, sunbathe on the sand, and play a game of beach volleyball. After your swim, grab a snack at the beach concession stand. If you feel like exploring beyond the beach and swimming area, you can take a stroll along the boardwalk, try a boat rental, or go fishing.
Halton Region's Beach Monitoring Program checks water quality at various recreational beaches including Kelso. Click here to see the current water quality conditions at Kelso.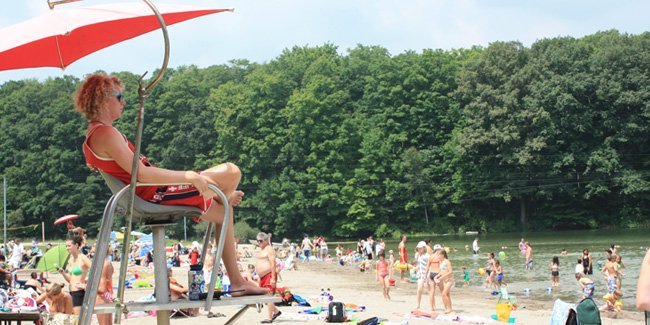 Emerald Lake
Address: 7248 Gore Rd. Puslinch, ON N0B 2J0 | website
Emerald Lake is a local favourite and our readers thought it was one of the best beaches near Hamilton! It has everything you could want for a day at the beach – and then some! This RV resort and water park is a popular destination for families because of its numerous amenities.
In addition to the 5-acre spring-fed lake and the 5-acre spring-fed quarry, complete with water trampoline rock climbing wall and catapult, you'll also have access to the 2′ deep kiddie pool, the 200′ water slide, 3200 square foot splash pad, beach volleyball courts and a basketball court.
Families of all ages rank this as one of their favourite beaches near Hamilton.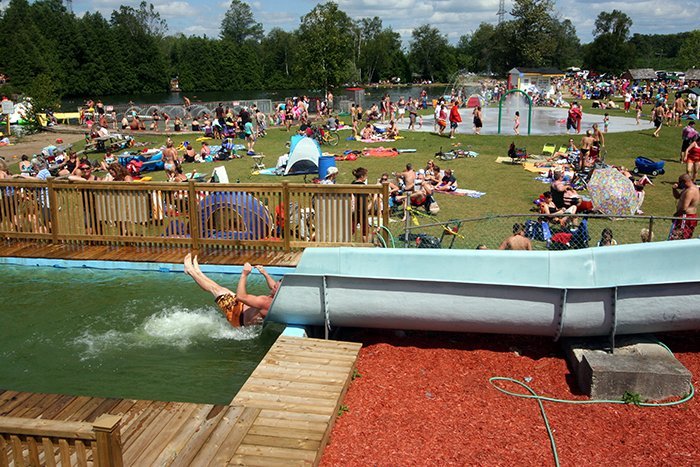 Lakeside Park Beach, Port Dalhousie
Address: 1 Lakeport Rd., St. Catharines, ON, L2N 5B3 | website
This has always been one of our favourite beaches near Burlington and Hamilton. The shallow Lake Ontario water is great for younger kids to play in. The sand was warm and perfect for castle building and beach volleyball. They also have a snack bar in case you forget drinks.
But possibly the best feature is the working antique carousel at Lakeside Park Beach in Port Dalhousie. It's over 100 years old and each ride is only 25 cents! This is a staple on the ActiveParents summer bucket list!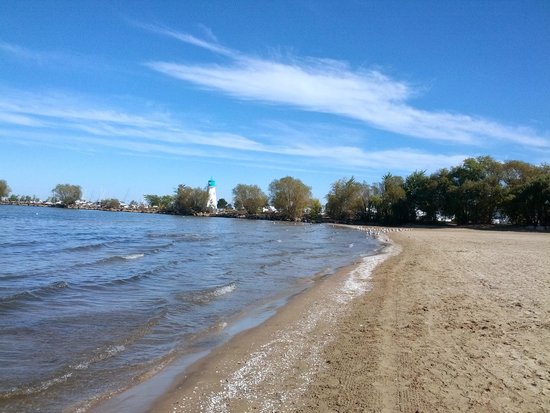 Valens Conservation Area
Address: 1691 Regional 97 Rd, Cambridge, ON N1R 5S7 | website
Valens is another one of the Hamilton beaches that has glowing reviews from seasoned campers. Reviewers praised the cleanliness of the grounds and washrooms, its peacefulness for all ages, and the serenity of the natural swimming area. Spend the day, or camp overnight, rent a canoe and unwind with the family.
No reservations are required for Hamilton Conservation areas, but to ensure adequate distance can be maintained, Hamilton Conservation will close access and parking lots should they reach capacity.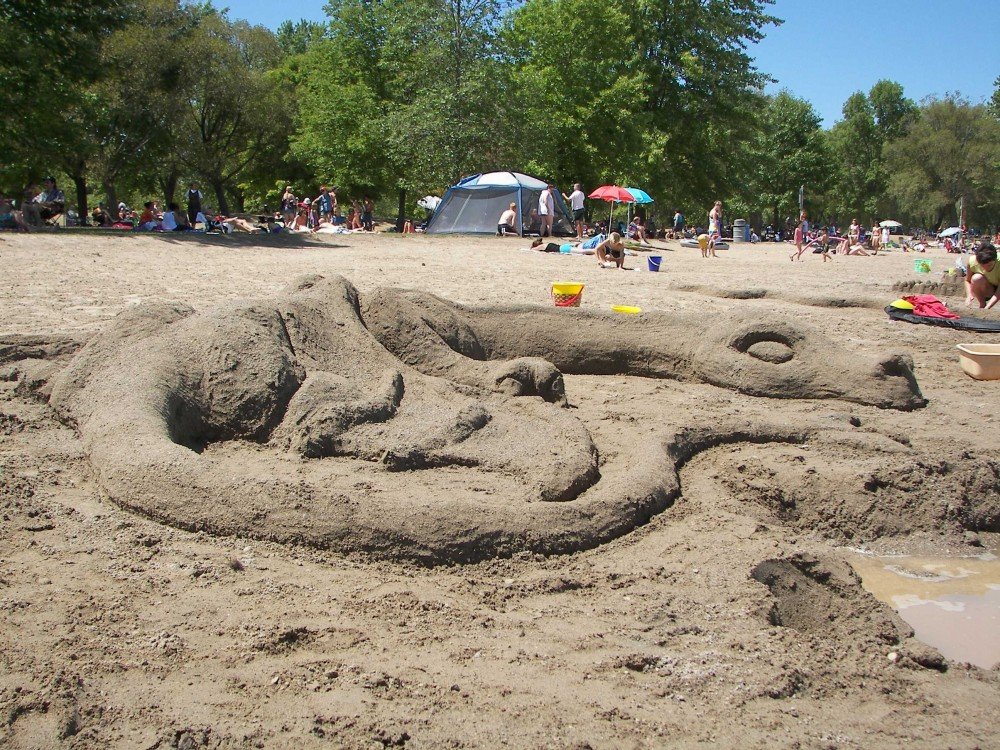 Bay Beach – also known as Crystal Beach
Address: 4155 Erie Road, Fort Erie, ON | website
The beautiful, clear waters are where Crystal Beach in Fort Erie got its name. The waters are ideal for canoeing and kayaking, some stand-up paddle-boarding, and of course swimming. Washrooms and change rooms are available for your convenience. Remember to bring your sand toys for the beach, but leave your pets at home, we've read they are not permitted on the beach.
Non-Residents: A Day Pass can be purchased at the Bay Beach main entrance for $5 each (cash, credit and/or debit) from 9 a.m. to 6 p.m. Day pass fees are $10 per person on Friday, Saturday, and Sunday, including holidays. Alternatively, beachgoers can purchase (credit or debit only) a Day Pass at a Bay Beach electronic terminal from 9 a.m. to 6 p.m. or until beach capacity is reached. Children 12 years and under are free. Proof of residency is not required to access Bay Beach.
Fort Erie Residents: Resident Season Passes are $10.00 each and are available to any taxpayer and all members of their immediate household. To help lower costs for families, children 12 years old and under can access the beach for free all season.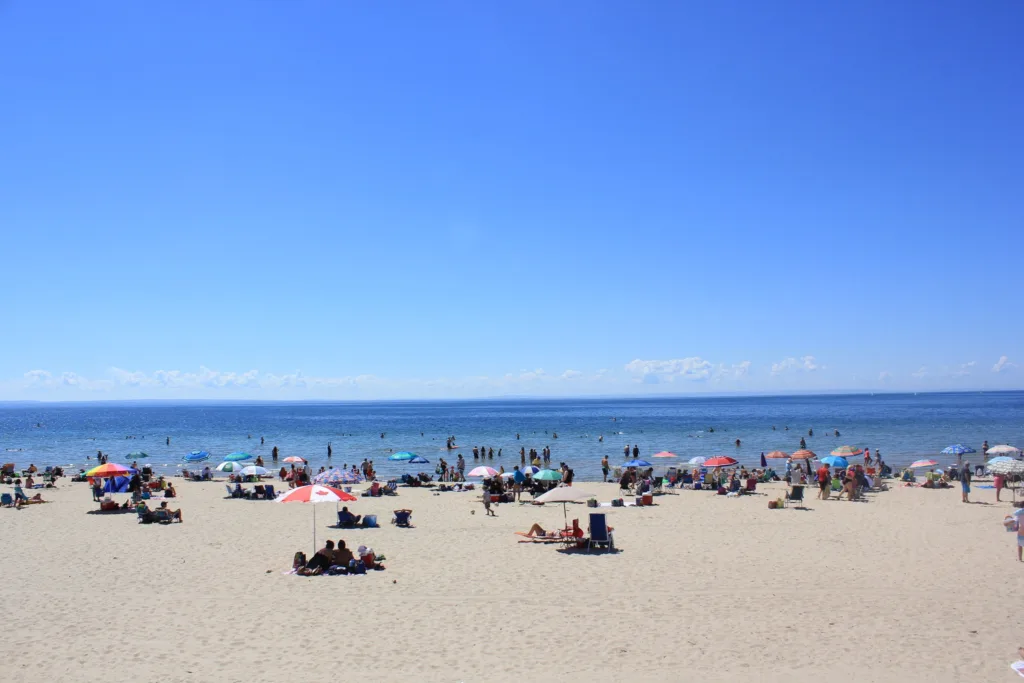 Turkey Point
Address: 194 Turkey Point Rd., Turkey Point, N0E 1T0 | website
Not exactly one of the beaches near Burlington, but this one comes highly recommended so we added it. Turkey Point is an Ontario Provincial Park and it's open May 5 – Oct. 29, 2023. It is a 2km wide beach boasting beautiful sand and ideal conditions for busy families. There aren't any lifeguards on duty at Turkey Point, but the shallow water makes for a perfect day of splashing for kids.
Life jackets are available to rent, and both paid and free parking are available close to the beach. But don't let the fun end, because you can camp overnight, too! If you have an annual admission pass, your admission is included!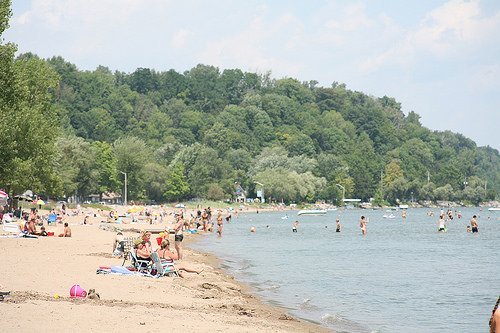 Long Point
Address: 350 Erie Blvd, Port Rowan, ON N0E 1M0 | website
Long Point is another Provincial Park that we highly recommend. I think it's one of the best beaches near Burlington. Lots of families raved about it and we finally made it there in 2021. This year it's open May 12 – Oct 22. The beach is massive and clean, and the Lake Erie water was great. Parking was tight if you wanted to be in the lot, closest to the beach access, but there was also street parking in various places.
I took this photo below when we were there, and although it looks busy, there was a ton of space. We didn't have anyone within 10 feet of us the whole time. From the Ontario Parks website: "Large, sandy beaches are located by Monarch's Rest and Turtle Dunes Campground and the Day-Use are in the New Park as well as Cottonwood Campground in the Old Park. Over two kilometres of soft sand and warm water awaits you."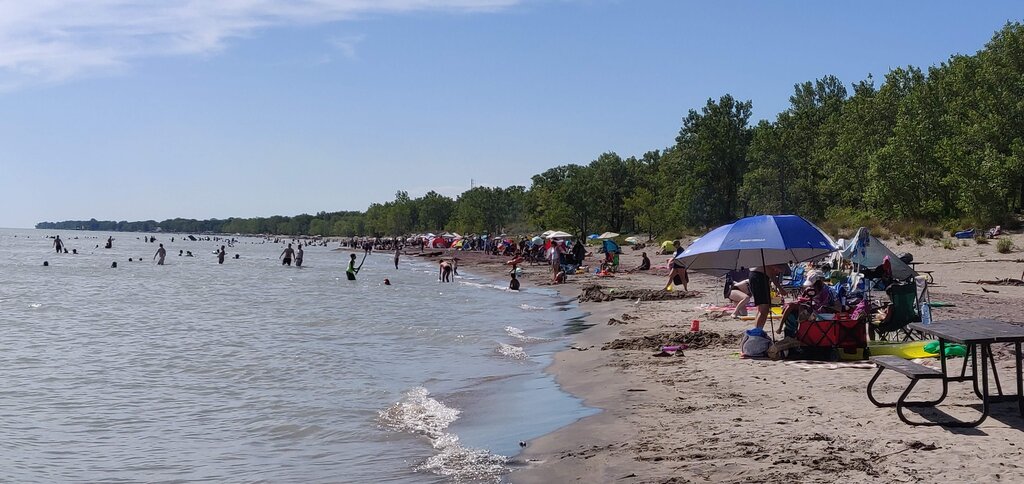 Know Before You Go…
Wondering if the water is clean and clear? We like to use a few resources to check before we jump into any body of water. Use one, or try a few and make sure they're all on the same page.
Halton Region's official water safety resource
Hamilton's official water quality resource
If you've been to one of these beaches, share your review below and let other families know what to expect from their day trip. And please use the easy share buttons below to share this story with your friends!
More Ideas For Family Fun
We have visited hundreds of places and written about them to help you find the very best destination for your next day trip or outing. We love sharing indoor play places, playgrounds that go above and beyond, and more! Here are a few of our latest blogs to help you have a great weekend.