Sadly, with the huge amount of rain we had this spring, our own Burlington Beach is not going to be the beach it was last year. In preparation, we've got you covered with a list of local beaches to "tide" you over (see what we did there?)
Here are some alternative locales, sorted by distance, for your summer 2017 beach day. All distances are by car, on the highway, from Burlington Beach, while it's less accessible this summer.
From the Hamilton Conservation website: "Located in the heart of the conservation area, Christie Lake's 360-metre sandy beach is a great place to enjoy the summer sun! Build a sandcastle, while you enjoy views of forested area across the lake." As far as local beaches go, this one is just a stone's throw away!
Distance: 25 minutes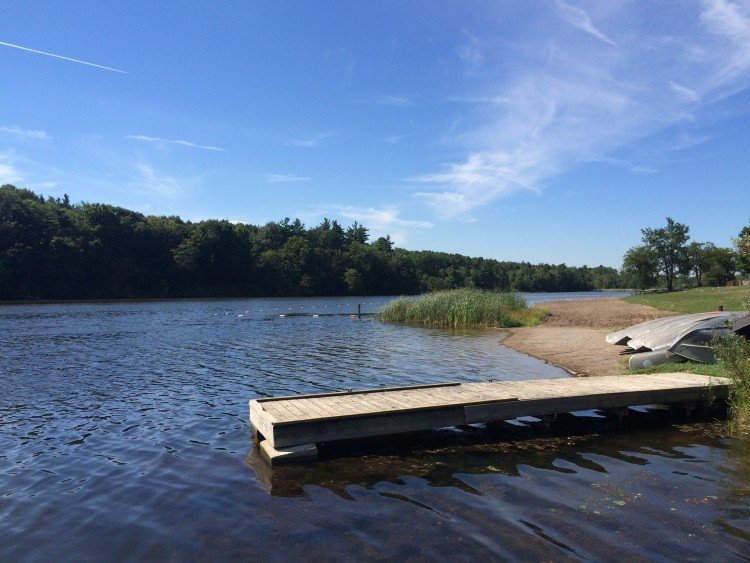 Did you know we had such a great beach so close to home? Kelso beach is a spot my friend recommended to us when we were lamenting over the current state of Burlington Beach. She noted some of the attributes as the ability to swim in a natural lake, camp if you choose, bring a picnic, rent a canoe and even try our balance on a stand-up paddle-board.
Distance: 30 minutes
Emerald Lake has everything you could want for a day at the beach – and then some! This RV resort and water park is a popular destination for families because of it's numerous amenities. In addition to the 5 acre spring-fed lake and the 5 acre spring-fed quarry, complete with water trampoline rock climbing wall and catapult, you'll also have access to the 2′ deep kiddie pool, the  200′ water slide, 3200 square foot splash pad, beach volleyball courts and a basketball court.
Distance: 40 minutes
Shallow water, warm sand, a snack bar, and an antique carousel are just 4 reasons to visit Lakeside Park Beach in Port Dalhousie. Plenty of green space for picnicking, throwing the ball around, or perfecting your cartwheels, too! This is a staple on the ActiveParents summer bucket list, but so far this year the water isn't rated safe for swimming. Keep checking here though, and as soon as you can, we recommend going!
Distance: 40 minutes
Valens, another one of the very local beaches, has glowing TripAdvisor reviews from seasoned campers. Reviewers praised the cleanliness of the grounds and washrooms, it's peacefulness for all ages, and the serenity of the natural swimming area. Spend the day, or camp over night, rent a canoe, and unwind with the family.
Distance: 40 minutes
The beautiful, clear waters are where Crystal Beach in Fort Erie got it's name. The waters are ideal for canoeing and kayaking, some stand-up paddle-boarding, and of course swimming. Washrooms and change rooms available for your convenience. Remember to bring your sand toys for the beach, but leave your pets at home, we've read they're not permitted on the beach.
Distance: 1 hour
This 2km wide beach boasts beautiful sand and ideal conditions for busy families. No lifeguards on duty, but the shallow water makes for a perfect day of splashing for kids. Life jackets are available to rent, and both paid and free parking are available close to the beach. But don't let the fun end, because you can camp overnight, too!
Distance: 1 hour, 30 minutes
Long Point is highly recommended for camping and day trips, and it's a destination we'll get to this summer. from the Ontario Parks website: "Large, sandy beaches are located by Monarch's Rest and Turtle Dunes Campground and the Day-Use are in the New Park as well as Cottonwood Campground in the Old Park. Over two kilometres of soft sand and warm water awaits you."
Distance: 1 hour, 40 minutes
If you've been to one of these beaches, share your review below and let other families know what to expect from their day trip. And please use the easy share buttons below to share this story with your friends!