Last summer, one of the activities we gave you on our list of 59 Things to do was Geocaching. Our family didn't get to it during the summer, but as soon as the mercury started rising, we started using geocaching – or treasure hunting as my kids call it – as an excuse to get outside.
Not sure what geocaching is?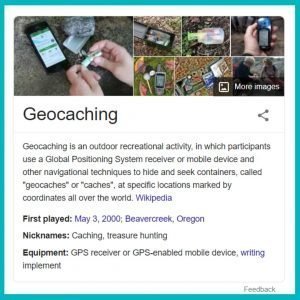 We took inspiration from our friends at Brightside Photography. Brian and his son had posted a few Instagram's of themselves geocaching and I asked him how to get started. We've started out with the free app called Geocaching Intro. There are plenty of free caches, but many more can be unlocked for an annual fee.

Geocaching has quickly become one of our favourite ways to welcome spring temperatures. Here's our novice guide to geocaching:
Download an app – either choose the one we used or if you use a different one, please share it with the community in the comment section below!
Type in your preferred area to search or choose the "near me" option.
Follow the GPS-like directions* and discover a treasure!
Log your "find" in your app.
*You can also use a compass and the coordinates listed in the details to find the cache, but we're not at that skill level yet.
High Points
With over 2.7 million geocaches hidden worldwide, you can practically hunt anywhere. We've hunted near home, near Grandma's and Grandpa's house, at the cottage, and we've even hopped in the truck and driven to an area specifically because it has a generous amount of hidden caches.
It's a fun want to hike, explore, and be outside.
It's free! There are free apps and no real supplies are required.
Low Point
Twice so far (out of 8 caches found) we haven't been able to locate a cache, and that can be disappointing for the kids. The caches are there, I'm just new at this hobby so there is a learning curve. I definitely suggest reading the details and comments to see if there are any clues about the cache and it's level of difficulty. And be prepared to try again.
Overall, our family highly recommends geocaching as a great way to get outside with a fun purpose. Our girls love seeing the treasures, following the live map to the spot, and rooting around for a hidden container. Mom and Dad love how tired the fresh air make the kids! Overall rating is a solid 'A'. Be sure to let us know what you think, and if you can suggest a geocache to seek out next time.