Summer doesn't have to break the bank! We know the best fun and free things to do with kids all summer long. Active Parents has your Guide to 50+ things to do in the summer that won't break the bank. Share this list of cheap and free summer fun with everyone you know and be the SUMMER SUPERSTAR!
50+ Ideas For Free Summer Fun Near Hamilton and Halton
If your wallet is feeling a little lighter than usual these days, you're not alone! Oftentimes, summer vacation can be the most expensive time of year, even if your kids aren't in summer camps. Active Parents can help you. We've put together a massive list of fun, free things to do in the summer near Oakville, Burlington and Hamilton!
The List!
1. Join the Summer Reading Club at your local library. All local libraries host a summer reading challenge for kids. Young readers have the chance to win prizes for reading over the summer!
2. Take in a Free Movie in the Park – All summer long Burlington is hosting free movies under the stars.
3. Happy Rolph's is Free To Visit – families with young kids will love visiting this free animal sanctuary.
4. Visit the Gage Park Greenhouse. This free greenhouse is home to a plethora of plant life, fish, turtles, and more!
5. Cherry Hill Gate is part of the Royal Botanical Gardens family. It's home to a great trail, a boardwalk over a marshy expanse and so much wildlife.
6. Visit the New and Improved Gage Park. Gage Park is always a full day of entertainment thanks to its cool playground and splash pad!
7. Listen to an Outdoor Concert. The City of Burlington is hosting twice-weekly outdoor concerts in various locations throughout the summer.
8. Attend one of Burlington's Children's Festivals. This year there are 3 separate events happening simultaneously to bring the Children's Festival to more people!
9. Catch Some Canada Day Fireworks. Beautiful fireworks light up the night sky on July 1.
10. Bike The Waterfront Trail. Start and stop along the route as you like, and there is so much to see on your ride!
11. Splash Pads are my favourite go-to for free summer fun. Easily find Burlington splash pads, Hamilton splash pads and Oakville splash pads here.
More Free Summer Fun…
12. Beat The Forecast – This free indoor play structure at Tansley Woods is great for little kids.
13. Local Skate Parks are a hot spot for tweens and teens in the summer. Bring your safety gear and a water bottle to one of these local parks in Hamilton, Burlington and Oakville.
14. Waterdown Park has something for everyone: Wheel the paved path, splash pad, and playground. Plus the epic skate park has been repainted!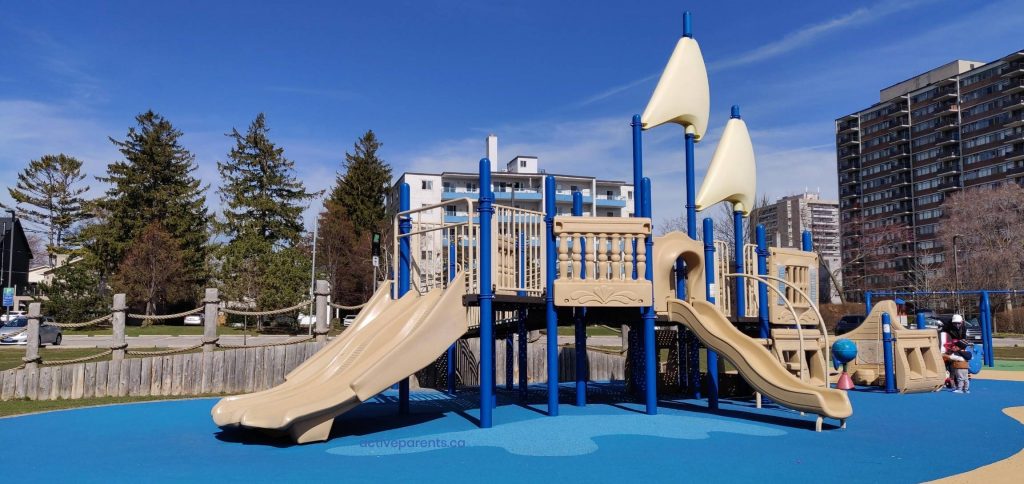 15. Try Geocaching. This one is ideal for kids who are tweens, or really good with a phone's GPS. You get to track down a "cache" that could have a special surprise inside! Read our newbie's guide here.
16. Discover New Playgrounds – Use our Playground Guide to find the best park for you! Lots of photos to help you choose, and one of the easier ideas on our list of free things to do in the summer.
17. Chase Waterfalls – Hamilton is home to some of the best waterfalls you'll find, and they're almost all free to visit and explore!
18. Chedoke Trail – This stroller-friendly trail is shaded and offers stunning views of the city. Perfect for the whole family.
19. Shop The Farmer's Market – fresh kettle popcorn, sweet strawberries, baked goods and more await you at these local farmers' markets.
20. Stroll the Japanese Garden at Tansley Woods and enjoy the peaceful gardens and beautiful plants.
21. The Tugboat Playground at Pier 4 Park for an afternoon of fun and imagination.
22. Send Postcards Internationally – Postcrossing is one of our favourite activities! Sign up for a free account to send and receive postcards from around the world.
23. Snap a Selfie with Theodore Tugboat – He makes his home at the Pier in Hamilton near a great playground, splash pad and biking paths.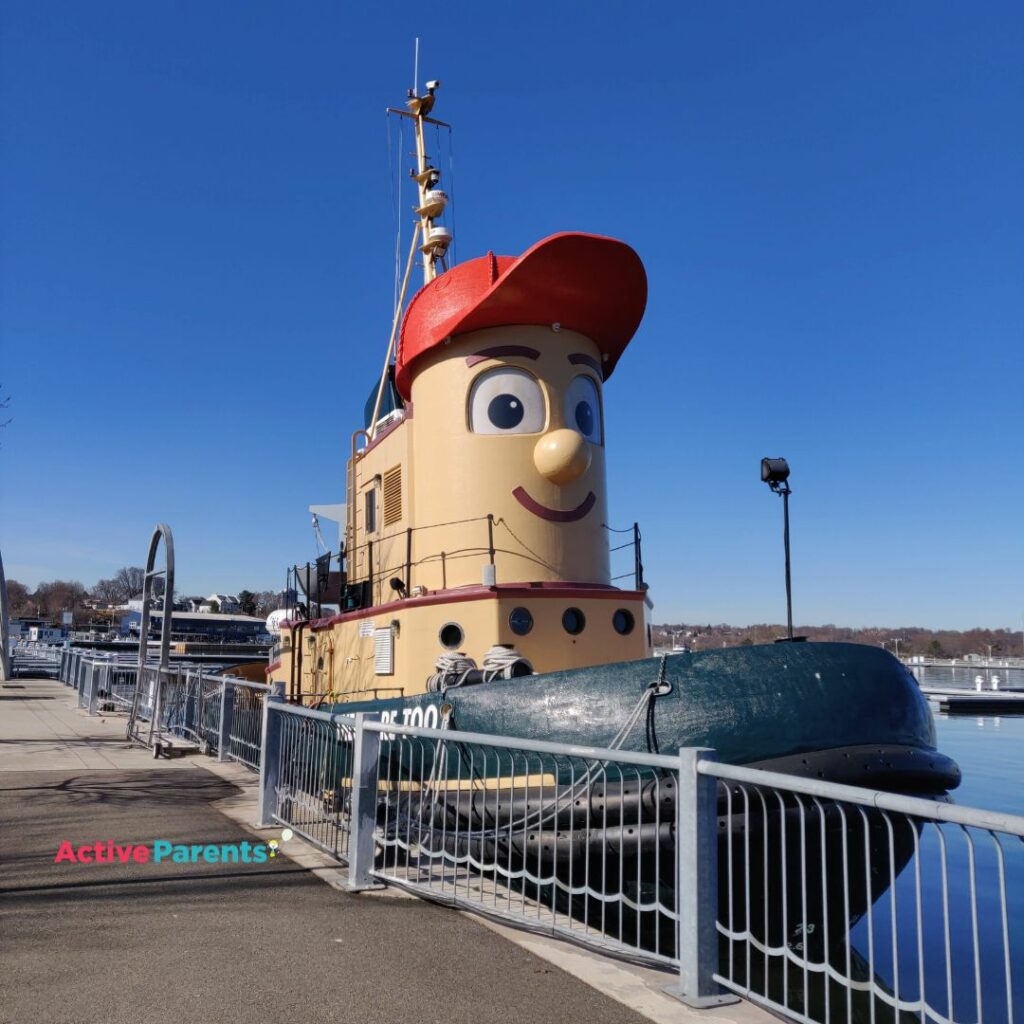 Still…More Free Things To Do In The Summer
24. Library Free Passes – Did you know that you can borrow family passes to great destinations like Ontario Parks, Royal Botanical Gardens, Halton and Hamilton Conservation Areas and more with your library card?
25. Tuesdays at the AGH – Access to the 2nd floor (my favourite, and the most kid-friendly) of the Art Gallery of Hamilton is free every day! Visit on a Tuesday and the entire gallery is free admission.
26. Have a Picnic at Gairloch Gardens – This Oakville garden is stunning all summer long so make sure to check it out. And why not have a picnic, too?
27. Visit The Majestic Trumpeter Swans – They live at one of Burlington's best parks and are one of our must-see free things to do in the summer.
28. Borrow Play Equipment For Free – Hamilton, Oakville and Burlington each have free equipment lending services. Everything from balls to life jackets can be borrowed for free.
29. Go Fishing! No one needs to be great at fishing to enjoy it. It's a relaxing option for some free summer fun. Find some great fishing spots here.
30. Leave a Book, Take a Book – Little free libraries are where all of our books go once we've read them and are ready to pass them on.
31. Spend The Day At The Beach – we put together a list of the very best local beaches that our community of parents recommend.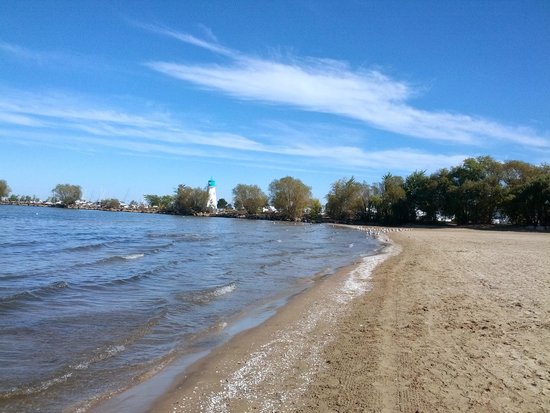 Save Your Pennies – These Ideas Are Free, Too!
32. Free Library Fun – there is always something great happening at your local library. Use our calendar to see what's happening today.
33. Trainspotting Around Town – Here are some great spots to see trains locally – choo-choo!
34. Something For Kids Who Like Bridges and Big Boats: You can see them both in action down at the lift bridge.
35. Ride The Dirt Jumps at Nelson – Free and well-maintained dirt jumps are just what your daredevil on two wheels is looking for! This is one of my 12-year-old's favourite free things to do in the summer.
36. Creek Walking is such a great way to keep cool while exploring water creatures up close. Here are our favourite places to creek walk.
37. Explore a Natural Playground – We have so many natural playgrounds that are just a short drive away. Which one will you visit first?
38. Lowville Park is a Must-See Park because it has everything! Picnic space, a great playground, lots of fields and a trail. Plus, Bronte Creek runs through it!
39. Find a Restaurant Where Kids Eat Free – we have an ever-growing list and keep watching as summer deals pop up and are added.
40. Walk The Labyrinth – Did you know that Burlington has a labyrinth?
41. Volunteer With Your Kids – volunteering is free but it pays out in multiples, and when your kids are involved, they benefit too.
Inexpensive Things To Do With Kids This Summer
In addition to those 40+ free things to do in the summer, we have some inexpensive ideas for you too! It's true that the best things in life are free, but sometimes a few bucks can really amp up the fun. These inexpensive things to do with kids in and around Burlington, Hamilton and Oakville are some of our faves. We try to do as many as possible every year.
42. Outdoor Swimming Pools are they are here to cool you off when the temperature rises. Easily find Burlington, Hamilton and Oakville pools with our guides.
43. Indoor Swimming Pools are less busy in the summer and therefore the perfect way to ensure you don't get sunburned.
44. Beat Your Kids At Mini Golf – we have some unique and creative mini-putt courses nearby.
Cheap Things To Do With The Family This Summer
45. Kids Bowl Free All Summer Long! Register your child for 2 free games of bowling all summer and you'll always have a rainy-day plan up your sleeve.
46. What Is Footgolf? It's part golf and part soccer…and all fun! This Hamilton golf course is where you can play.
47. Explore The Karsts – a Karst is a cave-like opening in the earth and Eramosa Karst Conservation Area is the coolest place to see them.
48. Walk The Gnome Trail at Bronte Creek with your little ones and their imaginations will run wild.
49. Eat Your Way Around The City – we know the best places to get ice cream, the top-rated donut shops and the french fries you crave. Read them all here.
50. Go To The Drive-In with the kids, prices are reasonable when you have a carfull, and you can't beat the memories you'll make.
51. Take a City Bus Tour: We did it a few years ago and my kids loved it! Some ages ride for free, making this one of the easiest, air-conditioned and free things to do in the summer.
52. Visit a Sunflower Farm at the end of the summer and you'll be spellbound by the glowing fields of gold as far as the eye can see.
Printable Summer Bucket List of Free Things To Do In The Summer
You can count on Active Parents for 50+ inexpensive summer activities that are ideal for families. Summer vacation can quickly go from carefree to stressful if parents aren't careful. Plan simple activities you can do as a family to make the most of summer vacation.
Free fun like visiting the beach or splash pad. Frugal fun like having a BBQ or getting some ice cream together. Most of these activities require little planning and are almost entirely free. We cover it all, and we hope this keeps boredom off your trail all summer long!
Click here to download a printable PDF version for your fridge!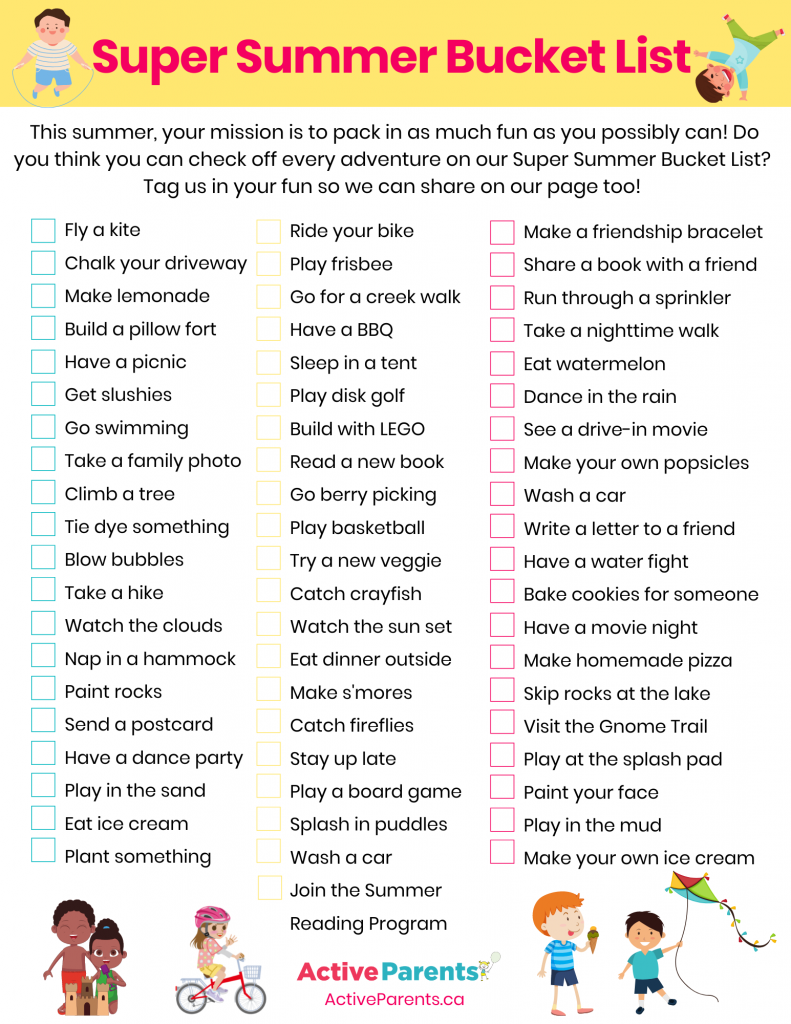 Tag us when you're sharing your fun on Facebook and Instagram. Especially if you try one of these free things to do in the summer We love being tagged and living vicariously through your adventures!
More Ideas For Family Fun
We've been to so many cool places, and we've made it our mission to share all the fabulous locations we find with you. Whether you're planning a day trip or looking for the best playgrounds, we've got your back. We are all about discovering the most amazing indoor play areas, farms and animal experiences, and a whole bunch of other visit-worthy local attractions. Check out our latest blog posts below to make sure you have an absolutely epic weekend!