Hamilton's Buncrana Golf Course is now home to a footgolf course and it looks like a blast!
Buncrana Golf Course is located in Hamilton and is home to a 12-hole golf course and now an 18-hole footgolf course! If you're like me, you're probably asking yourself what is footgolf? It was new to me, too! When I heard about it, I did some research. As it turns out, this is just what it sounds like – a golf course with holes big enough to sink a soccer ball in!
Foot golf rules are similar to golf rules: you kick a soccer ball around a course and try to sink your ball in as few shots as possible.
Looking for mini golf courses near you? Click here!
Buncrana has foot golf, disc golf and golf. Find more disc golf courses here.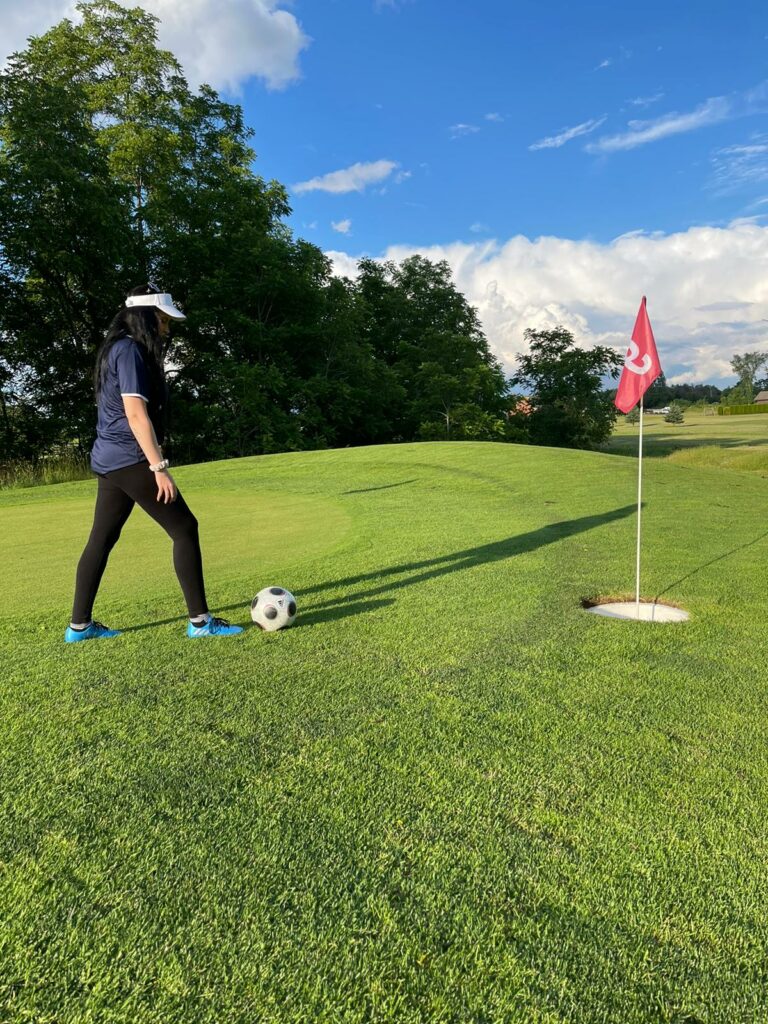 What is footgolf?
Footgolf is a combination of the popular sports of soccer and golf.  The game is played with a soccer ball at a Hamilton golf course facility. The goal of the game is to kick your soccer ball into a specially designed 21-inch diameter hole (on the sides of the greens, fairways, or in the rough) in the least amount of strokes. (from Buncrana's website)
Frequently asked questions.
Do I need to have my own soccer ball?
Each player is required to have their own ball. Don't have one? No problem. They rent soccer balls for $3.
How long does it take to play 18 holes of footgolf?
Depending on the size of your group and your skill level, it may take as little as 1 to 2 hours to play the course.
When can I play foot golf at Buncrana?
Footgolf reservations can be booked for Sundays after 3 pm or Mondays anytime.
How much is a round of footgolf?
Prices are $15 for juniors (under 12) and $22 for adults (12 years and up). You can book a tee time for 4 players on their website.
Where Can I Play Footgolf Near Me?
Buncrana Golf Course is located at 1079 Hwy 8 in Dundas, ON L9H 5E1.