Nestled in the picturesque region of Niagara Falls, Ontario, Safari Niagara is a hidden gem that promises an unforgettable adventure for nature enthusiasts, families, and wildlife lovers of all ages. This 150-acre nature park is a haven for both native and exotic animals, offering a unique blend of entertainment and education. Let's embark on a virtual tour of Safari Niagara's fascinating attractions and explore why it's a must-visit destination.
The Safari Niagara Experience
As the name suggests, Safari Niagara offers visitors a safari experience like no other. The park's expansive grounds provide ample space for a thrilling safari tour, allowing you to get up close and personal with a diverse range of animals. From the safety of specially designed safari vehicles, you can witness animals like bison, elk, and deer roam freely in large, natural enclosures that mimic their native habitats.
Guided by knowledgeable and passionate staff, these safari tours provide fascinating insights into the behaviour, conservation efforts, and natural history of these magnificent creatures. It's an experience that both educates and entertains, making it perfect for families, school groups, and wildlife enthusiasts eager to learn more about the animal kingdom.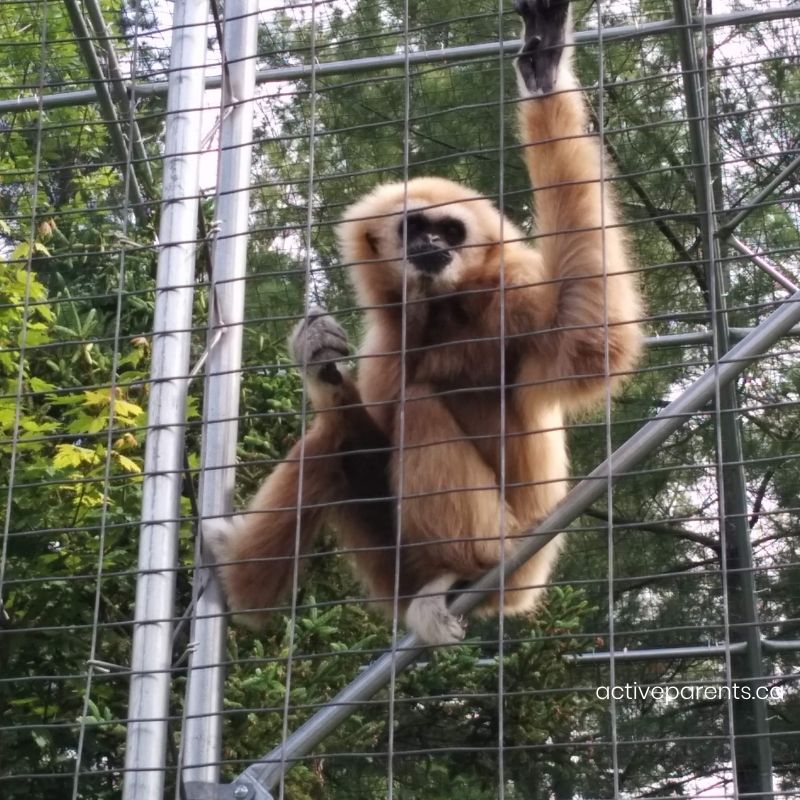 Enjoy Walk-Through Exhibits
One of the highlights of this Niagara Safari is its walk-through exhibits, where you can step directly into the world of the animals. One such exhibit is the Giraffe Encounter, where you can hand-feed these gentle giants and witness their towering grace up close.
The Lemur Walk is another must-visit attraction is the Lemur Walk. Here, you can walk among playful lemurs in their habitat. Observing their antics and curious nature is a unique and heartwarming experience, especially for children who might be seeing these creatures for the first time.
Safari Niagara's Bird Aviary is a bird lover's paradise. It's home to a stunning array of bird species, including parrots, cockatiels, and lorikeets. Visitors can enter this expansive aviary and engage with these colourful and sociable birds. With nectar cups in hand, you can feed the lorikeets, allowing them to perch on your arm as they enjoy their snack.
For those fascinated by the world of reptiles, Safari Niagara's Reptile World is a must-visit attraction. Here, you can encounter a variety of reptilian species, from snakes and turtles to lizards and tortoises. The highlight of Reptile World is the daily reptile encounter, where you can enjoy an introduction to some of the park's most intriguing reptiles. It's an educational experience that encourages a deeper understanding and appreciation for these incredible creatures.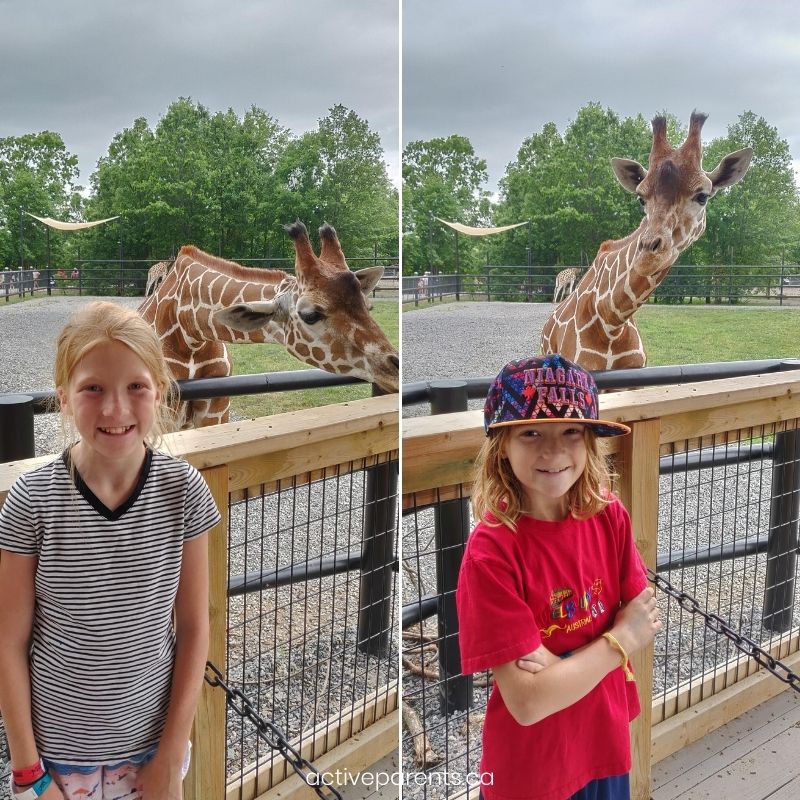 SkyQuest Ropes Course
Experience SkyQuest, a unique multi-level ropes course at Safari Niagara, the first in Ontario. Challenge yourself on this elevated obstacle course, suspended 30 feet high, relying on ropes and beams for support. Children under 48 inches tall must have a chaperone.
Younger adventurers can explore SkyTykes, a similar course designed for smaller participants with balance beams, ropes, and bridges. No need to rush; conquer the course at your own pace, making it a great family adventure.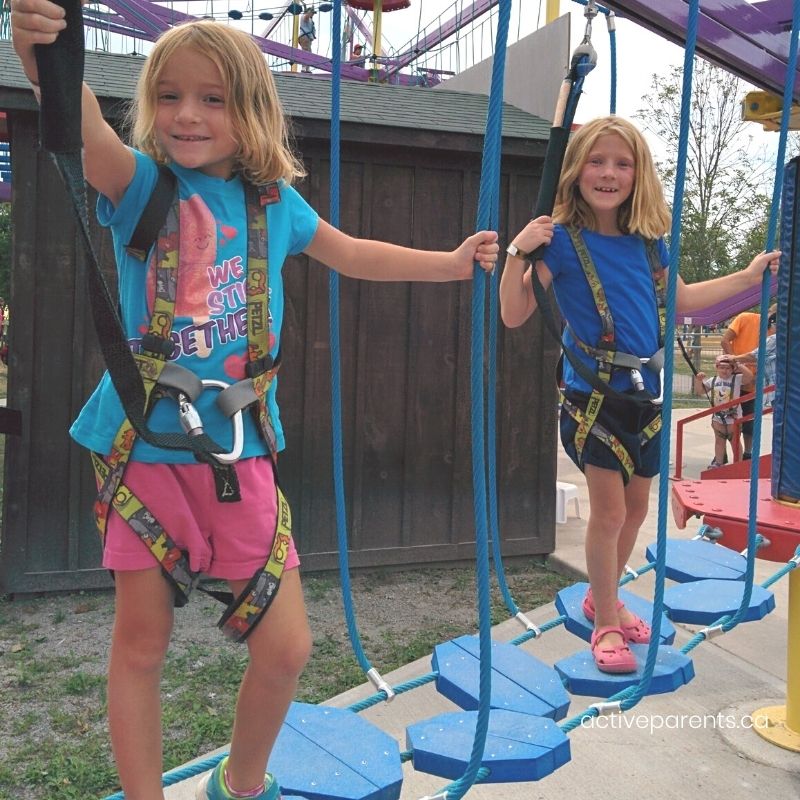 Safari Niagara Splash Pad
The Splash Pad typically opens in mid-June, subject to weather conditions. Check their website to confirm before you visit. The fully accessible splash pad offers an ideal spot for visitors of all ages and abilities to beat the summer heat at the zoo. This aquatic playground features interactive misters, sprayers, squirting teeter-totters, motorcycles, dolphins, and tipping fish.
Changing rooms and a patio area furnished with ample shaded umbrellas, tables, and chairs are available. Water depth is 10 inches.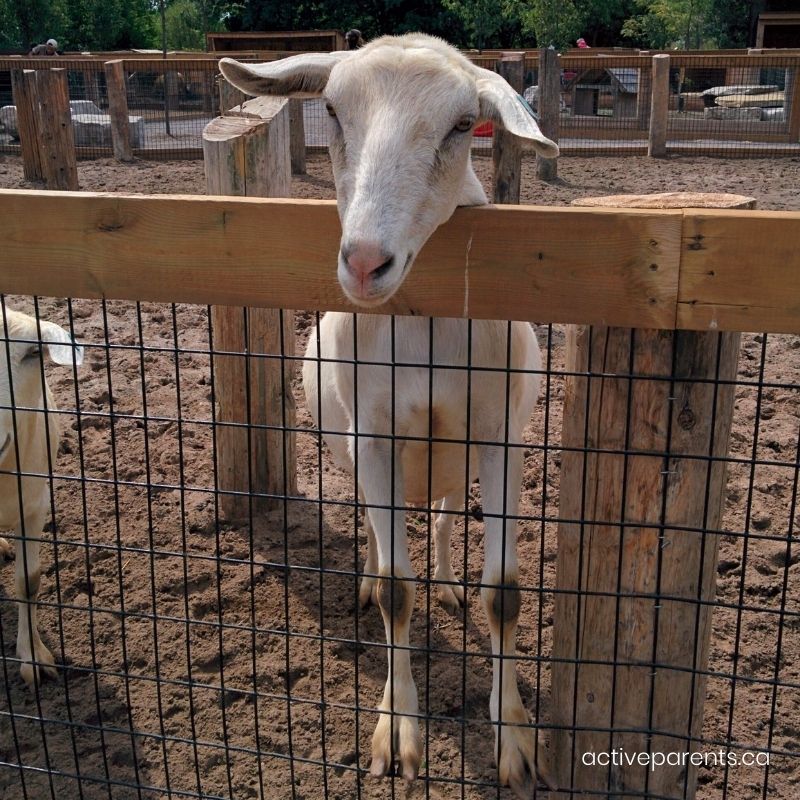 Safari Niagara in Summer 2023
Everything (but food) is included with your admission fee when you visit Safari Niagara! Here is what you can expect to enjoy on your next visit.
Other good-to-know facts for visiting this year:
Wagons are available to rent, but not wheelchairs or strollers for 2023
Food is available for purchase and you can bring in your own food as well
How Much Is Admission To Safari Niagara?
Safari Niagara offers 2 price points – called "shoulder season" and "in-season" rates.
Shoulder Seasons: From May 13 to June 9 2023 then September 5 to October 9, 2023
Adult passes (ages 13-64) are $32.95 plus HST
Child passes (ages 3-12) are $25.95 plus HST
Senior passes (ages 65+) are $25.95 plus HST
Children 2 and under are free.
In Season: Regular Season Rates are from June 10 to September 4, 2023
Adult passes (ages 13-64) are $39.95 plus HST
Child passes (ages 3-12) are $32.95 plus HST
Senior passes (ages 65+) are $32.95 plus HST
Children 2 and under are free.
If you would like to purchase Safari Niagara tickets now, click here. And I hope you enjoyed our Safari Niagara photos!
Upcoming Events at Safari Niagara
In addition to their summer fun, Safari Niagara also hosts special events like Boo at the Zoo, a Christmas Lights drive-through experience and more!
Read Our Latest Articles
Catch up on what we've been covering! Here are our latest reads, hot off the presses just for you. Never miss an article when you subscribe to our weekly newsletter filled with kid-friendly fun and events.