Opening this Thursday, April 6th is Springridge Farm! No Easter events this year, but everything else is back and ready for you! It's been a long winter without their local treats & fun, but we are so happy they are back! Here's what to expect when you visit.
Looking for more farm fun? Look right here for animal adventures and fun in the fresh air.
Welcome To Springridge Farm
Getting to Springridge Farm in Milton is easy peasy, and they have a ton of free parking. Their lot is gravel, and there is a paved walkway getting you to the farm store and bakery. The grounds of the farmyard are a mix of dirt and wood chips. It may be difficult for some strollers, so keep that in mind.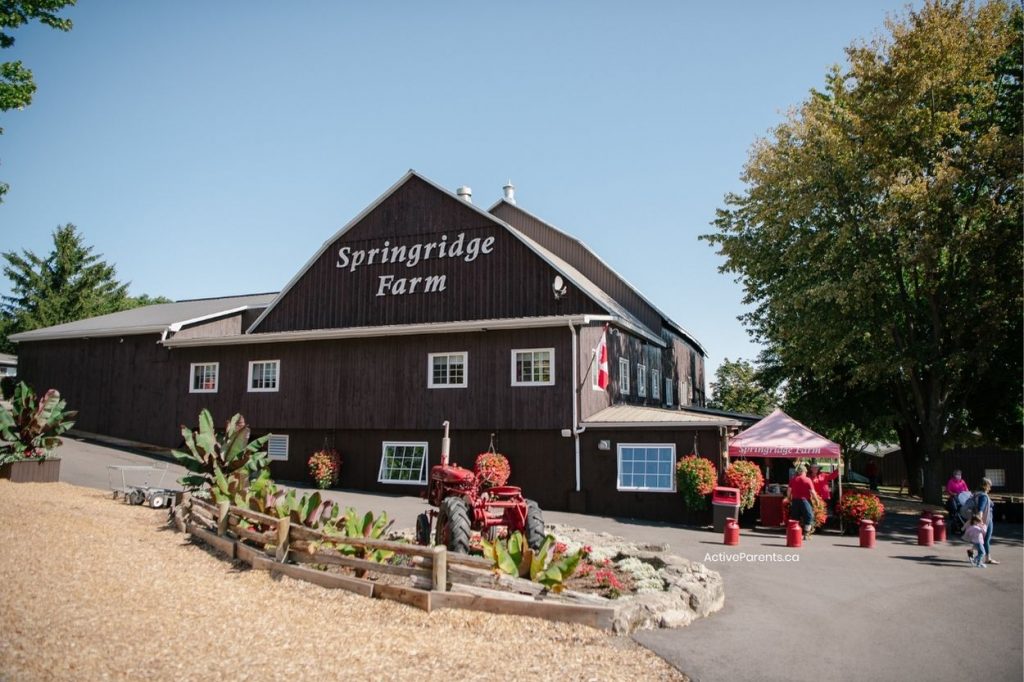 The Fun Farm Yard is Open!
Springridge Farm's "Fun Farm Yard" is a long-time family favourite place to visit. This is a great place for multi-generations to visit together. The grandparents have as much fun as the kids do!
The farm is not asking for visits to be pre-booked, you can pay for your visit on a first-come, first-serve basis. Admission for everyone over 2 years old is $12 on holidays and weekends and $9 a person on weekdays. This gets you full access to the farm, which includes:
spider web climber
tube slides
giant sandbox
straw play
goat mountain
escarpment lookout
farm animals
antique tractors
singing chicken show
pedal tractors & farm hoppers
tractor-drawn wagon ride
big red Adirondack chairs for parents to sit and relax while children are enjoying the fun farm
NEW singing tractor
NEW crank steam tractor
Don't forget a camera because there are a ton of photo ops with cutouts, animal statues and of course the big red Muskoka chair.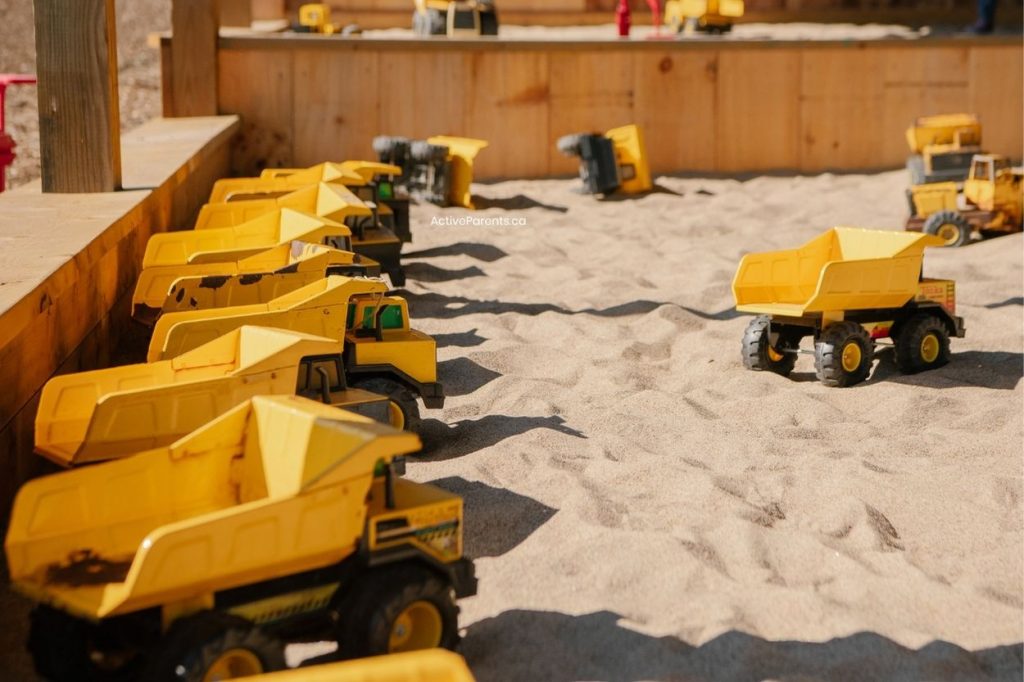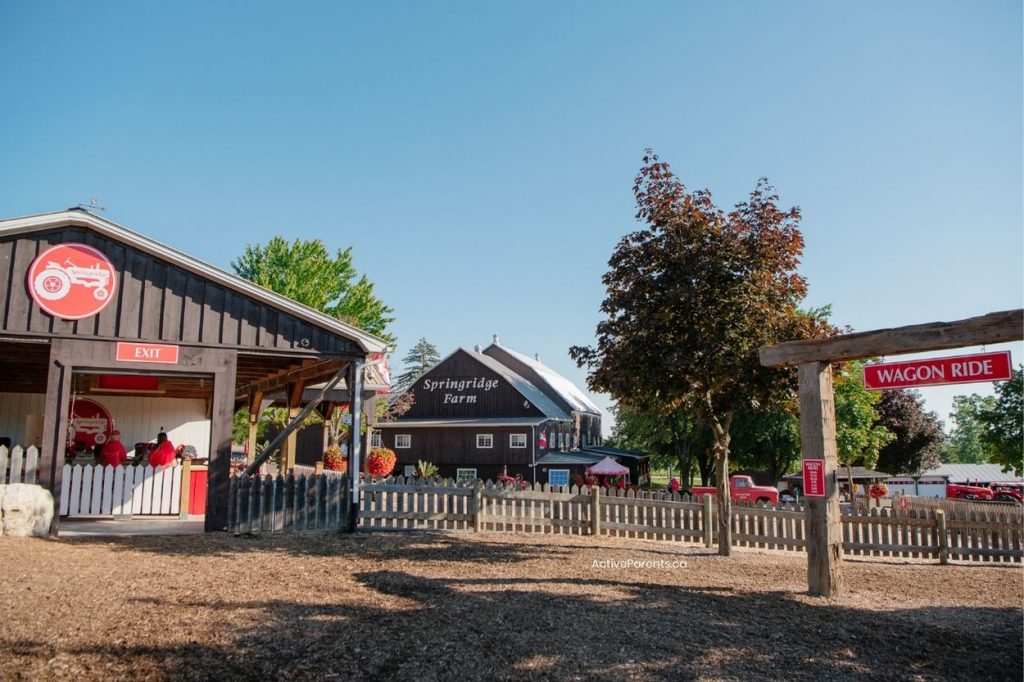 Are There Animals At Springridge Farm?
Oh yeah, there are! Springridge is home to goats, rabbits and chickens. The goats have a very cool enclosure with a spiral staircase and their own red barn. The rabbits are sooooo soft and those silly chicks are hilarious to watch and feed. Bring your animal lover to visit.
Bring a few quarters so you can buy some feed for the animals.
Reader question: Are pets/dogs allowed at Springridge Farm? Service dogs are welcome, but all other pets should stay home for this trip.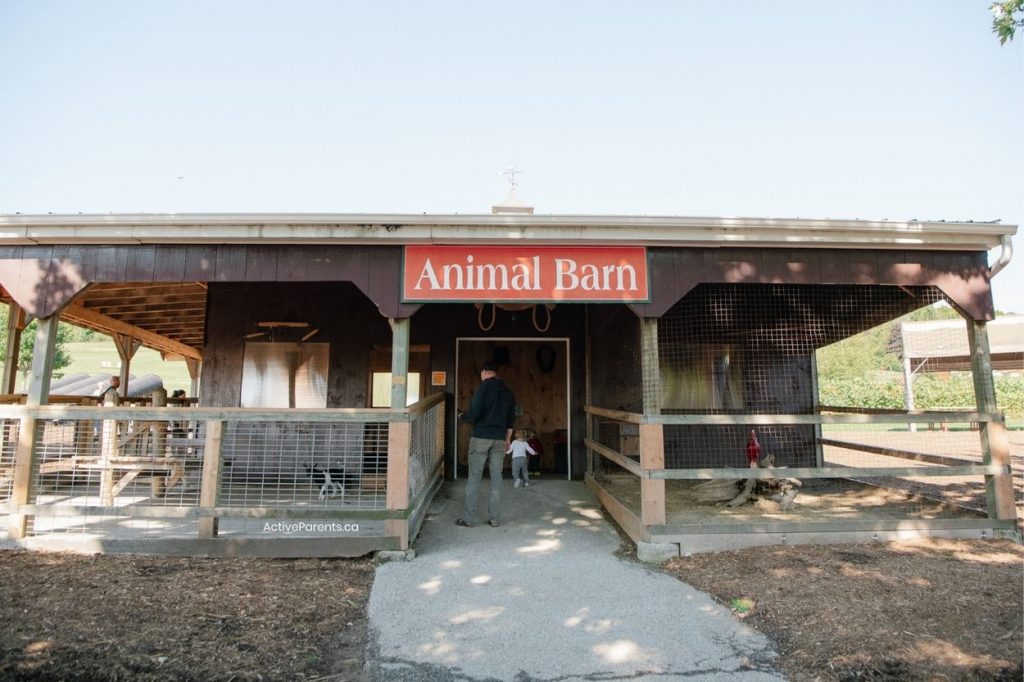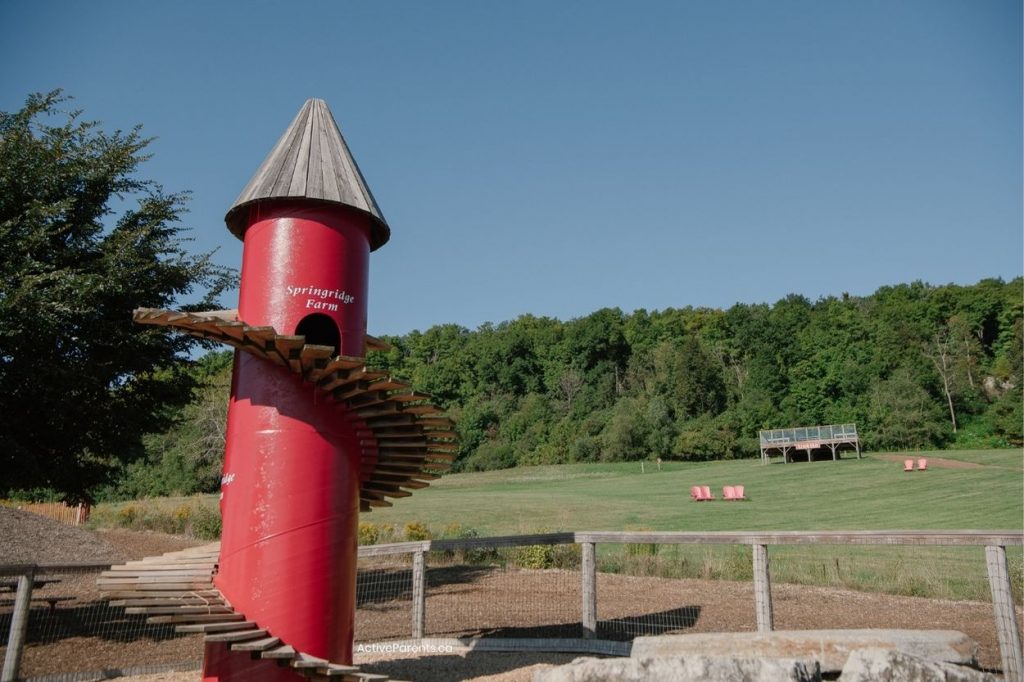 what else is there to do at Springridge Farm?
In addition to the animals at the farms, Springridge is home to some great kid-friendly activities. At the top of Victoria's must-do list was riding the pedal tractors. Located in a big open-air barn with a paved floor, kids can hop on and off brightly coloured tractors and peddle around at high speeds (well, as fast as they can pump their legs!).
Also, hop on the Farm Hoppers – those inflatable animals that kids sit on and bounce around on. Then wander over to the giant pipe slides and little to the vibrating giggles and kids of all ages make their way down over the corrugated ride. Make time in your visit to watch the singing chicken show, too. Lots of laughs!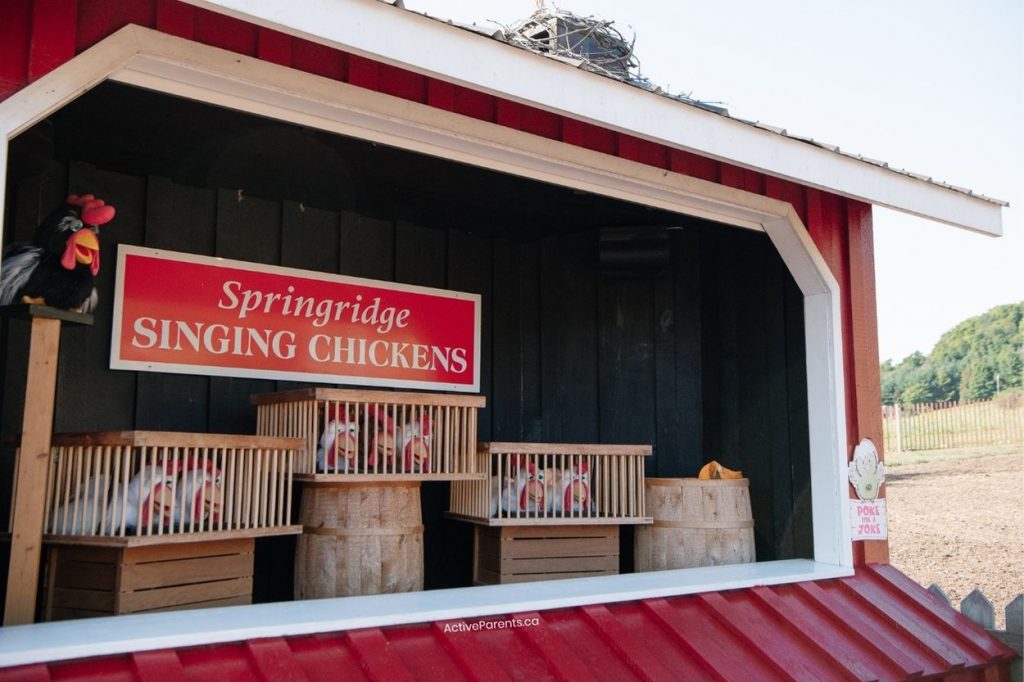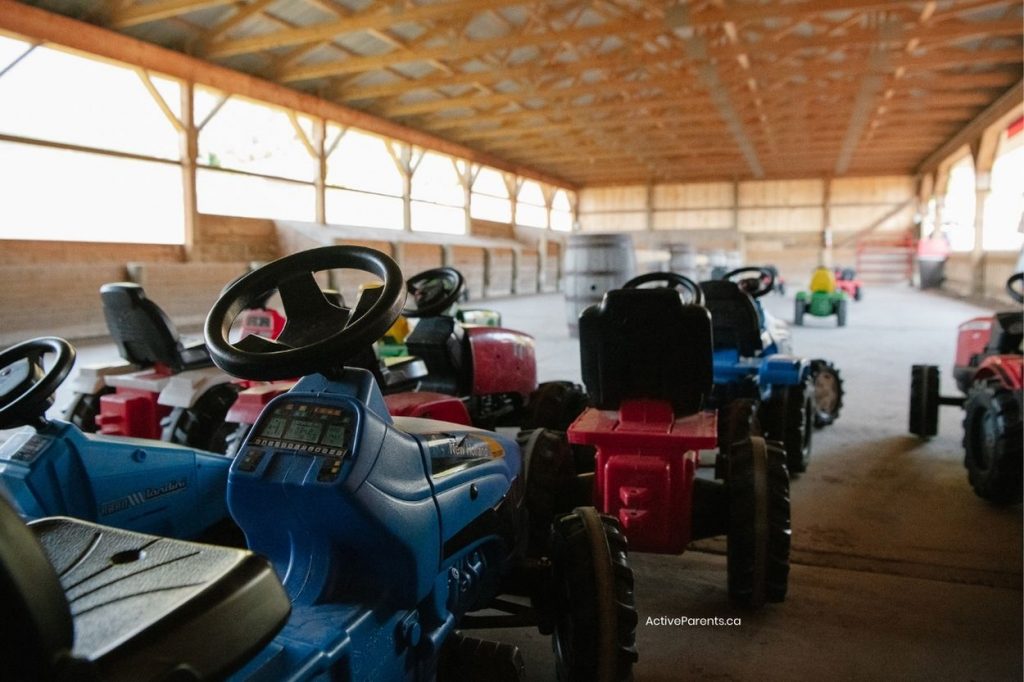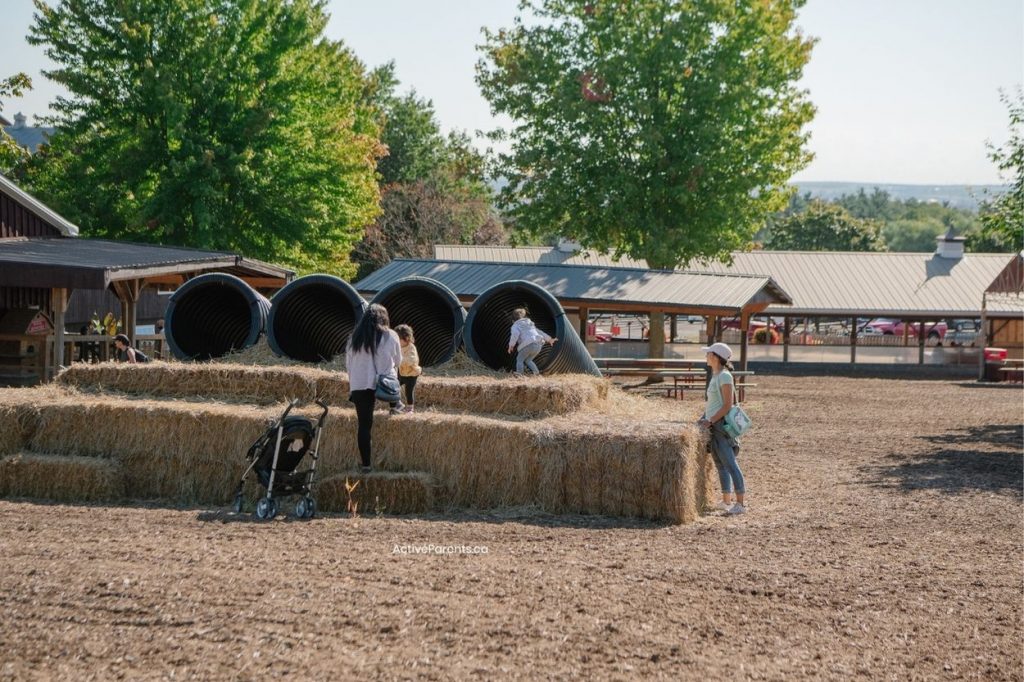 Wagon Rides and Escarpment Lookout
A visit to the farm wouldn't be complete without a ride in their big, red wagon. Rides are included in your admission and run hourly starting at 10:30 am until 4:30 pm on weekdays, and on weekends the tractor runs continuously from 10 am till 4 pm. The ride is non-stop and takes about 15 minutes. You'll get a tour of the farm and some beautiful views of the escarpment.
Speaking of the views. make to make the trek up to the Escarpment Lookout. It's a workout, but you won't regret it! On a clear day, you can see the CN Tower!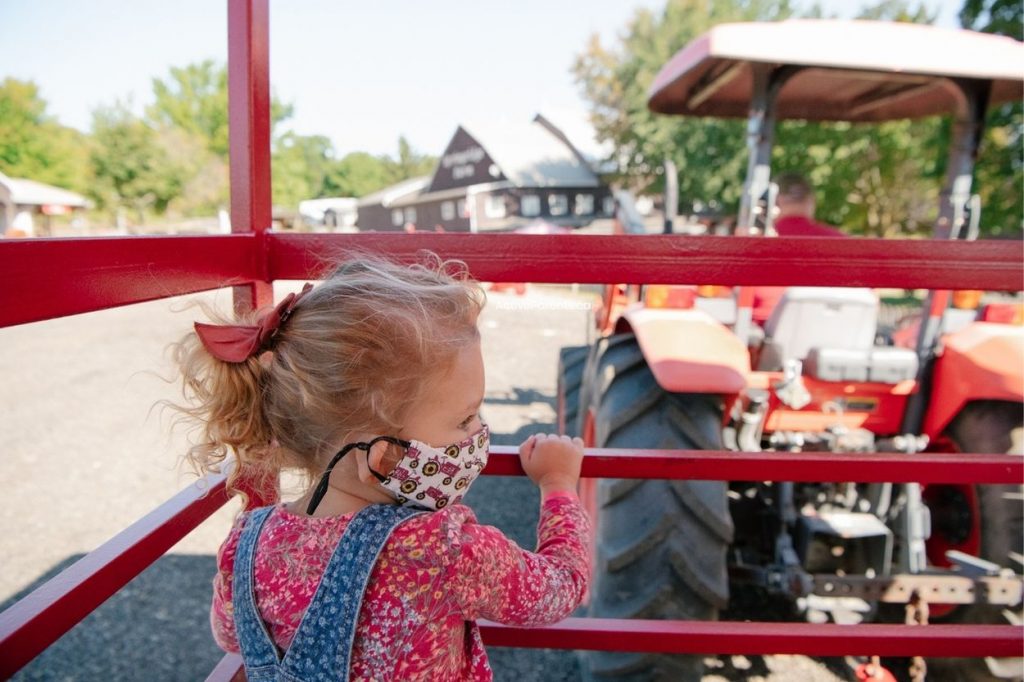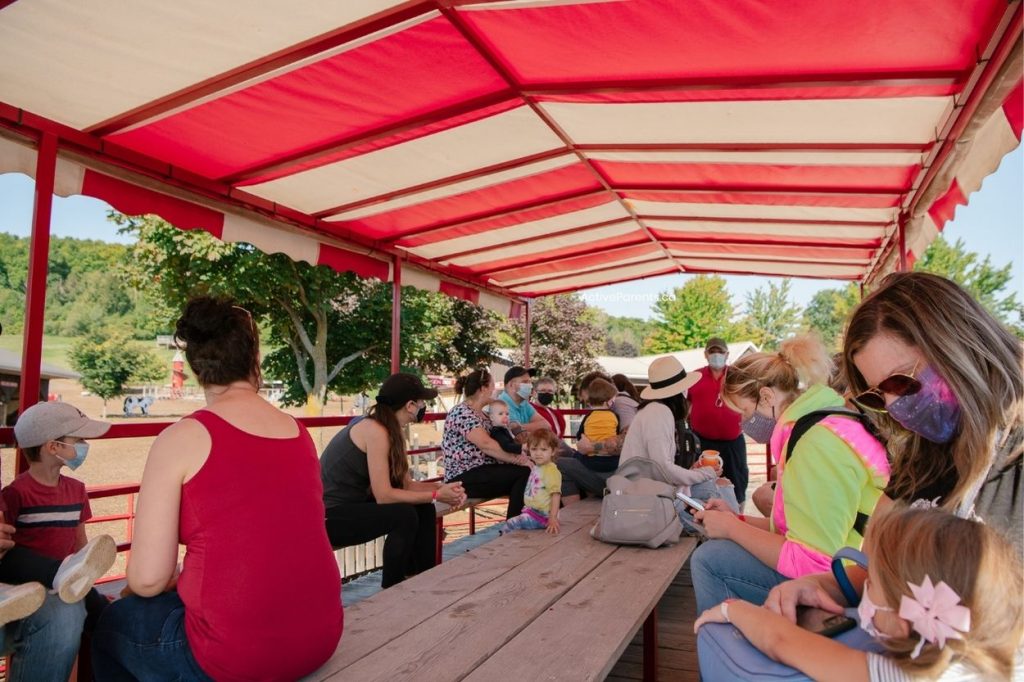 tips for visiting Springridge farm
Remember your camera – so many cute photo opportunities
Bring some quarters so you can get some animal feed for the goats, rabbits and chickens
Food is available to purchase on-site, so don't bring your own to the farm. Snack in the car if you need to
Pack your hand sanitiser as there is a lot to touch
Lots of tables and seating
Plan to be here for a few hours, and for kids to have a blast!
Springridge Farm is located at 7256 Bell School Line in Milton, Ontario. They are open daily from 9 am to 5 pm.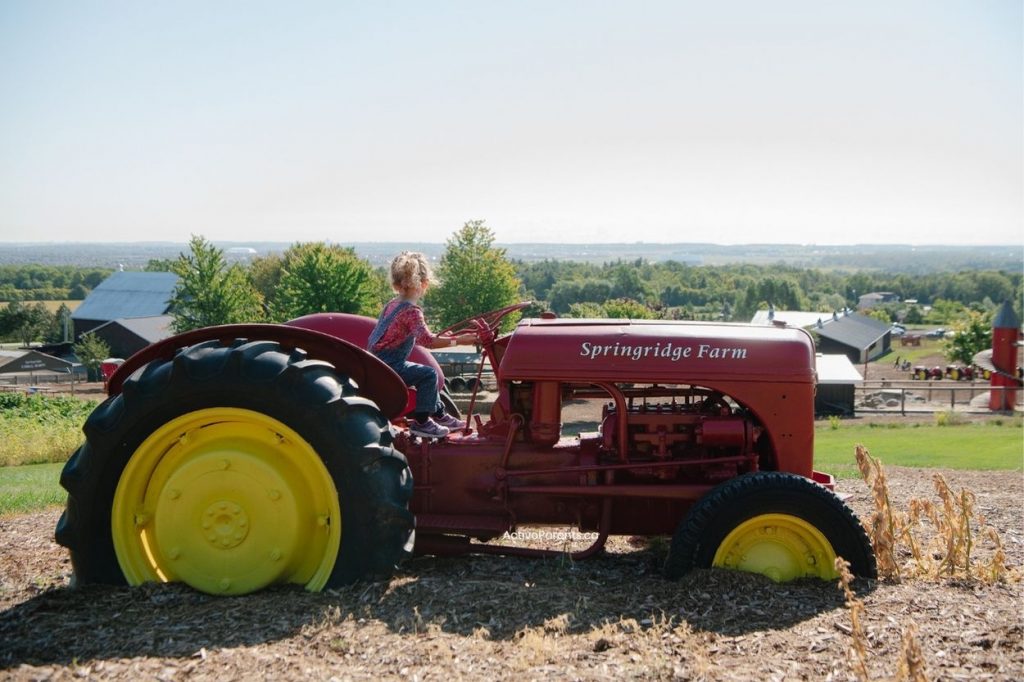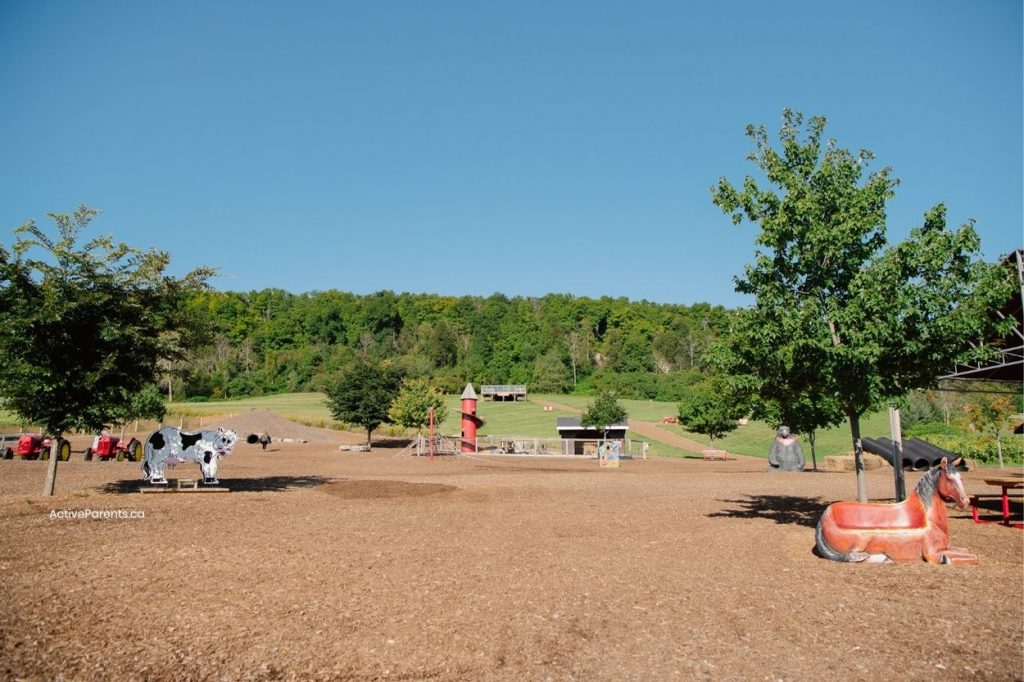 Take a Video Tour of Springridge!