If you are asking yourself "Are there any great fishing spots near me?" then you are in the right spot. With the help of our amazing community of readers, we've assembled a list of the best fishing spots for local fishing near you. If you've got a fave that isn't on our list, please share it with us!
Fishing in the Hamilton and Burlington area is such a unique way to spend the day in nature. It's a great family activity for kids and adults of all ages. Wondering where you can fish in and around Burlington and Hamilton? Turns out there are quite a few options for you to choose from, so grab your rod and reel and meet us at the water!
Related reading…
Free Fishing Weekends in Ontario
Hiking Spots That Families Love
Do I need a fishing license to fish in Ontario?
Canadian residents over 18 years of age and international visitors, must purchase both an Outdoors Card AND a fishing license. The only exception is when purchasing a single-day fishing license. Those under 18 and over 65 years of age, do not need a fishing license.
Visit the Ministry of Northern Development, Mines, Natural Resources and Forestry website for more information or to purchase licenses: https://www.ontario.ca/page/fishing. They may also be purchased at a Service Ontario Centre, or in some retail outdoors/sporting shops.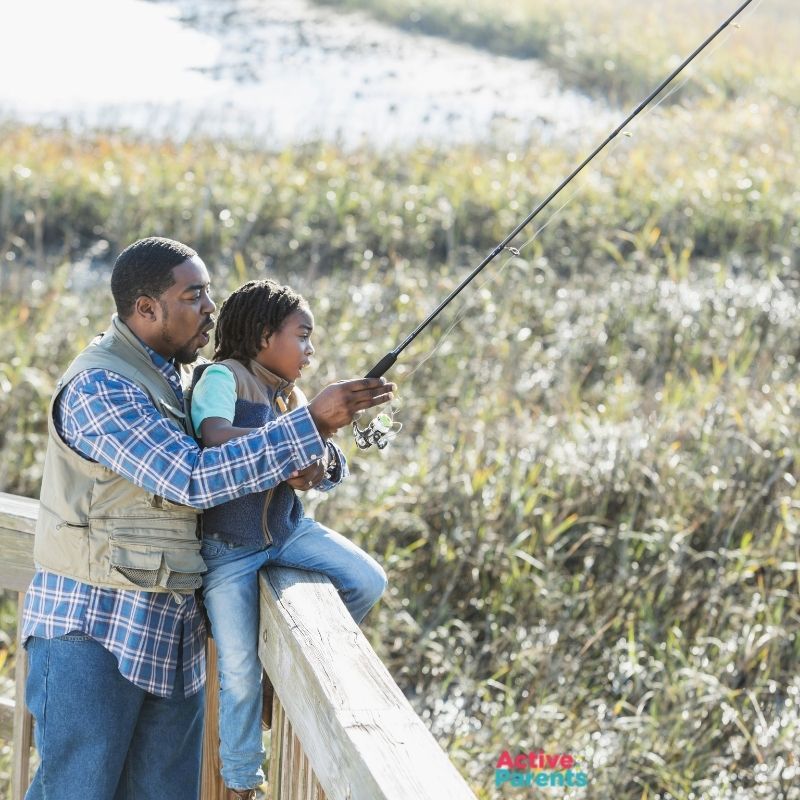 The Best Hamilton-Area Fishing Spots
Day Use fees apply if you are not an HCA pass holder.
What species will you find? Pike, largemouth bass, bluegill, crappie and catfish.
Christie Lake is a fish sanctuary, therefore, fishing is closed until the fourth Saturday in June annually.
Purchase your bait at the gatehouse in the summer months.
Address: 1000 Hwy 5 West, Dundas, ON
Day Use fees apply or admission is included with a Hamilton Conservation Authority annual membership.
Species: Largemouth bass, pike, crappie, bluegill, perch, catfish and carp.
Bait: Available at both stores during the summer months.
Valens Lake is a fish sanctuary. therefore fishing is closed from April 1st to the fourth Saturday in June annually.
Electric motor boats only, no gas motors permitted.
Address: 1691 Regional Road 97, Flamborough, ON
Day Use fees apply or are included with your Hamilton Conservation Authority annual membership.
Fishing is available in the pond or in Lake Ontario. Please note that as of 2018, the pond at Fifty Point is no longer stocked.
Purchase your bait at the gatehouse during the summer months.
Address: 1479 Baseline Road, Winona, ON
Located at the outlet of Cootes Paradise Marsh, a short walk from Princess Point accessed along the Desjardins Trail. Its design keeps invasive Common Carp out of the marsh but allows water and native fish to move between the two bodies of water. Lots of families who fish recommended this location to us.
With lots of access to the water's edge, anglers of all ages and abilities enjoy fishing here. There is a playground, restaurants and more in the same area. Spend a whole day here!
Address: 200 Harbourfront Drive, Hamilton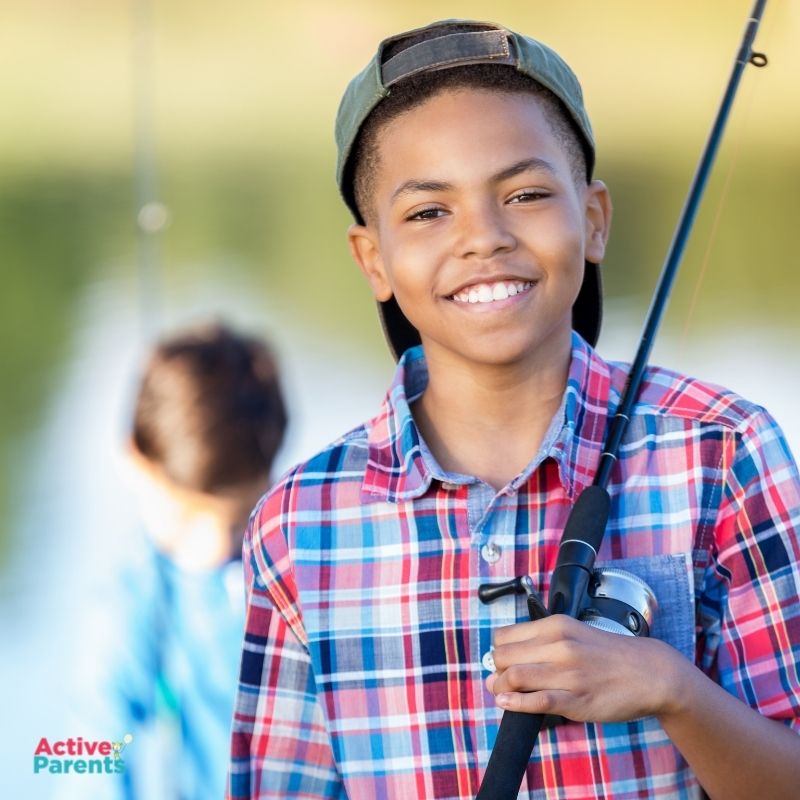 Fishing Spots in Burlington, Campbellville and Carlisle
Located on the southwest corner of Guelph Line and Campbellville Road. Visit their website.
A small pond with pumpkinseed, creek chub and white sucker
Reservations are required to visit, and day-use fees apply
Largemouth bass that may tip the scales at more than 5 lbs
The shallow weedy waters of the reservoir also include northern pike, black crappie, pumpkinseed and brown bullhead.
Fish from shore or non-motorized boats.
Address: 2259 Millburough Line, Campbellville.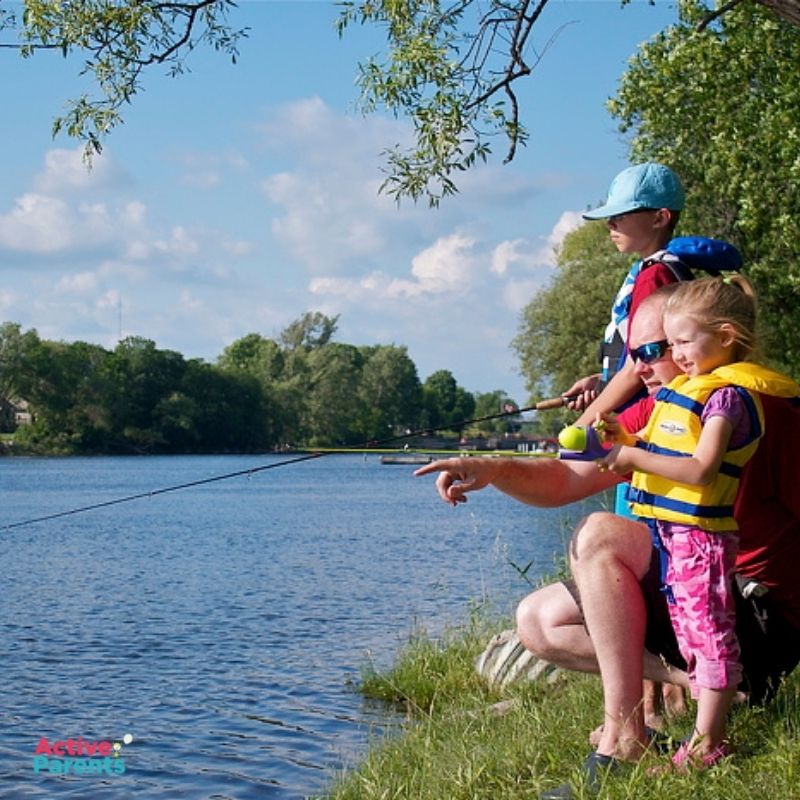 the best fishing spots near me in Oakville and Milton
Reservations are required to visit, and day-use fees apply.
Fish the reservoir for rainbow and brown trout, large and smallmouth bass, black crappie, yellow perch and pumpkinseed.
Fish from the shore or a non-motorized boat.
Downstream from the dam, adult rainbow trout (steelhead) can be caught through late spring.
Address: 5234 Kelso Road, Milton.
Day Use fees apply, and reservations are required.
Fish the reservoir from shore for largemouth bass which may exceed 5 lbs.
No boating is allowed in the reservoir.
Brook trout can be caught in the tributaries of Sixteen Mile Creek which flows through the park.
Address: 4985 Campbellville Road, Milton.
No reservations are required.
An excellent venue for family fishing.
A boardwalk at the south end of the pond provides access for physically challenged persons and picnic areas are available.
Largemouth bass and pumpkinseed.
Address: #10025 First Line Nassagaweya, Milton.
Day Use fees apply.
You can access the creek easily by following Half Moon Valley Trail. Once there you may fish (in season) for Rainbow Trout, splake, steelhead and Pacific Salmon.
Address: 1219 Burloak Drive, Oakville.
More Ideas For Family Fun
We have visited hundreds of places and written about them to help you find the very best destination for your next day trip or outing. We love sharing indoor play places, playgrounds that go above and beyond, and more! Here are a few of our latest blogs to help you have a great weekend.