I love how a few hours in the fresh air wears children out. These Halton and Hamilton hiking trails are the perfect inexpensive way to spend a morning. Soak up some vitamin D and enjoy the calmness that nature brings. Any excuse to get outdoors is a great excuse! Our family has always loved exploring hiking trails and these are our top recommendations for families.
The Best Hamilton Hiking Trails For Families
Eramosa Karst
Upper Mt Albion Rd, Stoney Creek   |   website     |    $10 per vehicle to park.
Part of the Hamilton Conservation group of areas, Eramosa Karst is one of the best hiking trails near me. I had never heard of it before, and attendance never seems to max out. Once I saw pictures of it I knew I had to plan a visit.
A "karst" is a landscape formed by dissolving rocks like limestone, creating things like sinkholes, caves, and underground rivers.
In addition to the karsts, the walking trails are ideal for any age and are stroller-friendly. There is a HUGE old tree that has split in three and provides great climbing. Be sure to take a few minutes to check out the natural spring and the views from the bench.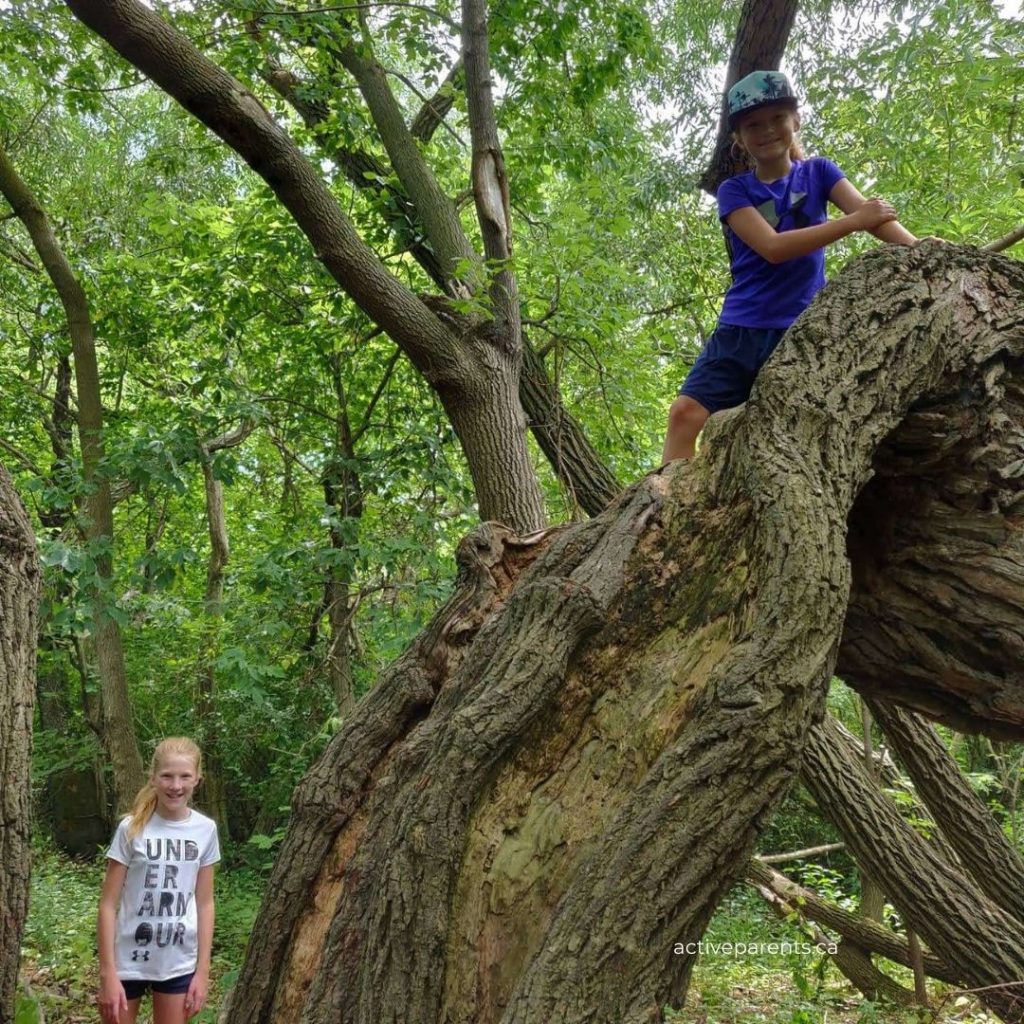 Dundas Valley Conservation Area
650 Governors Road, Dundas   |   website   |    $10 per vehicle
Hamilton is home to some of the best hiking trails in Ontario. This trail is a favourite for our family because there is so much to see along the way. The trees offer a ton of shade. I'm certain the temperatures were at least 5 degrees cooler in their shady canopy.
The trail is smooth ground for the most part, and I saw some families easily pushing their strollers. Along the main loop, you'll come across the replica of a Victorian railway station that serves as the area's Trail Centre. It's also home to washrooms.
Adjacent to it is a piece of the old Toronto, Hamilton and Buffalo Railway track, with a 1929 executive coach car and a 1931 baggage car. Both were donated by the Canadian Pacific Railway. We love catching equestrians riding horseback through the woods. If you have a dog, they are welcome as long as they stay on a leash.
Streams caught our attention as we made our way to the Hermitage Ruins. The magnificent stone mansion was built in 1855 by George Gordon Browne Leith, an immigrant from Scotland. The bricks used in its building originated from the Dundas Valley clay; limestone was quarried at the Credit River valley.
The Hermitage burned down in 1934. After that, Leith's daughter built a much smaller house among the ruins and lived there until her death in 1942. The ruins have been reinforced using wooden braces to prevent further wear. Hopefully, they will be intact for years to come.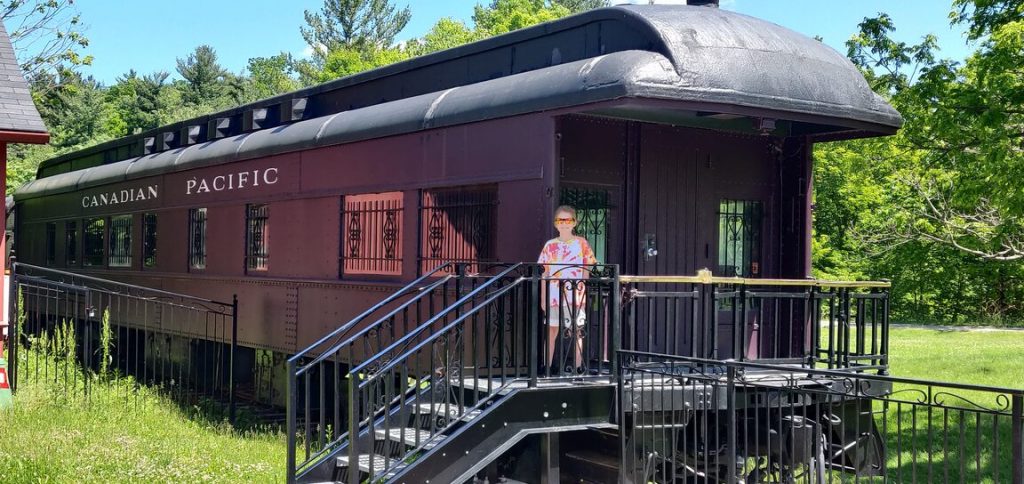 Chedoke Radial Trail
120 Beddoe Dr, Hamilton, ON L8P 4Z4   |   website    |   free admission, pay to park
Chedoke Radial Trail was another new trail for us. The trail itself is smooth ground and stroller-friendly. We went at about 11:00 am and the trail was a mix of shade and sun.
The enormous rock wall is awe-inspiring when you think of its size. The incline is roughly 200 meters and the views at the top are beautiful. There are those famous stairs, but zero chance I'm walking up 240+ steps if I don't have to!
There were a few waterfalls that have a current/flow that fluctuates based on the current rain conditions. One waterfall, when rushing after a rainfall, pours down onto the 403!
Kids will enjoy climbing and balancing. Families of all ages were also enjoying the walk. We parked at the Chedoke Golf Course on a Sunday. The lot was busy with other families and golfers. I am pleased to report that their washrooms were open.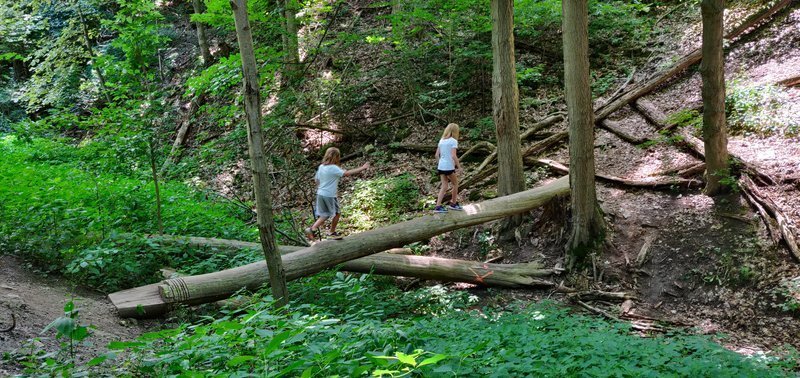 The Best Halton Hiking Trails For Families
Hilton Falls Conservation Area
4985 Campbellville Rd, Burlington   |   website   |    $10 for adults, $7 for kids, $6 for seniors, kids under 5 free.
This Halton Conservation Area hiking trail is another hidden gem that was new to us. It's a little more out of the city centre, so I expected it to be a bit less crowded, and it was.
Hilton Falls is a great spot for hiking with kids. The terrain is rocky and rooty which makes it challenging for them. Ideal for balancing and working those large muscles! Parents were manoeuvring their strollers, but some parts were a little challenging. If you have a dog, they are welcome as long as they stay on a leash.
The waterfalls and ruins are picture-worthy and the rock formations are impressive. Gather at the fire pit by the waterfall with your hotdogs or marshmallows to cook over the fire! Ideally, visit in the fall so you can see a rushing waterfall. Keep your eyes peeled for bugs, frogs, snakes and small fish.
Feeling adventurous? You can mountain bike the trails in the nice weather, or cross-country ski in the winter. I really do love these all-season Conservation Halton hiking trails in Ontario.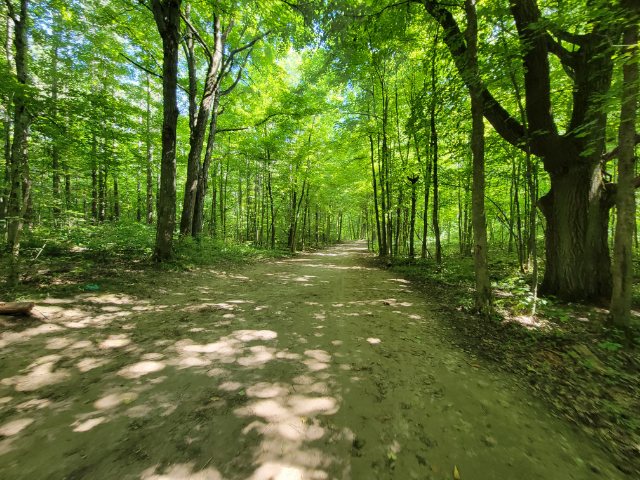 Bronte Creek Provincial Park
1219 Burloak Drive, Oakville   |   website   |   $21 per vehicle
We love the various hiking trails near me at Bronte Creek. Trails start at the parking lot and, ranging in length from 1 km to almost 3 km, wind along the top of Bronte Creek (always be careful when hiking and biking!) to cover all of the grounds. Bronte has a great leash-free section of the park as well.
Stroll through the forest and along a stream, where, in fall, you can fish for trout and salmon, among other fish. Remind kids to look for frogs, small snakes and bugs and also the Bronte Creek cows are always grazing in the fields.
Follow the signs for the Gnome Trail and wander down a shaded path to the cutest community of painted gnome homes you ever did see. Bring a frisbee and play some disc golf. With a wheelchair and stroller-accessible trail, this is truly a family-friendly destination sure to please everyone.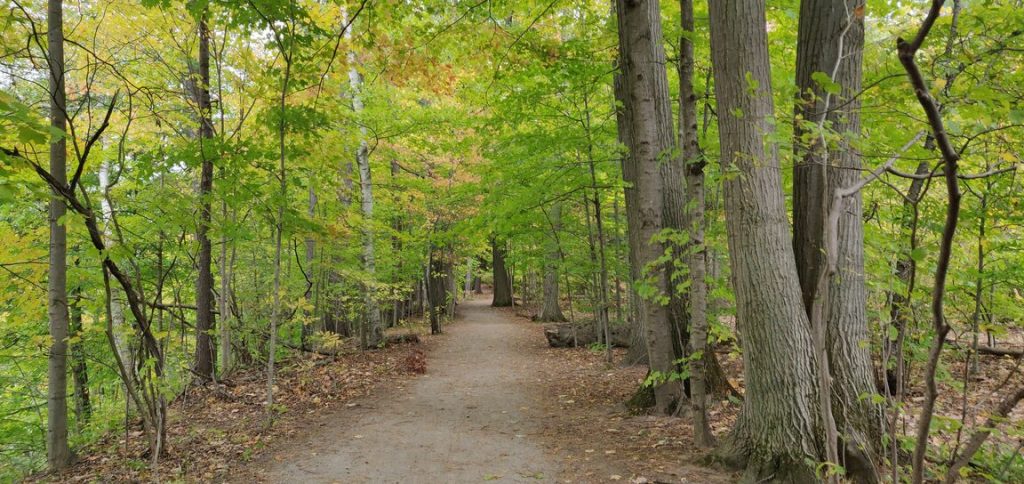 Crawford Lake, Halton Conservation
3115 Conservation Road, Milton    |   website   |   $10 for adults, $7 for kids, $6 for seniors, kids under 5 free.
Crawford Lake is one of the most popular Conservation Halton hiking trails and for good reason! It is as full of great history as it is full of hiking trails. No matter what season you visit, you're sure to love your experience.
Visit the reconstructed 15th-century Iroquoian village. The excavation between 1973 and 1987 uncovered 11 longhouses on the site and over 10 000 artifacts from the day-to-day lives of the Iroquoian people who once lived in the village. Three longhouses have been rebuilt to match archaeological findings.
Explore the village and learn about what daily life was like over 600 years ago through hands-on programs including simulated digs and fire-starting demonstrations. The Deer Clan Longhouse features exhibits that explore Indigenous art and culture.
After you've visited the Longhouse Village, walk the trail around Crawford Lake's unique meromictic lake. With the boardwalk wrapping around the lake, Crawford Lake offers 5 great hikes for any season, ranging in length from 2 km to over 7 km. The boardwalk is stroller-friendly.
Learn about species at risk as you follow along with the Hide and Seek Trail and view the enormous wooden carvings. The Hide and Seek Trail is located along the blue Crawford Lake Trail as you head toward the lake.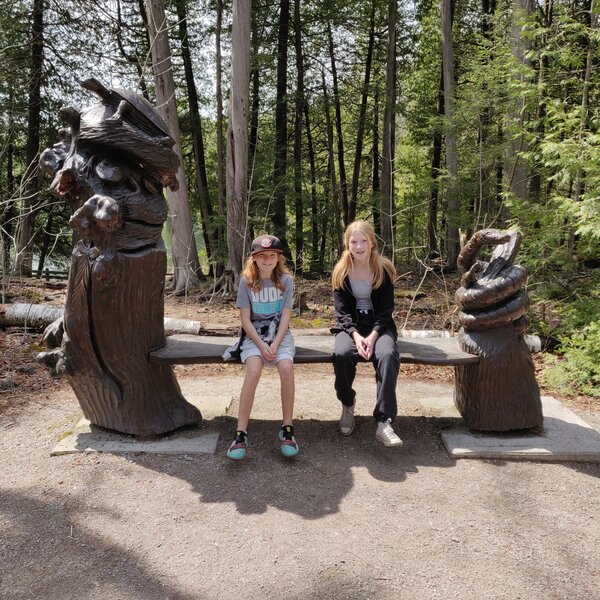 Cherry Hill Gate, Royal Botanical Gardens
680 Plains Rd W, Burlington   |   website    |    free admission, paid parking lot. 
When I think of hiking trails near me, Cherry Hill Gate is what comes to mind immediately. It's on the border-ish of Burlington and Hamilton and owned by Royal Botanical Gardens. The trail is relatively smooth and stroller-friendly. The entrance takes you down a steep-ish hill, so if it's wet out, be warned that it could be slippery.
Once you've made it down, keep your eyes peeled for the huge upturned tree stump and a ton of chipmunks. As you walk the trail, be on the lookout for beavers, swans, turtles, snakes, spiders, and a variety of birds.
Much of the trail is a wooden boardwalk so very walkable. Shade is scarce along the boardwalk so go in the mornings or evenings to beat the heat. For years this was our favourite location for hiking with kids in Hamilton and Halton. It's easy terrain and lots for them to see and do.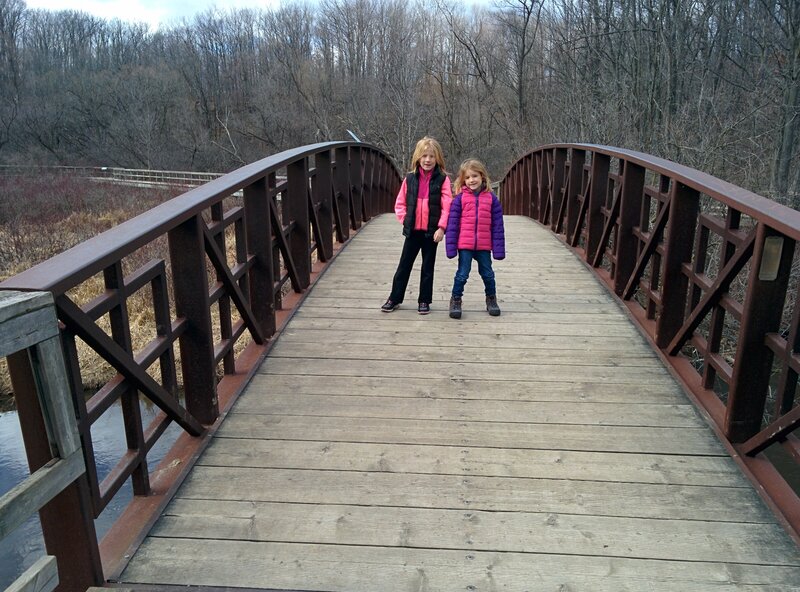 Cootes Paradise Trails at RBG
You can access a variety of trails around the Cootes Paradise Marsh, and each has something fabulous to offer. We love the area near the Hamilton Aviary (Caleb's Walk, Ravine Road Trail with its packed gravel trail. Download the Cootes Paradise trail map here and you can expand your walk as long as you'd like! Paid parking is available at various spots around Cootes Paradise.
Joe Sam's Park
752 Centre Rd, Hamilton   |    free
One winter day we visited Joe Sam's Park in Waterdown and we were impressed! We initially went for the excellent walking paths that take you through forests, over marshes and beside wetlands. The path was smooth and very stroller-friendly. The trail was wide, and ideal for wagons, smaller bikes and toddler exploring.
I cannot recommend this winter outing enough, especially to parents of young kids who need fresh air. There is also a playground right at the parking lot to entertain you before and/or after your walk. The loop is a nice size, it took us about 1.5 hours to complete, with lots of stopping for photos and exploring.
Tips for Successful Hiking with Kids
Bring water. I know it should be a given, but we have been known to forget, too!
Bring snacks, too. No one wants to get hangry.
If you're going during spring and summer, bring bug repellent and sunscreen.
Make sure everyone has comfy shoes. Flip-flops need not apply.
If you want a little one to wander free, choose a location that isn't a popular mountain biking location.
Choose a less popular spot and discover a hidden gem.
These are my favourite Halton and Hamilton hiking trails near me. I hope you visit one soon with your family. If you have a suggestion for more hiking trails, please tell me! We love sharing new Hamilton hiking trails and Halton hiking trails with our readers.