Strawberries are at their peak sweetness in the early days of summer – June and July. The farms we've listed below offer strawberry picking in Niagara, Ontario and the surrounding region.
Is There Strawberry Picking Near Me in Niagara Region?
There most certainly is! Our guide to pick-your-own strawberry farms provides you with all of the info we could track down online. As farms release more info, we will be back to update our guide – so stay tuned! As with all weather-reliant events and activities, always check with your preferred farm before you head out to pick in case all of their strawberries have been picked. Weather plays a huge part in ripening and how many visitors a farm has. No one wants that kind of disappointment! Most farms have either a hotline with daily updates, active social media pages with daily info or a website. Prices, quantity and quality will vary from farm to farm, as will hours. As this info is released we will update our guide.
Pick Your Own Strawberry Season is Here!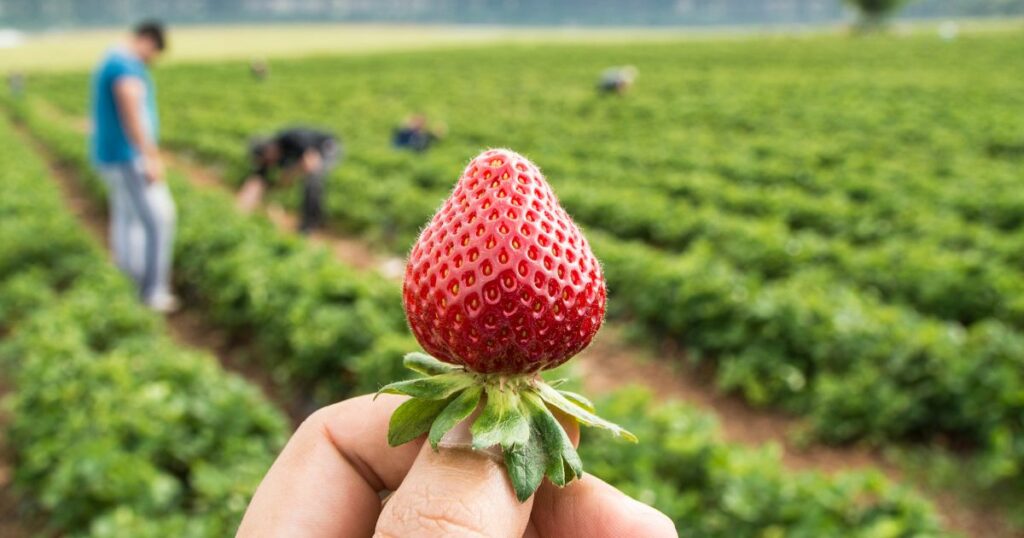 The Best Farms for Strawberry Picking in The Niagara Region
Fenwick Berry Farm
Address: 1760 Balfour St. Fenwick, ON
Formerly called Berry Fresh Farms, Fenwick Berry Farms grows some of the most delicious Ontario strawberries. According to their website, their harvest of strawberries is between May and July, and they also harvest raspberries, blueberries, and blackberries through the summer. You-Pick opens June 16. Pre-Picked Strawberries and other seasonal fruit and veggies from Fenwick Berry Farm can be bought at their market at 1760 Balfour St. in Fenwick.
PYO Strawberry Pricing: Pick your own Strawberries: $3.50/quart or litre (2022 pricing. 2023 pricing not yet available)
Payments accepted: Cash, credit card, debit, and e-transfer accepted at the barn
DeVries Fruit Farm
825 Canboro Rd., Fenwick, ON
DeVries has a farm market store full of produce from its 200 acre farm, local produce and baking. In early June they also have pick your own strawberries. Call (905) 892.8724 ahead to know what is available and fresh. Store hours are Mon – Fri. 8 am – 6 pm and Sat 8 am – 5 pm.
Payments accepted: Diners Club, Discover, Master Card, Shop Pay & VISA
https://www.devriesfruitfarm.com/
Tigchelaar Farms
Address: 4161 Jordan Road, Jordan Station, L0R 1S0
PYO will begin between June 15 and June 20, 2023. Check Facebook or call (905) 658-2265 to hear a recorded message with daily updates about picking and crop conditions. Make sure to bring containers clearly labeled with metric (litres) measurements to fill with berries, otherwise, suitable new baskets are available to purchase onsite. Farm hours are Mon – Fri 8 am – 7 pm and Sat & holidays from 8 am – 5 pm.
PYO Strawberry Picking: $4.00/ litre
https://tigchelaarberries.com/
Murphy's Country Produce
Address: 2040 Guyatt Road, R.R. # 1, Binbrook, ON, L0R 1C0
Murphy's offers so much more than strawberry picking in Niagara Region! This farm has been in the family for over 100 years and has grown to over 60 acres of produce-producing land. While at Murphy's you can also PYO peas, fava beans, raspberries, zucchini, okra, melons, cucumbers, pickling cukes, slicing cucumbers, green & yellow beans, eggplant, tomatoes, brussels sprouts, romano beans, sweet & hot peppers, pumpkins, squash and more! In addition to their farm, Murphy's has their own produce stand located right on the farm. The stand is open from the beginning of the strawberry season to the end of October. The farm offers a small shaded picnic area, with a washstand to clean up after you are done picking. You can buy cold drinks, chips, and chocolate bars on site, or pack a lunch, and make it a fun family day trip! Before you head to the farm to pick your own strawberries, call for a daily crop update: 905-692-5733.
Payments Accepted: Cash Debit, Visa and Mastercard
Hildreth Farms
Address: 5529 Greenlane, Beamsville, ON L0R 1B3
Choose from sweet strawberries or juicy cherries when you arrive to pick your own at Hildreth Farms in Beamsville. But don't stop there! This Niagara farm also boasts a wide selection of delicious bread, cookies and pastries to go along with your fresh-picked produce. You can follow them on Instagram for daily updates on their harvest and see what's new in-store. Pick your own opens June 13, 2023 weather permitting.
Blueberry Knoll Berry Farm
Address: 1091 Hutchinson Road, Lowbanks, ON N0A 1K0
Summer hours start June 14, 2023. The farm is open Mon – Fri 8 am – 6 pm and Sat from 8 am – 5 pm. Pick your own strawberries opens June 14. Bring your own pail from last year or buy a new one – no other containers are permitted. Picking is between 8 am and 4 pm. The last entry for picking is by 4 pm to finish before the farm closes.
Pick your own pricing: 3-litre pail $14 or 5-litre pail $21
Payments Accepted: Cash, Debit & Credit
https://www.blueberryknoll.com/
Looking for More Farms with Strawberry Picking?
The southern Ontario region is blessed with beautiful farmland, and you should explore it all! Choose a new farm every year, or visit a few each season. You really can't find better quality fruits and vegetables than the ones that just came out of the soil today! Click here and you'll find our list of farms with PYO strawberries Oakville, Milton and Burlington and this list of Hamilton PYO Strawberry Farms. We know families love picking berries, apples, pumpkins and more. What a great way to teach kids where the food on their dinner plate comes from!
Read Our Latest Articles
Catch up on what we've been covering! Here are our latest reads, hot off the presses just for you. Never miss an article when you subscribe to our weekly newsletter filled with kid-friendly fun and events.