Your summer vacation plans should include a visit to Canada's most popular tourist destination! Niagara Falls, Ontario, is an exciting destination that offers an array of activities for the entire family. We recapped our absolute favourite things to do with kids in Niagara Falls to help you plan your visit.
We have visited for the day and for long weekends, so we have the expertise! Many attractions will keep kids entertained and create lasting memories for your family.
Start The Car! Enjoy these day trips and local attractions worth visiting: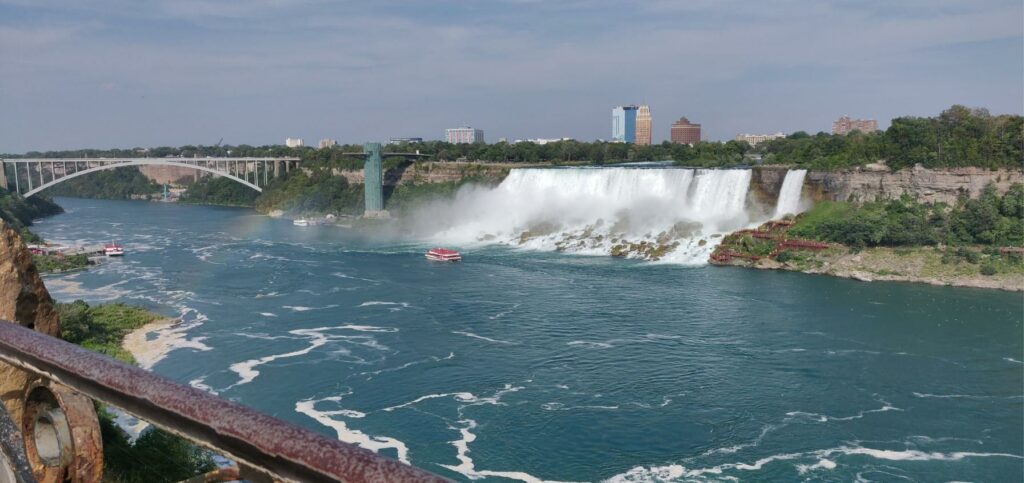 The 10 Best Things to Do in Niagara Falls…According To Us
Experience the Power of Niagara Falls: No trip to Niagara Falls Canada is complete without witnessing the awe-inspiring power of the falls up close. Take a boat tour on the iconic Hornblower Niagara Cruises for an unforgettable adventure to the Horseshoe Falls. The thunderous roar and misty spray you experience from the observation deck will leave you amazed!
Visit Clifton Hill: Clifton Hill is a vibrant and bustling street filled with exciting attractions for kids of all ages. Explore the "Ripley's Believe It or Not!" Museum, play games at the Great Canadian Midway and enjoy thrilling rides at the Niagara SkyWheel. Clifton Hill offers non-stop entertainment and is overflowing with fun things to do in Niagara Falls.
Journey Behind the Falls: For a unique perspective, head to Journey Behind the Falls. This thrilling attraction takes you through tunnels behind the waterfall, providing an incredible view of the cascading water. Guests will be captivated by the power and beauty of Niagara Falls from this unique vantage point.
Butterfly Conservatory: Escape into the tropical paradise of the Butterfly Conservatory, where children can interact with thousands of colourful butterflies. Stroll through lush gardens, learn about different butterfly species, and even witness the magical moment when a butterfly emerges from its cocoon. This enchanting experience is both educational and captivating.
Whiz Around Niagara Speedway Go-Karts: The recent addition to the Falls is an exhilarating thrill ride. It offers high-speed fun on a four-story elevated track, featuring hairpin turns and thrilling twists. The go-karts are equipped with 200cc engines, ensuring a thrilling ride for all ages. Visitors enjoy breathtaking views of the surrounding area while racing. It's a must-visit destination for families, friends, and adrenaline junkies alike.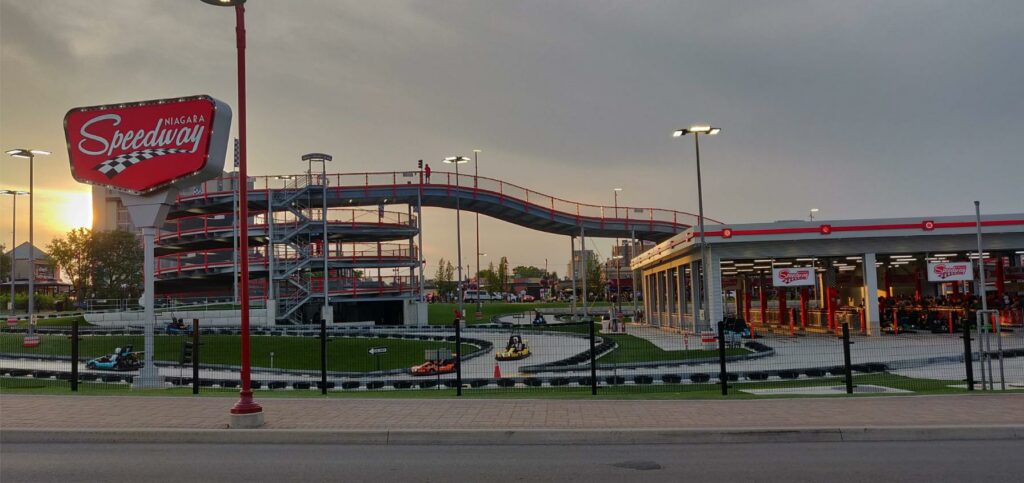 More Of Our Favourite Falls Adventures
Ride The Niagara SkyWheel: The Niagara SkyWheel, located on Clifton Hill, givers its riders breathtaking views of the falls and the surrounding area. Step into one of the climate-controlled gondolas and enjoy a leisurely ride high above the city. Kids will love the panoramic vistas and the chance to see Niagara Falls from a new perspective.
Visit Bird Kingdom: Bird Kingdom is the largest indoor free-flying aviary in the world, featuring over 400 birds from around the world. Kids can explore the lush rainforest setting, watch colourful birds in flight, and even have close encounters with parrots and other friendly feathered friends. Whether you are in Niagara Falls for the day or longer, make sure to stop at Bird Kingdom. In our opinion, it's one of the best things to do in Niagara Falls.
Ride The Whirlpool Aero Car: Take a thrilling ride on the Whirlpool Aero Car, suspended high above the Niagara River. The cable car offers breathtaking views of the swirling whirlpool and the stunning rapids. This unique attraction is sure to create lasting memories for kids and adults alike.
Play Golf with Dinosaurs: Dinosaur Adventure Golf is a prehistoric mini-golf adventure with life-sized dinosaurs. This is one of our favourite things to do in Niagara Falls Canada, and it is the main reason we visit every year. The course is beautifully themed, with waterfalls, lush landscaping, and challenging holes. It's a great activity for the whole family to enjoy together.
Ride The Rollercoaster: House of Frankenstein's rollercoaster sits 4 stories off the ground and is full of thrills and speed! Riders sit in coffins on this monstrously great ride. It's Canada's only rooftop coaster!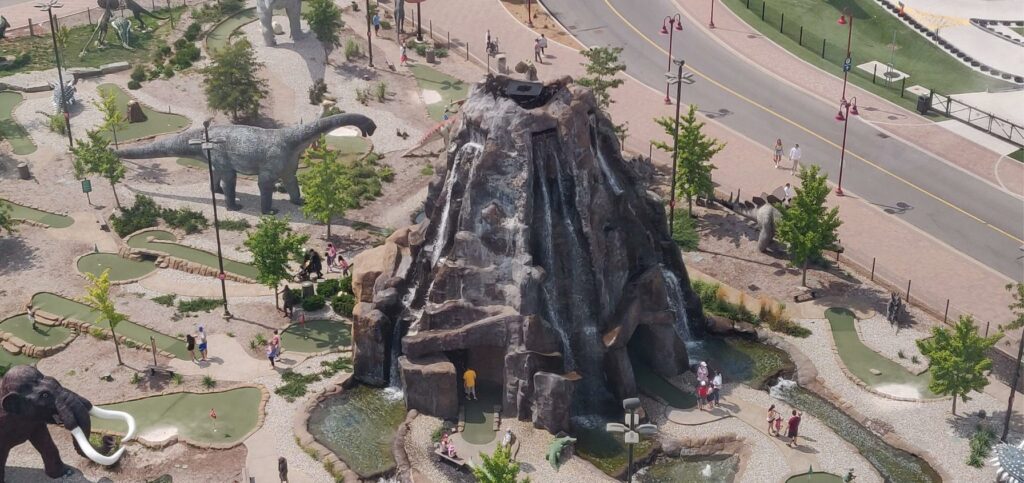 More Tips For Visiting Niagara Falls With Kids
Book A Room With A Falls View. Hotels are a little more expensive in the heart of the area, but the views are definitely worth it, especially if this is your first visit. At night, the falls are illuminated and look gorgeous from high up in your hotel room. Every night, from Friday, May 19th until Monday, October 9th fireworks light up the night sky at 10 pm.
Eat Outside The Core. Like all popular tourist destinations, prices can be higher when you eat right in Clifton Hill and Niagara Falls core. We love taking a short drive or walking to eat kist outside the busy area. Our favourite is The Flying Saucer Restaurant because of its kitch-y theme and good old home cooking. I recommend the meatloaf!
Bring Your Own Food. One way we save money is by bringing our own picnic lunches and eating on the lawns of the Niagara Parks. The scenery is lovely and the price is right.
Be Ready To Walk. You can drive, but the congestion at the base of Clifton Hill isn't worth it if you ask me. Tie up your walking shoes and bring a wagon or stroller for the kids. There is so much to see that you won't mind walking, but you will tally up a lot of steps!
Parking Tip!
Thanks to my friend Alison, I just found out about the Niagara Parks Parking Pass. It's $40 and gives 2 vehicles 1 year of parking! You can use it to park at a variety of local attractions, gardens, wineries and more!
Niagara Falls offers a long list of unique attractions and activities that the whole family will love. From the breathtaking power of the falls to interactive museums, thrilling rides, and unique wildlife encounters, there's something for every child to enjoy. So, plan your family trip to Niagara Falls, and get ready for an adventure-packed experience that your kids will cherish forever.
Experience The Nightly Fireworks Over Niagara Falls
This video is a sneak peek of what you'll see every night at 10 pm over Niagara Falls. Video courtesy of Niagara Falls Tourism.
More Ideas For Family Fun
We've been to so many cool places, and we've made it our mission to share all the fabulous locations we find with you. Whether you're planning a day trip or looking for the best playgrounds, we've got your back. We are all about discovering the most amazing indoor play areas, farms and animal experiences, and a whole bunch of other visit-worthy local attractions. Check out our latest blog posts below to make sure you have an absolutely epic weekend!