Get outside and get active with friends while playing at one of these area disc golf courses.
What Is Disc Golf?
Disc golf is a sport that involves throwing a flying disc or Frisbee into a basket or target, similar to traditional golf where players hit a ball into a hole. The objective is to complete a course with the fewest number of throws possible. The course is typically laid out over a large outdoor area, often in a park or wooded area, and can consist of 9 or 18 holes, each with a designated starting point and target.
Players must navigate various obstacles, such as trees or other natural terrain, in order to successfully complete each hole. Disc golf is a popular recreational activity and there are many courses near us. It's family-friendly, gets you in the fresh air and makes for a great date night idea.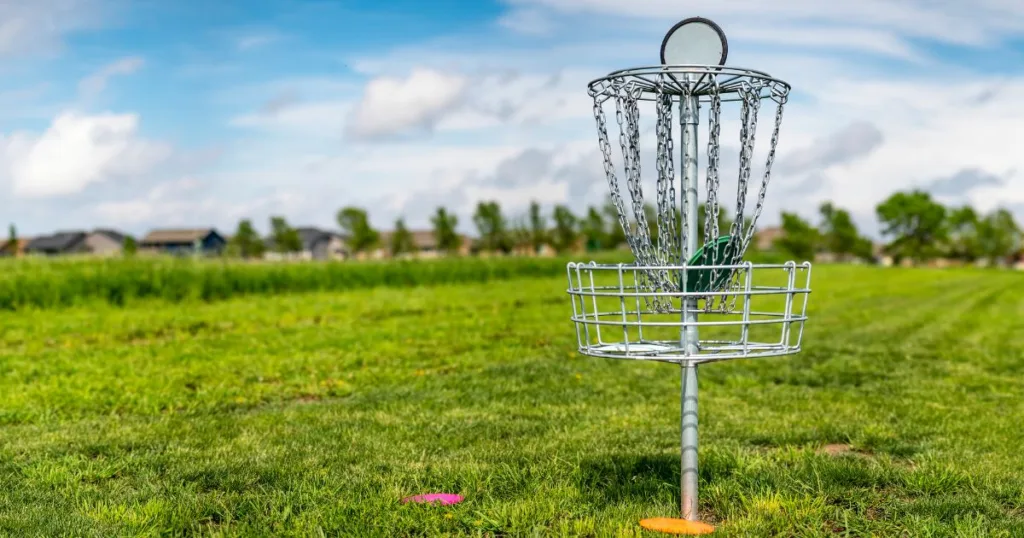 Disc Golf Courses Near You
No matter where you live, the chances are good that you have a course near you. Several of the courses below are open year-round and free to use. Occasionally you need to pay for admission to the Provincial Park or Conservation Area.
Bronte Creek Provincial Park
Address: 1219 Burloak Drive, Oakville, Ontario, L6M 4J7
Entry to Bronte Creek Provincial Park is required, by way of a day pass, season's pass or annual pass. A daily vehicle permit is $18. The 18-hole course is located beside Parking Lot F. Rental equipment is not provided. The Friends of the Park website lists club and league playing times.
Sherwood Community Center
Address: 6355 Main St W, Milton, ON L9T 2Y1, Canada
There's plenty of parking at the Sherwood Community Center in Milton. Amenities include an arena, pool, cricket park and disc golf course. The disc golf course is in the park behind the Community Center. The course was built in 2020 and is suitable for beginners and for practice.
Christie Lake Conservation Area
Address: 1000 Highway 5 West, Dundas, ON, L9E 5E2
Entry to Christie Lake Conservation Area, without an HCA pass, is $16 per vehicle and driver.  Passengers 5 and over are an additional $5 each.  It is $5 to walk or bike into the park.  Christie Lake has an 18-hole championship disc golf that is open year- round.  Download a scorecard and fact sheet provided on the website.
Buncrana
Address: Buncrana Golf Course, 1079 Hwy 8, Dundas, ON L9H 5E1
Buncrana has it all, disc golf, footgolf and golf. Fees are $10 for adults and $5 for juniors (under 12). Children under 6 play for free. A day pass is $20. Want your own discs? They also sell disc starter packs of 3 discs for $32.
King's Forest Golf Course (*seasonal)
Address: 100 Greenhill Ave, Hamilton, ON L8K 6M4
King's Forest is an 18-hole Championship Golf Course with a seasonal disc golf course. Disc golf fees are $6 +HST for 18 holes and $10 + HST for a full day. A fall/winter season membership is $100 + HST. Equipment lending and sales are available onsite. The course will re-open in November 2023.
Firemen's Park Disc Golf Course
Address: 2275 Dorchester Rd, Niagara Falls, ON L2E 6S4
The Niagara Falls Disc Golf Club, Ontario Disc Sports Association, City of Niagara Falls and the Stamford Centre Volunteer Firefighter's Association opened an 18-hole course in the lower level of Firemen's Park. This is a mixed-use, free-to-use park with parking. There are no restrooms or drinking water available.
Niagara-on-the-Lake Community Center
Address: 14 Anderson Lane, Niagara-on-the-Lake
NOTL opened its first course in 2022. The 9-hole course weaves through the trees outside of the NOTL Community Center. It is free to use, and discs are available to borrow or buy at the Community Center. Course hours are 7 am-10 pm. Washrooms and a first-aid kit are available in the Community Center.
Columbia Lake University of Waterloo Disc Golf Course
Address: the University of Waterloo Environmental Reserve, parking across the street at 275 Frank Tompa Dr., Waterloo, ON
Columbia Lake is a small 9-hole University of Waterloo course. Limited access is available to non-University of Waterloo students who purchase a Day Pass for $2.65 or a Season Pass for $50. Limited parking spots are available. The course is not maintained in the winter months.
Soper Park
Address: 120 Shade St., Cambridge
Soper Park in Cambridge is home to a 9-hole course. The park hours are 7 am-11 pm. It is a mixed-use park and washrooms are available.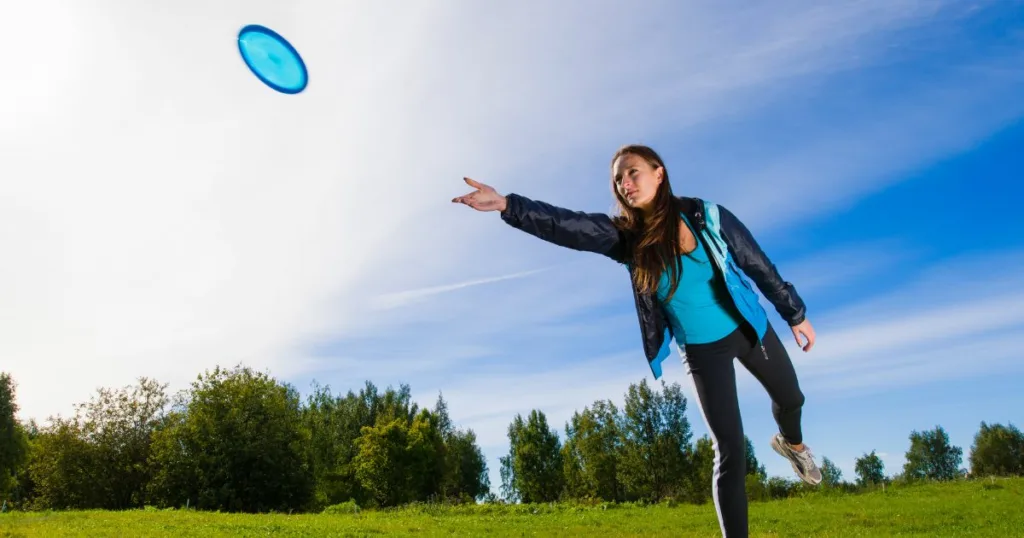 Learn More About Disc Golf
Learn more about the game by reading up on it. The Professional Disc Golf Association has A Complete Beginner's Guide. Many public libraries lend sports equipment, including for disc golf – check out our Beyond Books: Public Library posts. The Burlington Public Library, for example, lends Backyard Disc Golf Sets through its lending library.
Once you get a feel for it, if you like disc golf, you might even decide to join a Disc Golf Club. You'll find more courses and disc golf course reviews on UDisc – it's also an app for disc golfers.
More Ideas For Family Fun
We've been to so many cool places, and we've made it our mission to share all the fabulous locations we find with you. Whether you're planning a day trip or looking for the best playgrounds, we've got your back. We are all about discovering the most amazing indoor play areas, farms and animal experiences, and a whole bunch of other visit-worthy local attractions. Check out our latest blog posts below to make sure you have an absolutely epic weekend!