Visit a Farmer's Market in Burlington, Hamilton and Oakville. It's a great way to support the hardworking folks who grow and make our food, and to show the kids where their dinner ingredients *really* come from! We love helping you find fresh, local produce, meats and baked goods all for sale in open-air markets. It's a sure sign of spring when the Farmer's Markets open!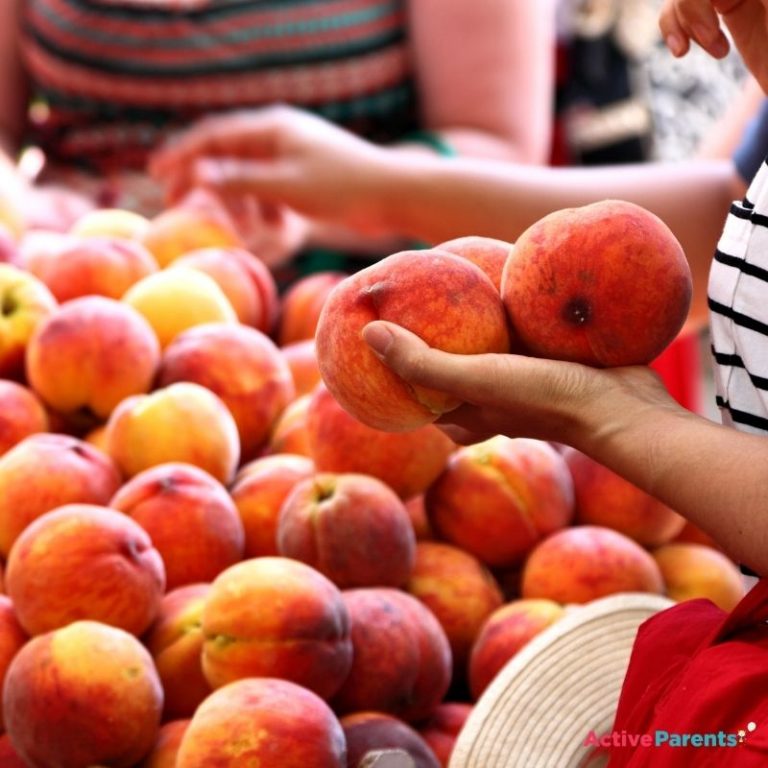 Farmer's Markets in Hamilton, Burlington and Oakville
The Hamilton Farmer's Market
Open all year on Tuesdays, Thursdays, Fridays and Saturdays. Located at 35 York Blvd., Hamilton Ontario.
The Hamilton Farmers' Market was established in 1837 and is overseen by the City of Hamilton. Open year-round on Tuesdays, Thursdays, Fridays and Saturdays from 9 am till 4 pm with over 50 vendors. Choose from local, national and international foods including produce, meat, fish, poultry, eggs, deli, baked goods, flowers, specialty foods, and artisan handmade products. Located in the heart of downtown Hamilton beside Jackson Square and the Hamilton Public Library (Central Branch). Click here for a list of vendors.
---
Centro Farm Market
Sundays from May 8, 2022 from 9 am till 11 pm. Located at 437 Brant Street, Burlington, ON.
Now in its 9th season, Centro Market is a food-focused farmer's market in Burlington Downtown, established with the goal of fostering community while connecting people with fresh healthy food and to the wonderful folks that grow and produce it in our area. More info here.
---
Dorval Crossing Civitan Farmers Market
Open every Sunday from May through November. Located at 240 North Service Road West, Oakville, ON.
The Dorval Crossing Civitan Farmers Market in Oakville was renamed (in honour of Bentall Kennedy's Dorval Crossing East welcoming us). Our market is located at the northeast corner of Dorval & North Service Road, just north of the QEW (in front of Mcdonald's). Dorval Crossing Civitan Farmer's Market is Oakville's longest-running farmer's market. Our market operates from 8:00 a.m. till 1:00 p.m every Saturday from May until November. All proceeds earned by the market stall rentals are donated to local Oakville charities. More info here.
---
Burlington Centre Lion's Farmer's market
Open Wednesdays, Fridays and Saturdays from May 18 through October 29, 2022. Located at 777 Guelph Line in Burlington, Ontario
Feed your family wholesome food! Our vendors carry a wide variety of locally grown fresh produce, baking, meats, cheese, eggs etc. Come browse through the market; you can find everything from Apples to Zucchini. You haven't tasted produce until you've had it fresh off the farm. You'll find the freshest food available and you will be supporting your local farmers. The Farmers' Market is operated by the Burlington Lions Club which donates the proceeds from the Market operations to specific local projects and helps those in need. Detail here.
---
Ancaster Farmer's Market
Every Wednesday, June through October from 3pm – 7 pm – 357 Wilson St E, Ancaster, ON L9G 2C1
The Ancaster Farmers' Market's community-central location in the Ancaster Village strives to provide farmers with an affordable local sales outlet and the community with access to fresh, local, naturally grown produce within walking or riding distance of many Ancaster neighbourhoods. The central location is designed to encourage bike and pedestrian traffic and reduce the use of cars to access quality food products. More info on vendors here.
---
Mode Hospitality Inc. Farmers/Makers Market
Fridays starting May 20 through October 7, 2022. Located at North Burlington Baptist Church 1377 Walkers Line in Burlington Ontario.
Mode Hospitality Invites You To Our Community Mercato North Burlington Our market will feature seasonal produce, fresh baked goods, specialty products and so much more. Details here.
---
Waterdown Village Farmer's Market
Saturdays starting May 28, 2022. Located at 79 Hamilton St. N. in Waterdown Ontario.
The Waterdown Village Farmers' Market operates from 8 am-1 pm every Saturday from late spring into mid-fall. Agricultural roots run deep in the Waterdown community, with local farmers' markets being an integral part of our cultural heritage. The Market re-opened in its current location and format with the support of the Waterdown Business Improvement Area in 2014. Details here.
---
Dundas Farmers' Market
Thursdays starting June 16 thru October 13, 2022. located at Municipal Parking Lot D (Hatt Street and Miller's Lane), Dundas ON.
The Dundas Farmers' Market is a not-for-profit grower and producer market. Our market operates each Thursday from 3 pm till 7 pm. The market was revitalized in 2008 to create a place that restores the link between farmers and consumers. A place where local farmers can sell their produce and shoppers can purchase locally grown and produced foods. The market operates seasonally once a week on Thursdays from 3pm to 7pm at the corner of Hatt Street and Miller's Lane in Dundas. You can read more here.
---
Ottawa Street Farmer's Market
Open all year, every Saturday. Located in Municipal lot 2C (beside 3 Britannia Ave)
The Ottawa Street Farmers' Market features a great selection of fresh, locally grown fruit and vegetables, as well as fish, meat & cheese, artisan breads and desserts, VQA wine, local raw honey, prepared foods, gourmet dog treats, and natural skincare products. All of the vendors at the Ottawa Street Farmers' Market are located within 100 km of the market, and all are dedicated to bringing you the best and freshest products. Saturdays from 8 am till 2 pm. See more info here.
---
The Milton Farmers' Market
Located at the Milton Fairgrounds, 136 Robert Street, Milton, ON.
Drop by Saturday mornings to browse over 30 local vendors. The market is operating safely with approval by the Halton Health Department. Find fresh local products like fruit and produce, meats, homemade sauces and baked goods, gorgeous flowers, popcorn and much more! Admission to the Milton Farmers' Market is free of charge. Find more info here.
---
McQuesten Urban Farm Produce Market
Located at 785 Britannia Ave., Hamilton, Ontario.
Drop by Saturday mornings starting July 9, from 9 am till 12 pm, to shop fresh-grown local produce. Find more info here.
---
Rockton Farmer's Market
Located at 812 Old Highway 8, Rockton, ON L0R 1X0
The Rockton Farmer's Market is back for it's 3rd year. Visit Thursdays from 4 pm till 7 pm and shop fresh, local produce, meats, baked goods and more. Find a full lineup of vendors here.
Download the 2022 Farmer's market Calendar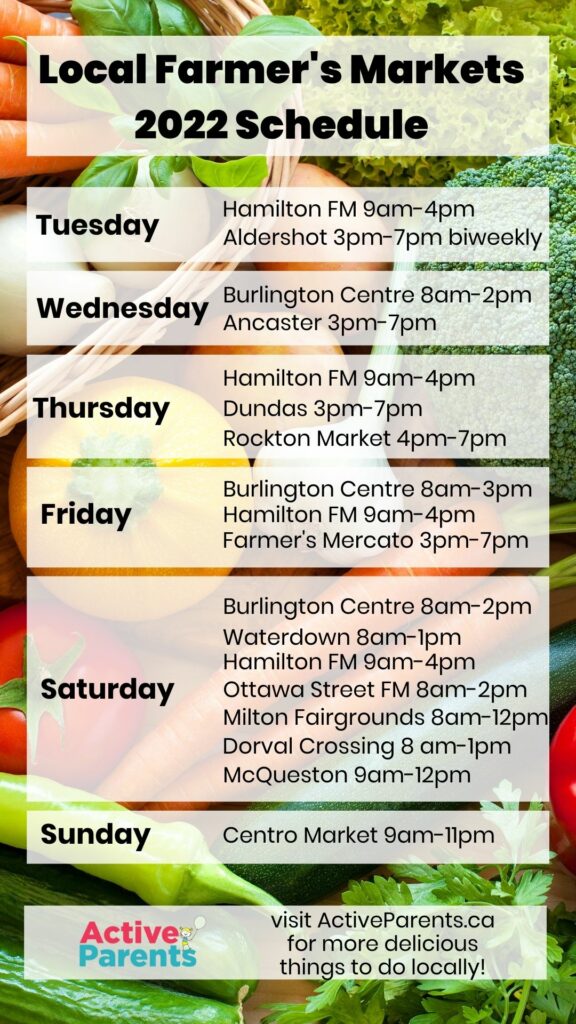 More foodie fun for you!
Everyone could use a treat and we have some great ideas for your next snack or meal! Ice Cream after a day at the beach or grab some donuts after the playground! The ideas are delicious – and endless! And visit a pick-your-own farm or grab your produce ready-picked at your local farmers market in Burlington, Hamilton and beyond!
More Ideas For Family Fun
We have visited hundreds of places and written about them to help you find the very best destination for your next day trip or outing. We love sharing indoor play places, playgrounds that go above and beyond, and more! Here are a few of our latest blogs to help you have a great weekend.