Brantford Twin Valley Zoo is top of our must-visit destinations for so many reasons. We've got all the reasons to visit, plus some helpful hints for your day, right here.
Brantford Zoo will be opening Thursday, May 21st. Our hours will be from 10:00 until 5:00
Their hours will be 10 am till 5 pm, and they've implemented a few new rules to keep you and their animals safe during this time.
Directional signage and arrows are up in the parking lot, gift shop and outdoor areas.
The gift shop has been equipped with sanitizer, plexiglass screens and floor markers.
To allow proper social distancing line up entry will be outdoors and a staggered entrance.
The zoo will be allowing families to enter, one at a time, through the gift shop.
6-foot spacing markers are located throughout the zoo and in the entranceway.
There is a strict "no touching policy" in full effect.
The reptile room, goat petting area and the play area are closed.
No educational presentations at this time and no zoo feed will be sold.
With these rules in place, your day at Brantford Zoo will be safer and more enjoyable. Read below for some highlights of our 2019 visit.
Brantford Twin Valley Zoo opened their doors in 1991 and offers 25 acres of native and exotic animals from April through October. Twin Valley Zoo is perfectly sized for families because it offers the ability to see the entire park in one visit.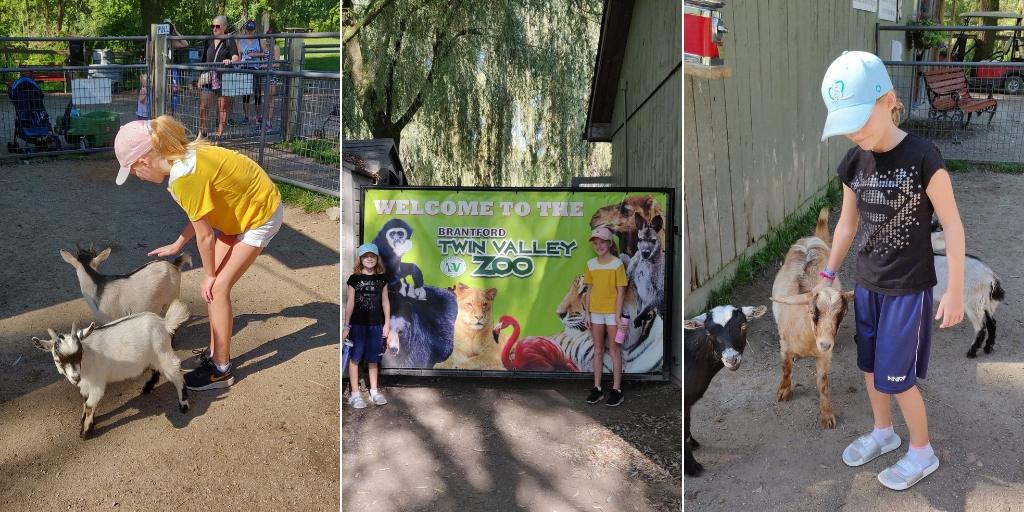 When you arrive, the zoo greeters are some of the cutest and most cuddly little goats I've ever seen. If you watched my Instastories, you'll see how quickly Cotton and I fell in love.
A few tips for when you feed the goats
Get your pellets from the machine, then MOVE AWAY. It's like a dinner bell for them, so back away once you've got your handful.
Spread out, there's lots of space, and your feeding experience will be a better one if you have your own space
Feed them low, and they won't jump. It took me a few minutes to realize this, but it's true.
Take pictures, because the cuteness is too much!
Once you've had your goat fix, you're ready to wander the zoo and see allllll of the local and exotic animals that call Brantford Twin Valley Zoo home.
Here's one tip I cannot stress enough – ask all the questions! Your kids will have questions and so will you, so make sure you ask the staff. They're all around the park, and so friendly and helpful. They're truly passionate about the animals and always took time to answer our queries. Mine wanted to know what the animals did in the winter months, why certain animals could live with others (like tortoises) and why others couldn't, and how the animals came to live at the Zoo.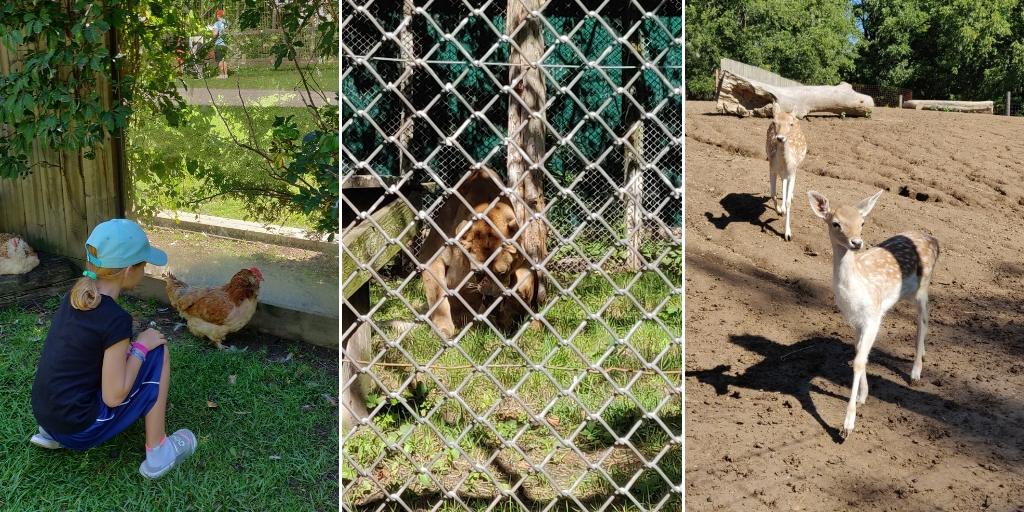 My girls love the ring-tailed lemurs and the rough lemurs. Watching them swing and jump and put on a show for the crowds is fantastic. Plus, their cuteness is off the charts.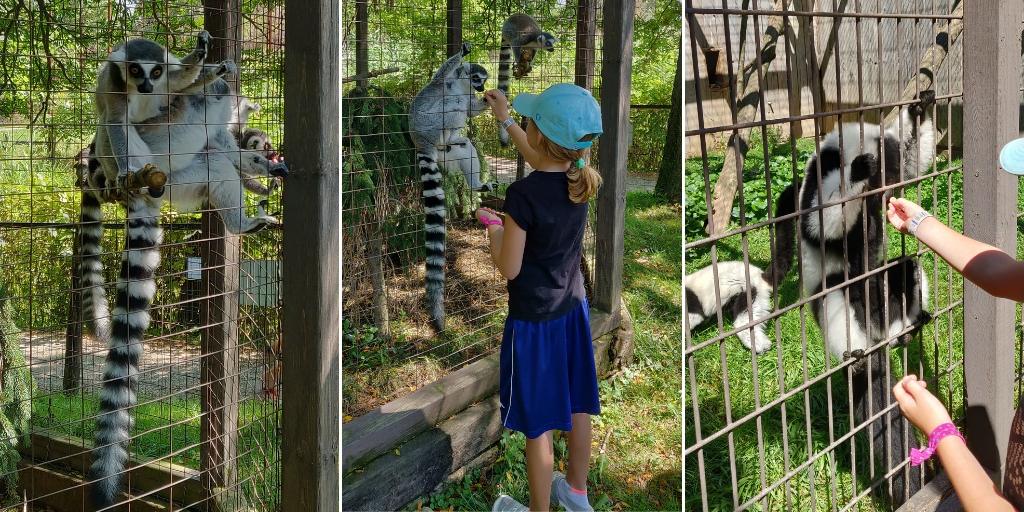 You absolutely MUST ask Jennifer to teach you about the wolf pack. Her wolf howl is out of the world, and the way Storm, Mogli and Maverick respond will blow you away. Learning so much about such a secretive species was a highlight for me.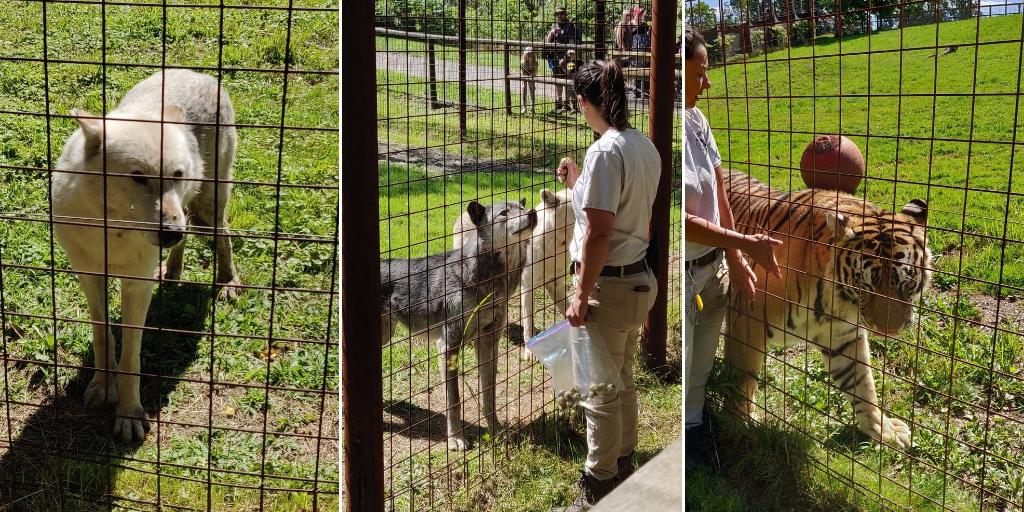 The big cats always get so much for my attention. I truly appreciate how lucky we are to be able to see them up close and to learn about their life in the wild and what brought them into captivity. Their personalities are all different and watching them interact with each other and the staff is great.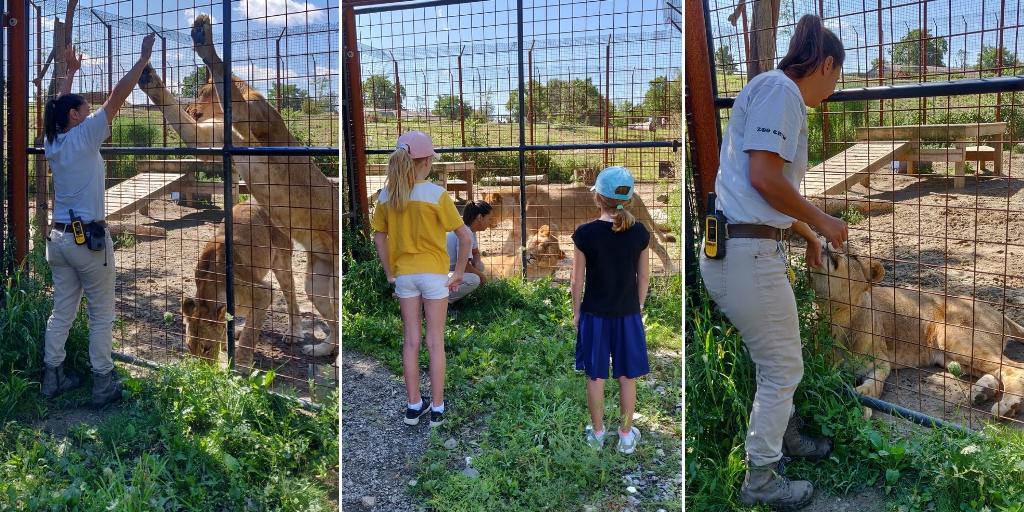 Our behind the scenes tour was closer and more informative than any other trip to a zoo has been. And great news! Brantford Twin Valley Zoo is now offering Behind the Barriers small group tours starting in September, and you can find all of the info right here!
Did You Know?
Brantford Twin Valley Zoo hosts birthday parties! Find details here.
Summer Camp at the Zoo? Oh yes! Your kids will love getting up close and personal, and did I mention goat yoga?!
If you need a shady break, why not play at the free playground? A great spot to rest, eat and regroup.
BYO food, too! Small treats and snacks are available onsite, but you're encouraged to bring a picnic lunch and eat at one of the many, many picnic tables throughout the Zoo.
Be sure to make time for the Animal Shows that happen every 2 hours. They're a great way for kids to ask questions and see smaller animals up close and personal.
It's great for grandparents. We saw tons of inter-generational families, so invite them to join you! There's plenty of seating all throughout the park, and shady spots, which means it's perfect for me too 🙂
Tips for Your Visit to Brantford Twin Valley Zoo
Bring your strollers and wagons, the grounds are very wheel friendly.
Pack some bug deterrent if you're going to take the Nature trail, on humid days the mosquitos are hungry.
The animal food vending machines take quarters, so I'd plan for at least one dollar's worth per kiddo (goats and deer can be fed)
So take our word for it, Brantford Twin Valley Zoo is one attraction you have to visit. And when you go, share your favourite part of your day with us!
Related Articles…
The City of Burlington is reopening slowly, and here's what you need to know.
Plan the best virtual game night with our tips and game ideas.