Visiting a waterpark in the summer is one of the more exciting things to do with your kids. We've rounded up all of the waterparks near Hamilton, Niagara and the GTA to help you plan an awesome summertime day trip with your family. Don't forget the sunscreen!
We are situated right in between some amazing summer attractions and waterparks. To help you decide which one to visit next, we've recapped some of the top features, this year's prices for 2022, onsight food options and more. We answer your most asked questions and connect you with the attraction website, too!
>> These are the best local beaches for families to visit in 2022
>> Beat the heat – or a rainy day – with these indoor things to do with kids
>> Ice cream, you scream, we all love eating local ice cream!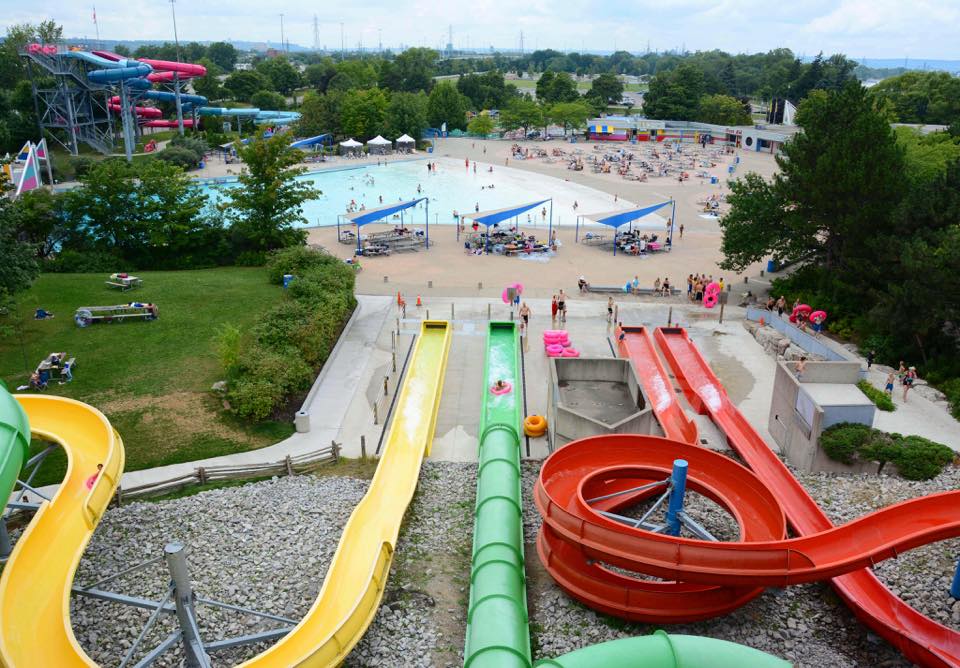 Wild Waterworks
Opening Date TBA
This Hamilton area summer staple is back for 2022 after being closed for the past two years! Located along the waterfront and easily accessed from the highway, this awesome water park boasts a Little Squirt Works kids area, an Eazy River, and multiple Body Slides and Tube Slides. And of course, you can't forget their famous Wave Pool! Our readers voted it the best waterpark near Hamilton. Every age will enjoy visiting Wild Waterworks!
2022 Pricing
General (ages 11-64) $30.31
Children (ages 3-10) $19.47
Persons with a disability/their Attendant (each) $19.47
Senior (65+ years of age) $26.11
Toddler (Children 2 and under) FREE
Know Before You Go
Three Restaurants to choose from
Outside Food Permitted
Parking is free
Life jackets are available for free on a first come first served basis
Address: 680 Van Wagners Beach Road, Hamilton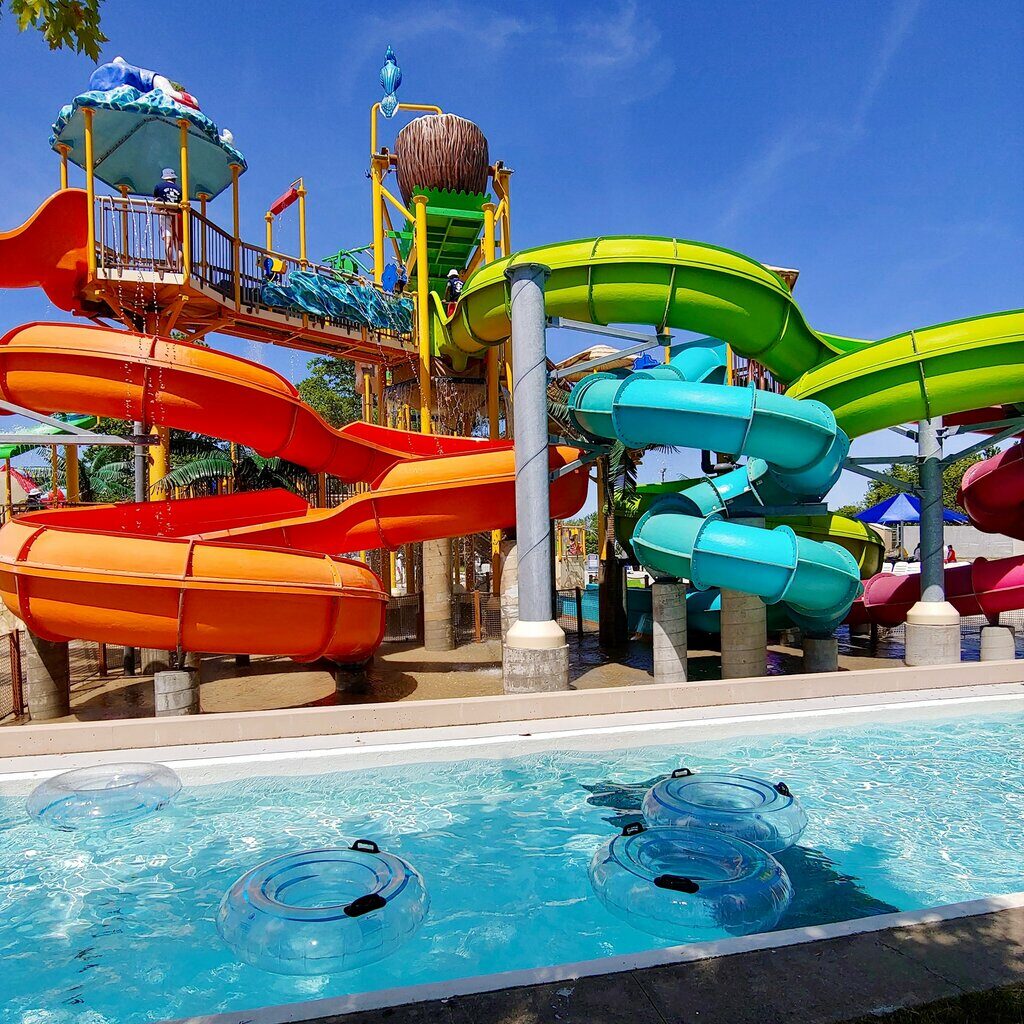 Wet N Wild Toronto
Opening on June 11th!
This GTA favourite is back and better than ever. This huge water park includes Wet N Wild Jr, multiple Body Slides and Tube Slides, and even some Mat Slides for racing! It also offers a Wave Pool, Lazy River and a Water Play Structure so there's something for everyone at Wet N Wild!
2022 Pricing
All ages (under 2 is free) $49.95 per person when purchased online
Good To Know
Life Jackets are available for free on a first come first served basis
Four Restaurants on site
Outside food is not permitted
Parking is $20 per car
Address: 7855 Finch Ave. W, Brampton

FunSplash Hamilton
Opening June 25th!
This unique attraction isn't your usual water park! It offers 25 different & unique obstacles on inflatables in the lake! Located in the Binbrook Conservation Area, it's a great destination for families with kids over 6!
Pricing for 2022
Know Before You Go
Ages 6 and up!
Must wear provided PFD
Address: 5050 Harrison Road, Binbrook at Binbrook Conservation Area
funsplashsportspark.ca/hamilton/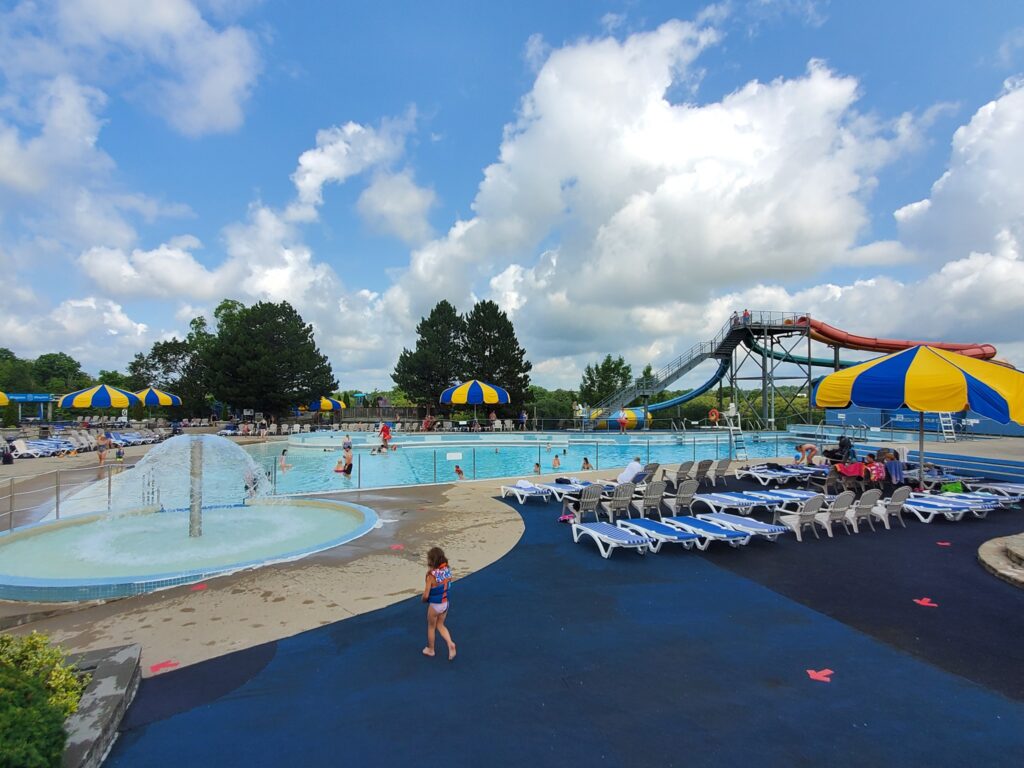 Bingemans Big Splash
Opening June 25th!
Waterloo Region's first water park offers multiple tube & body slides, along with a wave pool! They also have a Spray N Play water playground to enjoy.
2022 Pricing
Over 48" tall: $39.95 per person
Under 48" tall: $29.95
Under 2: Free
Know Before You Go
Life jackets are available for free on a first come first served basis
Five Restaurants
Outside food & drink is not permitted.
Address: 425 Bingemans Centre Dr, Kitchener, ON N2B 3X7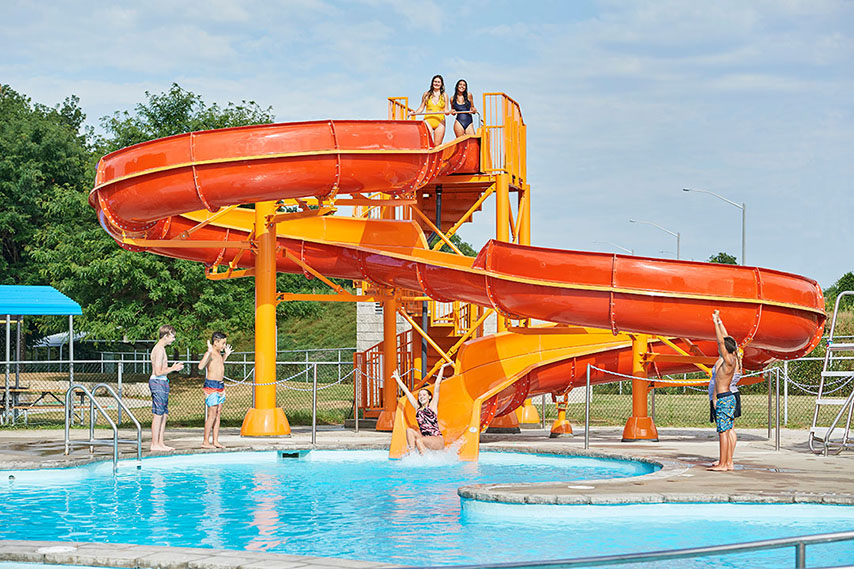 Earl Haig Family Fun Park
Earl Haig Family Fun Park will open for the season weekends beginning Friday, June 3, 2022 and daily beginning Friday, June 10, 2022.
Slide into summer and visit Brantford's Earl Haig Family Fun Park! Bring your friends and family and enjoy a variety of activities and attractions including a splash pad, leisure pool with waterslide, lazy river, mini-putt, batting cages and Snack Shack.
2022 Pricing:
| Age category | Rate |
| --- | --- |
| Youth | $7.75 |
| Adult | $11.01 |
| Senior | $9.15 |
| Family | $33.50 |
Know Before You Go
You can bring your own food and drink, excluding alcoholic beverages.
Earl's Snack Shack is also open for snacks and hot food.
A refundable deposit of $10.00 is required for locker keys, lifejackets and tube rentals.
You can also rental shelters in 2 sizes (50 people and 100 people) and beach volleyball courts.
Address: 101 Market Street South, Brantford, Ontario
brantford.ca/en/things-to-do/earl-haig-family-fun-park-brantford.aspx
Popular Attractions with Amazing Waterparks!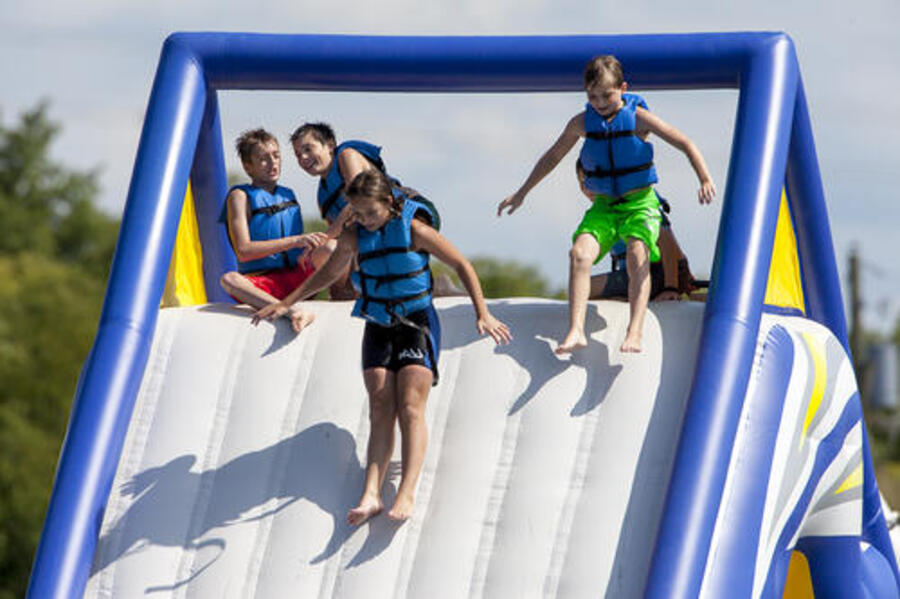 Emerald lake
Experience a day of water fun in our five-acre pollution-free, spring-fed quarry lake. Waterpark opens on May 21st, Victoria Day, and on weekends only until June 26th. Open 7 days a week from June 26th to Labour Day. 10 am to 7:30 pm. (No one will be admitted into the waterpark after 6:30 pm). All Hours Weather Permitting.
2022 Pricing
Ages 3 & under are free
(Weekdays) $17.70 + TX = $20 (ages 4 – 64)
(Weekends) 22.13 + TX = $25 (ages 4 – 64)
(Seniors – Everyday) $13.27 + TX = $15
Water Park Includes:
Snack bar

Life jacket rental available
5-acre spring-fed quarry 15 to 40 feet deep, with high and low diving area.
WATERTOYS in the quarry consisting of: trampolines, rock-climbing wall, saturn, teeter totter, jungle joe. & an obstacle course!
Lots of picnic areas
Large 2 foot deep kiddie pool with water jets
Kids playground
18 regulation size sand volleyball courts throughout the waterpark
Basketball courts
Sandy beach area
Lots of great picnic areas with picnic tables
Address: 7248 Gore Rd. Puslinch, ON N0B 2J0
Splash Works at Canada's Wonderland
Opening May 28th!
Probably the best-known waterpark in the area, Canada's Wonderland SplashWorks is an incredible destination for summer fun. Included in your Wonderland entrance fee, it turns a hot summer day into cooled-down fun! With 17 water slides & water attractions, there's something for everyone. Read about Canada's Wonderland here.
Address: 1 Canada's Wonderland Drive, Vaughan
Splash Island at Toronto Zoo
Opening July 26th!
Free with Zoo Admission
Looking to cool down while you visit the animals? The Splash Island at Toronto Zoo is a great destination inside this world-famous zoo! With water slides, splash pads, and a water playground, you'll have a great time playing no matter how old!
Misumu Bay Splash Park at African Lion Safari
Opening May 21st!
Included in Safari admission – learn about African Lion Safari here
Heading on safari this summer? Be sure to stop by Misumu Bay while you're at it! This kid's splash & water park is a fun destination for the younger ones. Offering slides, tipping buckets and many play structures, it's the perfect way to cool off!
1386 Cooper Road, Cambridge
More Ideas For Family Fun
We have visited hundreds of places and written about them to help you find the very best destination for your next day trip or outing. We love sharing indoor play places, playgrounds that go above and beyond, and more! Here are a few of our latest blogs to help you have a great weekend.