The Halton County Radial Railway Museum is open for the 2023 season and we couldn't be happier! This volunteer-run museum is such a unique spot to visit as it's full of history, activities and educational opportunities.
>> Find more of our fave Day Trip ideas here.
Location and Admission
The museum is located on Guelph Line, north of the 401 which makes it a very easy spot to get to. The Halton County Radial Railway Museum is currently open on weekends from 10 am – 5 pm with the first streetcar ride at 11 am and the last ride at 4:30 pm. 
Admission Prices for 2023
Adult = $24.00
Senior (65+) = $22.00
Child (4-9) = $12.00 NEW THIS YEAR
Youth (10-17) = $18.00
Under 4 = FREE
Family Pass (Max. 2 Adults and 2 Children) = $70.00
They also offer season passes for super fans. Once you've paid your admission to everything else is covered including unlimited streetcar rides!
Accessibility at Halton County Radial Railway Museum
The museum grounds are somewhat wheelchair and stroller friendly but you will be limited to what you can do. For young children, if you can use a carrier or a small folding stroller it will probably be easiest. Visiting with a wheelchair user? We suggest calling ahead to check accessibility based on your specific parameters.
Washrooms are located inside the main gift shop. There is a small snack bar here as well. The food offerings are limited to snacks and drinks but will most likely expand as the summer comes and crowds increase. We heard there would be ice creaming coming soon!
If you would prefer to bring your own food that isn't a problem! There are lots of picnic tables around so it's nice and easy to sit and eat.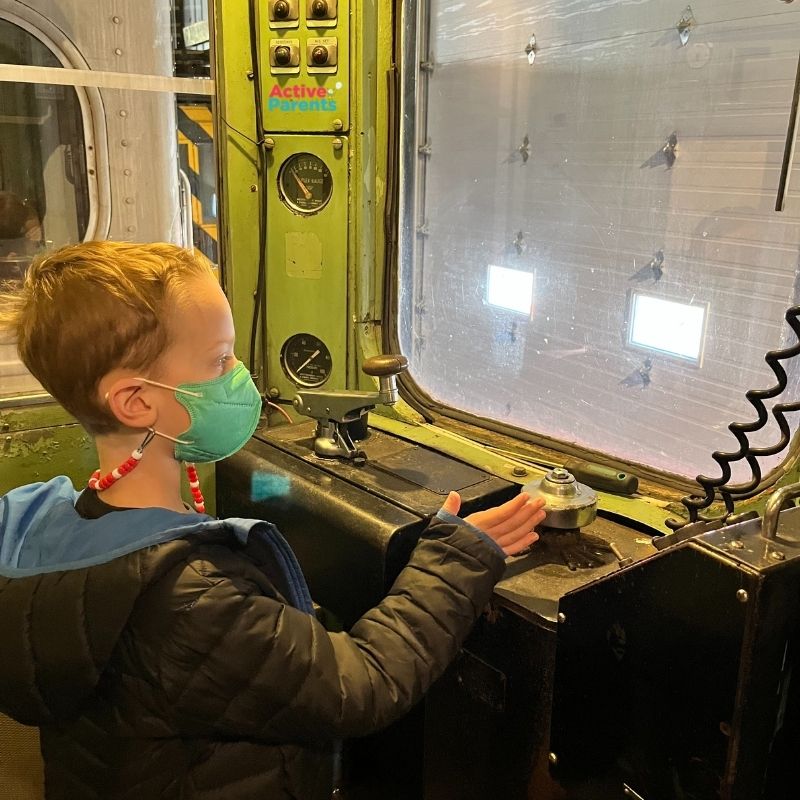 All Aboard! Let's Visit Halton County Radial Railway
Once you enter the Halton County Radial Railway museum grounds you will see which streetcars are operating that day. The rides are every 20-30 minutes and when we were there 3 different cars were in use. Each car went out one at a time throughout the day. We got on the very first ride at 11 am and rode all 3 cars in a row. That took us about 1.5 hours.
It was incredible to be inside the different cars and feel how different each ride is.  Shockingly, the older the car the smoother the ride! The rides are also very educational as the conductor talks about the history and significance of both the vehicles and the museum itself.  
There is no limit to how many times you can ride so if you want to ride all day long DO IT! Be sure to ask the conductor if they can punch your ticket for you.
Meadowvale Station
You are welcome to stay on the streetcar for the entire loop but if you want to get off there is a stop at Meadowvale station. This is a fabulous spot to have a picnic or explore the rock garden. You can't walk back to the main station from there so once you get off you will have about 30 minutes until the next streetcar returns to pick you up. This is where the ice cream will be sold once summer hits!
Rockwood Station
The main museum is Rockwood Station and it's located right at the entrance to the grounds. This is an excellent spot to explore the old station and learn about the history of the Radial Railway in Ontario.  If you're curious to learn more you are welcome to speak to the docent who is very knowledgeable about the history of the station.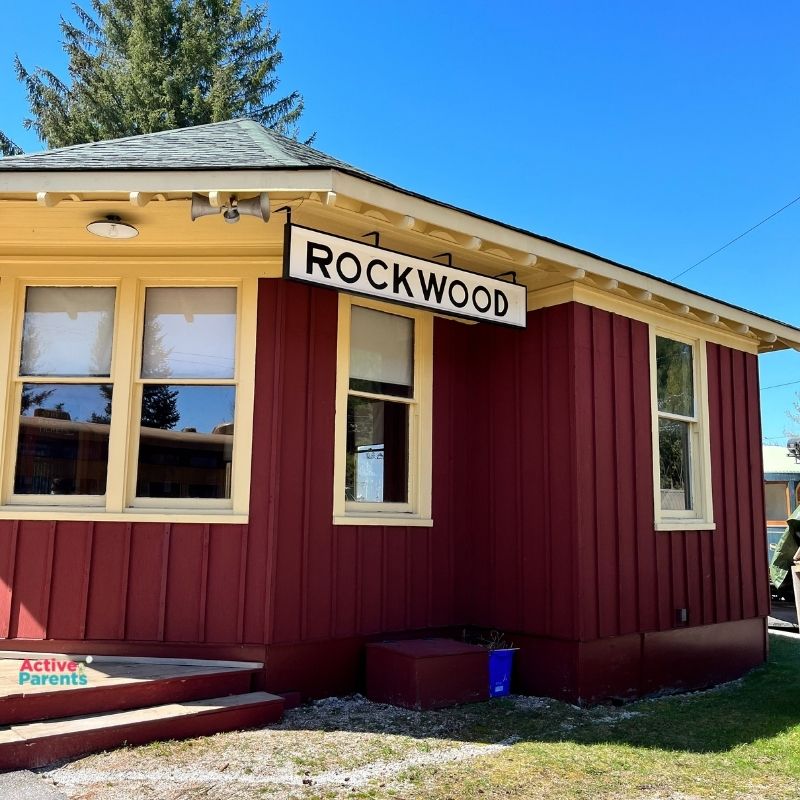 Be Sure To Visit Car Barn #3
Car Barn #3 is where all of the restored vehicles are and it's definitely worth a visit. There are lots of things that you can touch and explore and many of them are open so you can enter them and take a look. Take time to learn more about each vehicle when you read the information posts throughout with lots of educational facts.  Be sure to let your kids drive the bus and explore the subway maze. Shhh…it's not really a maze just a bunch of connected subway cars but we really enjoyed it!
If you have a train enthusiast in the family or are just looking for a unique experience, I would definitely recommend a visit to the Halton County Radial Railway Museum. The entire museum is run by volunteers and they do an outstanding job. Everyone we talked to was enthusiastic, knowledgeable and had an infectious passion for trains and streetcars. 
Halton County Radial Railway Museum is located at 13629 Guelph Line in Milton, Ontario.
Take a Tour of Halton County Radial Railway Museum
Sara and her son toured the Halton Couty Radial Railway Museum and have 5 must-dos for when you visit!
More Ideas For Family Fun
We have visited hundreds of places and written about them to help you find the very best destination for your next day trip or outing. We love sharing indoor play places, playgrounds that go above and beyond, and more! Here are a few of our latest blogs to help you have a great weekend.