40+ Best Parks: Burlington, Oakville, Milton and Hamilton
Looking for the perfect spot to spend quality time outdoors with your family in Hamilton, Burlington, Oakville, or Milton? Look no further! We've created a list of the best parks and playgrounds near me. Cool parks where your family can soak up the sun, enjoy nature, and let the kids run wild. From sprawling green spaces to exciting play structures, these locations offer something for everyone, ensuring unforgettable moments of joy and relaxation.
In Hamilton, you'll discover hidden gems like Gage Park, one of the most popular playgrounds in Hamilton, with its picturesque gardens and enchanting gazebo. Adventure seekers will delight in Confederation Beach Park, where sandy shores meet thrilling water slides. Meanwhile, Burlington boasts the scenic Bronte Creek Provincial Park, offering camping, hiking trails, and even a farm for an interactive experience with animals.
Coronation Park is a waterfront haven featuring expansive picnic areas and captivating lake views making it one of the prettiest playgrounds in Oakville. And let's not forget Milton's Community Sports Park is a thrill-seekers paradise where you can skateboard, play beach volleyball and zip along the zipline.
When it comes to Burlington parks, you absolutely must visit LaSalle Park for its new cool playground and neighbouring wading pool. Central Park has one of the best playgrounds in Burlington since its recent remodel, and is home to a wheelchair-accessible swing, too.
Whether you're looking for a peaceful retreat at a natural playground or an action-packed day out, these parks and playgrounds are the perfect answer. So grab your sunscreen, pack a picnic, and get ready to explore the best that Hamilton, Burlington, Oakville, and Milton have to offer in terms of outdoor fun and recreation. Let's dive into our list and start planning your next adventure!
If you already know what feature you want in a playground, use our yellow filter buttons to help narrow down the list to fit your favourite features.
You can also scroll father down and find the parks sorted by city to help narrow your search. 
Try the brand new fenced-in playground at Maple Park. How about the regal splash pad at Coronation Park? Shell Park and Waterdown Park are known for their epic skate parks. Or hop in the car and visit the natural playground Exhibition Park
Break up your routine and visit a new playground, natural space, skate park or conservation area today! 
THE BEST PARKS IN Hamilton, Burlington, Oakville, Milton and Beyond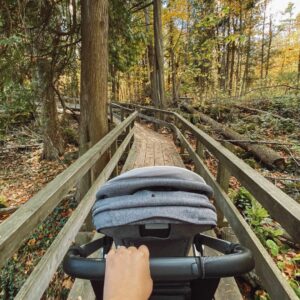 Here are some of the best-loved and most recommended stroller-friendly trails in Burlington, Oakville and Hamilton. We asked our followers with wee ones where they love to walk with their wagons and wheels.