There are so many natural playgrounds near Burlington and Hamilton, and visiting one with a picnic in tow makes for an excellent and inexpensive summer day!
What makes it a "natural" playground?
A natural playground is a play space that includes elements from the earth. Think logs, boulders, tree stumps, wooded fixtures, and more. These pieces can make up all or most of the playground, and work in tandem with cargo nets, swings, slides, and monkey bars to make for unique and impressive play spaces.
Some natural playgrounds, as we note below, include massive truck tires, plants, and water features, too.
Most of these playgrounds will require a drive to get to unless you're lucky enough to leave near one (jealous!) so we like to suggest making a day of it. Pack a picnic, bring some toys like balls, kites, and frisbees. The larger natural playgrounds can keep kids entertained for hours and hours.
Riverside Park
709 Woolwich St, Guelph, ON
The playground structures are very large and offer lots of space for running and playing. The structures are a mix between natural pieces and modern equipment including a wooden fish and a grasshopper-shaped climber. Read all about our visit here.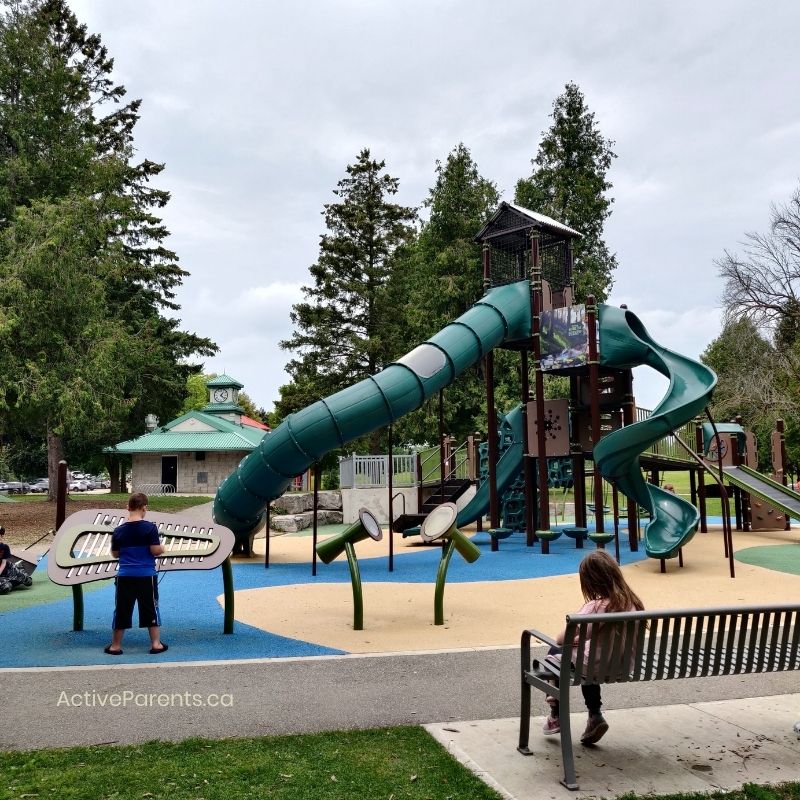 Exhibition park
81 London Road West, Guelph, ON
The Park is home to a few different play areas, each one more impressive than the last. There's a huge section that can best be described as a "spider web of logs". Immediately their shoes were off and the kids were scaling the logs and making their way from one end to the other. The heights range from about 2 feet at the lowest point to 7 or 8 feet at the highest.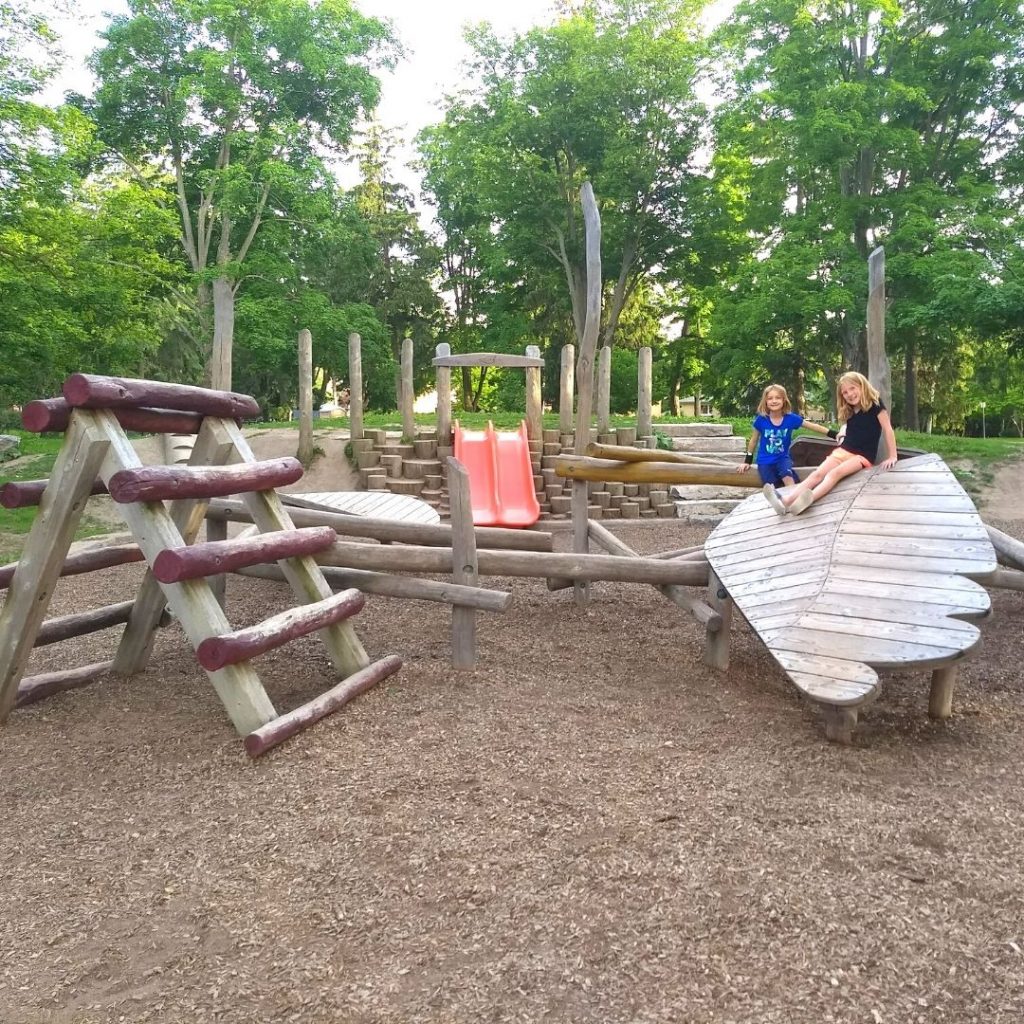 Jaycee Park
1520 Gulleden Dr., Mississauga ON
Imaginations will run wild when you see the "city skyscrapers" and cargo nets (hello, Spiderman!) There are so many unique ways to climb and slide here. In the picture below, you can see the mini-trampoline – so fun! And take a look at the saucer swing. They are always a huge hit at the playground. See our pictures and read our review here.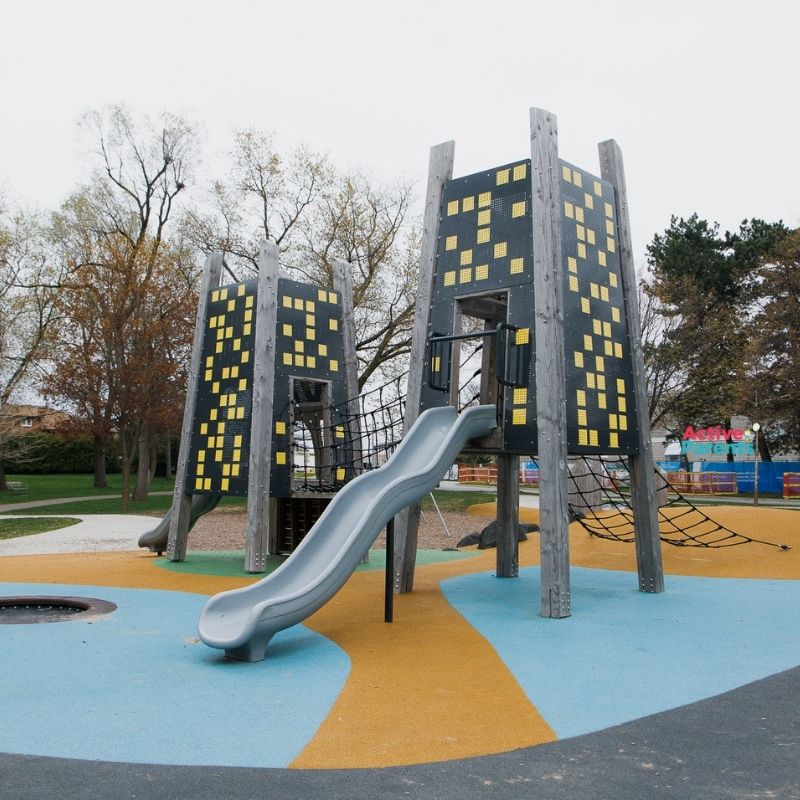 chappel east parkette
1837 Upper Wentworth Street in Hamilton
Big parks are awesome, but there's a lot to be said about having a whole park to yourself that just lets the imagination run wild! Chappel East Parkette, sometimes referred to as East Chappel Park is smaller, and its natural elements and massive owl structure make it an ideal setting for imagination play. Read our review and see more pictures of Chappel East Parkette here.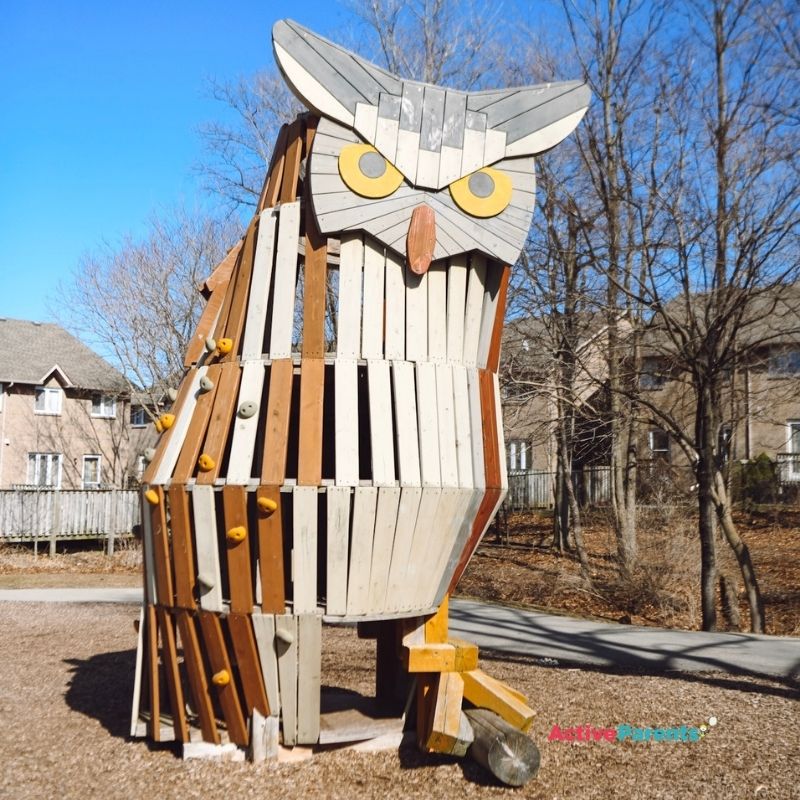 William Connell Park
1086 West 5th Street, Hamilton.
When you visit William Connell Park in Hamilton you'll be treated to a combination of a natural playground, traditional playgrounds, and more sports fields than you could imagine! Read our review and see more photos here.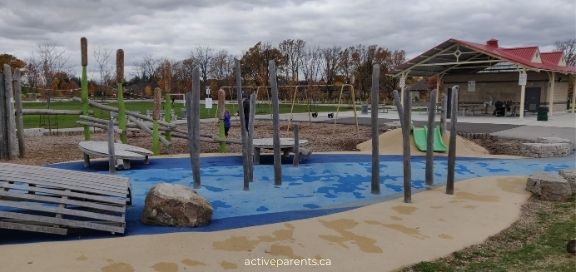 Perth Park
300 Woodworth Dr, Ancaster, ON
Perth Park is a neighbourhood park, which means parking is a challenge. It's nestled in a neighbourhood and offers a ton of ways to climb and balance, plus equipment that gives lots of options to use your imagination. Read our review and see more pictures here.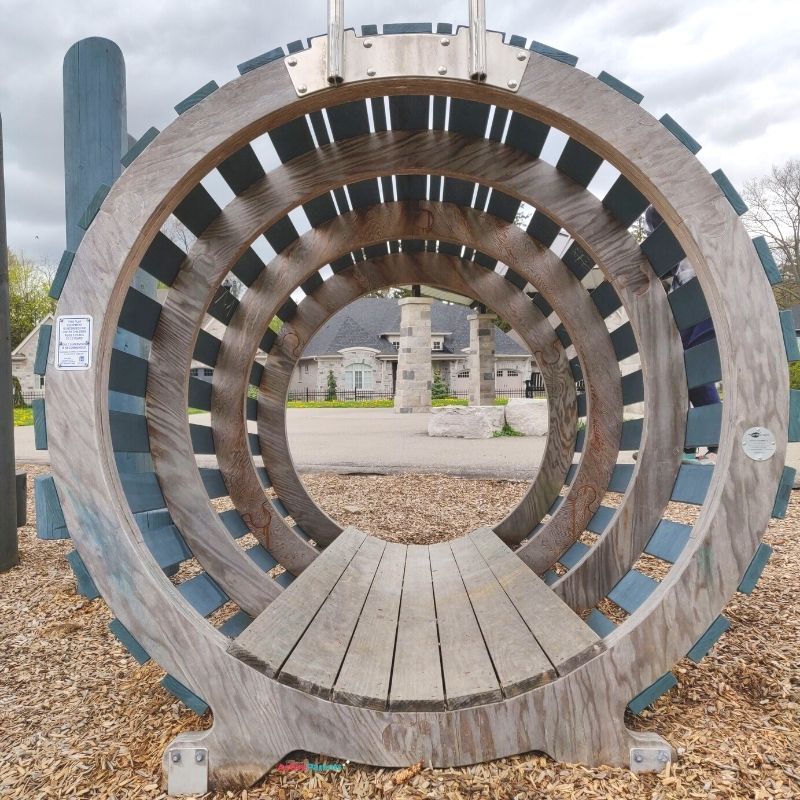 Wayne Gretzky Park
254 N Park St, Brantford, ON
Located at Wayne Gretzky Sports Centre, this is a small but mighty parkette that provides spaces for gathering, sand play, creative play and climbing.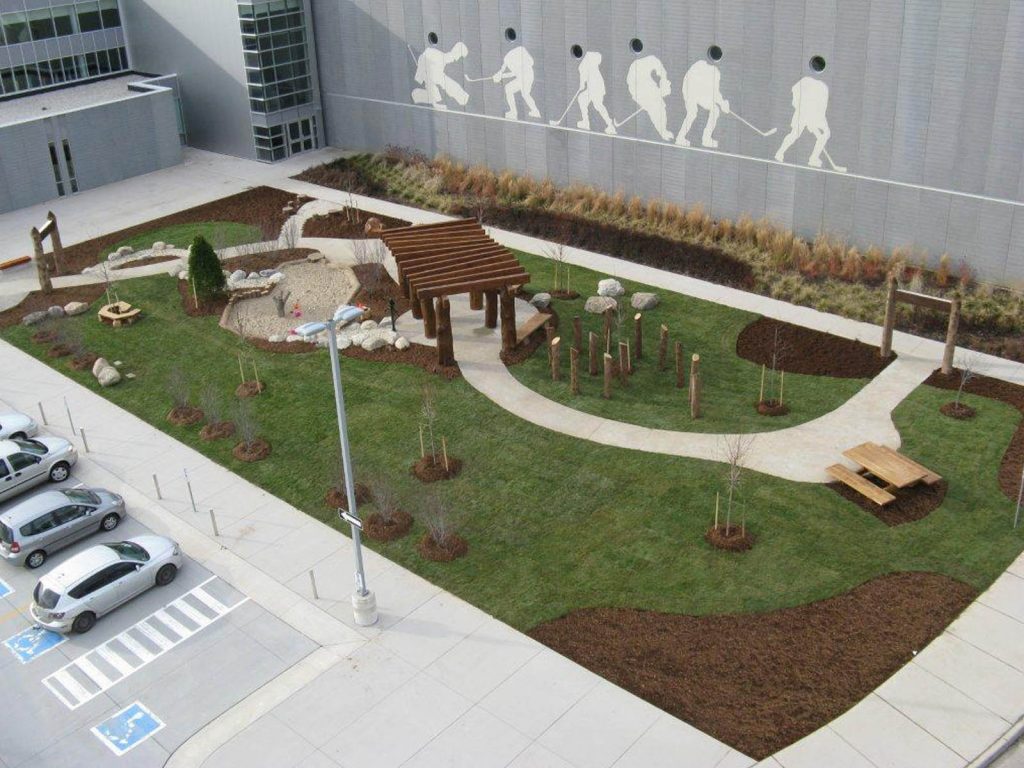 Central Elementary School in Dundas
73 Melville St, Dundas, ON
The site – home of Central Elementary School in Dundas – features an ancient, 100-year-old, 17,000 lbs, 8' wide silver maple trunk (donated by the City of Hamilton Forestry), an amphitheatre, a wetland teaching garden and significant succession planting to replace the dying Ash canopy.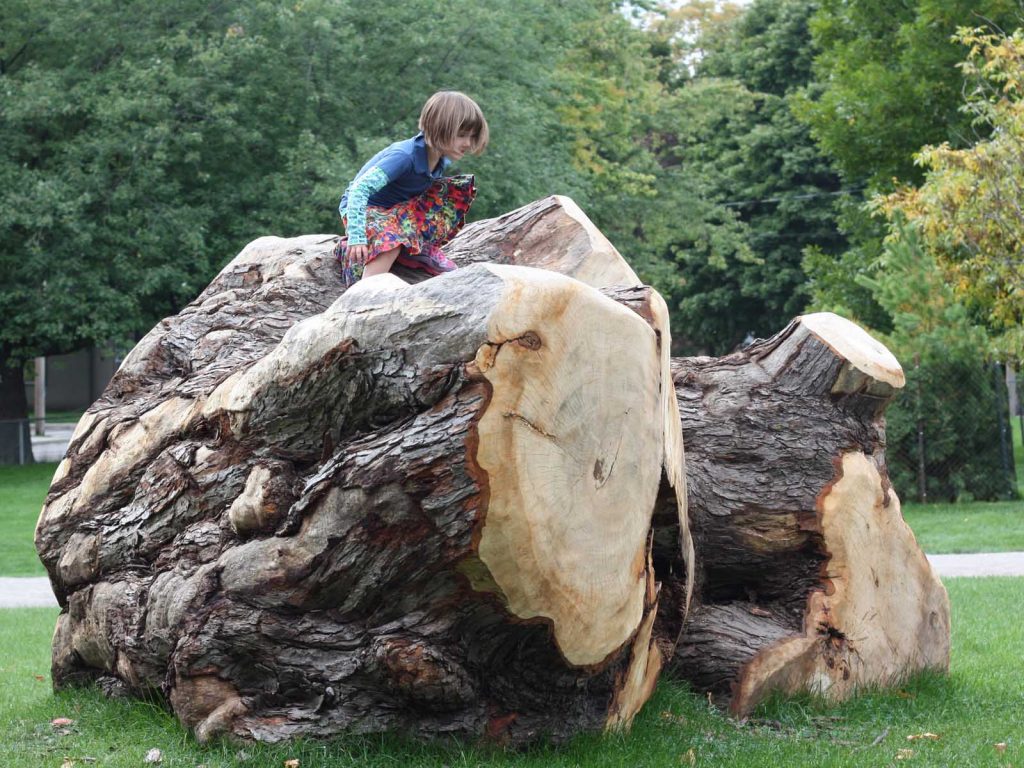 Bernie Morelli Community Centre
876 Cannon St E, Hamilton, ON
Located just outside Bernie Morelli Community Centre in Hamilton. The team converted a concrete courtyard into a natural playground for the visitors and the community.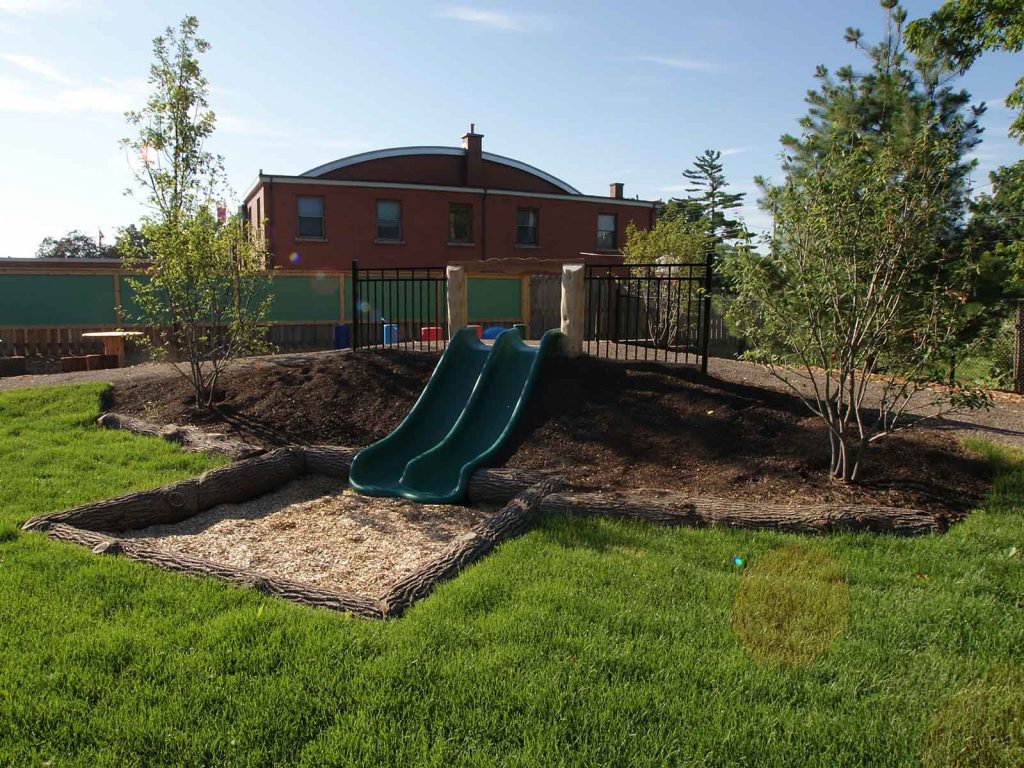 Matilda Street Natural Playground
238 King St. West, Dundas, ON
Interesting facts about Matilda Street's playground: "Prior to being a playground, this parcel was previously a gas station. Due to site contamination and restrictions, 100% of the installation had to go above the existing grade and the natural playground was the clay cap on top of the lot." What a great way to repurpose an otherwise unusable plot of land!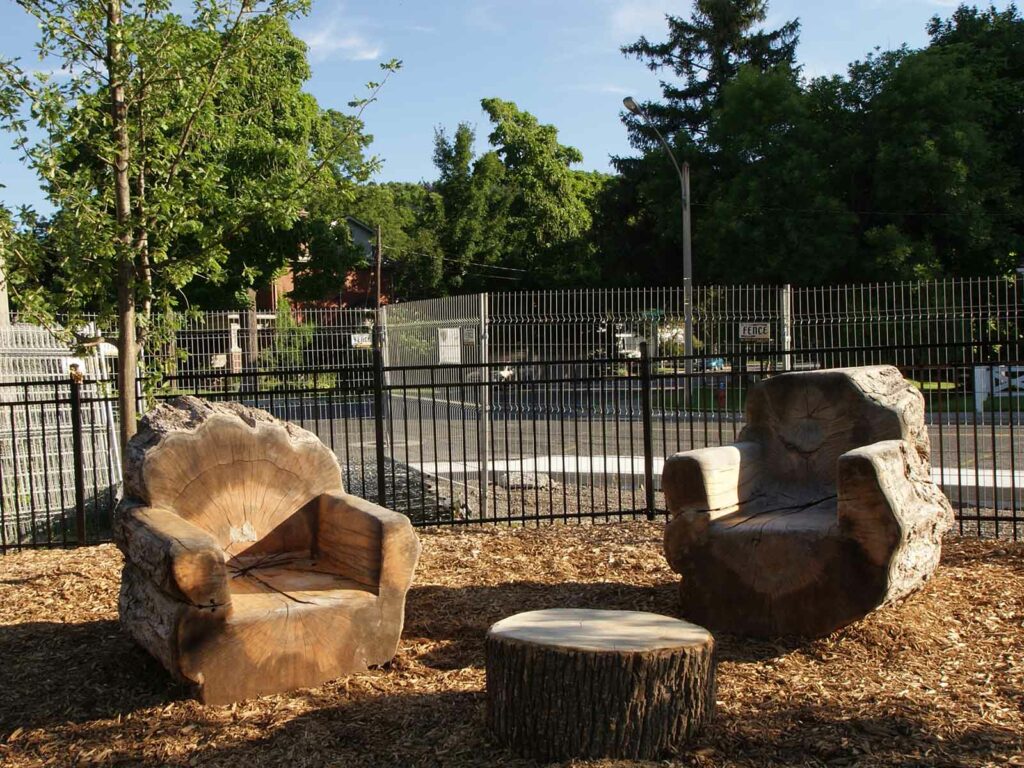 Paul Coffey Park
3430 Derry Rd E, Mississauga, ON
The fairytale-inspired theme creates a memorable space that is an attraction for community members of all ages across the city. Built into a hillside adjacent to Paul Coffey Arena are three, four and a half metre high towers topped with colourful turrets and flags, which can be easily seen from the street.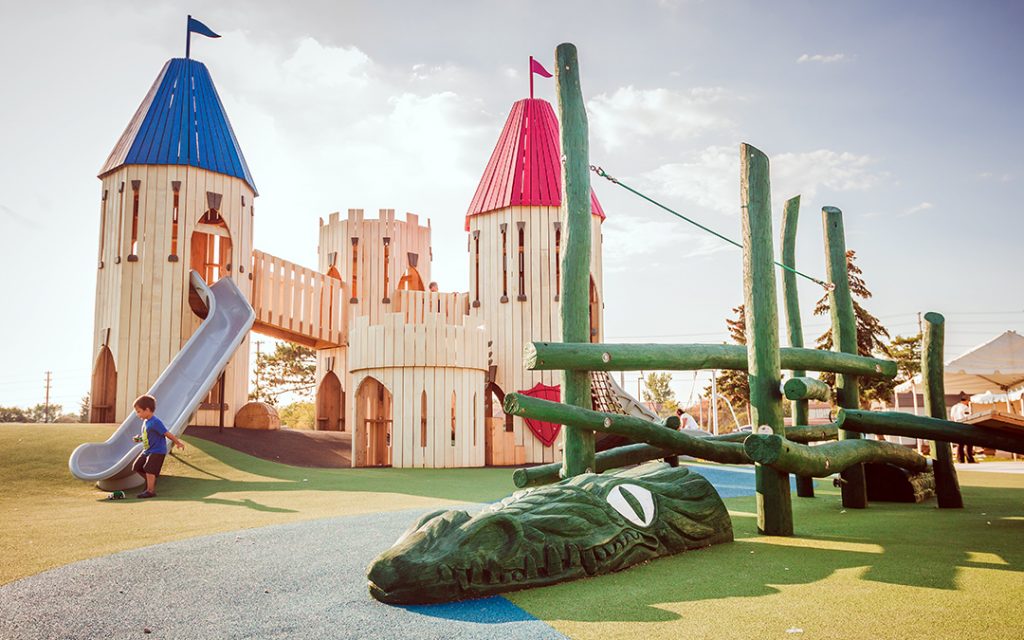 Moffat Creek Public School
710 Myers Rd, Cambridge, ON
The site is nestled in the Grand River watershed, flanked by nature trails, soccer fields and the school building. Because of its prime location, the playground is frequented not only by students but also by sports teams, summer camps and the neighbouring community. The planning team's goals for the playground included promoting imaginative play, fostering a sense of adventure, and providing children with the opportunity to test their skills and allow them to make risk-taking decisions in an appropriate play setting.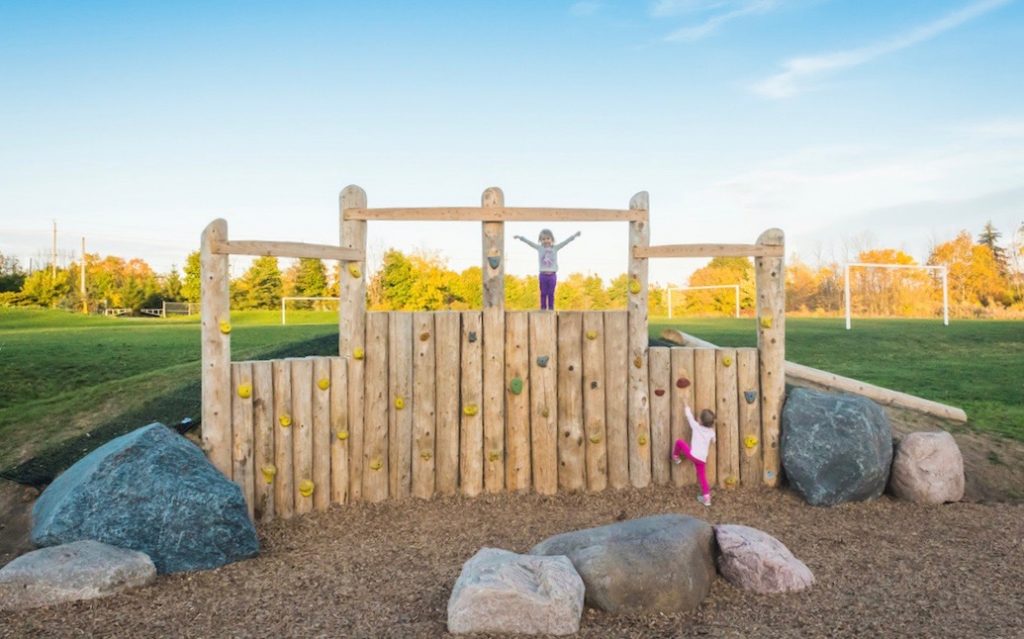 we share the best local playgrounds when we find them!