Our readers often ask "Where can I go horseback riding near me?" so we knew this curated list would help a few families out.
If you have a child who is ready to progress from pony rides to horseback riding, you'll want to check out our list of local stables. Many of the centers offer summer and March Break camps.  Let your child experience riding in a camp setting and maybe they'll want to continue with riding lessons.  Horseback riding is a great way to spend time in nature exploring the trails and is perfect for most skill levels.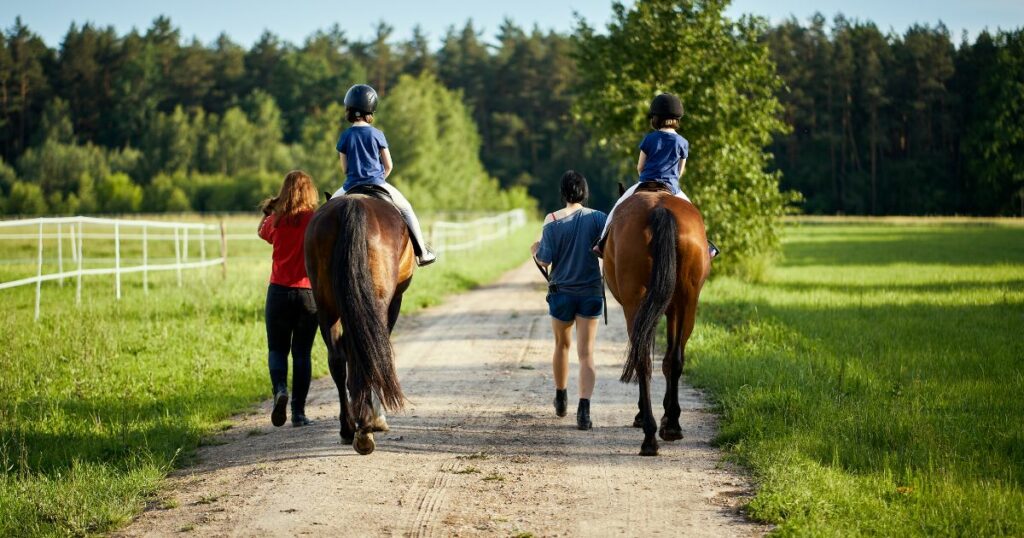 Horseback Riding: Hamilton
Daisy Meadows Equestrian
Address: 6095 Dickenson Rd, Hannon, ON, L0R1P0
Website: https://daisymeadowsequestrian.com/
In addition to training, Daisy Meadows Equestrian offers horseback riding lessons and summer camps for riders of all abilities aged 5-15 years and hosts riding birthday parties. Pony-themed birthday parties for up to 6 guests cost $350 + HST. Bring your own food and decorations, use the air-conditioned camp room, learn to groom a horse or pony,  and ride a pony.
Foxcroft Equestrian
Address: Foxcroft Equestrian, 76 Concession 7 East, Millgrove, ON L8B 1T3
Website: http://www.foxcroftequestrian.com/
Foxcroft has 35 acres near to Waterdown, ON.  They've been in business since 1990 and run a riding school and summer camps.  Dates and registration information is available on their Facebook page and under the events tab on the website.  A 1-day riding clinic, for example, cost $145 including tax per rider.
Vector Equestrian
Address: 995 Concession # 8, Hamilton, Ontario, N0B 2J0
Website: https://www.vectorequestrian.com/
Vector Equestrian in Hamilton has riding lessons and summer camps plus boarding and onsite shows.  Check out their website and call or email for more information or to register.
Triple C Farm
Address: 500 Carluke Road West, Ancaster, Ontario, L9G 3L1
Website: https://www.triplecfarm.ca/
Triple C Farm is a local livestock sanctuary and petting farm with goats, pigs and alpacas that offers horseback rides, birthday parties and camps among other fun experiences (ask me about goat yoga!).  It's best to reserve ahead online before visiting this small farm.  You can purchase tickets for events under the Events tab of the website.  They also share photos and information on their Facebook page.
Horseback Riding: Milton
Claddah Stables
Address: 4393 Tremaine Road, Milton ON
Website: https://www.claddaghstables.com/
Claddah Stables has several horseback riding lessons near me for kids, from PA Day Camps (for $85 for 9 am – 4 pm programming and care and later pick up available for an extra charge) to Riding Lessons, Riding Camp and Saddle Club.  Riding lessons are available for all levels and as a group ($38 + tax per hour), semi-private ($45 + tax for 45 min.) and private ($60 + tax for 30 min.). 
Riding Camps are offered in the summer and for March Break for ages 6 and up. Friday evenings from 6 pm – 8:30 pm is Saddle Club.  For $40 per session, kids learn about the responsibilities of caring for ponies and horses and have a riding lesson.
Vernadee Stables
Address: 7051 McNiven Rd, Milton, ON L0P 1B0
Website: http://www.vernadee.com/
Stress-free riding lessons and riding camp in a quiet 18-stall barn in Milton.  Day camp is all about caring for and riding horses complete with mounted games on Fridays.  Camp is 9 am – 4 pm and costs a reasonable $325 + HST.  Riding lessons cost less with your own horse or, $190 for ½ hour private, $285 for 1 hour private, $165 for 1 hour group or $215 for 1 hour semi-private.
Horseback Riding: Oakville
The Ranch
Address: 2401 Burnhamthorpe Road West, Oakville, Ontario L7M 0P1
Website: https://ridetheranch.com/
The Ranch offers trail riding, lessons and camps. 90-minute guided horseback trail ride is $60 per person, with a photo included. Ages 10 and up and to a maximum of 250 pounds. Private twilight rides for groups of 10 – 20 people for $80 each. Twilight rides include a photo and optional cookout.
Horseback Riding: Burlington
Bayview Equestrian Centre
Address: 3180 Cedar Springs Road, Burlington, Ontario L7R 3X4
Website: https://www.bayviewequestriancentre.com/
Bayview Equestrian has riding lessons, summer camp and March Break camp.  Lessons are offered indoors in the arena and outdoors in the sand ring. 
Horseback Riding: Brantford
Pentland Stables
Address: 67 Jury Road, Brantford, ON, Canada
Website: https://www.pentlandstable.com/
Pentland Stables has over 30 years of experience and has an additional specialization in animal therapy for children with special needs. Book a 1-hour farm visit online for $10 or a 1-hour 1:1 animal therapy session for $60. Animal therapy is suggested for younger or older individuals with additional needs.
Horseback Riding: Niagara
Niagara Riding Stables
Address: 471 Warner Road RR4, Niagara On The Lake, Ontario, L0S 1J0
Niagara Riding Stables offers trail rides along the Niagara Escarpment for couples and for small intimate groups of no more than four to six riders. Costs are $75.00 per person (taxes extra). They are open all season, no experience necessary, and they have a variety of horses so you will be matched with one that matches your skill level. The trail takes 45-50 minutes with a two-person minimum. The minimum age is 10 years and the maximum weight restriction is 240 pounds.
More Ideas For Family Fun
We've been to so many cool places, and we've made it our mission to share all the fabulous locations we find with you. Whether you're planning a day trip or looking for the best playgrounds, we've got your back. We are all about discovering the most amazing indoor play areas, farms and animal experiences, and a whole bunch of other visit-worthy local attractions. Check out our latest blog posts below to make sure you have an absolutely epic weekend!