Experience a tropical oasis right in the city when you visit the Cambridge Butterfly Conservatory. Never been? Victoria Schwarzl visited with her daughter this week and took some gorgeous photos to help you plan your visit.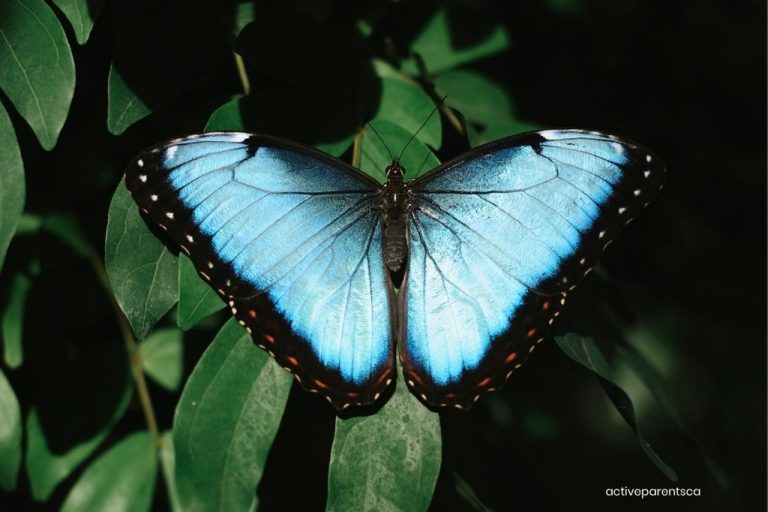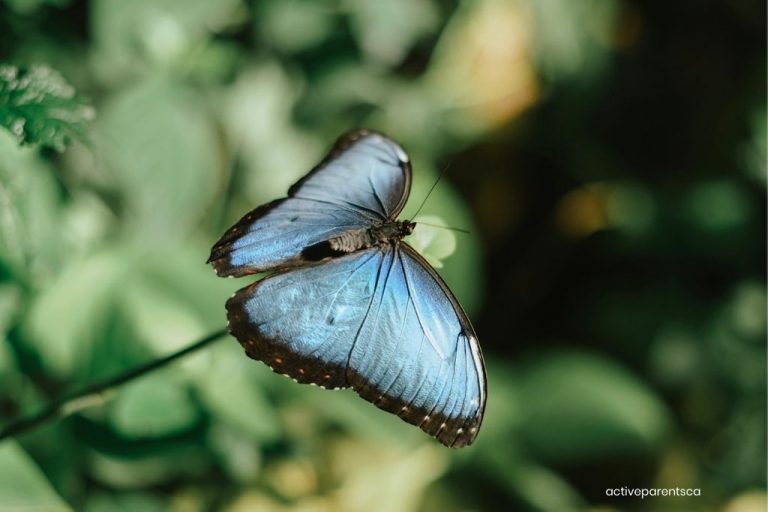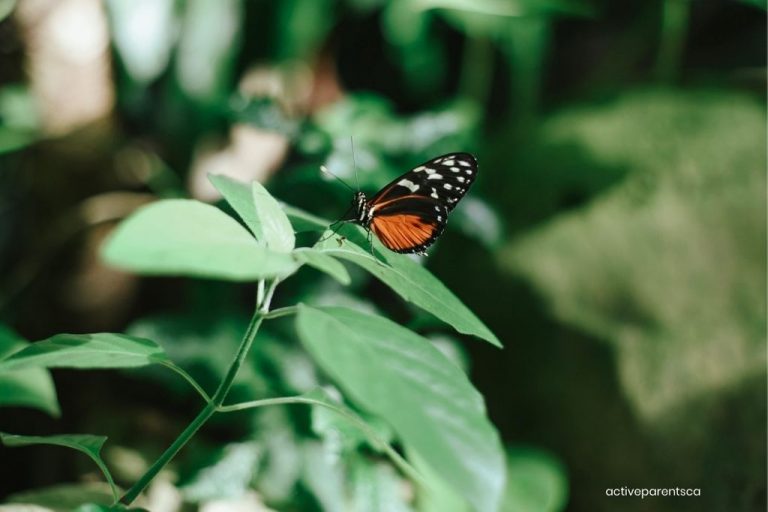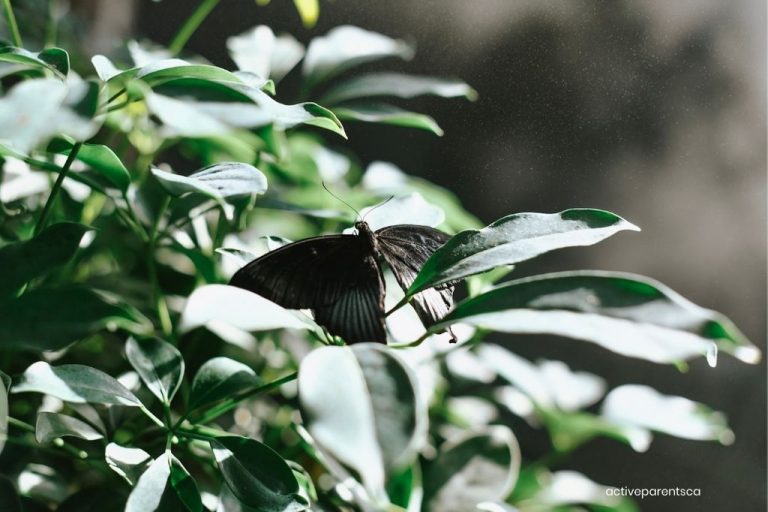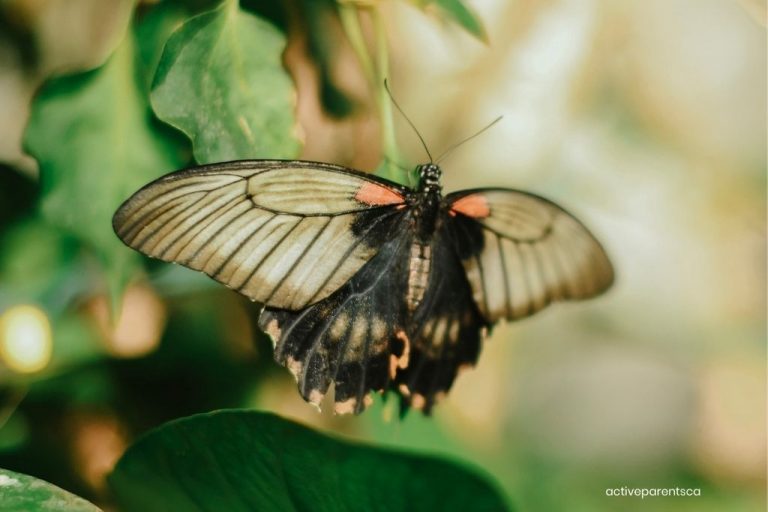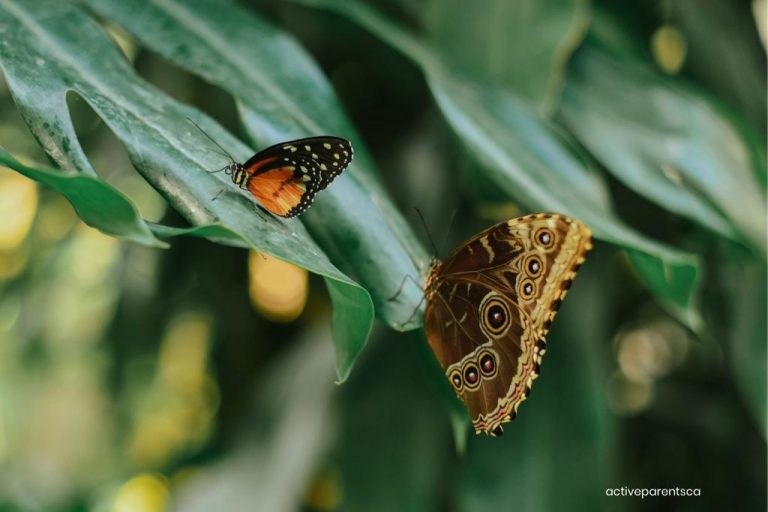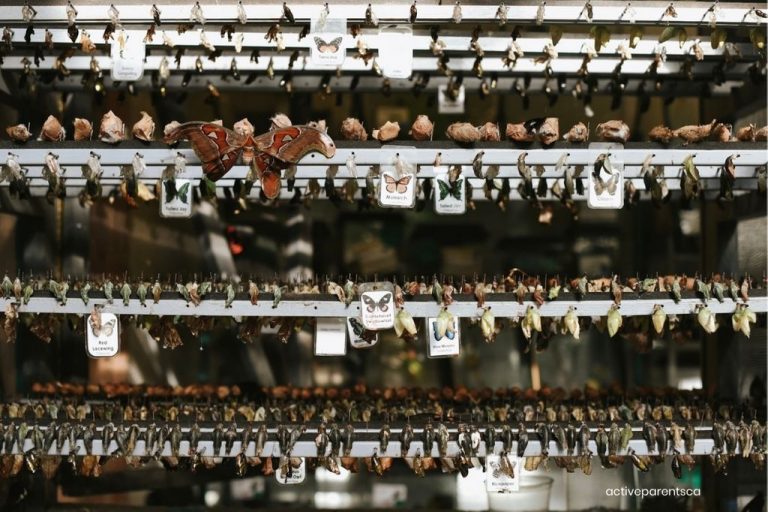 What is The Cambridge Butterfly Conservatory?
A must-see attraction in the Waterloo Region, the Cambridge Butterfly Conservatory has been open to the public since 2002. It's 25,000 square feet of year-round indoor tropical paradise and home to thousands of butterflies, birds, fish, amphibians and insects. The Conservatory is privately owned and run, with a small team of enthusiastic staff who are eager to share their knowledge with guests.
Will my kids have fun at the Cambridge Butterfly Conservatory?
The Butterfly Conservatory is exciting for all ages. Not only is it one of the largest greenhouses in Canada, but it's also home to thousands of free-flying butterflies.  Butterflies are friendly and will land on or near! Your visit will give your kids the chance to see butterflies and insects up close, learn what butterflies eat, and even watch them in their cocoons. About every 2 weeks or so another 1000 or more chrysalises are brought to the Cambridge Butterfly Conservatory and hung up in the windows so visitors can watch them hatch and take their first flights.
Be sure to visit the 2 museum-like galleries to get an up-close look at a variety of insects and learn about their environment and conservation. Victoria, our photographer, took her 2-year-old daughter to visit the butterfly conservatory and highly recommends it for toddlers!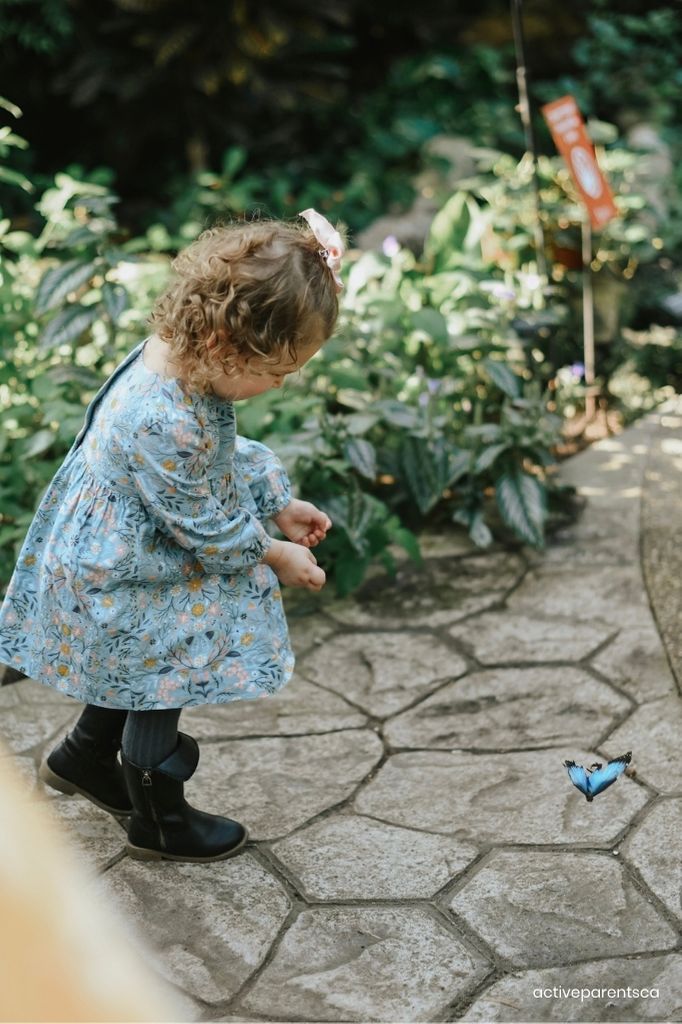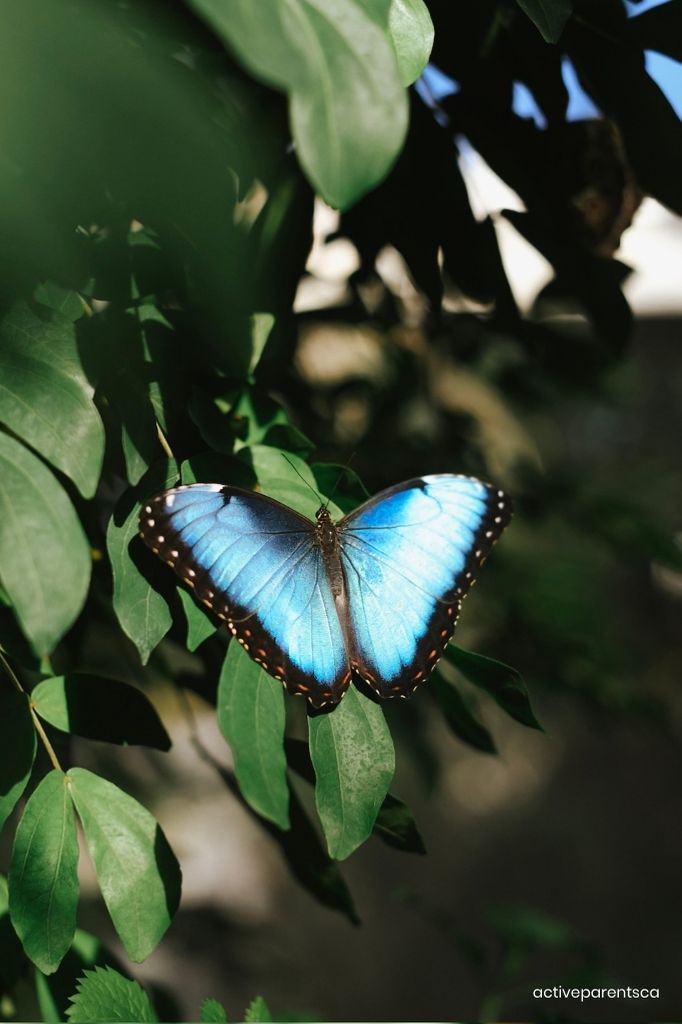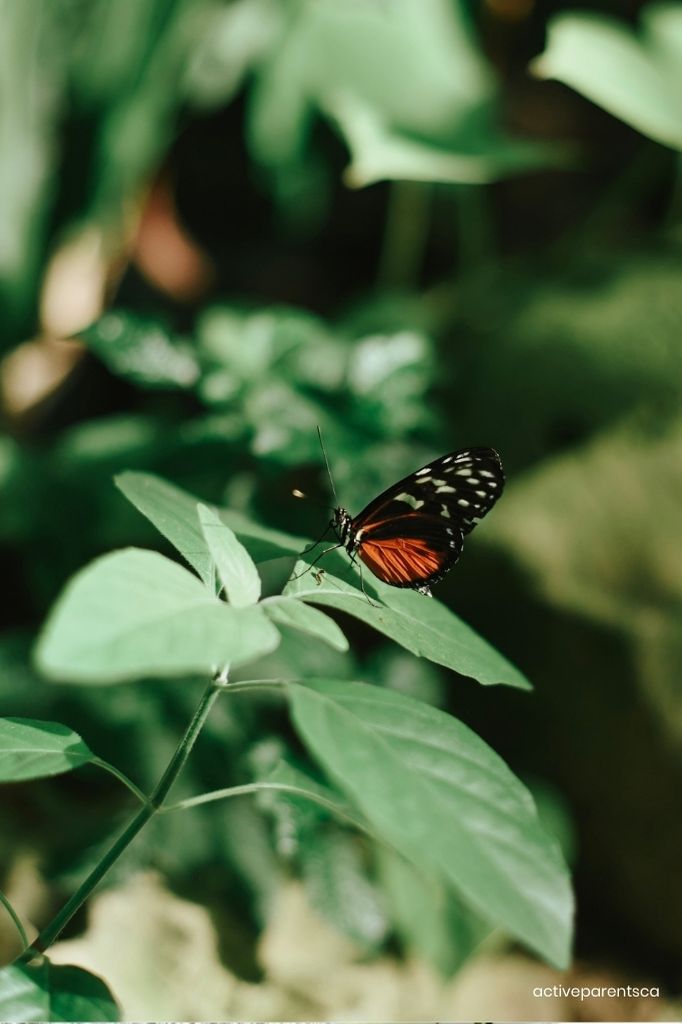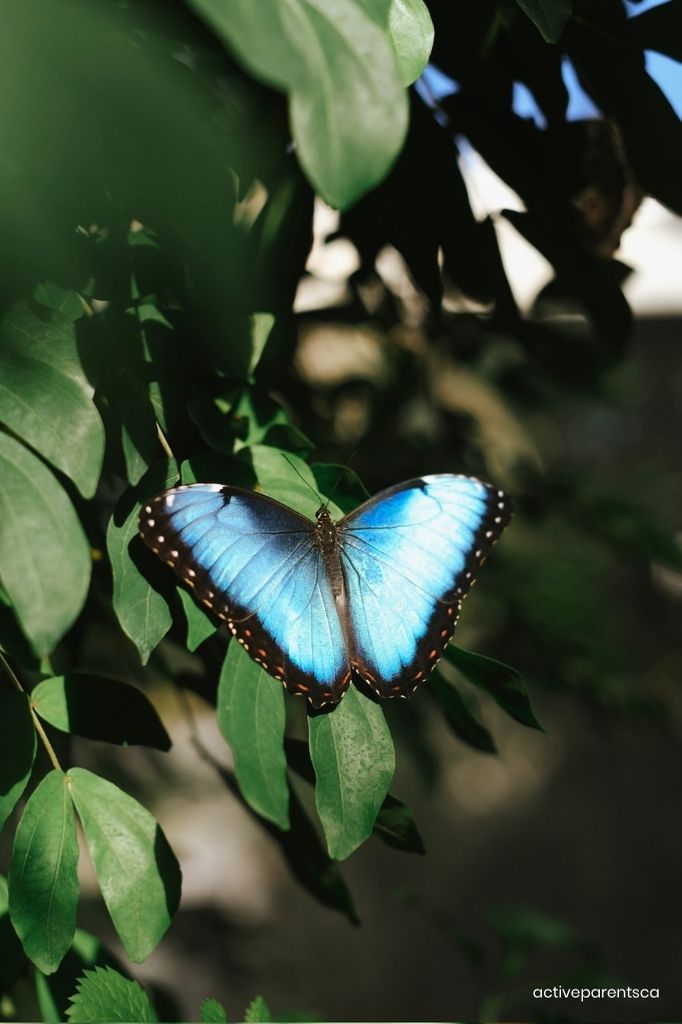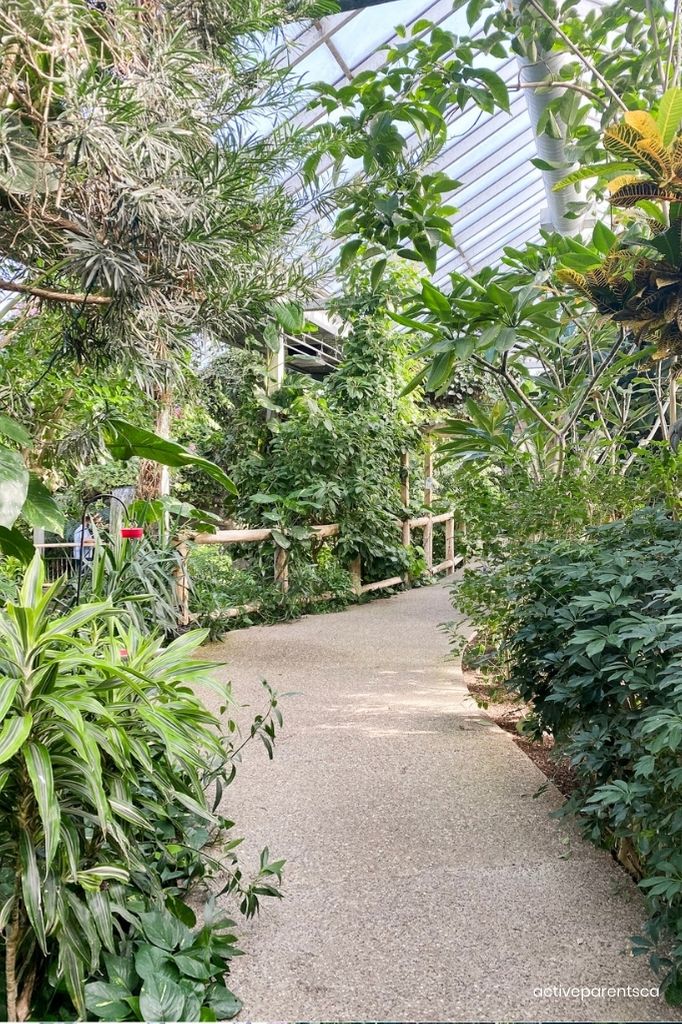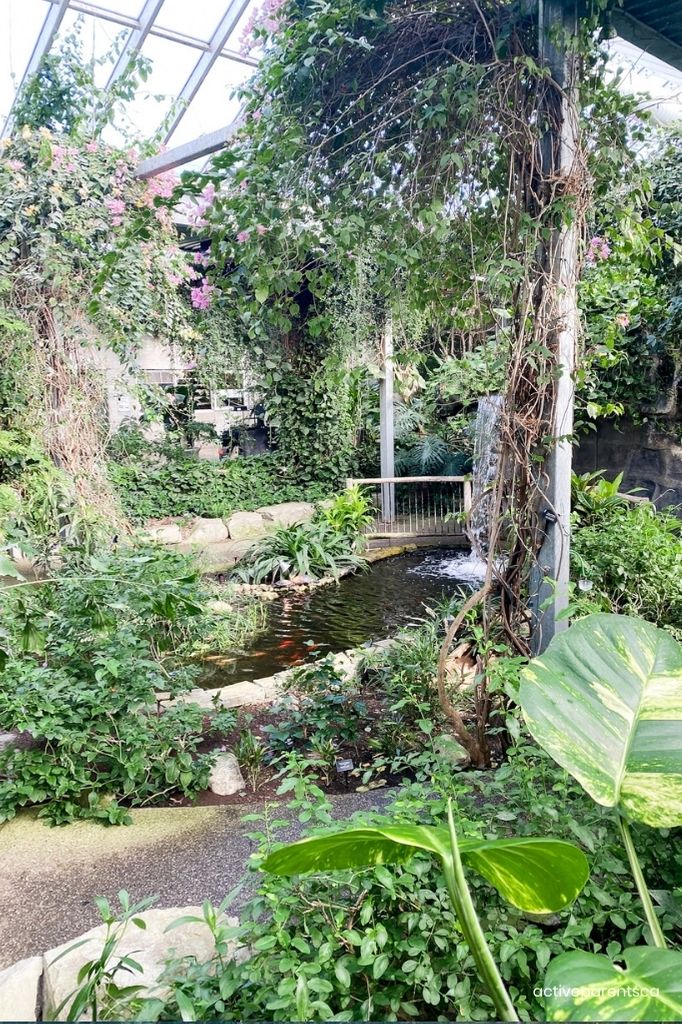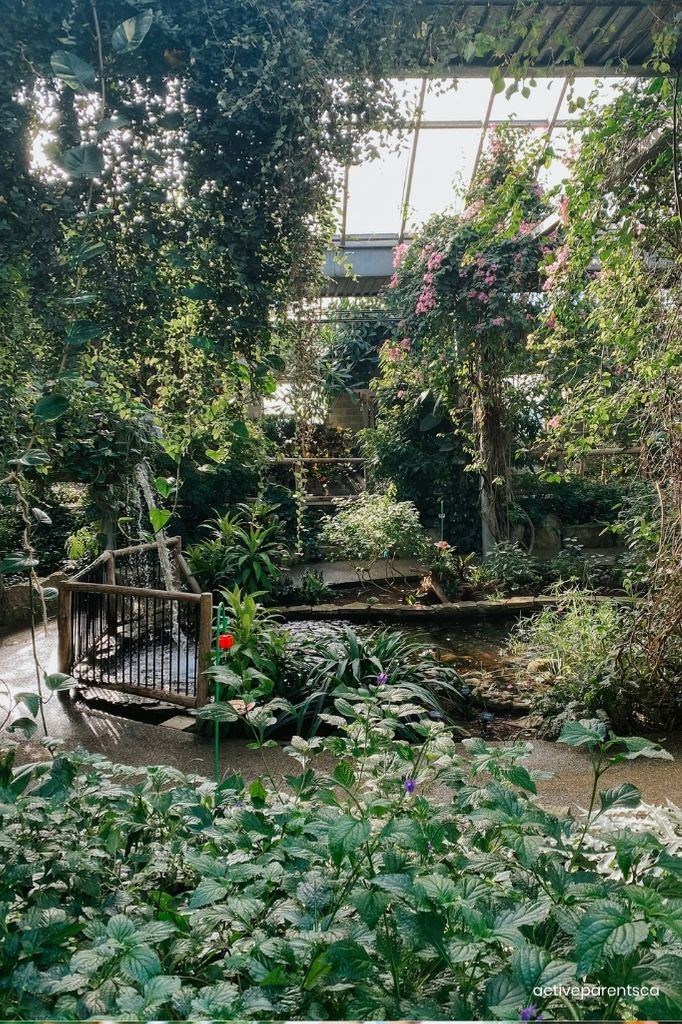 How long does it take to go through the butterfly conservatory?
Expect more than butterflies at the butterfly conservatory! The conservatory is home to a variety of insects and moths, too. Look deep in the habitats and you'll catch a glimpse of both brightly coloured and camouflaging frogs. Turn your eyes a little lower and you'll find fish and turtles! And all around you in the conservatory are free-flying birds. Plan for a few loops of the greenhouse because you definitely won't see everything in your first go around. Victoria and her little girl did about 4 loops and walked slowly. They spent about 90 minutes in total, but you should plan for a little more if you're kids want to take a detailed look at the galleries.  
Take a few minutes and enjoy this video from the Region of Waterloo Doors Open 2020.
How much is the butterfly conservatory?
The Cambridge Butterfly Conservatory is open from 10:00 am to 5:00 p.m. 6 days a week (closed Mondays). Tickets for a 2-hour time frame must be purchased in advance online. 
| | |
| --- | --- |
| General Admission (13-64) | $17.00 |
| Seniors (65+) | $12.50 |
| Children (3-12) | $7.50 |
| Children (2 & under) | FREE! |
Good to know:
Face masks are mandatory throughout the facility. See all exemptions here
Timed tickets are required for all visitors
Contactless payment only, no cash
Things to know about the Cambridge Butterfly Conservatory
Timed-entry tickets for your 2-hour visit can be bought in advance online
On-site parking is free
The butterfly conservatory is wheelchair accessible and stroller-friendly
Masks are required
Speak to the staff! They're very friendly and knowledgable
The conservatory is very warm and very humid. Dress in layers and expect 25-degree temperatures
Washrooms on-site and accessible
The gift shop is open
The Cafe is currently closed
Cambridge Butterfly Conservatory is located at 2500 Kossuth Road, Cambridge, Ontario, N3H 4R7
Victoria is a talented photographer specializing in capturing all types of families made with love, their furbabies and branding for small businesses and Mompreneurs. Her company, After All Photography (https://www.instagram.com/afterallphoto), launches this spring serving Halton, the GTA and Muskoka. Follow her adventures in toddler motherhood, photography and exploring the Burlington area here: https://www.instagram.com/vschwarzl/.