Triple C Farm is one of our most recommended farms in Hamilton to visit. If you've got little kids who love visiting petting zoos, or adults who love a great cause, Triple C Farm is the place to be.
Find more animal adventures…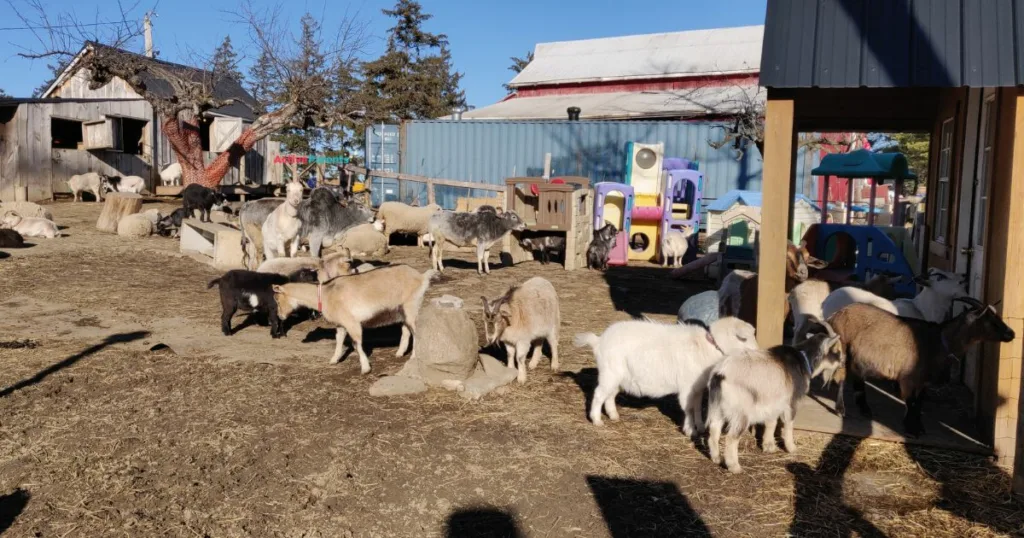 Welcome to Triple C Farm in Ancaster
I've yet to meet a family who hasn't enjoyed their visit to Triple C Farm. The staff – a family of 5 who run the show – are kind and compassionate. Parents, Trisha and Pascal, along with their three sons purchased the farm in 2013. All three boys are autistic, and the family knew this farm would be a great location for the boys to learn the skills needed to become productive adults.
Triple C Farm is now a fully-functioning animal sanctuary. They also run volunteer programs for adults with developmental disabilities.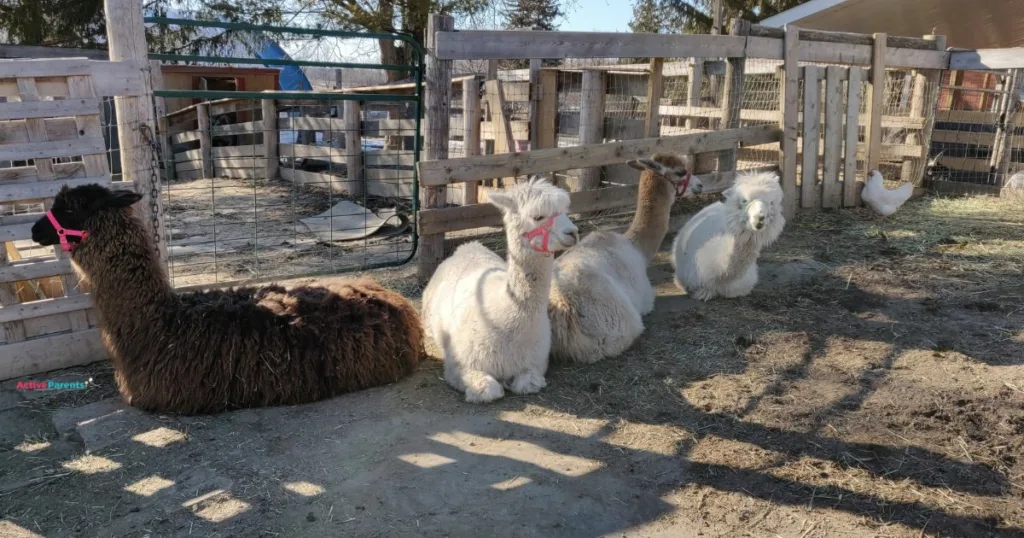 Visiting Triple C Farm
Pre-booking your visit online is a requirement for visiting the Ancaster farm, they are not currently taking drop-ins. Visitors' numbers are kept small to allow for a peaceful visit.
You can pre-book your visit online using the link at the bottom of this article. Your visit will be 1 hour and the cost is $15 to book your spot, plus $5 per person cash when you arrive. All of the money from admission fees goes to supporting the nutritional and medical needs of the rescued animals.
Come dressed to get a little messy – this is a fully-functioning farm after all! Pants may get muddy and footwear will come in contact with everything you'd find in an animal pen. I always wear rubber boots and jeans that I can easily wash. The farm has a wash station and sanitizer to use.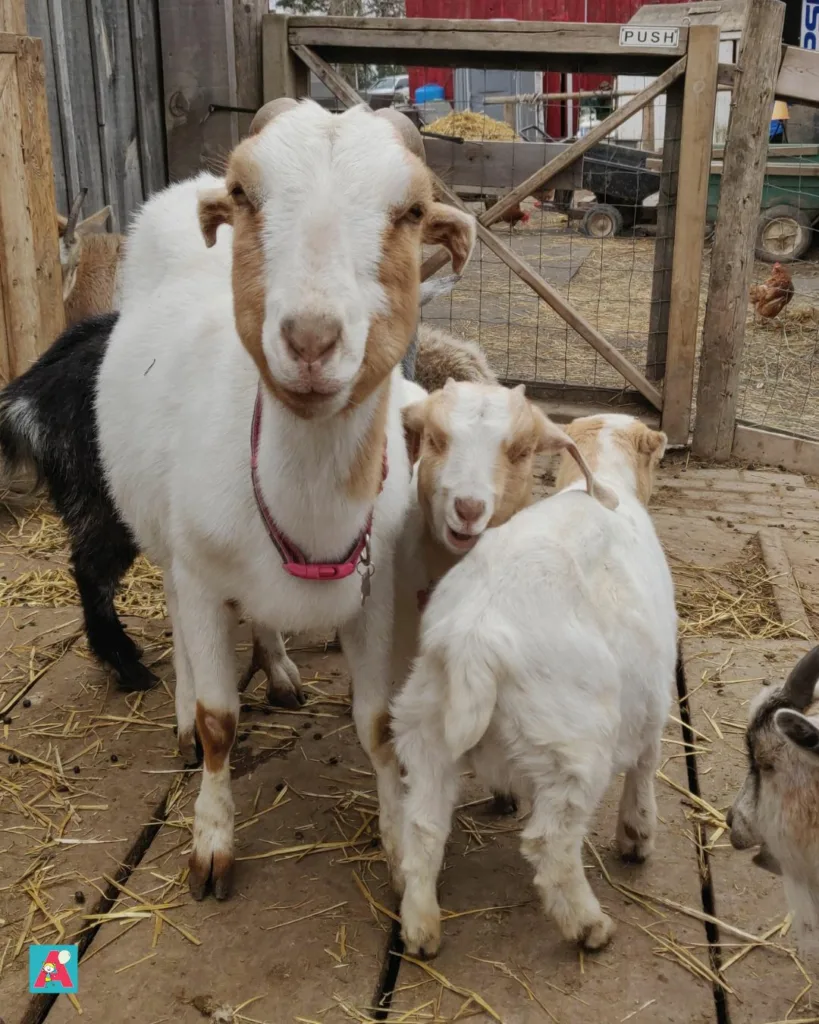 What To See And Do At Triple C Farm in Ancaster
If you're looking for a great petting zoo near you, you are in luck – sort of. Triple C is more than a petting zoo, they are an animal sanctuary. Almost all of their animals are approachable and friendly, and Tricia or Pascal will let you know who needs their space on the day you visit.
You will have full access to the goat/alpaca/etc. enclosure, plus you can roam the farm and meet a cornucopia of other farm friends like pigs, horses, goats, cows and sheep. Plus, some more unique animals like alpacas, ducks, bunnies and more.
As of April 2023, Triple C Farm has welcome many new furry family members including more rabbits, pigs, donkeys, goats and horses! Many of the animals are available for "adoption" meaning you get to be the animal's owner as they live at the farm. You can visit, feed, and more. Every adoption helps keep the farm animals healthy and fed and helps offset the price of any veterinary care they need.
One of the reasons I love Triple C is that visitors don't feed the animal, so the animals aren't clamouring to get at you. You're welcomed into their space and able to walk around and enjoy their company. You can pet them and even hold some of the furry residents. The volunteers there will show you the correct way to hold a baby goat if you visit in the springtime.
Be sure to take some time at the end to feed the chickens and ducks with the farm-provided feed. They are a few of the animals on the farm you can feed, and boy is it fun!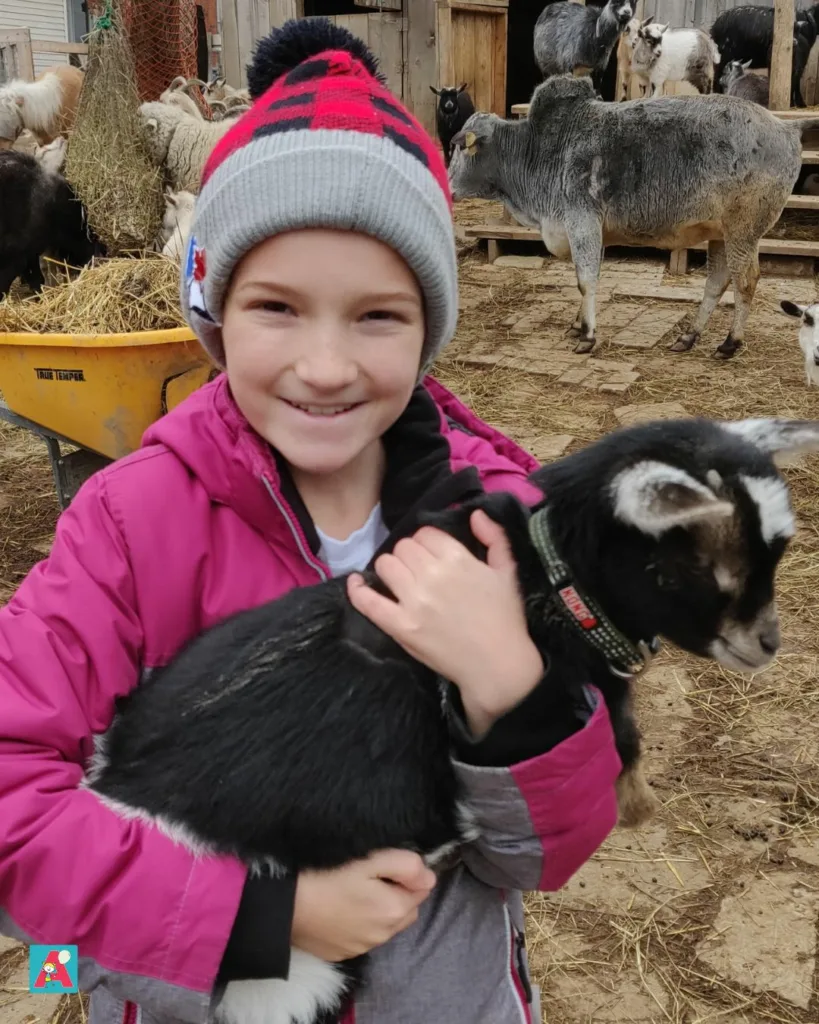 Events and Experiences at Triple C
Add Goat Yoga and Goat Movie Nights to your bucket list because you can do both here at this Hamilton farm. Triple C Farm events and so much fun. Their events calendar is always full of fun ways to be at the farm.
One of the most popular farm offers is the mobile farm experience. Bring gentle petting zoo animals to your school, daycare, home or seniors home and watch faces light up!
Visit Triple C Farm at 500 Carluke Road West in Ancaster, Ontario. Their website is triplecfarm.ca