Chantale took her little one to Triple C Farm and absolutely loved here. Here's what to expect when you visit!
My daughter and I have been working our way through exploring different local farms in search of animals. Through some searching online, I came across Triple C Farm and it came highly recommended to us. It was also one of the only places we could find where you could see animals up close not behind a fence. So I rallied two of my mom friends together and we booked ourselves a visit for 2 weeks out (That was the earliest we could get for the day and time we wanted. Weekends book even further out.) I had to pay a $10 deposit for our group and it mentioned that we would also be asked for a suggested $5 donation when we arrived. (No credit, only cash or e transfer available)
Fun At Triple C Farm
Upon arrival at the farm, I was amazed at the size of the property! We could see the horses right away and they had so much space to just run around. We walked into the farm and it felt like a really casual place. I noticed there were not many other people there, which was likely due to the need to book appointments. As we got closer, we were greeted by a lady. She gave us very clear instructions on how to wash and sanitize our hands prior to entering the petting area, both for adults and for kids. It felt very thorough. She also proceeded to tell us some rescue stories about some of the horses that were around us, giving us a better feel for the reason this farm exists and the heart behind it. As we approached the petting area, we could see an abundance of goats! The kids got really excited by all the animals they could see even though they had no idea we would actually be going inside to touch them. Before entering, she gave us some tips like (put your hair up, leave your scarf or any extra things you carry behind). We also had a wagon for the kids which we were told not to bring through. It isn't really flat terrain so it would have been really tough to navigate with. 
All Ages Fun on the Farm
Our kids ranged from ages 16-20 months and were fine to walk through without issue. So we left all that at the table by the entrance, as there weren't any other people around we felt fine to just leave our stuff there. I watched as the lady sanitized the door handle before entering along with any other surfaces that she had to touch and open into the petting area. So we walked in and she led us into a bunny cage to start. We went in and were able to touch and pet the bunnies! Then we came out and started to explore the rest of the petting area, with directions to work our way around the whole area in a specific direction. The amount of goats is almost overwhelming, but they were very friendly and calm and did not scare the kids at all. They were able to pet the goats easily and some were even brave enough to offer kisses. There were also some sheep, cows, chickens, pigs, llamas.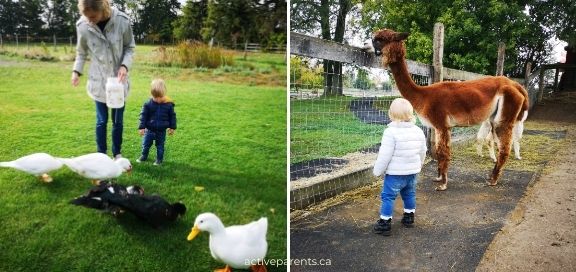 More Animals To Visit With
As you exit the petting area, there is duck feeding by the pond. A little container of duck food is available for your group to feed the ducks. They were a little nippy so we didn't let the littles feed them but they loved watching them eat. As we continued walking around it brought us back to the beginning where we dropped our duck feed container to be sanitized. The lady was there to greet us again and asked how the experience was and that we were welcome to just hang out around the farm, have lunch or snack and just enjoy the farm. As we sat at a bench, I noticed another lady come and purchase some farm fresh eggs on the property as well.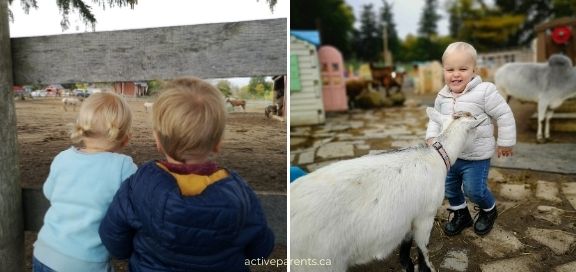 Families Will Enjoy a Visit to Triple C
All in all, our experience at Triple C Farm in Hamilton was everything we were looking for to introduce my daughter to real animals. She truly loved seeing them all up close and being able to touch and feel them was so exciting for her. I would absolutely recommend you check this place out if you are looking for a fun way to expose your kids to some friendly farm animals, while also supporting the mission of this beautiful animal sanctuary. What's more, they are open all year round (apparently goats LOVE snow!). 
Triple C Farm also hosts Goat Movie Nights and Goat Yoga for families! Currently, everything is pre-booked online and the suggested per person donation is $5, which is a great deal.
Now Trending…
Find all of our best ideas for fall right here
Have you been to a park today? Cure park fatigue by finding a new place to play
Grab your gourds! Pumpkins and more are available at these local pumpkin patches