Pretty colours and sweet scents await you at these Ontario pick-your-own flower farms. Gather your family together and head out to a local farm this spring. Take photos of your kids as you pick your own tulips or other beautiful flowers. Spend quality time together and return home with a lovely arrangement to add extra cheer to your home.
A farm visit, whether it be a pick your own flower farm or a pick-your-own fruits and veggies farm, is a delight for the whole family. You can't beat the scents and fresh air, and kids are always surprised to know where their produce comes from. It also makes for an easygoing date night.
JP Niagara Tulip Experience Pick Your Own Tulip Farm
Surround yourself with a million flowers at this popular pick your own tulip farm in Niagara. It is so popular you need to book your visit or risk not being allowed in due to capacity. The JP fields are made up of 85 varieties of tulips to choose from. Each admission ticket includes 10 tulips, additional tulips are $1 per tulip, paid on-site with checkout. Admission range from $12-18 per person.
Open daily from late April to late May, as weather and crops allow.
1934 Centre Street, North Pelham | website and booking
Fresh Market Farms in Hamilton
Bring beauty and sustainability to your life thanks to this family-owned cut flower farm that offers U Pick flowers options as well. One of the largest self-serve cut flower farms in the Toronto and Niagara area, you can find their cut flowers at Burlington Centre, too. Looking for a unique party idea? Make private reservations for your group and enjoy the whole field to yourselves. Plus, you'll receive tips from the florist and arrange your own floral bouquets for $100 per person.
Hours: Fresh Market Farms will open in the spring. Monday to Thursday by appointment only.
Open to public Friday 10 am – 4 pm, Saturday 10 am – 4 pm and Sunday 10 am – 4 pm
521 Concession Road 6 East, Hamilton, ON L0R 1V0, Wyatt Road Entrance | website
TASC Tulip Farm – Pick Your Own Tulips
Now open for 2023! Tasc Tulip Farm opened in 2021 and has been bringing us millions of tulips since. This past fall, they worked hard and planted 2 million tulip bulbs at their Fenwick farm and they are waiting to be picked. Enjoy 15 acres and 108 varieties of pick-your-own tulips. Prebook your visit online and choose 10 tulips for $10 or 20 for $20.
Photographers, you can book a shoot here, too!
1415 Balfour St. Fenwick, ON L0S 1C0 | website
Windecker Woods Cut Your Own Flower Farm
The Windecker Woods Farm is open 7 days a week from dawn until dusk. Find the 'Flower Pavilion' and start from there. This farm offers a completely 'Self Serve' u pick flowers experience, so no need to find someone to get you started. They offer clippers and a basket to hold the flowers you've picked. They grow different blooms every month from peonies to zinnias to dahlias. COme I the fall for more fall blooms.
You can pay what you think is fair for the bouquet you've put together. They accept cash at the drop box or by sending an e-transfer.
215 Windecker Rd, Cayuga, Ontario | website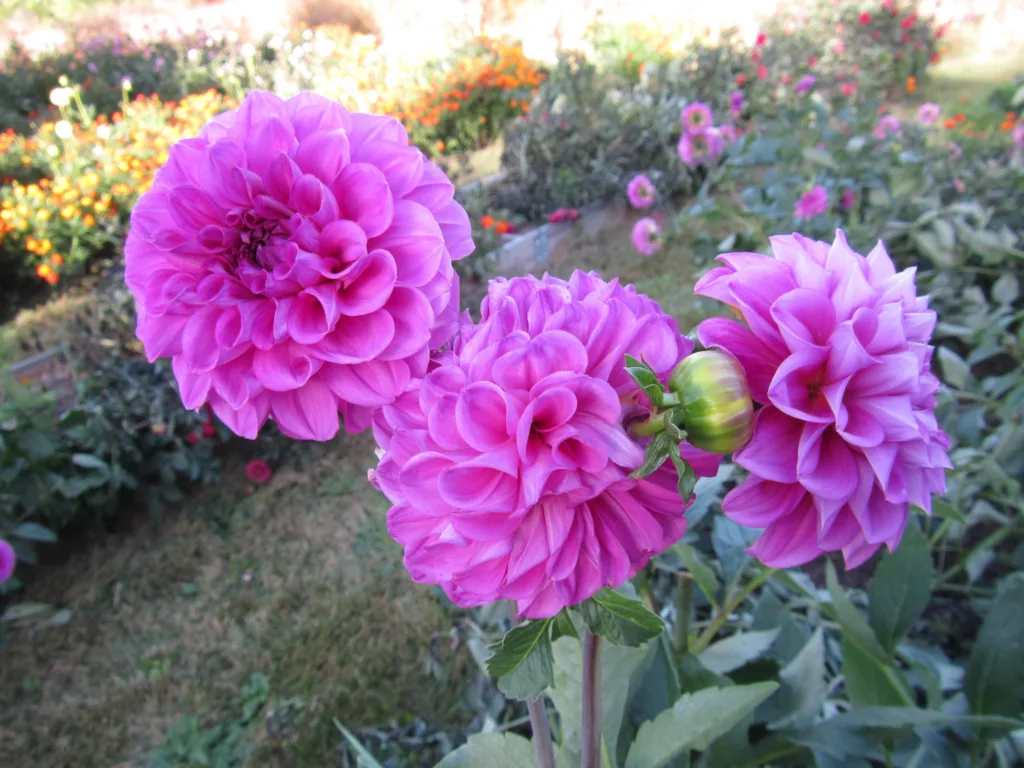 Lochland Botanicals Pick Your Own Flower Farm
"Children and adults alike find wonder in wandering our tranquil space" and we couldn't agree more! Lochland Botanicals is famous for its enormous fields of u pick flowers and herbs. Cut your own fresh herbs and flowers with over 40,000 plants to choose from. Take your bouquet home in a mason jar. With 150+ plant varieties, 20+ pollinators, 4 fields and 3 secret villages to explore you may join a workshop, take a tour, enjoy a picnic, build a bouquet, or book a photo session with a local photographer.
Hours: July to Sept. Friday to Monday 11 AM – 5 PM
2468 25 Side Road Milton, Ontario L0P 1B0 | website
Andrews Scenic Acres
Andrews Scenic Acres Pick Your Own Farm is 165 acres of beautiful escarpment countryside. ​Enjoy walking trails, wagon rides, a playground for kids, an animal corral, the straw mountain climb and a corn maze. Plus, lots of great photo opportunities year-round. Their famous Dahlia & Sunflower fields bloom in August & September.
Note: 50% off seasons pass sales on Mother's Day weekend only.
Hours: Open daily May 13 – October 29
9365 10 Side Road, Milton, ON L9T 2X9 | website
Where will we find you this weekend? Maybe at a local pick your own tulips farm or at a u pick flowers stop with the kids? Enjoy the fresh air and hospitality of these local farms, and more all summer long.
More Ideas For Family Fun
We have visited hundreds of places and written about them to help you find the very best destination for your next day trip or outing. We love sharing indoor play places, playgrounds that go above and beyond, and more! Here are a few of our latest blogs to help you have a great weekend.