Welcome to Wild Waterworks in Hamilton, Ontario! Nestled in the heart of the city, this thrilling water park offers an exciting escape from the summer heat. From exhilarating water slides to lazy rivers, there's something for everyone to enjoy. In this article, we'll take you on a detailed journey through the park, highlighting its attractions, amenities, and everything else you need to know for an unforgettable day of fun and adventure.
2023 Update!
Directly from Wild Waterworks, June 14, 2023: "The park will officially open on June 24 and operate five days a week (Wednesday through Sunday) and on the following holidays: Monday, July 3, Monday, August 7 and Monday, September 4. Hours of operation are 11 AM to 7 PM. Due to continued province‐wide lifeguard staffing shortages and to ensure safety and consistent business operations, Wild Waterworks will again operate on a modified schedule."
Getting to Wild Waterworks
Wild Waterworks is conveniently located at Confederation Park in Hamilton. Whether you're driving or using public transportation, reaching the park is a breeze. The park offers ample parking spaces for those who choose to drive. For public transport users, there are several bus routes that connect to Confederation Park, making it easily accessible for visitors from all over the city.
Address to punch into your GPS: 680 Waterfront Trail, Hamilton, ON L8E 3L8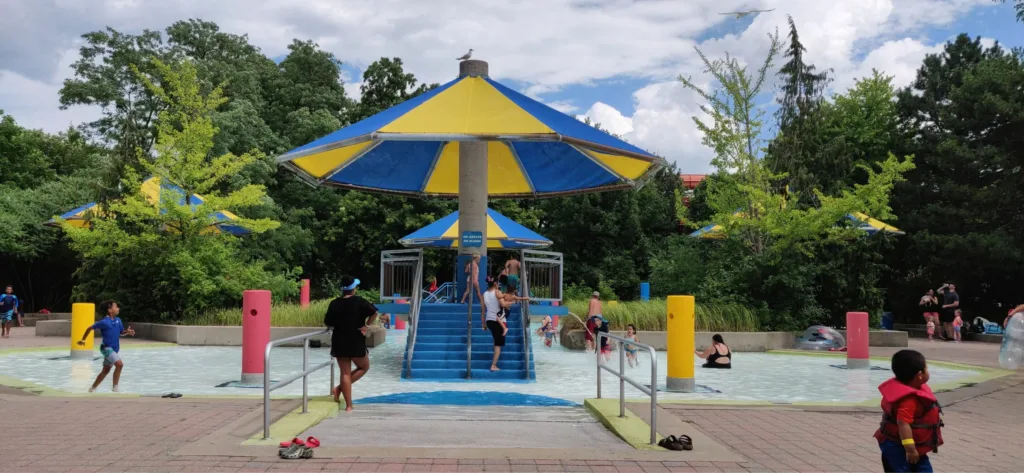 Attractions
Water Slides: Get ready for an adrenaline rush as you plunge down the exhilarating water slides at Wild Waterworks. From twisting turns to heart-pounding drops, these slides will leave you screaming with delight. Highlights include the "Kamikaze," a vertical drop slide, and the "Sidewinder," which sends you spinning in a bowl-like structure.
Wave Pool: Cool off in the massive wave pool, where you can experience the excitement of the ocean without leaving the city. Relax on a tube or ride the waves as they crash against you. The wave pool offers an excellent opportunity for swimmers of all ages to enjoy the water.
Lazy River: Take a break from the thrills and hop on a tube for a leisurely float down the lazy river. Meandering through the park, this tranquil attraction allows you to soak in the beautiful surroundings while enjoying a gentle current that carries you along.
Spray and Splash Pad: Designed especially for younger visitors, the spray and splash pad is a safe and interactive area for kids to cool off and have fun. With water jets, fountains, and play structures, children can splash around and let their imaginations run wild.
Amenities and Services
Cabana Rentals: For those seeking a VIP experience, Wild Waterworks offers cabana rentals. These private, shaded areas provide a perfect oasis to relax, unwind, and enjoy the park. Each cabana comes with comfortable seating, a mini-fridge, and dedicated food and beverage service. We've never booked one, but I spoke to some parents with younger kids, and a cabana offered them a beacon of sorts for kids to return to in between the fun.
Food and Refreshments: When hunger strikes, you'll find various food stands and concessions offering a range of tasty treats. From classic burgers and fries to ice cream and slushies, there's something to satisfy every craving. Don't forget to stay hydrated by grabbing a refreshing drink from one of the many beverage stations.
Safety and Lifeguards: Wild Waterworks employs trained lifeguards who are always vigilant and ready to respond in case of an emergency. Additionally, the park provides life jackets free of charge for those who want an extra layer of safety while enjoying the water attractions.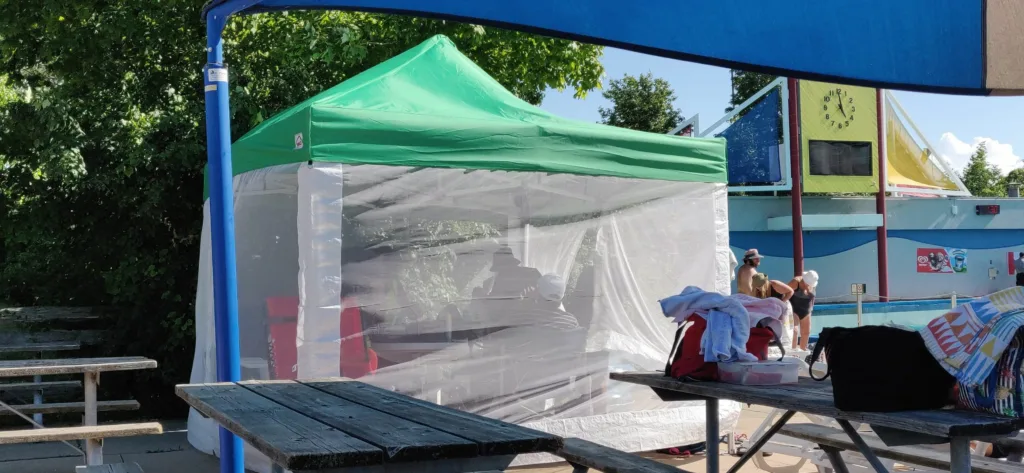 Tips for a Great Visit To Wild Waterworks
Plan Ahead: To make the most of your visit, check the park's website for operating hours and any special events. Arriving early in the day can help you beat the crowds and secure a prime spot near your favourite attractions. Arriving after 4 means you get to take advantage of their sundown pricing, which we detail below.
Bring Essentials: Sunscreen, towels, and comfortable footwear are essential items to pack for your trip. Don't forget to bring extra clothing for after your water adventures, as well as any personal items you may need throughout the day. The park offers free life jackets in a variety of sizes, on a first-come first-serve basis.
Stay Hydrated: Spending a day in the sun can be dehydrating, so make sure to drink plenty of water. You can also bring refillable water bottles to keep yourself hydrated throughout the day.
Follow Park Rules: Always adhere to the park's rules and guidelines to ensure a safe and enjoyable experience for everyone. Listen to the instructions of lifeguards and staff members, and be mindful of height and age restrictions for certain attractions.
Rent a Tube: We've been to Wild Waterworks in Hamilton a handful of times, and I highly recommend paying for a rental tube. A rental tube means you can enter the lazy river at any of the various entrance points, instead of having to line up and wait at the one entrance with tubes. It saves you time and means you get more time on the river and less in lines.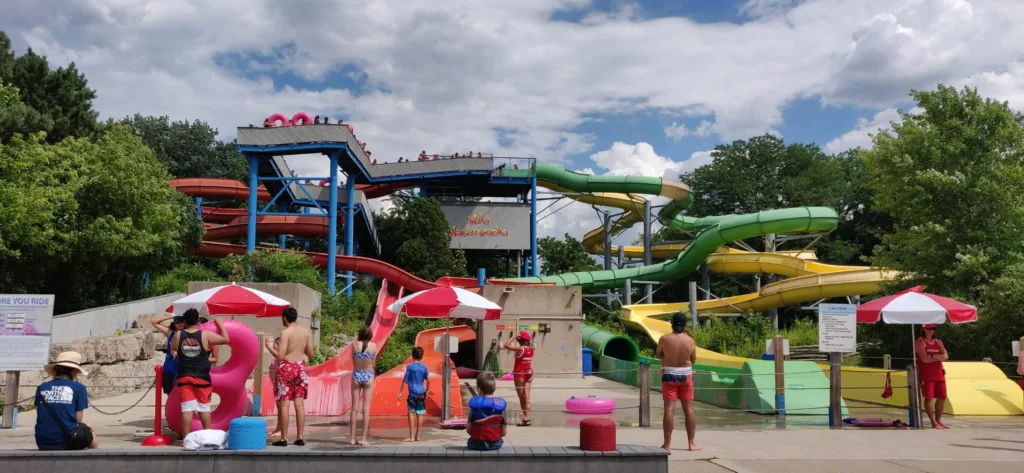 Frequently Asked Questions About Wild Waterworks
Can you bring your own food?
Yes! Just don't bring in glass containers, knives or alcohol.
Do they offer life jackets?
Yes! Life jackets are available to anyone on a first-come, first-served basis.
Do they have lockers?
Yes! You can pay for a daily locker rental to keep your valuables safe while you swim.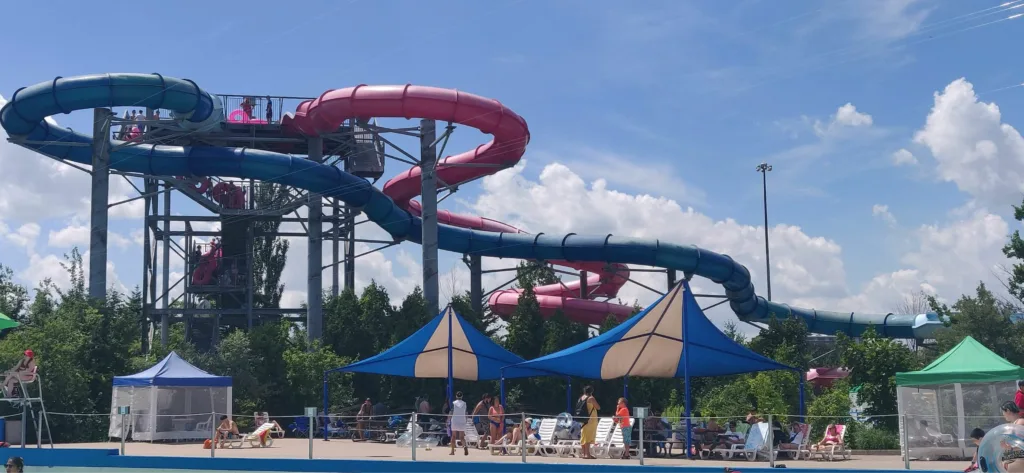 Admission Prices
One great feature at Wild Waterworks is their "sundown pricing". Each day, after 4 pm, the admission prices are slashed so you can save lots by adding in an after camps or work adventure. Children ages 3-10 MUST be accompanied by a person 16 years of age or older. All persons entering the park are required to pay an admission fee.
| | | |
| --- | --- | --- |
| Individual Admissions | Regular | Sundown |
| General (ages 11-64) | $31.24 | $25.04 |
| Children (ages 3-10) | $20.04 | $15.97 |
| Person with a disability/their Attendant (each) | $20.04 | $15.49 |
| Senior (65+ years of age) | $26.90 | $21.46 |
| Toddler (2 and under) | Free | Free |
all prices are pre-tax
Wild Waterworks in Hamilton is a must-visit destination for water lovers and thrill-seekers alike. With its exciting water slides, relaxing lazy river, and refreshing wave pool, the park offers a perfect blend of adventure and relaxation. Whether you're visiting with friends, family, or even solo, you're sure to create lasting memories at this fantastic aquatic adventure park. So pack your swimsuit, grab your sunscreen, and get ready for an unforgettable day of fun at Wild Waterworks!
Visit Wild Waterworks online at https://wild-waterworks.com
Read Our Latest Articles
Catch up on what we've been covering! Here are our latest reads, hot off the presses just for you. Never miss an article when you subscribe to our weekly newsletter filled with kid-friendly fun and events.