A visit to a sunflower farm is a great way to immerse yourself in beauty and nature. Add in the whimsy that a sunflower field brings to every photo, and you're sure to remember your visit long after you leave. If you've found yourself wondering "are there sunflower farms near me?" we are thrilled to say yes! Whether you're looking for a short drive or willing to make a day of it, we know great sunflower fields near Burlington, Hamilton and Niagara that are open to the public!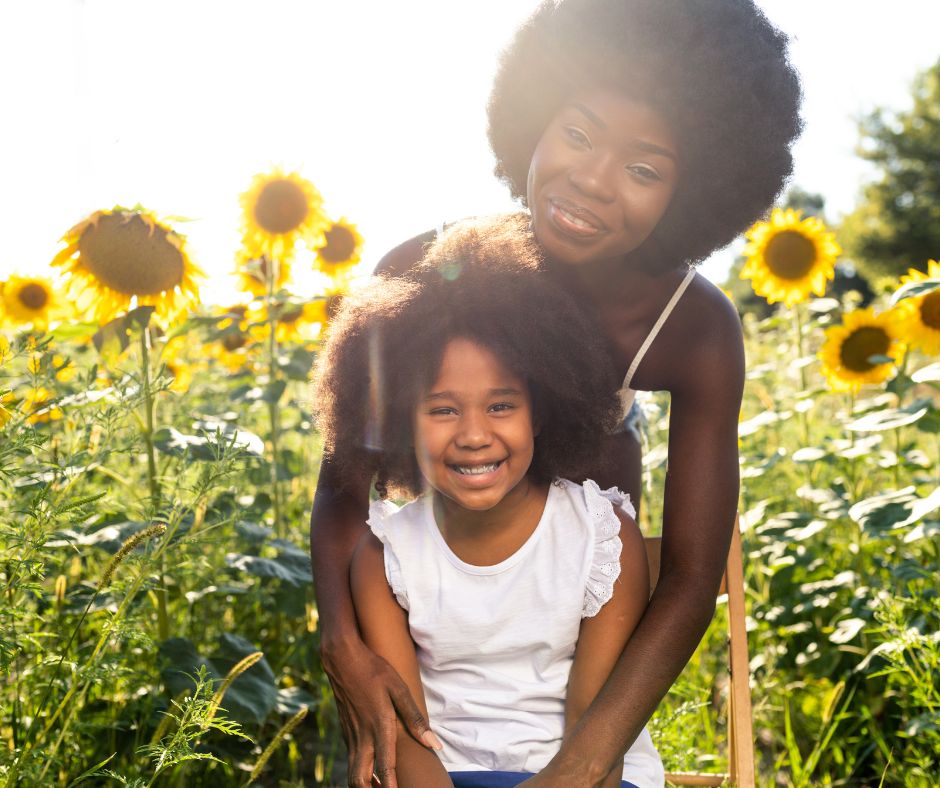 SUNFLOWER FIELDS AND FARMS IN HAMILTON
The Apple Orchard
1668 HWY 6 North, Hamilton ON. theappleorchard.ca
The Apple Orchard is one of the most popular sunflower farms in Hamilton becue they have 2 sunflower fields! Bring your camera, but expect to stay for more than the gorgeous sunflower fields, because The Apple Orchard has all of your favourite farm activities including wagon rides, corn maze, walking trails, hay barn, miniature ponies, 1940s tractors and more! In addition, stop by their store on your way out for fresh corn, maple syrup, honey, apple cider, Russian garlic, sunflowers and even freshly picked acorn squash.
Hours: TBA in August
Admission: 18 and over – $8.85 + HST; Seniors – $8.41 + HST; 2 to 17 – $7.97 + HST; under 2 – Free
Sunrise Sunflower Farm
1846 HWY 6, Hamilton, Ontario – visit them on Instagram
Visit the Sunrise Sunflower Farm to get the perfect sunflower field photos, then visit their giant rubber duck, and finally swing by the pond to visit the real ducks.
Hours: 10 am to 6 pm, Monday to Friday, 10 am and 7 pm on Saturdays and Sundays.
Admission: Kids under 3 are free, Ages 4-9 $7.00 each and 10+ years old $10 each.
Hanes Corn Maze
1001 Hwy 5 West, Dundas, Ontario – visit their website here
Looking to get lost in a picturesque setting and forget the outside world? Or maybe you are just looking to appreciate the majesty that is a field of sunflowers? No matter what your reason you won't be disappointed at the Hanes Sunflower Maze! Featuring a variety of sizes and colours of Sunflowers from two to twelve feet tall in yellows, oranges and reds our 5-acre sunflower maze. The Hanes Corn Maze visit includes maze admission, play farmland time and access to mini mazes. Afterwards, we suggest a visit to their delicious bakery on site!
Hours: July 29-August 5 daily from 10 am – 5 pm;
Hours: August 12 thru September: Sunday to Thursday 10 am till 5 pm; Friday and Saturday 10 am till 8 pm
Admission: Save when you pre-book online! Guests 13+ $15.34; Seniors 60+ $14.21; Kids 8-12 $12.23 and Kids 3-7 $9.41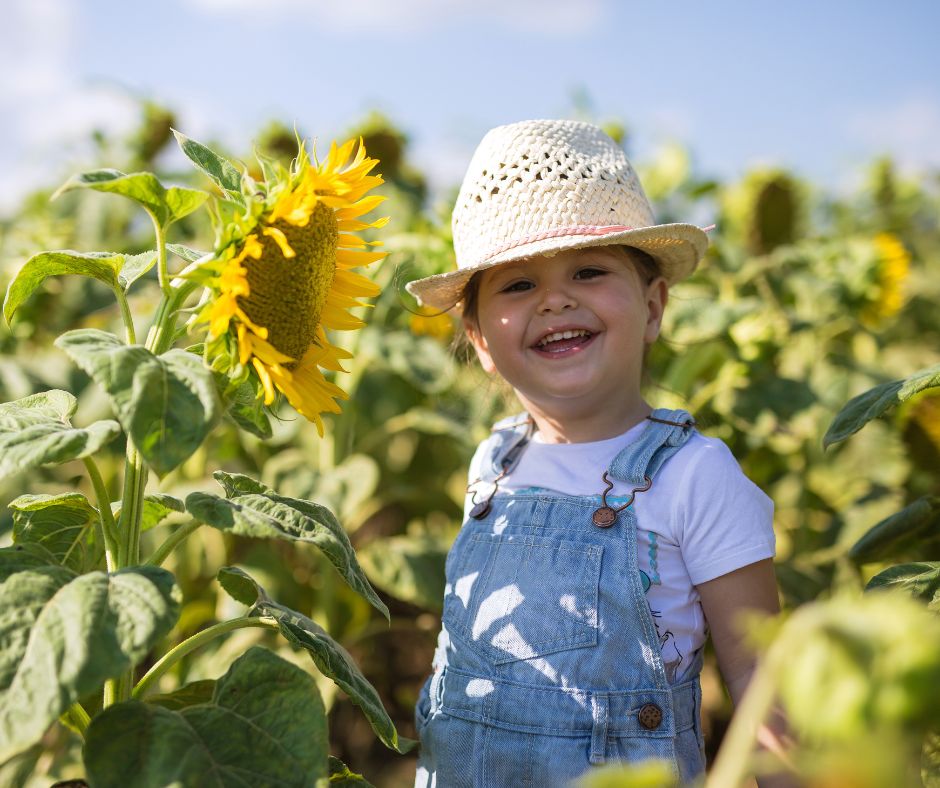 SUNFLOWER FARMS NEAR MILTON
Andrews Scenic Acres
9365 #10 Side Road, Milton Ontario – andrewsscenicacres.com
Andrews Scenic Acres' "Sunflower Kingdom" is 8 acres of stunning sunflower fields for you to enjoy. They offer pick-your-own sunflowers and dahlias. Come for the sunflowers, and stay for the 165 acres of breathtaking escarpment views and farmland. The farm offers walking trails, wagon rides, a playground, and an animal corral. Climb the straw mountain, and enjoy the miniature straw maze and great photo opportunities.
Hours: Weekends & Holidays 10 am-6 pm; last entry to the fields at 5 pm
Admission: No Pre-Booking Required. No Refunds. 
Daily: $15/person (+HST) : ages 5+
Seniors: $7.50/person (+HST) : ages 65+
Children under age 5: FREE entry
Personal Support Workers: FREE entry
​Friendly Pets (on Leash) are Welcome! Pets are not permitted on the playground or in fruit fields, for food/safety reasons
NEARBY SUNFLOWER FIELDS THAT ARE WORTH THE DRIVE
Campbell's Cross Farm
3634 King Street, Caledon, Ontario – campbellscrossfarm.com
Enjoy 700,000 blooming sunflowers this August. Make memories while you spend a morning or afternoon our strolling through our sunflower fields of gold. After that, visit the food truck & try their famous Watermelon Sandwich, ice cream & gelatos, our signature Watermelon Lemonade & gourmet corn selections. Finally, visit the kid's natural play area, the lovely ladies in their chicken coop, and the many photo props to take the perfect photos including the life-size 'LOVE' sign, sunflower swing, rocking chairs, ikigai farm sign, and others hidden within the fields etc.
Hours: Weekdays 10 am-8 pm, weekends 9 am-8 pm.
Admission: 12+ years old $15; Kids 5-11 $5 each
Brantwood Farms
251 Powerline Rd., Brantford, ON. – brantwoodfarms.com
When you visit these sunflower fields, enjoy hundreds of thousands of sunflowers spread across rolling hills, nestled at the back of the picturesque Brantwoods family farm. Your admission includes a wagon ride through the farm to the Sunflower Field and 3 sunflowers to take home. Secondly, Brantwood Farms is also home to a shaded forest trail, picnic area and play area for kids.
Hours: Thursday through Sunday and holiday Mondays, 11 am to 6 pm. Timed entry, but stay all day once you're in.
Admission: Kids under 2 are free; $10 each person on Thursdays; $13 per person Friday-Saturday-Sunday and holiday Monday.
Cool Sunflower Field Facts for Your Kids
The stem of a sunflower can grow up to 3 m (10 ft) tall and the flower head can be 30 cm (11.8 in) wide.
Sunflowers are very fast-growing plants, in the right conditions they can grow 8-12 feet (2.4 m – 3.7 m) tall in six months.
As of 2012, the Guinness World Record for the tallest sunflower is 8.23 m (27 ft) for a sunflower grown in Germany.
Famous Dutch painter Vincent Van Gogh did a series of paintings featuring and called Sunflowers.
Did you know that sunflowers can be used to extract toxin such as lead, arsenic and uranium from contaminated soil? For example, sunflowers were used to remove toxins from a pond after the Chernobyl disaster and similar projects took place after the Fukushima nuclear disaster.
The sunflower is native to the America's and was used extensively by Native American Indians for food, as oil, in bread, medical ointments, dyes and body paints.
Kansas is often known as the Sunflower state and their state flower is the sunflower, and the sunflower is also the national flower of Ukraine.
References: proflower.com and NYTimes
More Ideas For Family Fun
We have visited hundreds of places and written about them to help you find the very best destination for your next day trip or outing. We love sharing indoor play places, playgrounds that go above and beyond, and more! Here are a few of our latest blogs to help you have a great weekend.