Our best summer adventure with the kids was definitely floating along the Grand River in rafts. Kids of all ages – and adults of all ages – will love it. Here's why.
online booking for grand river rafting
A friend who planned our get-together used Grand River Rafting a few weeks prior, so that's who we went with. Booking online was super easy, and the varying cancellation policies made me feel a little more comfortable with booking. And seeing how wet this summer has been, being able to get a full refund if you cancel 48 hours before is reassuring. Booking a time slot allowed us to see how many other people had already booked during the time we were hoping to go. Turns out they can host about 1000 visitors a day on the river! Crazy, because the Grand River is so wide and long that we rarely saw other groups. Bonus points for the ease of social distancing.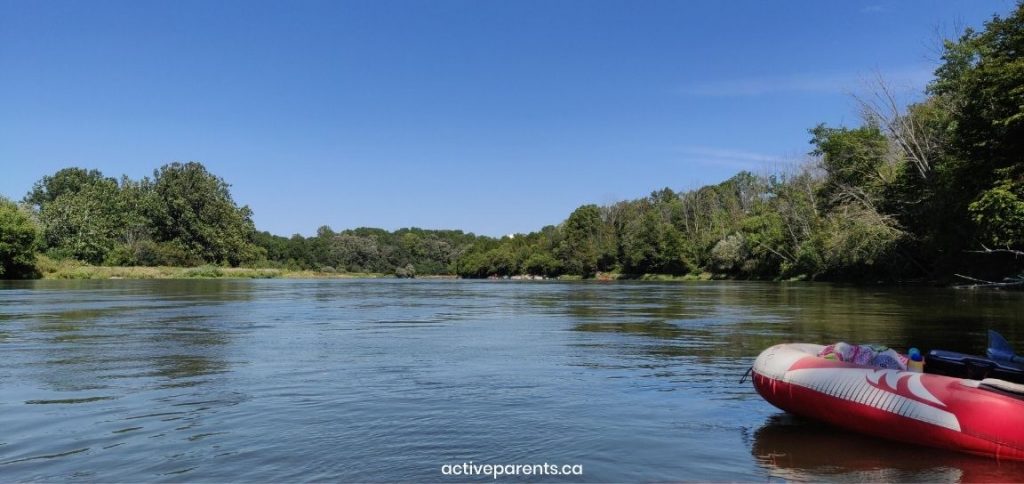 Is It Safe For Kids To Raft The Grand River?
We grabbed our small friend group of three adults and 5 kids and booked an afternoon of floating down the Grand River, even though I had no idea what that entailed. I've never done anything like this, nor had my kids, but I was the most novice of the crew. Let's just say I rocked it. And I felt like a real rafter by the end of our float. The kids in our group ranged from 10 to 15 years old, and I had other friends who went with their 8 years old who used his own raft.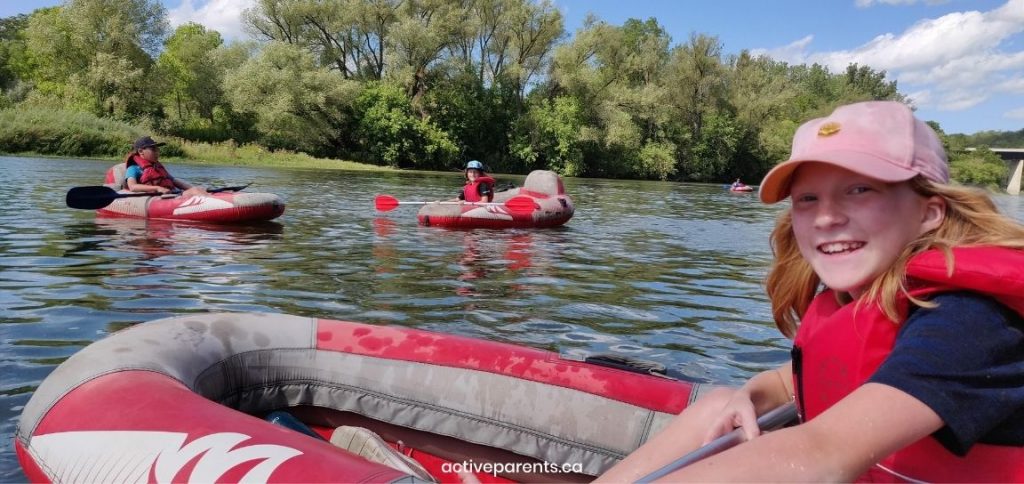 getting ready to raft
We chose to do the Paris to Brant 13 km tour. You park at Brant Conservation Area and check in with the rafting company there. This is where you park, and it's also your final stop on the river tour. Everybody had to have masks at this point, and they did a temperature check. After some tips, safety instructions, and a life jacket fitting, we boarded a school bus to drive us to the top of the 13 km trail in Paris.
Once we got to the launch point in Paris, we got our turbo tube paddles and picked up our inflatable rafts down at the water. This is also the place where you would ask for a tether. The tether can be used to tie yourself to your friends so you always stay together, or it can be used to tie your kids rafts to yours so they don't float away. Even if you don't think you'll need a tether, I highly suggest getting one just in case.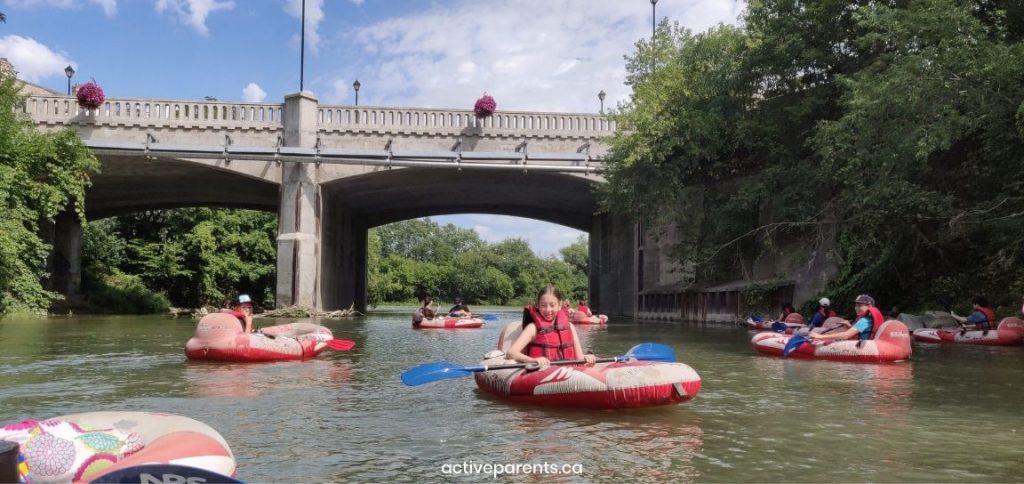 Our best Adventure on Water Thus Far!
Once I flopped ever-so-gracefully into my Turbo Tube, we were on our way! We set sail at about 12:30 p.m. and the Grand River is absolutely gorgeous at midday! The sun twinkles off the water and the views are spectacular. Even though we set sail at the same time as everyone else on our bus, which was approximately 20 or so of us, The Grand River is so wide that you don't come into contact with anyone again unless you want to. The kids we had with us ranged in age from 10 to 14. My 10-year-old was the youngest, and if I might say, she was the best at paddling! The good thing is because of the slow current, you don't actually have to paddle until the last 1 km. You could gather your friends or family and coast through the riverway for hours without having to paddle a single stroke.
In addition to the peaceful, natural tranquillity that the Grand River offers, there are a few things to see along the way. The Guide told us about some natural springs with fresh, completely drinkable water that he said was referred to as "sweet water" because it was the best water he ever tasted. The springs were small, but we found them. You need to pull your watercraft over to the shore and have an empty water bottle ready for filling. Seriously, this is the most connected to mother nature I've ever felt!
There is also a picnic stop at about 11km in. There were tables, trash cans and a port-a-potty. We stopped to eat some snacks, but I highly recommend tethering your group together and eating right on the water while you slowly drift. My kids loved passing our snacks around!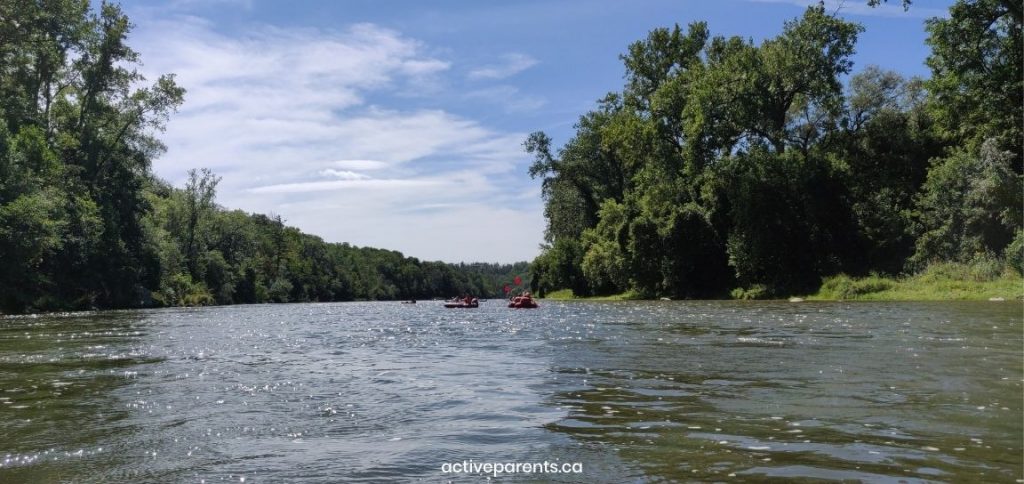 already booking for our 2022 visit
My kids and I will tell you that this was our very best day trip that summer and we are already trying to squeeze in another trip before they go back to school. Only $39 per person, and over 5 hours of fun with friends, while being in beautiful nature is such a great deal.
Rafting Tips from a non-expert
Sunscreen. Don't make me tell you twice! There is absolutely zero shade on the river and the sun reflecting off the water will get ya!
You will get soaked. You're sitting in water the whole time, but it's not nearly as uncomfortable as it sounds.
Water shoes in case you need to get out and rescue your kids when they get stuck in the shallow areas. Crocs, old runners, water shoes all work.
Food/water in waterproof containers/baggies. Our kids loved sharing snacks back and forth.
Zipper bag for your cell phone and car keys, because they definitely will get very wet.
Full change of clothes for afterwards so you're comfortable driving home.
Tether your kids, or at minimum take the tether rope when offered. We were out for 5 hours, so kids can get tired and we all know what a tired kid is like.
We let our 5 kids float ahead but within sight, and we moms just floated and caught up on everything that had been happening. Kids loved the independence and they can't really go anywhere. Plus, the water is only a couple of feet deep, so we felt safe. As always, you do you, and what makes you feel comfortable.
We used Grand River Rafting to book our excursion. They've been around for 15 years and handled the entire experience so professionally. The equipment, lifejackets, and tour guides were amazing. No affiliation, just my recommendation.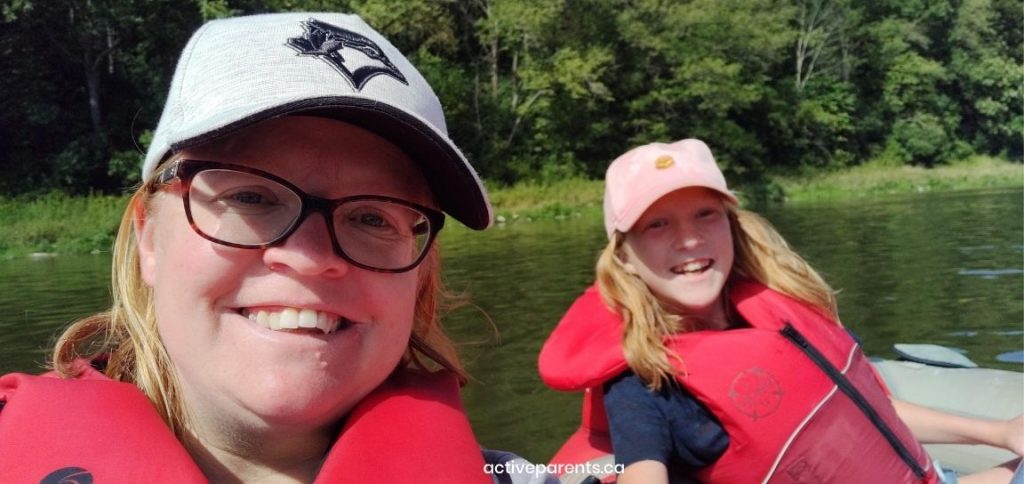 More Ideas For Family Fun
We have visited hundreds of places and written about them to help you find the very best destination for your next day trip or outing. We love sharing indoor play places, playgrounds that go above and beyond, and more! Here are a few of our latest blogs to help you have a great weekend.