Summer is the prime time for skateboarding, scootering and BMX biking, and these Hamilton area skateparks provide the perfect location for kids (and adults!) to perfect their next trick! If you're wondering "Where is a skate park near me?" we can help you find the best ones in Hamilton right here.
Looking for more skate parks to visit? Take a short drive to a neighbouring city to test out their facilities. Click here to find a new-to-you park: Burlington Skate Parks and Oakville Skate Parks.
Waterdown SkatePark
We see skaters of all ages at the Waterdown Memorial Park Skatepark. The paint job is impressive – maybe the best decorated of all the Hamilton skate parks – and there are a variety of ramps and transitions all throughout the huge bowl. Free parking on-site, and washrooms available. See our Park Profile on Waterdown Memorial Park here.
Located at 200 Hamilton Street North, in Waterdown.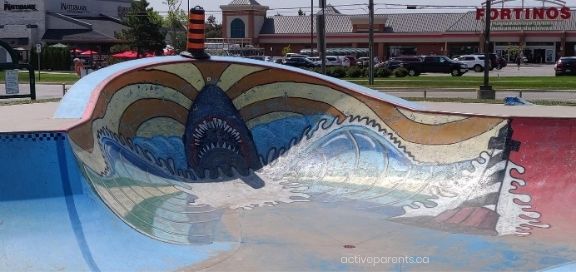 Turner Park
372 Rymal Road East, Hamilton
Some smooth transitions, an interesting street course with banks and jumps, and a nice tight fun bowl. Perfect for all skill levels, with enough to do for beginners, and lots to challenge the experienced skater.
Beasley Skate Park
96 Mary Street, Hamilton
Right near the heart of downtown is probably the most popular of the Hamilton skate parks, Beasley Park. It's an open concept park with a number of small obstacles at one end and a big mini ramp at the other. There are various ledges and big wavy banks in the middle. And it has lights at night too!
coming soon! two new Hamilton skate parks
There are two more skateparks being built in Hamilton. The pandemic has delayed the construction, but we are keeping our eyes on progress!
Valley Park Skate Park
970 Paramount Drive, Stoney Creek
Valley Skate Park is proposed to be a wheeled sports facility located within Valley Park in Stoney Creek (Ward 9). The project proposes the development of a +/-1,500m2 (16,145 Sq. Ft) concrete facility that will cater to a variety of wheeled sports such as skateboarding, rollerblading, scooters and BMX bikes.
Alexander Park Skate Park
201 Whitney Avenue
Alexander Skate Park is a proposed +/-1,000m2 (10,764 Sq. Ft.) wheeled sports facility located within Alexander Park in West Hamilton (Ward 1). The concrete facility will be integrated with the park's existing amenities and will cater to a variety of wheeled sports such as skateboarding, rollerblading, scooters and BMX bikes.
Looking For More Outdoor Fun?
Once you've visited all of the Hamilton skate parks, we have more ideas to keep you busy all summer long! From the best beaches near Hamilton to the top-rated hiking trails for kids and strollers to splash pads and pools to keep you cool, we've got something for everyone!
More Ideas For Family Fun
We've been to so many cool places, and we've made it our mission to share all the fabulous locations we find with you. Whether you're planning a day trip or looking for the best playgrounds, we've got your back. We are all about discovering the most amazing indoor play areas, farms and animal experiences, and a whole bunch of other visit-worthy local attractions. Check out our latest blog posts below to make sure you have an absolutely epic weekend!