The Art Gallery of Hamilton – or AGH for short – is one of the city's best places to visit for families. Yes, kids will enjoy the art gallery, you have my word on it! Plus, we have the scoop on how you can enjoy free admission! Read on to find out.
Read More:
Looking for more kid-friendly museums and galleries, be sure to read this article.
Find more things to do in Hamilton right here.
The Art Gallery of Hamilton – Fun For Kids
The Art Gallery of Hamilton is 75,000 square feet and home to over 10,000 pieces in its collection. It's way bigger than I imagined. Some pieces come and stay for a short period. These are called exhibitions. But many of the works call the art gallery home permanently and are referred to as collections. The second floor is home to a mixture of exhibitions and collections.
On our most recent visit, at the end of September, we spent the afternoon wandering the outdoor gallery grounds and checking out all of the works in the garden. Then we made our way inside to see our favourite gallery, Level 2. Here's a scoop on what we saw.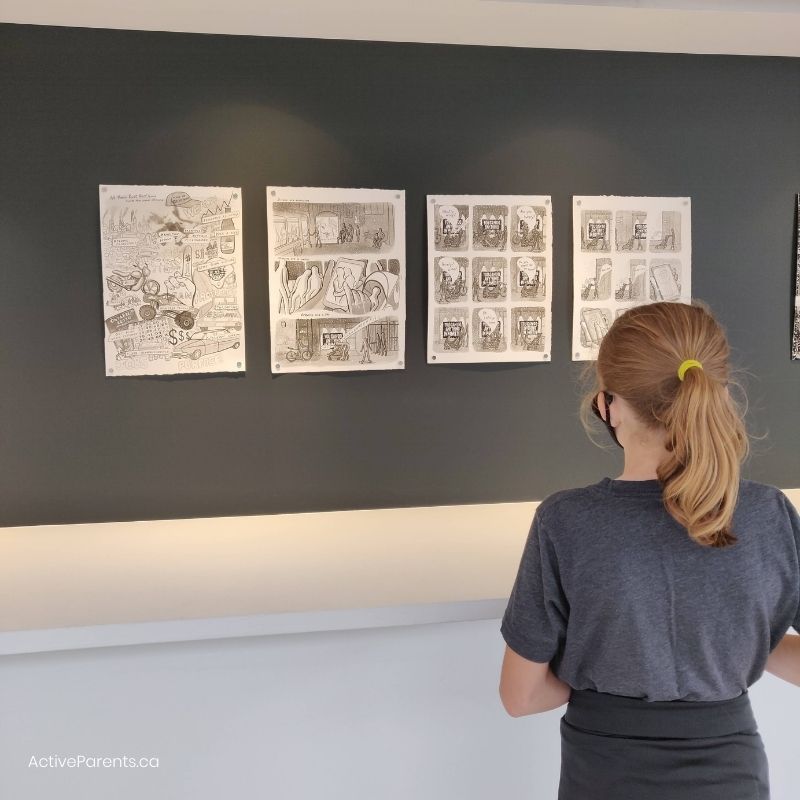 The first collection we saw when we got off the elevator was titled Tom Thompson: The Art of Authentication. After checking out those works, we walked into the Level 2 Gallery and saw the temporary residency installation from Sylvia Nickerson. My layman's description is "posed human figures made out of shredded, colourful paper". It was so eye-catching and great to be able to look at it up close. There were large pieces right on the open floor that you could walk around and really observe. I just wanted to reach out and touch them (but don't do that!).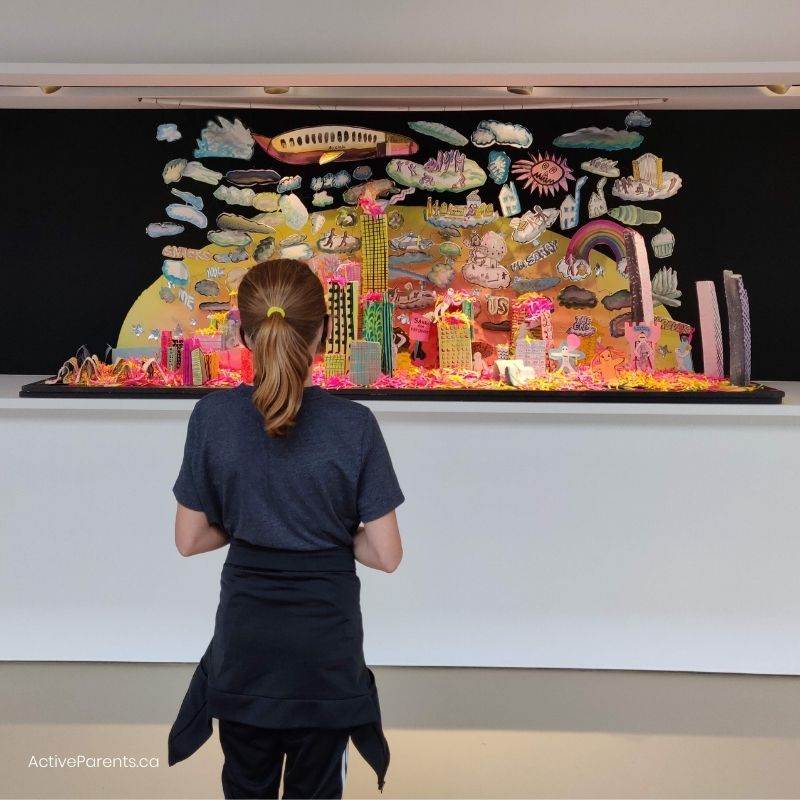 My 11-year-old really liked the comic book-esque works and spent a lot of time checking them out in detail. Kids notice such unusual things! Some pieces included packing bits, tin foil, plastic and other repurposed items. They were busy and eye-catching and gave us so many things to point out. If I had a nickel for every time I said "Look at that!" I'd be rich.
We Came To See The Bus
Our main reason for visiting was to see something I've wanted to see for so long. The Bruegel-Bosch Bus by Kim Adams. It definitely didn't disappoint! In fact, I've got plans to take the rest of the family back to check it out. The bus is a permanent installation at the AGH, so don't worry that you might miss it. It's a wild creation that connects an awesome Volks Wagon Bus and thousands of toys and action figures. It's truly like nothing you've ever seen before. I cannot recommend a visit to see it enough.
When we visited, the roof had a small leak that was being repaired, so we couldn't walk all around the Bus but normally you can see it from every angle. We recommend spending lots of time looking at every nook and cranny.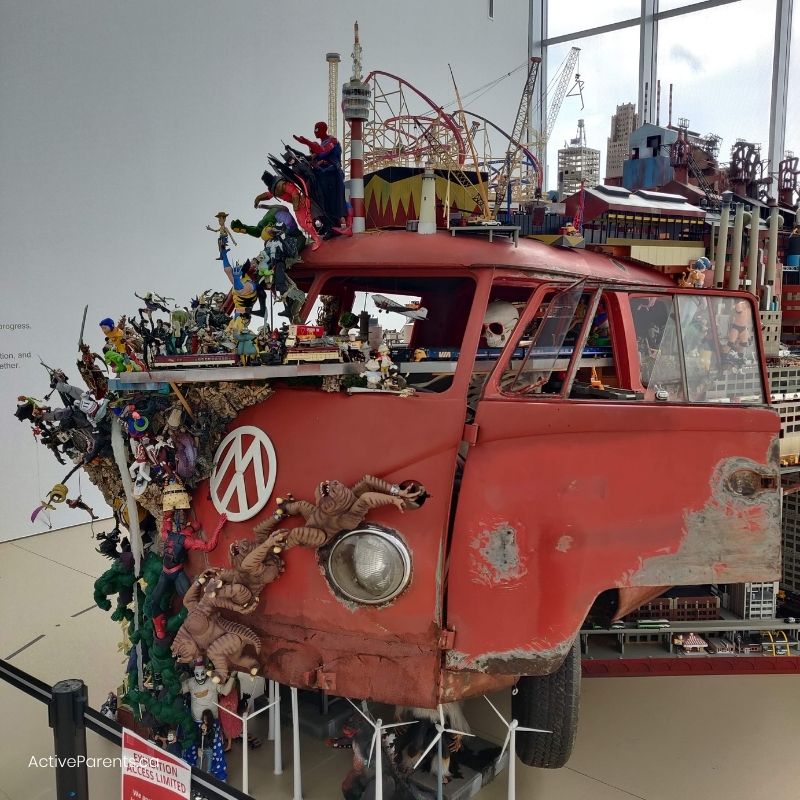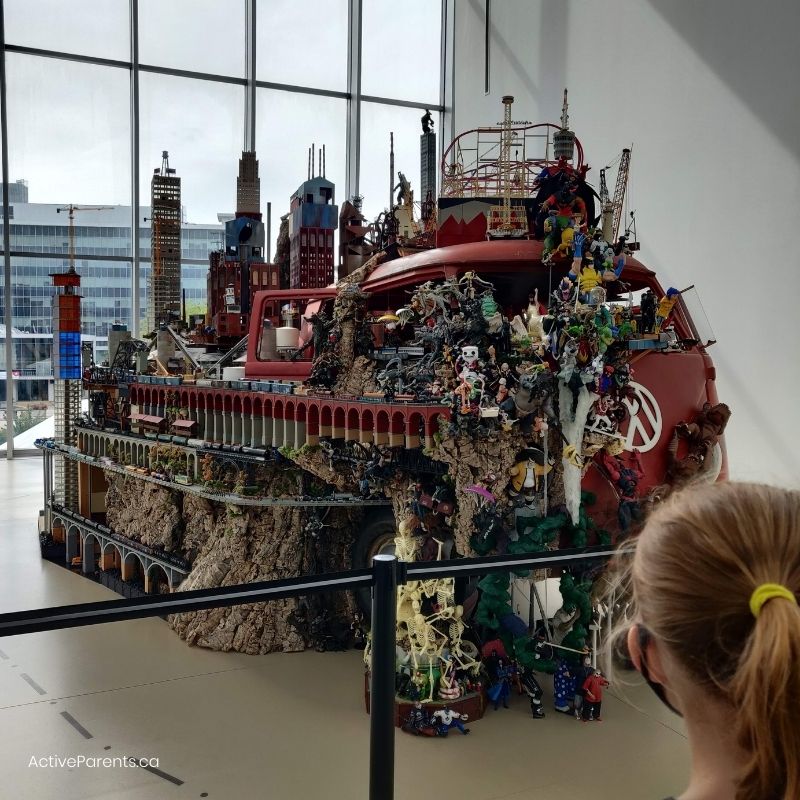 After we spent so long in that section, we wandered the rest of the second floor. They had a section filled with massive works by Indigenous artists and (again) we fell in love. Make sure to check it out when you visit the AGH. The colours are stunning.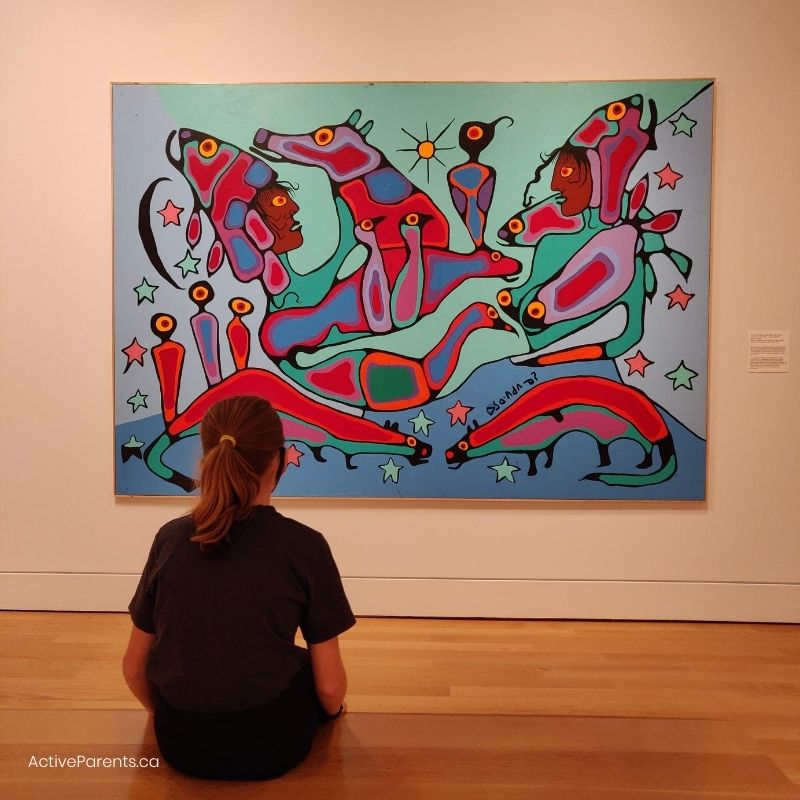 Walk a little more and you'll find more rooms with even more cool things to see. This miniature city scene had the tiniest details and was another of my daughter's favourites. This room was filled with contemporary art, which was an excellent and engaging introduction for my 11-year-old. There were great discussions about the art itself, how it was made and why the artist and the design (why that colour? texture?)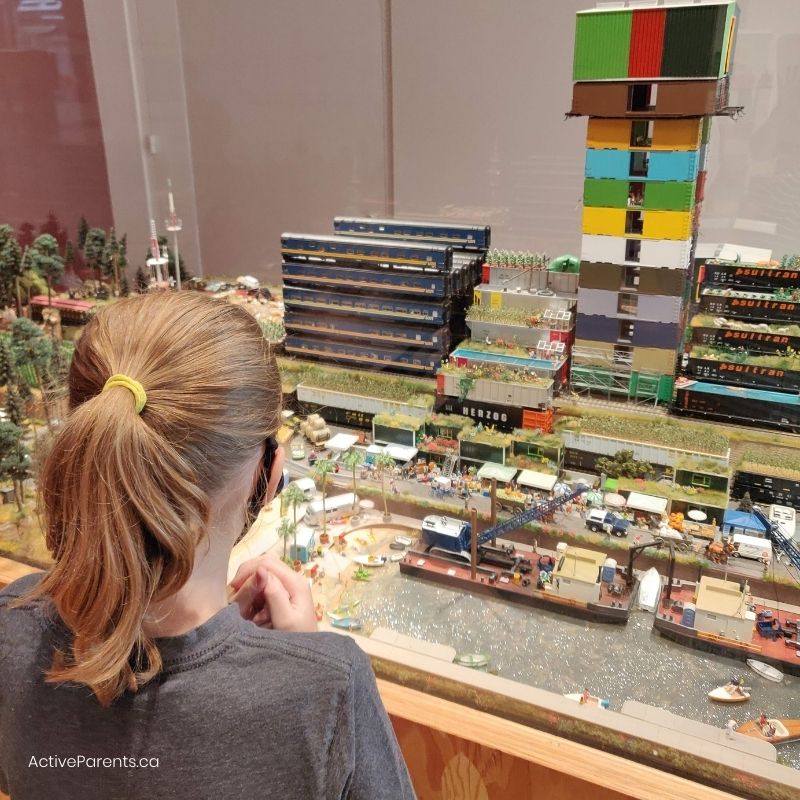 Tips for Families Visiting the Art Gallery of Hamilton
The Art Gallery of Hamilton shares these tips for families when they visit:
The AGH is baby-friendly. Bring your stroller or front baby carrier. They have elevators.
Breastfeed in their many seating areas, or for more privacy try their Playroom space
Washrooms have change tables
Keep your visit short if you need to, match your child's pace and come back multiple times
Ask kids lots of questions to focus their investigation, and encourage them to share their ideas. Let your child lead to ensure you see things that interest and engage them. Play games like "I Spy" or "Tell Me What Happens Next."
Visiting the AGH – For Free!
The very best part of our visit to Gallery Level 2 and the Jean and Ross Fischer Gallery is that they are always FREE ADMISSION courtesy of Orlick Industries. And admission to the AGH in its entirety is free on Thursdays right now.
Address: Art Gallery of Hamilton – 123 King Street West in Hamilton. You can visit the AGH website here.
More Ideas For Family Fun
We've been to so many cool places, and we've made it our mission to share all the fabulous locations we find with you. Whether you're planning a day trip or looking for the best playgrounds, we've got your back. We are all about discovering the most amazing indoor play areas, farms and animal experiences, and a whole bunch of other visit-worthy local attractions. Check out our latest blog posts below to make sure you have an absolutely epic weekend!