Waterdown Memorial Park is filled with natural beauty and great amenities for families. Read on to find out why we love visiting.
What Drew Us to Waterdown Memorial Park?
The skatepark of course! If you've been following along on our Instatories, you'll see that almost every single day we visit a skate park. My kids have become scootering fanatics, and this is one way to get fresh air and be together. Who can say no to that?!
The skatepark is pretty awesome. Its paint job alone makes it a fun place to be for every age. It's all drop-ins and bowls (that's skater "speak") and kids who like to glide and roll over hills will love it. The park is used by everyone: skateboarders, scooter kids, trick bikers, and they're all ages. I saw dads who were putting on a show for their kids, and teens who were helping little ones learn the skate park etiquette and wee ones who were decked out in all of their safety gear. It's a great gathering of skills and demographics.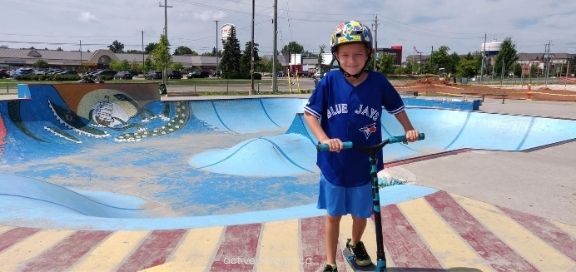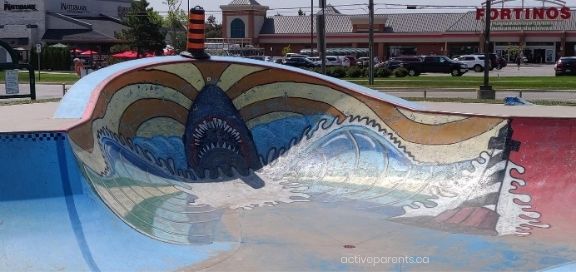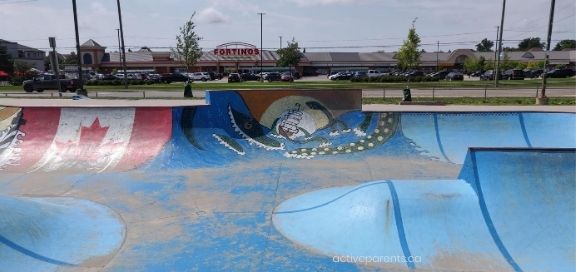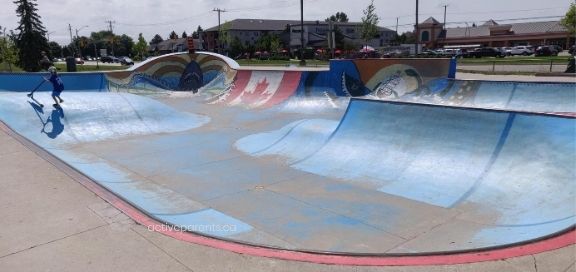 Playground and Splash Pad
When you're done rolling around the skate park, hit the spray pad and cool down. Little ones were loving the sprinklers and misters. The surface is concrete and parts are rubberized concrete. It's small, but it's a great addition to the park.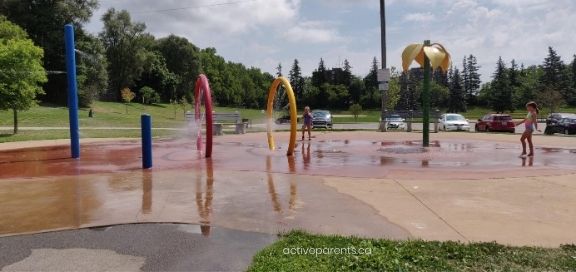 I couldn't figure out if the playground was a circus motif or a rocket ship theme, but it was lots of fun either way. This park has a variety of climbers which my kids appreciated (parks need more climbers!) and the fave for my girls was in the incline ramp that you needed to pull yourself up. Lots of upper body muscles working there! We visited on a warm Saturday in August and I was surprised that it wasn't busy. This park had something for everyone of every age, and because of that, we will definitely be back.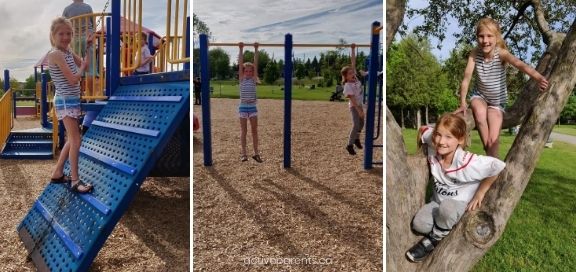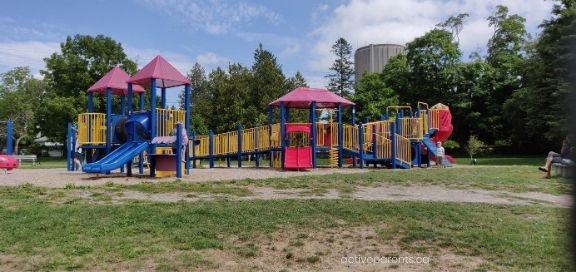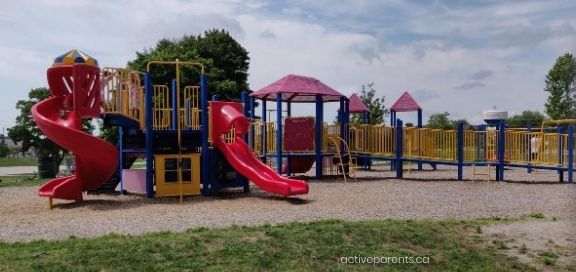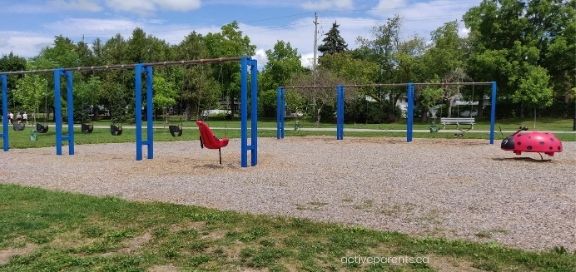 Bring your sports equipment because there are 3 baseball diamonds and a ton of grass space to kick and throw and catch. Bring a kite to fly in the sports fields where there are no trees to get in the way. If your kiddos aren't comfortable using the skatepark, there is a verrrrrry long loop around the middle of the grounds that is smooth and perfect for gliding. Anything with wheels is perfect to use on it. In the winter, part of the loop is flooded and frozen and becomes a free ice skating rink!
The park is very easy to get to from any direction because it's on a main street and provides a ton of parking. I drive a truck, so I'm a stickler for places with proper and sufficient park 🙂 I love the diversity in families I saw enjoying Waterdown Memorial Park. All ages, doing a variety of different things, all spaced safely and having a blast.
Waterdown Memorial Park Playground Features and Amenities
3 baseball diamonds
mature trees for shade
large, covered gazebo
small splash pad with misters and sprinklers
wide-open field space for sports, kites, running and more
5+ park benches facing the playground
smooth, paved loop for wheeling and rolling
skate park

awesome paint job
a large "bowl" with lots of drop-ins
side apparatuses for grinding

playground include

woodchip groundcover
6 slides
6 big swings, 5 baby swings and 1 special needs swing
lots of climbing apparatuses
What's Nearby?
Right across the street is a Fortinos, and IDA drug store and a McDonalds.
Now Trending…
Find all of the top-rated parks and playgrounds here
Want more scooter and skate parks? We have more here
These trails and hikes are kid-approved and perfect for the whole family