The amount of fun, fresh air and family time you can get from a visit to Lowville Park in Burlington is limitless! We try to visit a few times every summer, at least once in the fall and we even come back for tobogganing in the winter!
During the warm months, Lowville Park is a great destination for families who want to play at a playground, have a picnic, fly a kite or explore the Creek. Come back in the fall to catch the salmon running upstream. They will surprise you with their size and speed! They don't have an official "spanning date" so watch our Facebook and Instagram pages because we'll let you know when to visit.
Lowville Park – Why We Love It
Lowville is a favourite destination of ours because it truly is an all-season park. We love to visit in the spring and summer because the immense trees provide ample shade throughout the park, which is perfect for my easy-burn skin. Their shade is the ideal spot for a picnic, cloud watching, or just setting up a family base camp for your day of adventure.
The number 1 reason that we love Lowville Park is that 50 kilometres of Bronte Creek flows through the park and its beautiful features. The water is cool and clean, and the amount of unplanned education we get when we get to go on creek walks and turn over rocks is amazing. Nothing beats nature and fresh air to make learning so easy.  We like to bring buckets and a minnow net to see what creatures we can capture to study. We have found that a white bucket works best for this, but any colour will do. Catch and release once you're done observing, unharmed is the name of the game.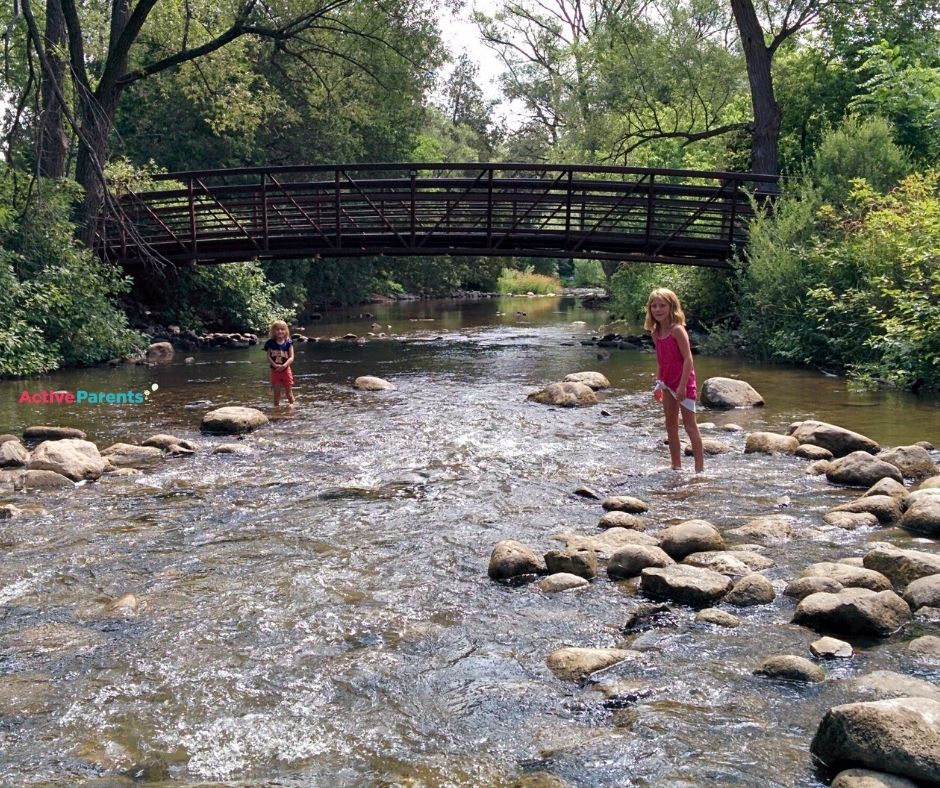 The Playground at Lowville Park
In addition to the water play in Bronte Creek, make sure you bring your favourite sports equipment because the grassy fields run for miles. Soccer, a baseball and some gloves, frisbee, Wiffle ball, whatever you love! It's a perfect destination to socially distance without worry. There are trails and paths that offer some great exploring, no matter your age or ability. All-terrain strollers and wagons can make simple work of the paths. Don't forget the insect repellant if you're planning on a walk along the trails. When you're done fishing for minnows and crayfish, turn those nets into butterfly nets!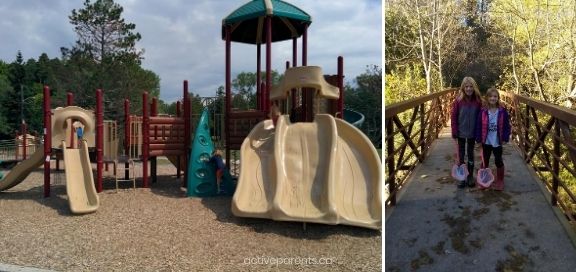 Visit the Old School House and The Epic Staircase
Be sure to explore as much of the grounds as you have time for, you'll love what you find. There is an old stone schoolhouse that is just timeless in its beauty and simplicity. We shared this monolithic staircase photo on our Instagram and everyone immediately knew where it was.
View this post on Instagram
A Few Tips for Your Visit to Lowville Park
Washrooms are open and available at Lowville Park, but water fountains are not available so bring your reusable water bottle with you to stay hydrated.
Bring your bug spray if you plan to wander the paths in summer.
Take a ton of photos. This is one of Burlington's most sought-after photography locations for a reason! Especially in the fall.
Pack a picnic, there are various spots to set up and enjoy
Do You Have To Pay For Parking At Lowville? Do You Have To Make a Reservation?
During off-season months (fall and winter) you DO NOT need to book a reservation for Lowville Park. But in Spring and Summer, you do. Reservations are free and can be booked online easily. I'm not 100% sure the reason, but I believe it's to limit the number of cars, and avoid street parking while is forbidden and enforced in the area of the park.
You can book a three-hour reservation:
Weekdays between 4 and 8 p.m. (no reservation needed during the day)
Weekends between 8 a.m. and 8 p.m.
You can only book one spot per day.
How to Reserve Your Time Slot at Lowville Park
Choose your time slot and enter your name and license plate.
You're done!
This is ONLY required for spring and summer months.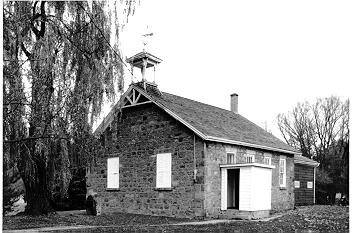 More Parks You Are Sure To Love
More Ideas For Family Fun
We have visited hundreds of places and written about them to help you find the very best destination for your next day trip or outing. We love sharing indoor play places, playgrounds that go above and beyond, and more! Here are a few of our latest blogs to help you have a great weekend.