Having fun with kids in tow doesn't have to cost a lot with these 8 free and cheap things to do in Hamilton.
Chantale recently moved to the Steel City and has been having fun taking her daughter Grace on adventures in and around their new hometown. Chantale has curated her top 9 free and cheap activities for families to do in Hamilton with their kids.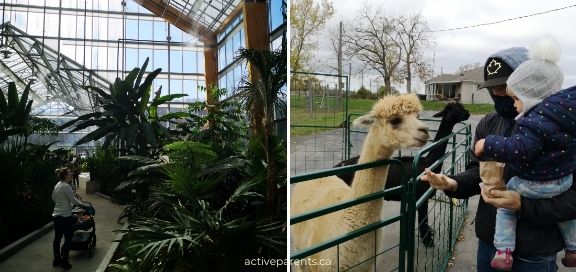 Gage Park Greenhouse – Free
The Gage Park Greenhouse is open year-round and is a beautiful indoor spot to check out some pretty amazing tropical plants. Their variety will surprise you and you're kids will see plants they've never see before! Be sure to look in the pod for fish and turtles. Their hours are a bit different right now due to COVID restrictions so be sure to check those on google before you go. Stroller-friendly. 
Alpacas of Eighth and Mud – Free
Alpacas of Eighth and Mud is an urban farm that is home to friendly, furry alpacas! This spot is adorable and totally free to just go and see the alpacas. They come right up to the fence and you can touch them. They also have food for sale to feed them inside their fibre shop, along with some beautiful handmade things. Show the kids how they make the fibres from the alpacas into yarn. Whether your a knitter/crocheter or not, this place is worth a visit.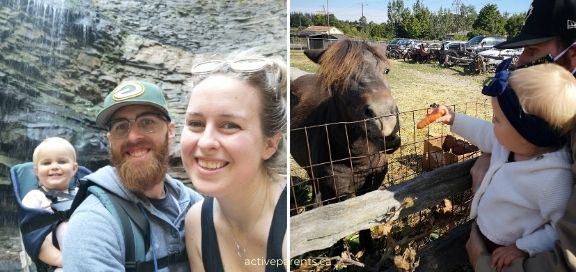 Hamilton Waterfalls – Free
There are SO many beautiful waterfalls to see in Hamilton, 10o in fact! And most of them are extremely accessible even with little kids. Here are some of the ones we love the most. Read a little about each waterfall here and plan a great (free) outing! 
Felker's Falls

Tiffany Falls (paid parking)

Devil's Punchbowl (paid parking)

Albion Falls

Smokey Hollow Falls 

Sherman Falls (paid parking)

Borer's Falls

Hermitage Cascade (paid parking)

Webster Falls (reservation required)

Tew Falls (reservation required)
The Dutch Mill Country Market – FREE
The Dutch Mill was an accidental find for us. We weren't able to get into the Apple Orchard due to capacity, so we ventured over to the Dutch Mill just to discover they had some farm animals! They even put out a tray of little carrots for the kids to feed the animals. Their inside market is also worth a walkthrough, and they're open all year round.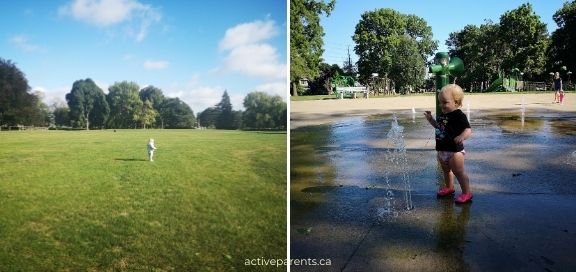 Bayfront Park – FREE
Bayfront Park is located at the base of Harbourfront Drive near Hamilton's downtown core. A beautiful scenic walk along the waterfront along the paved paths makes for a great stroller-friendly walk with friends and kids. It is linked to Pier 4 Park by Macassa Bay Walkway. 
Gage Park – FREE
This is a classic location. A HUGE park with lots to see including outdoor gardens and beautiful water fountains. It also has a large parking lot and a huge walking path all along the outside of the park. There is also a large playground as well as a splash pad in the summer. 
Ottawa Street Farmer's Market – FREE
Ottawa Street Farmer's Market is open Saturdays year-round. Lots of great produce available as well as just walking Ottawa street for some coffee and treats is a fun day. It's got loads of potential for learning colours, the names of fruits/veggies and counting.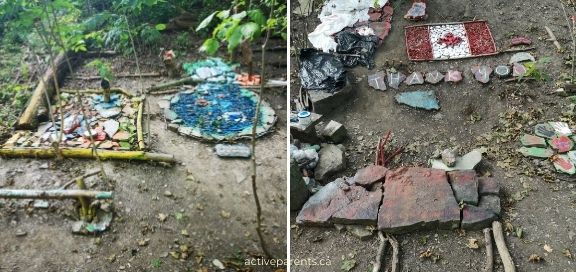 Rock Art – FREE
If you didn't already know, there is a guy along the Rail Trail by the Kennilworth stairs who is doing rock art to give us hope during these strange COVID times. He has some pretty incredible pieces that he's done. He only uses pieces he finds in nature and brings them to life. It's pretty incredible what he's done, and he's also a very pleasant guy to talk to and hear his passion behind the whole thing. Your kids will definitely be inspired to make their own nature art when they get home. 
Hanes Corn Maze – $5 per person
Hanes Corn Maze has a ton of fun things to do for kids including both a large corn maze for adults or a small one for kids. The farm is also home to lots of adorable farm animals to see. I found Hanes to have the best variety of animals to check out. They had horses, pigs, chickens, goats, cows, sheep, ducks and bunnies. They also have a bakery with some very delicious treats. It's $5 per person to get in and kids under 2 are free!
Read Chantale's article 9 Everyday Ways to Play With Your Toddler, too.
Now Trending…
Hop over the skyway bridge and find some free and cheap fun in Burlington
Visit our whole-page round-up of all the frugal ideas we highly recommend
And these 44 essential fall activities are sure to please everyone