Bronte Creek Provincial Park in Oakville is one of the 340 Ontario Provincial parks, and we are so lucky to have it so close by. We visit multiple times a year and many times each season because there's always something fantastic to do at Bronte Creek. Here are some highlights of what you can expect when you visit.
The Children's Play Barn
The children's play barn is open once again (woohoo!) and kids everywhere are thrilled to be back. The play barn at Bronte Creek is included in your admission and it's a great spot to spend some time because kids get to run, jump, swing and slide inside a real barn. Open spring, summer and fall.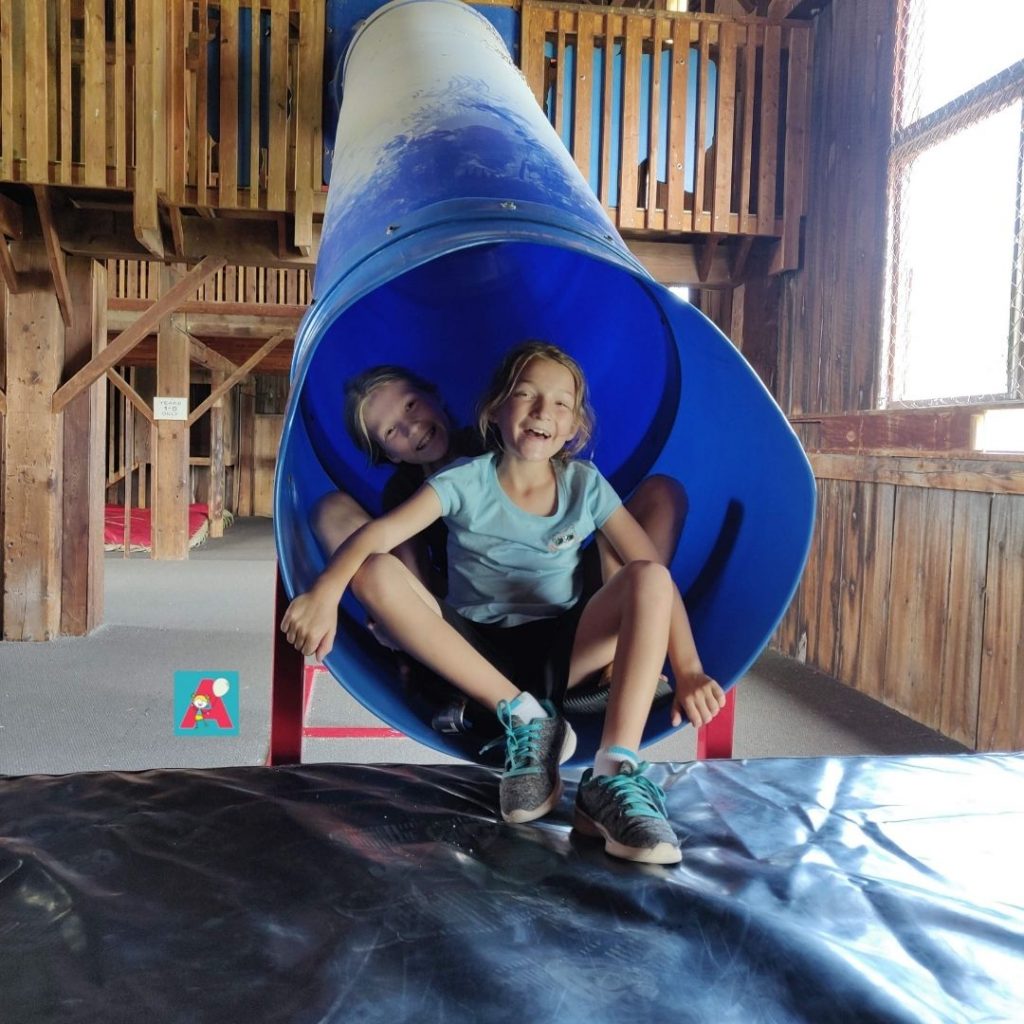 Springtime on the Farm
Part park, part farm, Bronte Creek is home to many animals including cows, goats, chickens, peacocks, sheep, rabbits and more! There are aniamls around throughout most seasons, so there is always a furry or feathered friend to see when you visit. Bronte is also home to a festival they call "Springtime on the Farm" where you can stop in and see brand new baby animals who are born in the spring. Cuteness overload. 2022 plans are pending but we will keep you posted. Most animal expierences are open spring, summer and fall.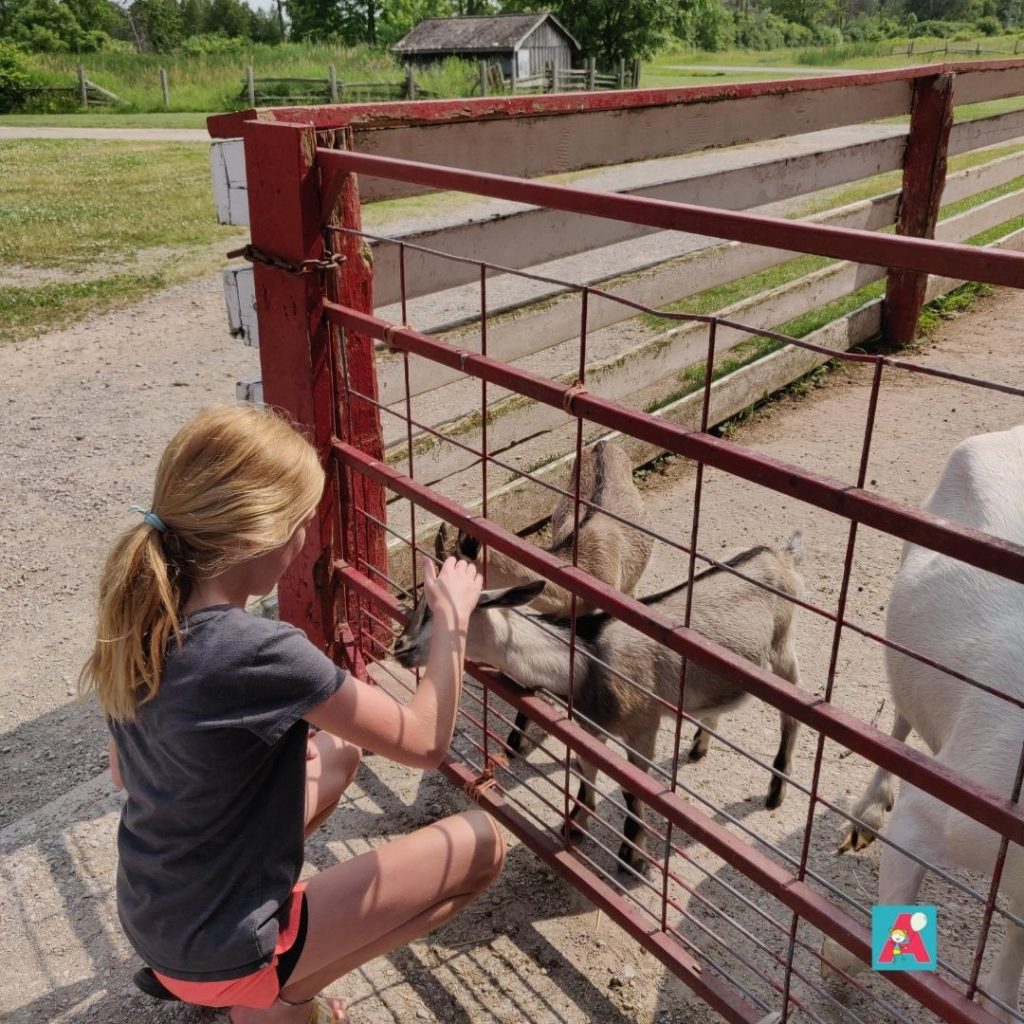 Walk The Gnome Road
The Gnome Road is a great reason to visit. If you've not seen it yet, add it to your to-do list. Sweet little wooden houses are decorated like little gnome houses, all along a very stroller-friendly walking path just at the tree line near the play barn and yellow playground. There is a good tree canopy as well, so some shade for anyone who needs a break. Open all year.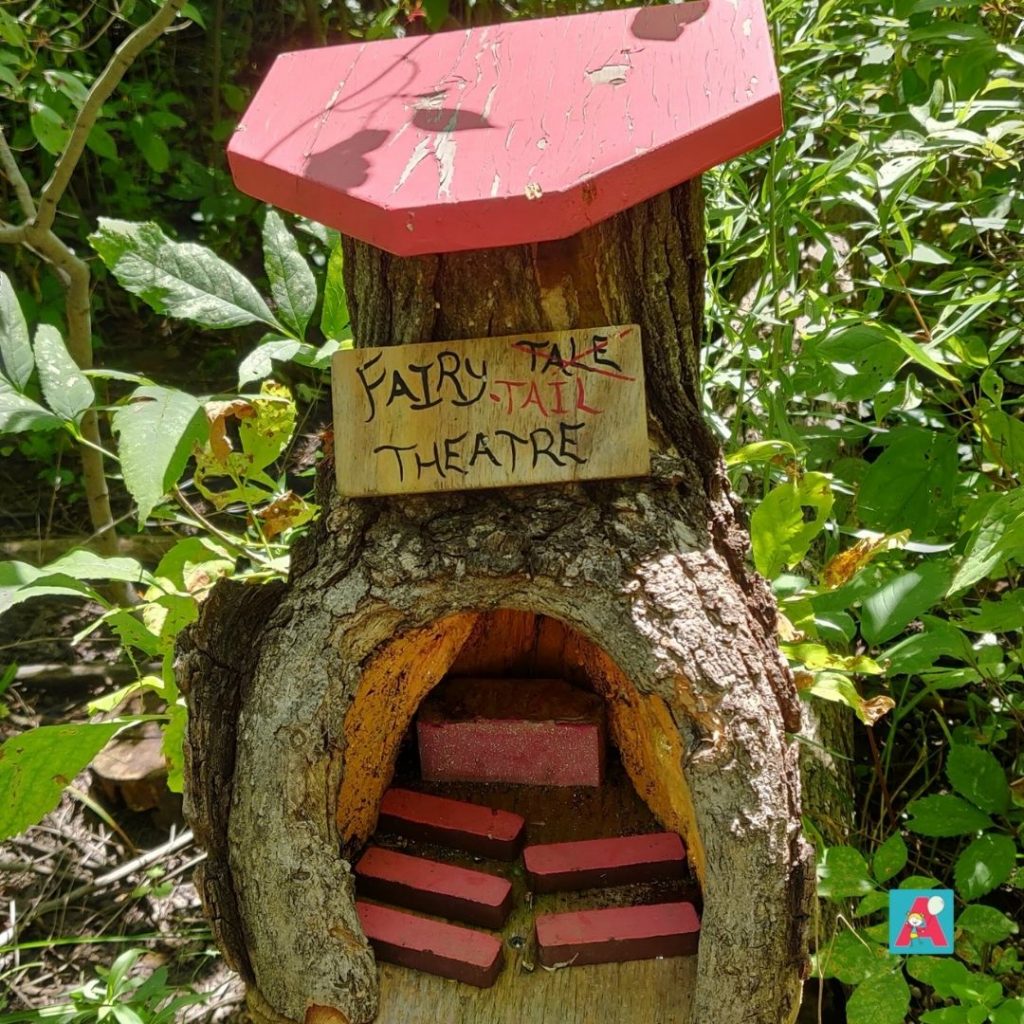 Cool Down at The Outdoor Pool
This is one of the largest outdoor pools in Canada! Who knew?! It's been closed for the past few years, and TBD on opening it this summer, but it's great to keep on your radar. The pool is 1.8 acres surrounded by grassy knowls that you can lay your beach towels on. The water is a gradual entry and perfect for all ages. Addition fee for swimming, when the pool is open.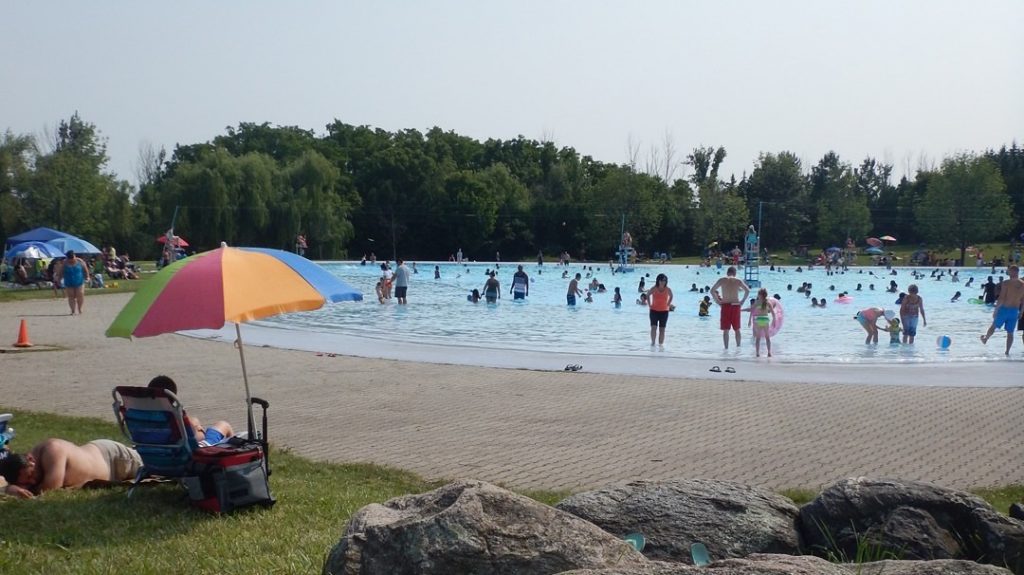 See The Salmon Run
Fall is the time of year when the salmon run up (down? through?) Bronte Creek. We first saw it in 2020, and it was honestly magical. Salmon are enormous! As with all things in nature, the salmon don't have a Google calendar, so there is no specific date and time to see them, but it's generally September/October. Keep watching our Facebook and Instagram pages because as soon as we know – we will tell the world!
We always get a little turned around when we visit, so here are the directions for anyone wanting to check out the salmon this weekend. Park in Lot F, and walk through the Spruce Lane Farm. Behind the barns and the cow pasture, there is a trail marker for the Half Moon Valley Trail. Take that trail. This trail has stairs, so not easy with a stroller. When you get to a fork in the trail, go left, which is trail 4. And there you'll be! Bring appropriate footwear and a camera!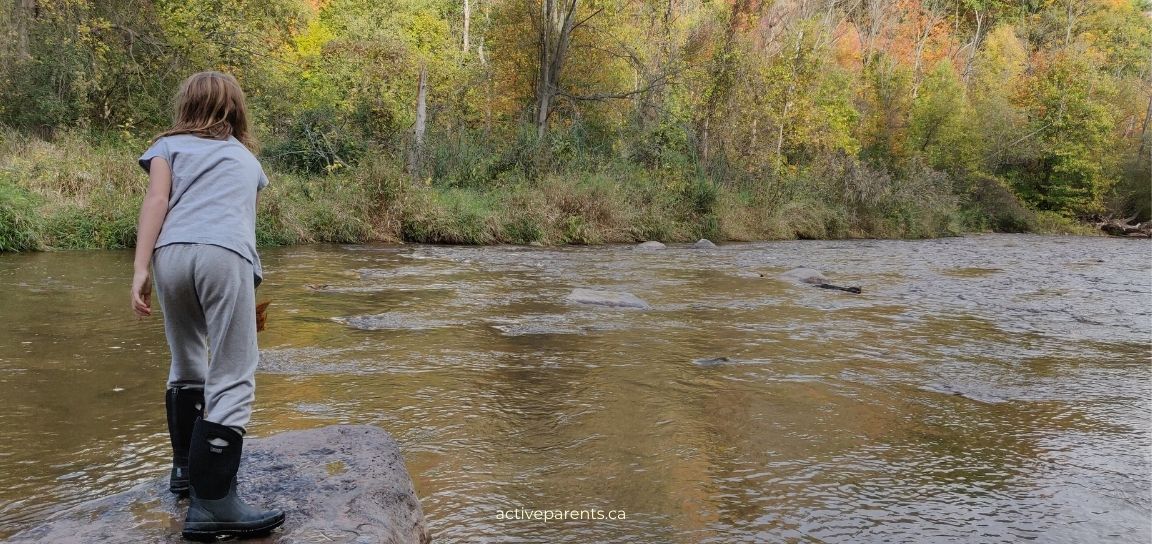 Furry Friends at The Park
When we visited last fall, we thought the barns we all empty for the season but low and behold we get some up close and personal time with the two fluffiest bunnies we've ever seen. Someone had left heirloom carrots near their pen, so my kiddo had the time of her life hand-feeding them.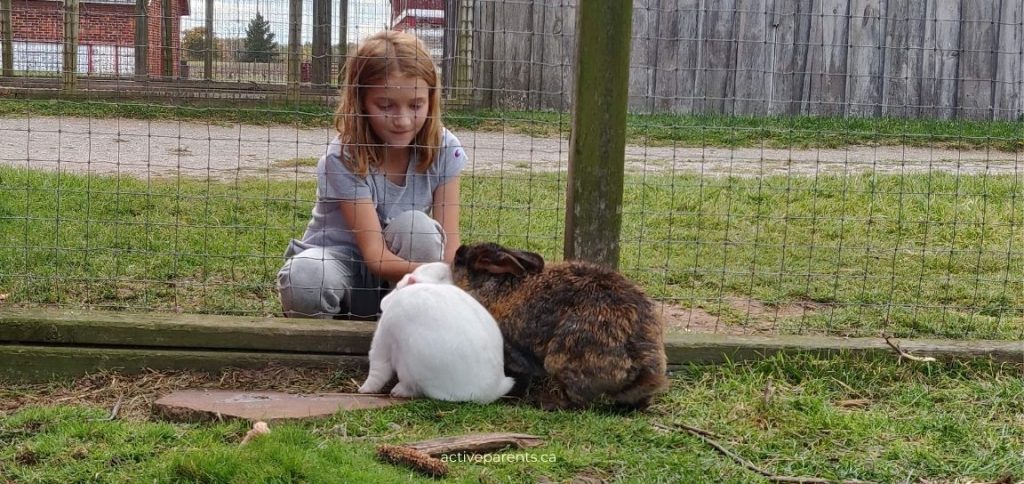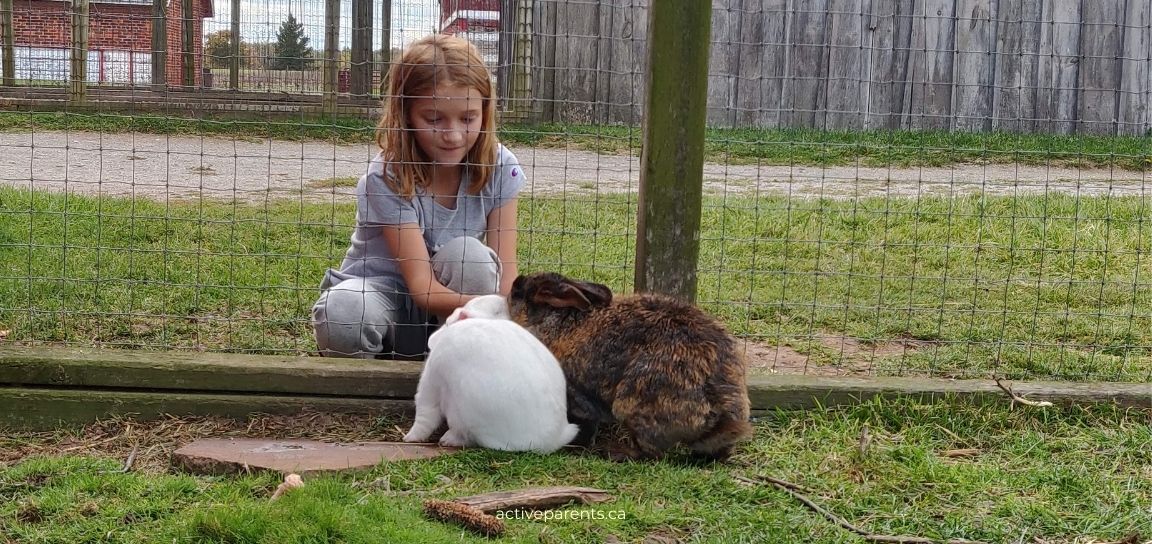 The Old Oak Tree
After we travelled south down towards Gnome Road, we took the path north to see what we could see. We read about the great White Oak tree, that started growing in 1685 and is one of the biggest oak trees in Ontario.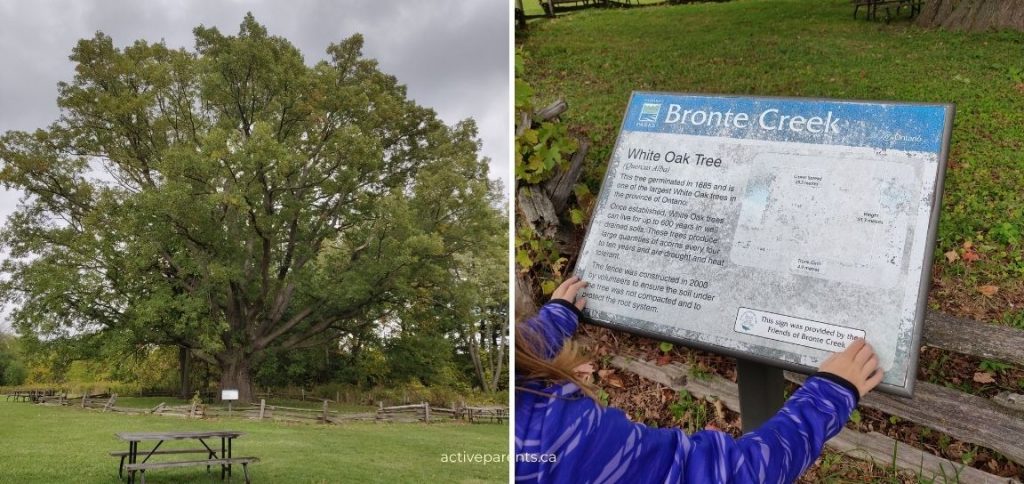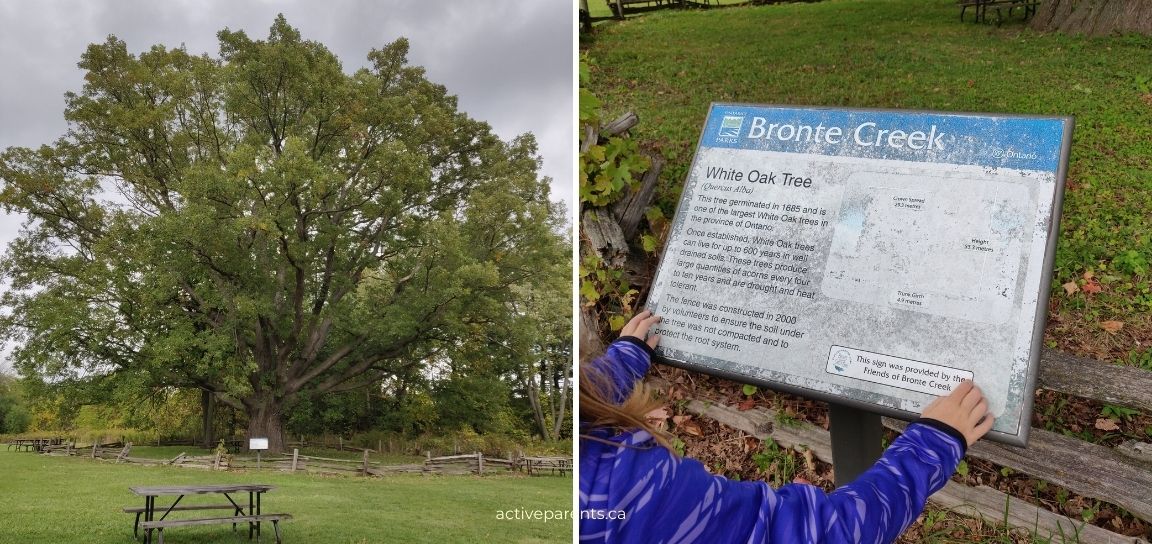 So Many Playgrounds!
Throughout the park, you'll find a few different playgrounds for kids to tackle as you make your way through the grounds.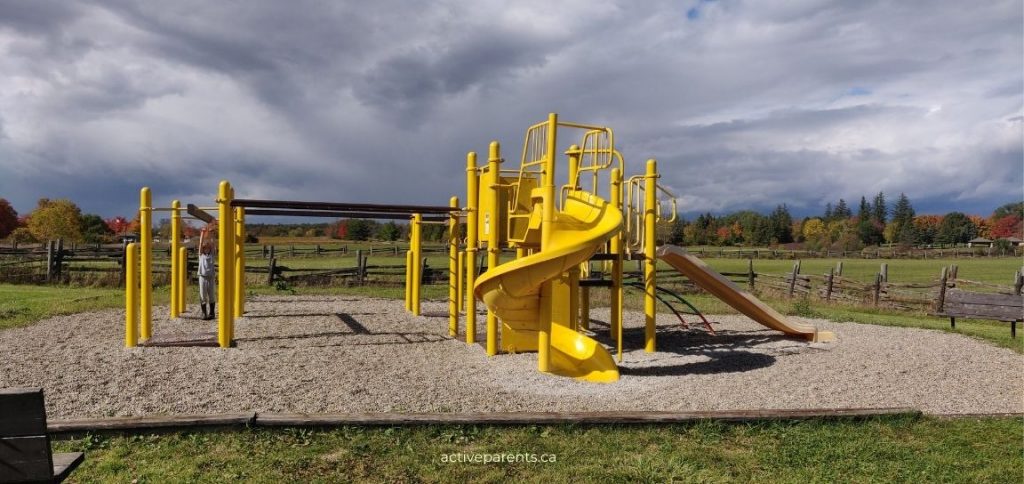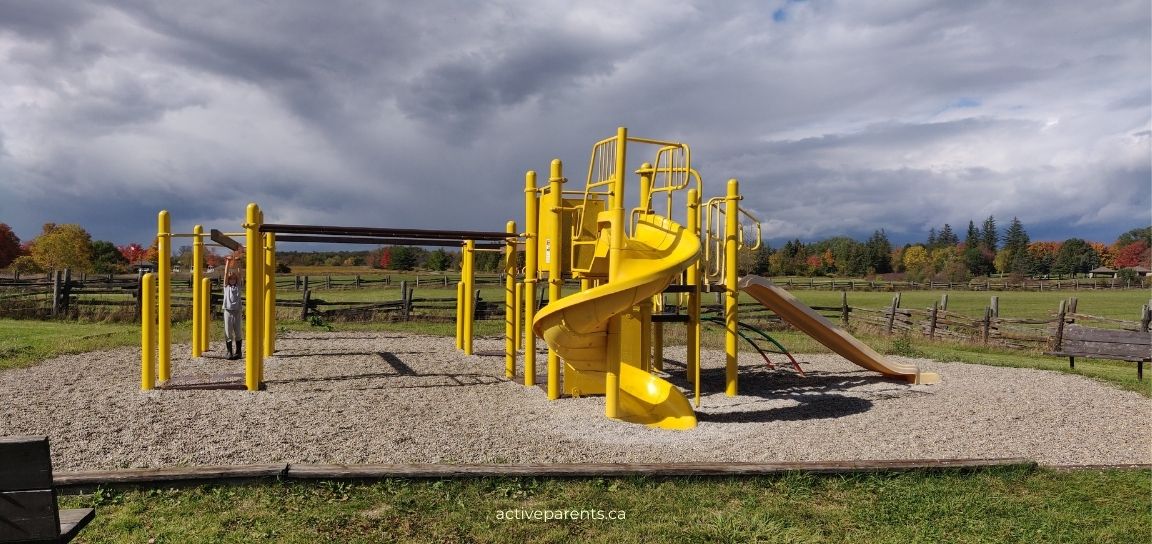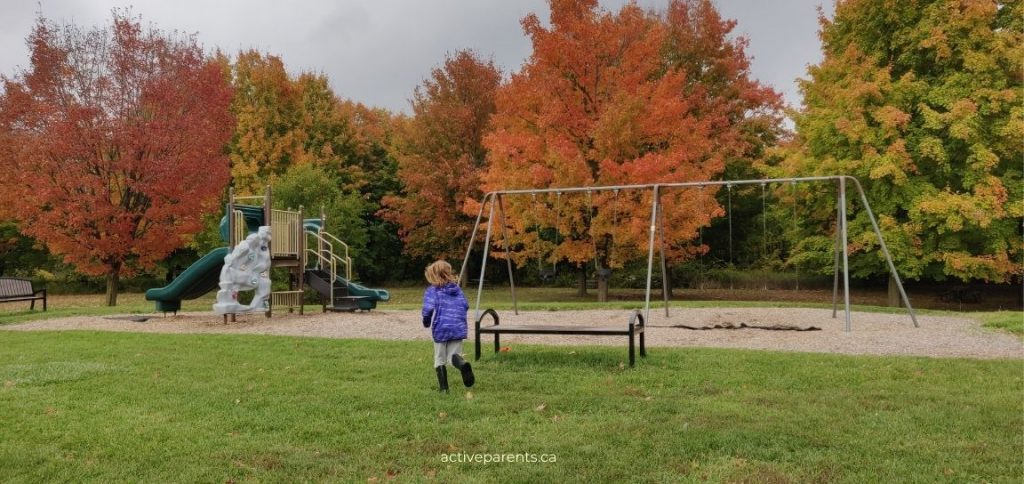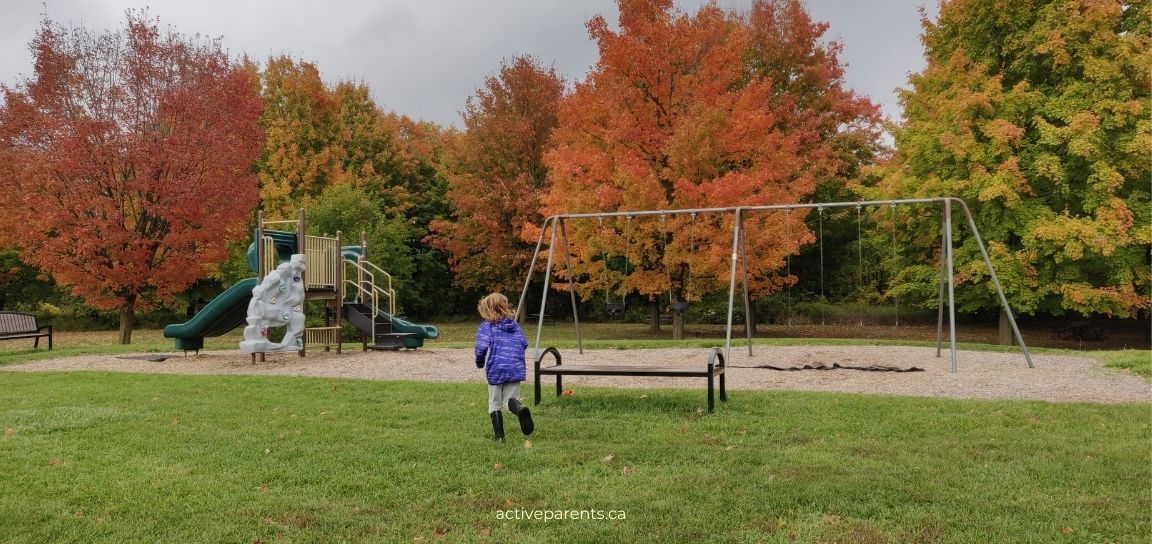 Walking and Strolling Trails
Bronte is home to multiple trails that are stroller-friendly and perfect for kids. You can choose to wander near the creek, or through the tall trees, or around the gravel paths that wind all through the park.
While you're walking the beautiful grounds at Bronte Creek Park, there will be so much to see. Give yourselves time to look at it all! There are unusual cylindrical buildings (what are they for?) and picnic shelters with real wood-burning fireplaces and sinks. Lots of opportunity for using your imaginations, and a ton of green space to run off all that energy kids have. Bring lunch or dinner or some snacks and have a picnic!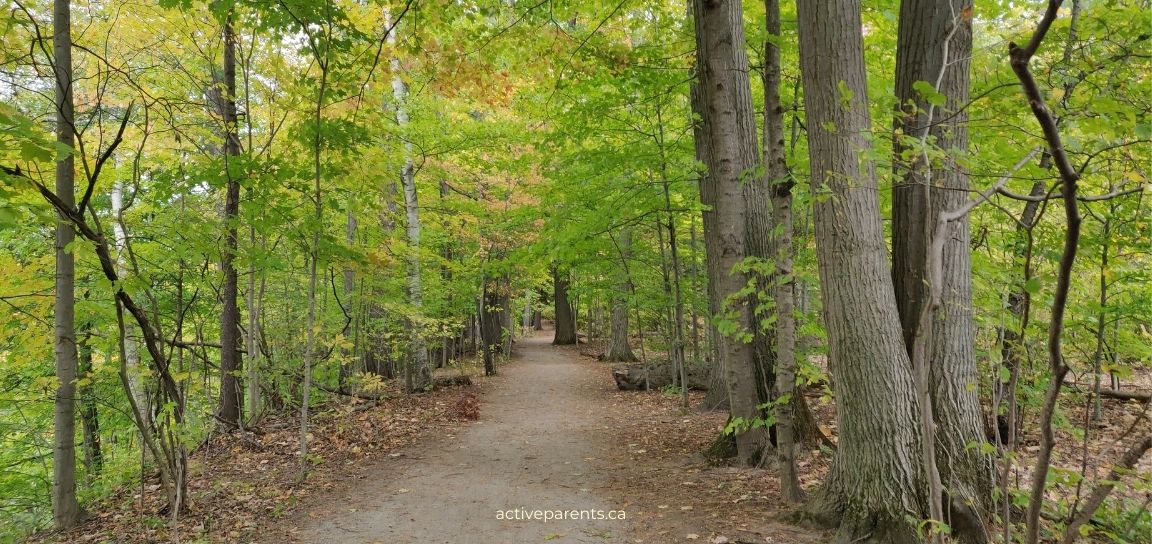 Check Out Our Video of Bronte Creek Provincial Park
Even More Reasons To Love bronte Creek
Bronte is more than a park, it's a must-visit educational stop for classes and families hoping to take part in their interpretive programs like the Maple Syrup Festival in March, Ghost Walks in August, Camper Halloween and Victorian Christmas in December.
Bring your furry friend and let them enjoy a little fresh air freedom at the leash-free section of the park.
Disk golf is a challenging and fun activity for nice weather. Bring your own frisbees, stand at the marker, and throw hoping to land your flying disk in the "hole". The hole is a pole with a chain-link basket that looks like a combination of a basketball and soccer net. Perfect for some fresh air fun, and no experience necessary.
Come in the winter months and enjoy cross-country skiing and toboganning with the family.
Bronte Creek Provincial Park camping is great for newbies and the more experienced New bies love it becuase if things don't go as you had planned, you're not far from home! I know many families who have gotten their "camping legs" at Bronte. You can tent or RV camp from May through October.
Tips for Your visit
Comfort Stations / Washrooms – Comfort stations include washroom facilities with flush toilets and handwashing facilities at this time. Before you visit, check what activities/facilities are available, avoid large groups and practice social distancing and pack what you need (e.g., water, snacks, hand sanitizer).
Hiking and Biking – are permitted
Bird watching – is permitted, bring your binoculars!
Picnicking perfection – with dozens of picnic benches spread around the grounds, pack a lunch, dinner or snack spread and dine al fresco!
Admission and Park Memberships
Bronte Creek Provincial park offers a variety of price deals and discounts. Prices vary for everything from walkin day-use to RV camping. You can find them all here on their official website.
More Ideas For Family Fun
We have visited hundreds of places and written about them to help you find the very best destination for your next day trip or outing. We love sharing indoor play places, playgrounds that go above and beyond, and more! Here are a few of our latest blogs to help you have a great weekend.