I'm nothing if not frugal, and summer vacation is no exception! When the kids are home, and we want to do something great, I know we don't have to spend a small fortune. Here are some of my favourite free and cheap summer activities, and some new experiences I hope to check off this summer.
Dinosaur Adventure Golf in Niagara Falls
This is a favourite for our family. I'm a huge dinosaur fan, as is my 7-year-old, and we all love mini-golf. We make a day of it by visiting family who lives in Niagara Falls and then golfing in the evening. The giant, steaming volcano is best experienced at dusk or later. The whole course can take anywhere from 1-2 hours to complete, my less-skilled golfers take longer, but the time seems to fly by when you're surrounded by dinosaurs and a jungle atmosphere, complete with sound effects!
Admission: $6.99 for children 12 and under, and $10.99 per adult.
HCM currently closed
Hamilton Children's Museum and Gage Park Picnic
Hamilton Children's Museum was a PA Day favourite for my kids. Because our school district is on a different schedule, the Museum was less busy and my kids had free rein of the different rooms and centres. Housed in an 1875 farmhouse in Gage Park, the museum was once home to Hamilton's Gage Family. It has been providing family-friendly learning opportunities to the public for more than 30 years. Everything is hands-on and catered to small kids, with exhibits that take after popular Hamilton attractions. One of our all-time favourite free and cheap ideas.
Admission: Museum: $4 per child aged 1-12, and $2 for anyone 12+, kids under 1 are free.
Gage Park is free!
Elora Gorge and Elora Quarry
gorge website   |   quarry website
Elora is another new addition to our summer bucket list, so much so that I didn't know the quarry and the gorge were two different spots. Newbie! I'm looking forward to hiking the Gorge and absorbing the scenery from 22m above the water. The hiking trail is fenced off, which puts my mind at ease for taking the kids that high, and I can't wait to have all of us experience something for the first time together. My kids are excited to try the tubing and then make our way over to the quarry for a swim in the emerald green waters. As I mentioned, this is on the 'to-do list' which means my info is from friends and research, so be sure to do your own research before heading out. This is a great free and cheap summer idea!
Admission: Gorge: $3 kids 6-14; $6.50 15-64 years; 65+ $5.50. Kids under 5 are free. Tubing fees are additional.
Quarry: $3 kids 6-14; $6.50 15-64 years; 65+ $5.50. Kids under 5 are free
Currently closed
Storybook Gardens in London, Ontario
Immerse your family in the real-life fairytale that is Storybook Gardens. Practice your pirate skills at the Pirate's Training Tower, then zoom down the three-story pirate's tower slide. Hop over the giant frogs at the Frog Pond, and keep your eyes open for turtles and carp, too. Then feed the ducks at the Duck Pond, and cool down at the On The Riverbank Splashpad. Don't forget to ride the swings, the Ferris wheel, and the carousel before checking out the Old Woman's Shoe and the enormous sandbox! In case you need help deciding which day to visit, be sure to check out the events calendar to see what their "themed day" is. We love this inexpensive idea!
Admission: $7.50 per person or $27.00 per family of 2 adults, 2 kids. Under 2 is free!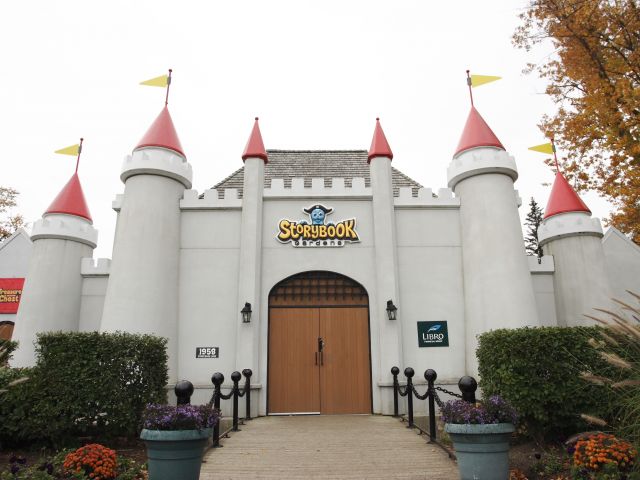 Dundurn Castle and Pier 4 in Hamilton
This one is an outing that my husband asked for, in part. I was looking for new places to check out, and when I looked up Dundurn Castle (because I love castles) my husband was as interested in touring it as I was. I thank all those episodes of Downton Abbey for their influence! Once we have toured the castle, as appreciation for the kids who will be extremely well behaved and engaged in the history that the castle has to share (?), we'll spend the rest of our day at Pier 4 in Hamilton. Pier 4 boasts a 24-metre tugboat which acts as the centrepiece of an interactive water play area for kids.
Castle admission: $6 for kids 6-12; $9.50 for kids 13-17; $11.50 for 18-59; $9.50 for 60+
Pier 4 park: Free
Currently waterfalls are closed
Pirate Ship, Picnic and Hamilton Water Falls
We first mentioned La Grande Hermoine in our Day Trips to Culture Spots post last year, and if you haven't been, you should really go and marvel at this long-abandoned beauty of Lake Ontario. The ship's history makes for an interesting story, but having the kids come up with their own version of how the craft became shipwrecked in the Jordan Harbour is even more fun. After, why not picnic at a nearby waterfall? We pack a lunch and soft blanket and set up a spot (within sight of the waterfall when possible) to snack. Afterwards, we dip our toes into the cool, free-flowing water. Our family favourite is Albion Falls in Hamilton.
Admission: Free, free + free! How's that for free and cheap summer activities?!
Geocaching in Mississauga
Geocaching is a favourite of ours, and we still consider ourselves newbies at it, but that hasn't stopped us one bit. I love that we're outside, working as a team, and being active, and my kids love seeing what 'treasure' the next cache will hold, and selecting which memento from our collection we'll leave behind. A friend and geocaching pro recommend Erindale Park (near the U.T.M. campus) The park has quite a few caches within close proximity to each other, which makes it great for young kids who may lose interest easily.
Admission: Free! Even the geocaching app has a free option.
These are just a few of the free and cheap summer ideas we've done or plan to do this summer. There's a ton of great vacation days left, plus the weather is cooperating, so go!
More Free and Cheap Summer Activities…
Check out a local pick-your-own farm for some berries, flowers, and more!
Make today sweeter with the best doughnuts in town!
Beach days and splash pads are a great way to cool down for cheap.