On the border of Burlington and Oakville is Burloak Waterfront Park and it's going to be your new favourite park. Its Lake Ontario views and rubberized playground base are a huge draws for families from all over the region.
Thanks to Janelle and her kiddos for visiting their favourite parks and writing about them for us all. Here are her notes and tips on Burloak Waterfront Park.
This is a favourite park for families with kids under 8. The rubberized ground cover is a huge draw. Wobbly walkers needn't worry about scraped knees and parents won't be picking woodchips out of their kids shoes and clothes after an afternoon here.
The paved waterfront trail is perfect for all kinds of wheels. Pack or ride your bikes and scooters when you visit and you'll have even more to enjoy. The views of Lake Ontario are beautiful and peaceful and there is lots of green space and shade for a picnic lunch.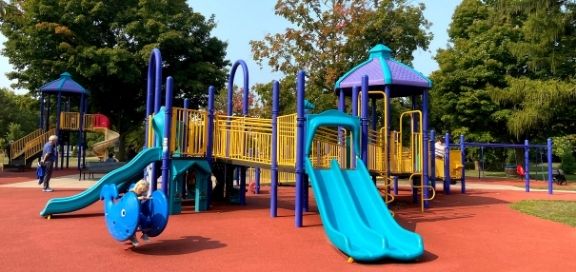 Burloak Waterfront Park has Rubberized Ground Covering
With the rubber surface and the minimal stairs and lots of small slides, it's easy to let the little ones roam free and be independent. The steep spiral slide is perfect for the adventurous kid who loves a thrill, and your tiny ones will love the pint-size slides that will give them their first solo slide ride safely! The park is home to a few mystical creatures, too. But don't worry, they're tame and love being included in your make-believe adventures and climbed on.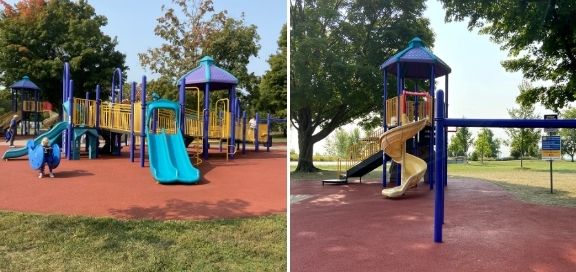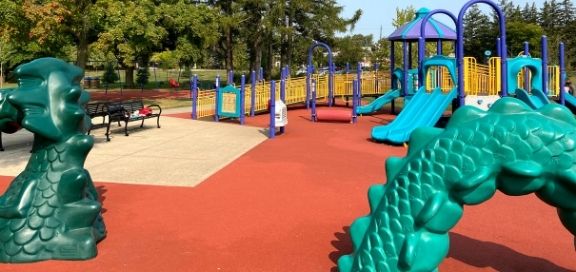 Afternoon shade is a perk at this park when the weather is hot. But there are lots of mature trees scattered throughout Burloak Park for a quick break in the shade.
It's easy for the young ones to stay here for hours and still not want to leave. (But really? Does any kid enjoy leaving the park?)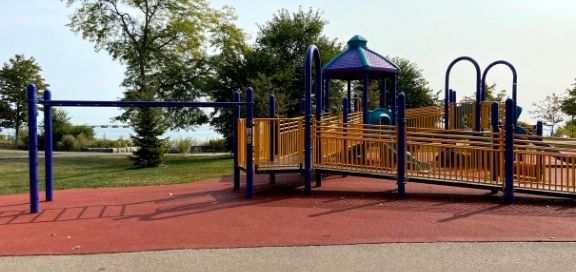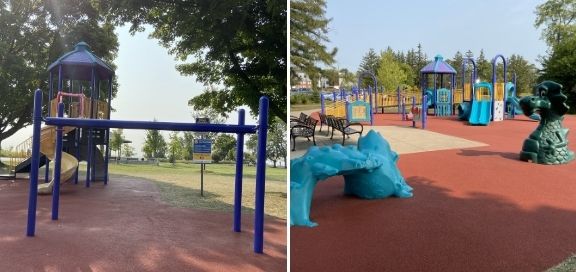 Burloak Waterfront Park Amenities:
1 spiral slide and 5 small slides
4 regular swings, 1 baby swing and 1 accessibility swing
Straight zip line
Monkey bars
Toddler-sized rock climbing
Imaginative play areas
2 small parking lots
Lots of benches nearby.
Burloak Waterfront Park is located at 5420 Lakeshore Rd., Burlington.
More Playgrounds
Parents are loving our Parks and Playgrounds guides and you can find them all here.