Add a day at Milton Community Sports Park to your summer calendar if you're looking for a park that has a playground, zipline, basketball courts, beach volleyball courts, skate park and more!
where is Milton community sports park?
Located at Derry Road and Hwy 25, this mega sports complex is easily accessible by car if you're not local. There is ample free parking. Pop the address 805 Santa Maria Blvd. into your GPS and have a great visit!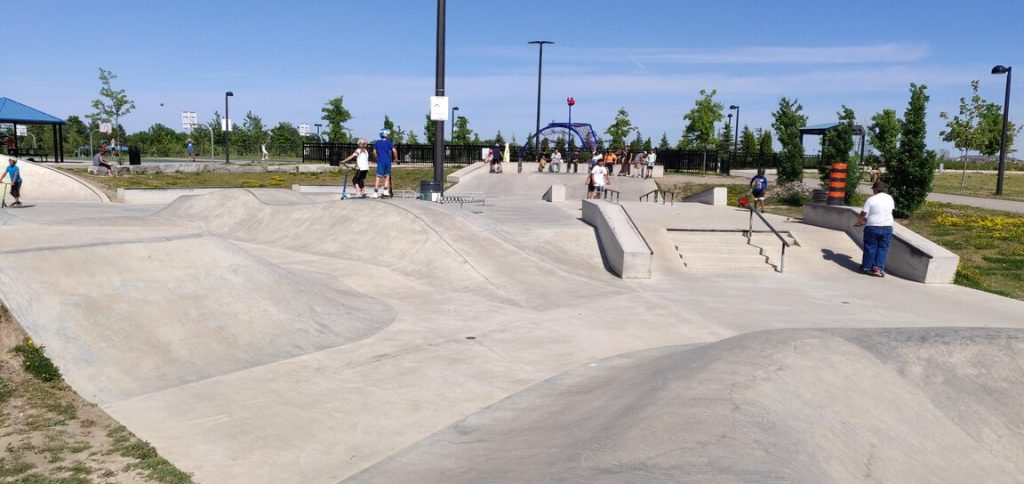 what can you do at this Milton park?
In a word. Everything. Outdoors – which is where we were – is equipped with the following areas:
Basketball "courts" – the 4 courts are not big enough for a regulation game but great for free throws, or 3 on 3.
A skatepark with a separate bowl – kids of all ages were able to make use of the various-sized ramps, grinds and drop-ins. The bowl was completely separate from the main skate park, and the kids liked that so they could practice drop-ins without the congestion. This was a large and very popular park. Park your patience.
Beach volleyball courts – we saw kids taking part in a city program on the 6 beach volleyball courts. The courts and nets were in great shape.
A well laid out playground – the playground was spread out very well, so there wasn't any congestion even those there were lots of kids. The playground has a zipline that was very popular with kids of all ages. 4 big swings and 2 baby swings, a smaller climber perfect for toddlers, and a long climber (see photo) for the more adventurous and skilled kids.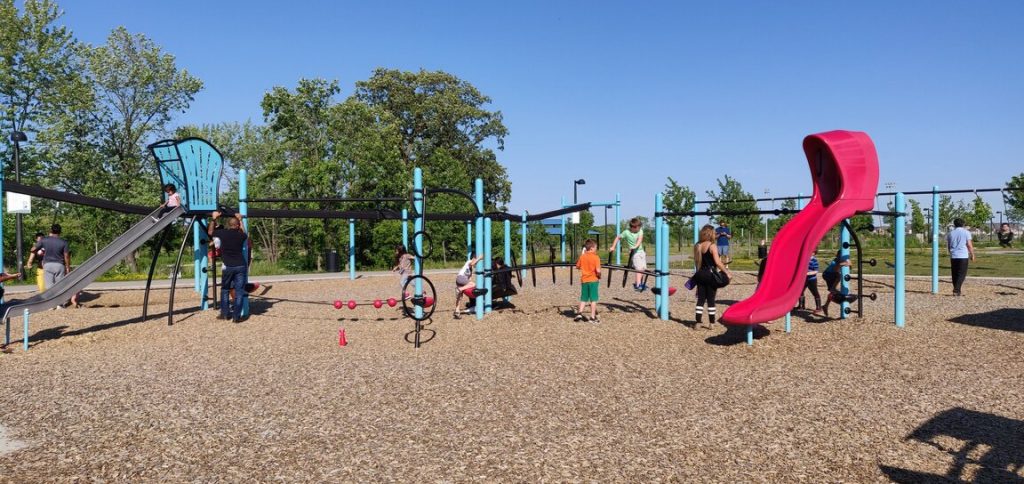 huge climber for the win!
The massive climber that we teased you with in our Instagram stories was the main attraction for my kids. It was over 2 stories tall and somehow was accessible for little kids and a challenge for my tween and teen! I saw some parents make it to the top as I clutched my pearls and kept my 2 feet on the ground.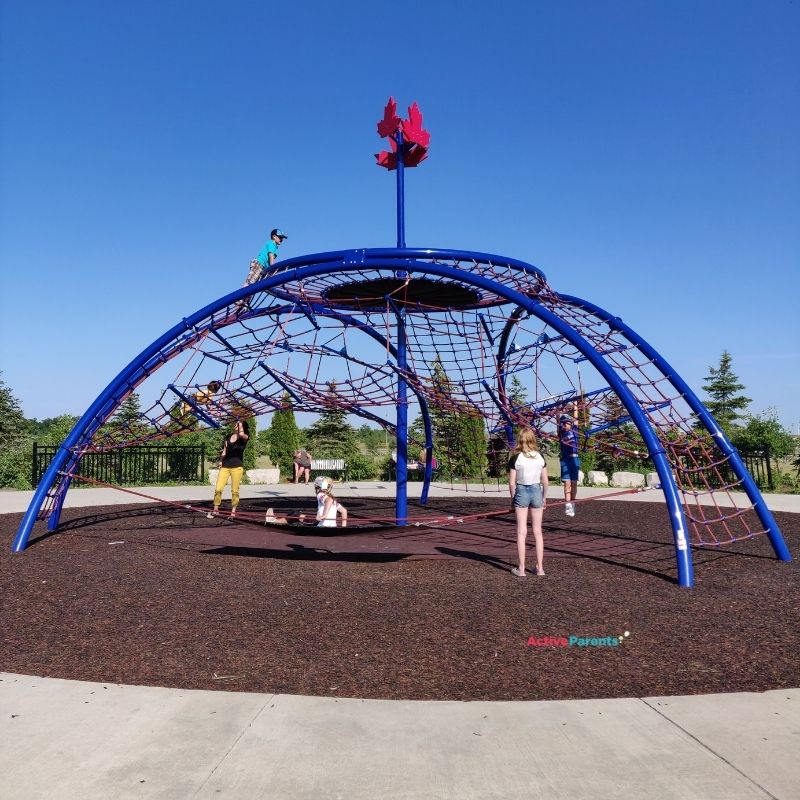 indoor activities at the community centre
We didn't venture indoors because nothing is accessible right now, but during regular times you can find numerous ways to stay active and have fun at the Milton Community Sports Park community centre. Swimming, sports gyms, fitness, children's and adult programming and more will return gradually as the province reopens.
tips for your next visit to Milton community park
Bring your wheels because there are bike paths and a skate park to roll around. The paths that wind throughout the playground area are all paved, and very stroller- and wheelchair-friendly. And wear comfortable shoes so you can make good use of the walking paths too!
Sunscreen and hats. The trees aren't yet giving off much shade, and covered seating is limited. There are lots of picnic tables though, so pack a picnic and lots of water.
Bring your balls! Lots of wide-open grass space for soccer, catch, and kite flying.
More Playgrounds You will love
Did you know you can sort our playground and park reviews based on what you need? Hate woodchips? Choose places with rubberized play surfaces. Need a covered or shady spot to set up base for the day? We can help you find that. Everything from great parking to access to washrooms, we know it and we tell you. Click here to find your perfect park.
Read Our Latest Articles
Catch up on what we've been covering! Here are our latest reads, hot off the presses just for you. Never miss an article when you subscribe to our weekly newsletter filled with kid-friendly fun and events.