A great friend recommended we visit Heritage Green sports complex in Stoney Creek and boy are we glad they did! Here's why we think you should plan a visit right away!
>> Looking for the best playgrounds worth visiting? Read all of our reviews here.
>> DOwnload one of our outdoor scavenger hunts and add an extra element to your park play
We Loved Heritage Green Sports Park
It's not hard to get my kids to go to a park, and it's so simple when I tell them there's a zipline! Ziplines are so exhilarating for kids of all ages. Heritage Green Sports Park's playground has a double zipline, one regular one and one special needs swing chair zipline – this is the first one I've ever seen! My kids tried them both out – naturally – and they're both so exciting!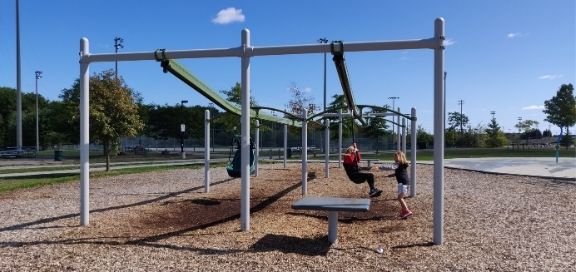 The entire playground was filled with play gear that I had never seen before. A mini ropes course and a rope climbing pyramid are great for kids who love to climb and swing and use their imagination. Their height makes them perfect for big kids and little ones. The rope pyramid spins if you've got some muscle, but doesn't spin fast enough to be scary or dangerous.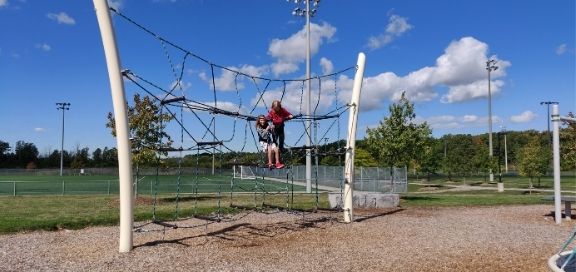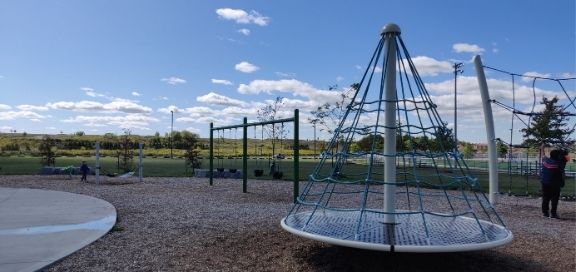 Challenging Climbers
My kids were surprised that this park didn't have any slides, but they would gladly swap sliding for climbing, so slides weren't missed at all. The standard and baby swings were fun, but my kids absolutely loved the hammock swing the most! Such a unique piece of equipment and the kids at the park were using it in a variety of ways. Heritage Green Park really stimulated their imaginations!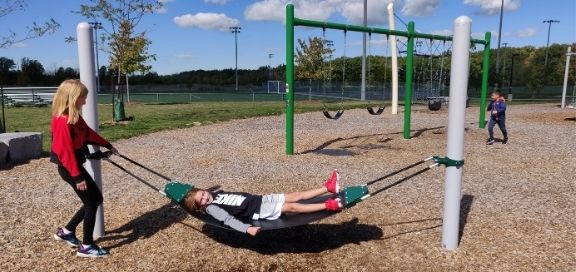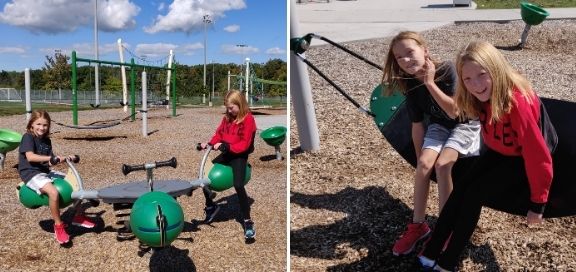 Splash Pad and Sports Fields, Too
We were there on a day that was a cool 14 degrees out and the splash pad was still on, so if you're up for a challenge, feel free to bring your swimsuit. On a hot summer day, these water jets and tipping buckets will make for a great splash pad and park visit. Bring some snacks or a picnic and eat at the tables.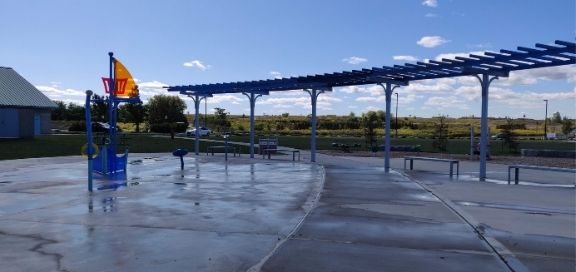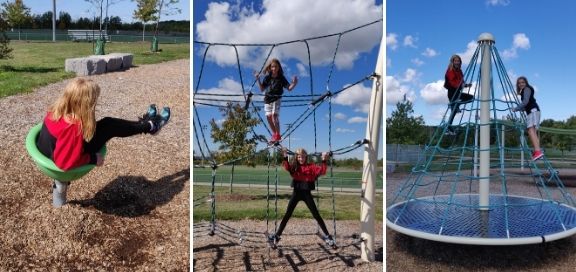 The many athletic fields use a majority of the space at Heritage Green Sports Park it's home to. They're new and beautiful, and already well-appreciated by the soccer and baseball players.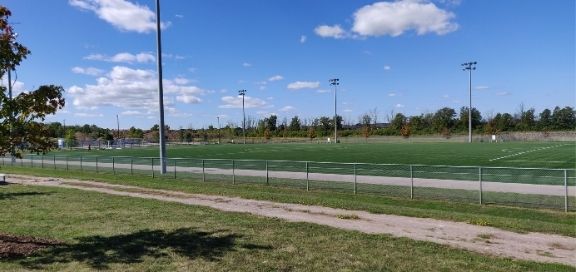 Heritage Green Sports Park Amenities
Lots of free parking in multiple lots
2 baseball diamonds
5 soccer pitches (4 natural and 1 artificial)
Field house
Dog park
Splash pad
Playground

4 swings – 2 regular and 2 baby swings
2 zipline swings – 1 regular and 1 special needs chair
hammock swing
rope pyramid
mini ropes course
spinning and rocking equipment
Heritage Green Sports Park is located at 355 First Rd W, Stoney Creek
More Ideas For Family Fun
We have visited hundreds of places and written about them to help you find the very best destination for your next day trip or outing. We love sharing indoor play places, playgrounds that go above and beyond, and more! Here are a few of our latest blogs to help you have a great weekend.