If you live around the area you may have noticed Mountview Park on West Hamilton Mountain had a total makeover this summer. Kristin and her kids love this park and are here to share the updated details with us.
New play structures
In early July they took all the play structures down, save for the swings and the circular splash pad. The new park was put up quickly and it is so much better than what was there before! Mountview Park's new green and blue colour and bug theme attract the eye, with two separate play structures, one for young kids.
The structures include a small slide and a couple of steps for the little ones to climb and one bigger structure that almost resembles an obstacle course. The latter has different steps for kids to master fun and different ways of climbing. Once you get to the top, there is a nice-sized double slide where kids can go down side by side with their friends or maybe even an adult if needed!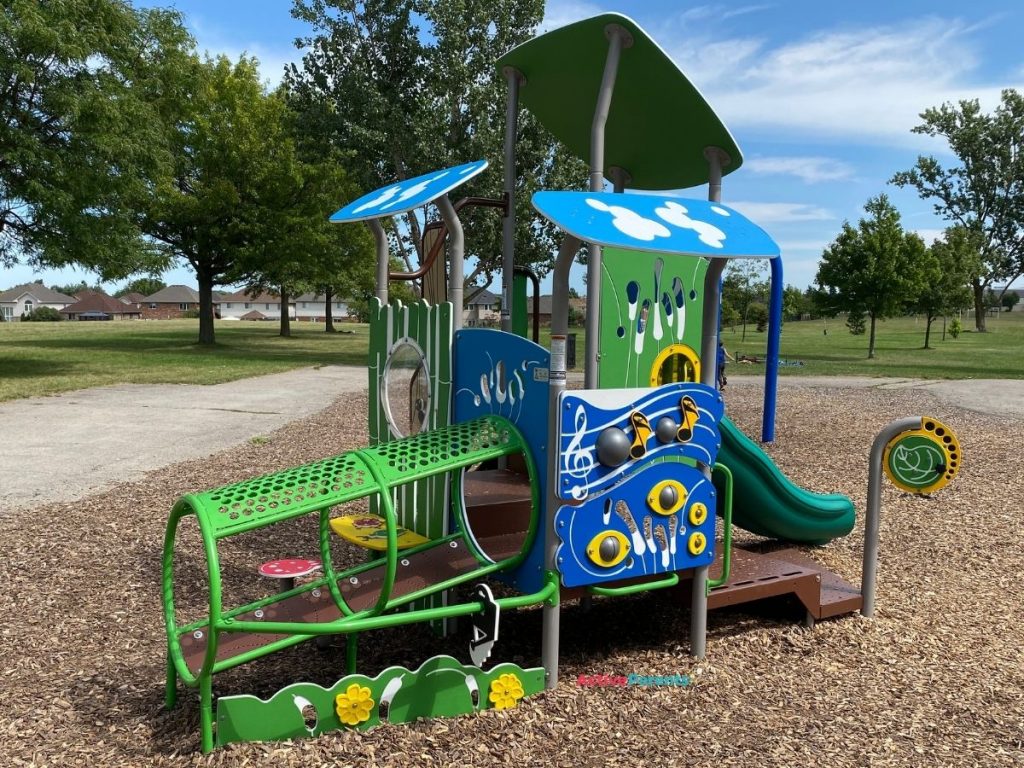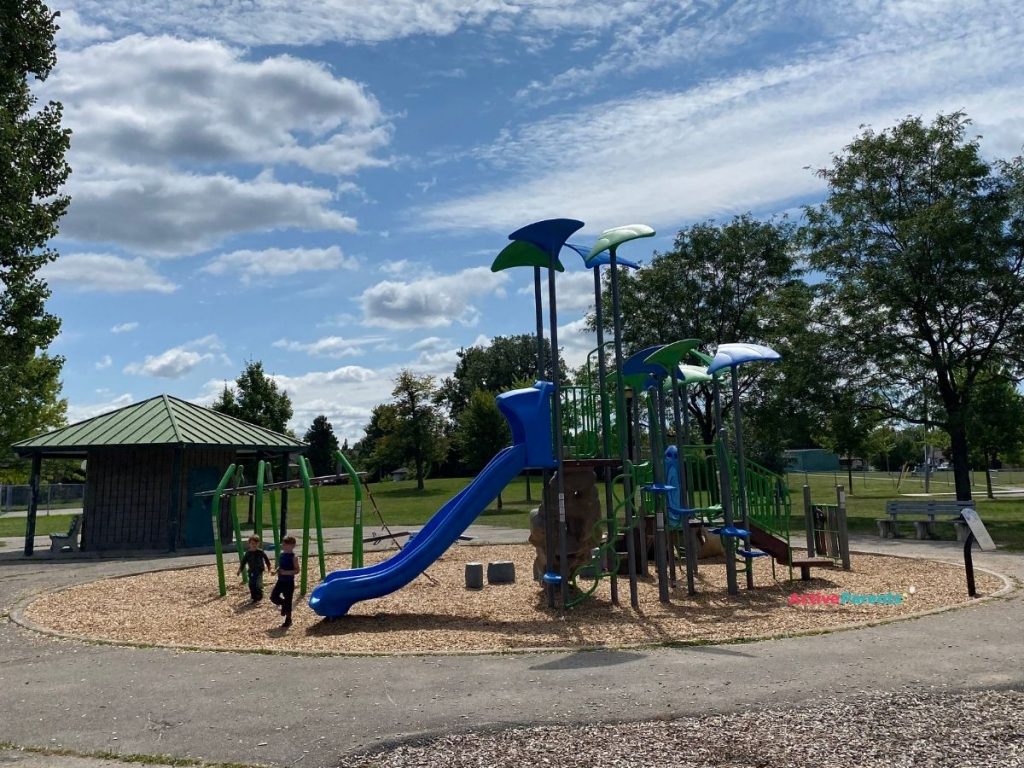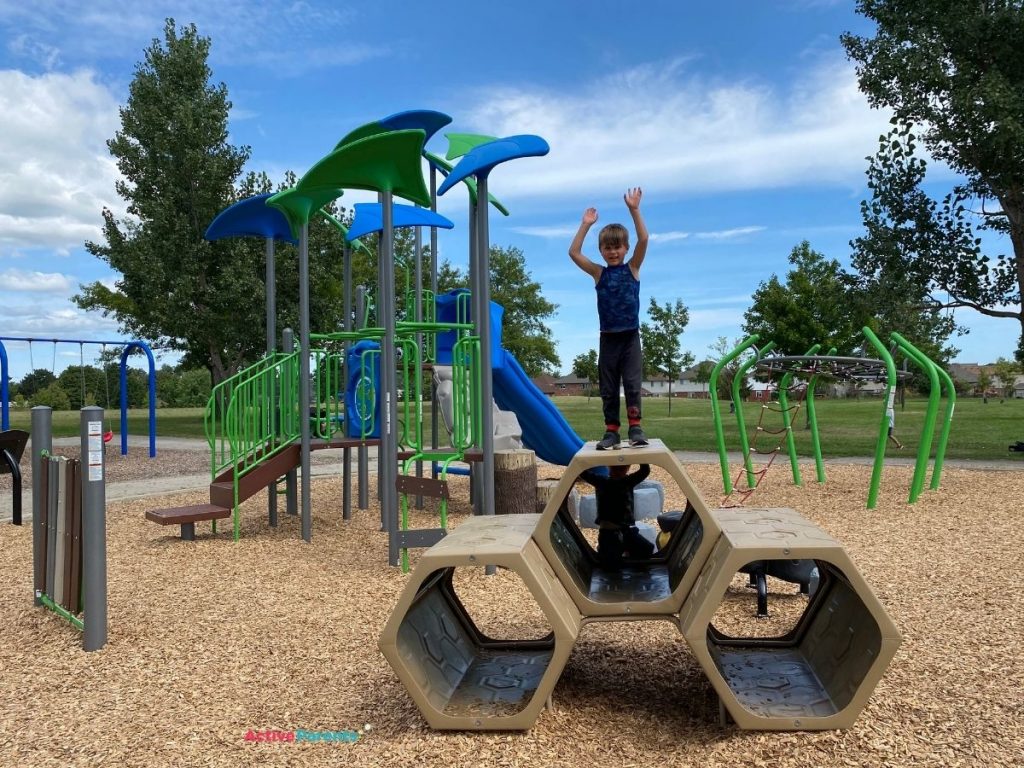 Continuing on the obstacle course theme, there are a couple of mock stone steps that lead you to a rope climber that resembles a spider web. Kids like to climb up on the ropes or use them as monkey bars. A couple of extra pieces add to the park's overall bug theme, which seems to be a hit with the little ones. The row of six swings is still there, including three regular swings, two baby/toddler swings and one high-backed swing.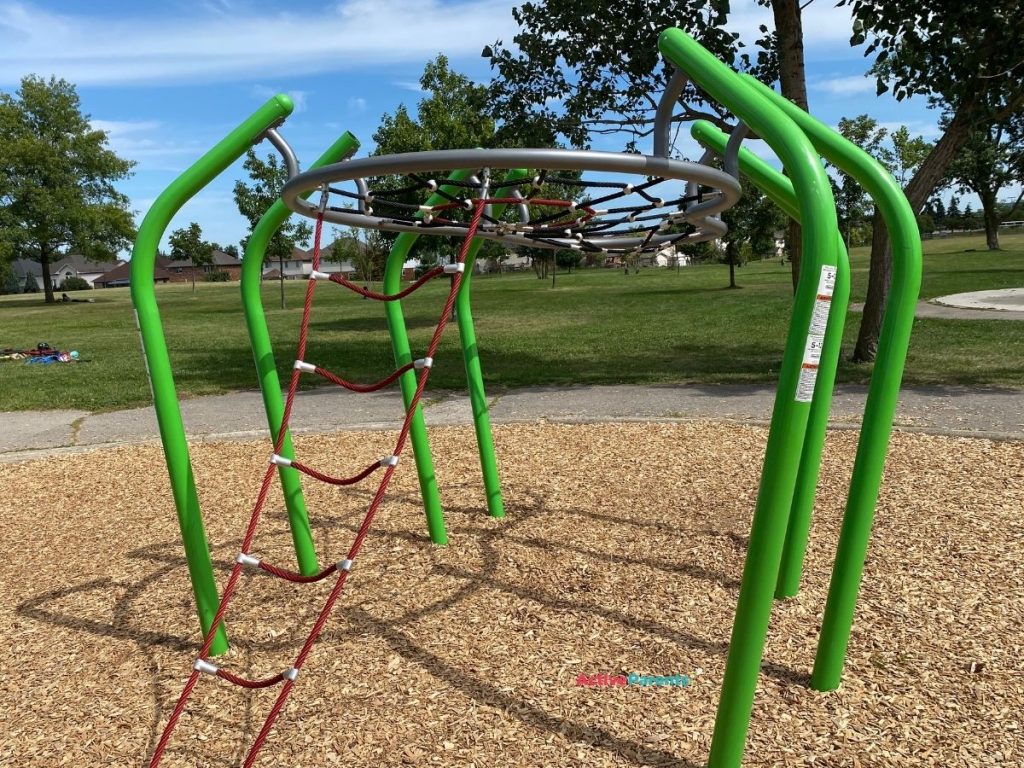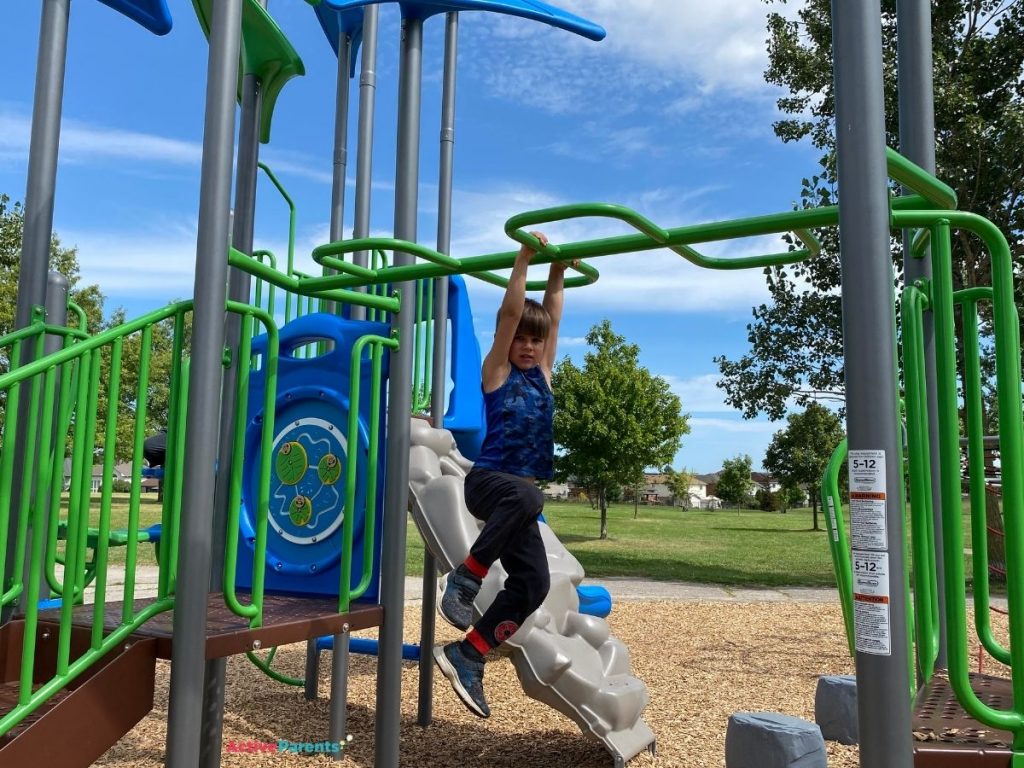 look at that green space!
Mountview Park in Hamilton is situated in the middle of a nice large green field. There is plenty of space to kick around a soccer ball, play catch or tag on one side, and on the other is a small basketball court with two baskets. Further out from the park there is a large soccer field and some nice shade trees.
There are only a couple of benches and picnic tables around but if you bring a blanket, you can sit in the shade and see the whole park and perhaps enjoy a picnic. There are no park washrooms on site save for a port-a-potty that has been there this summer at least.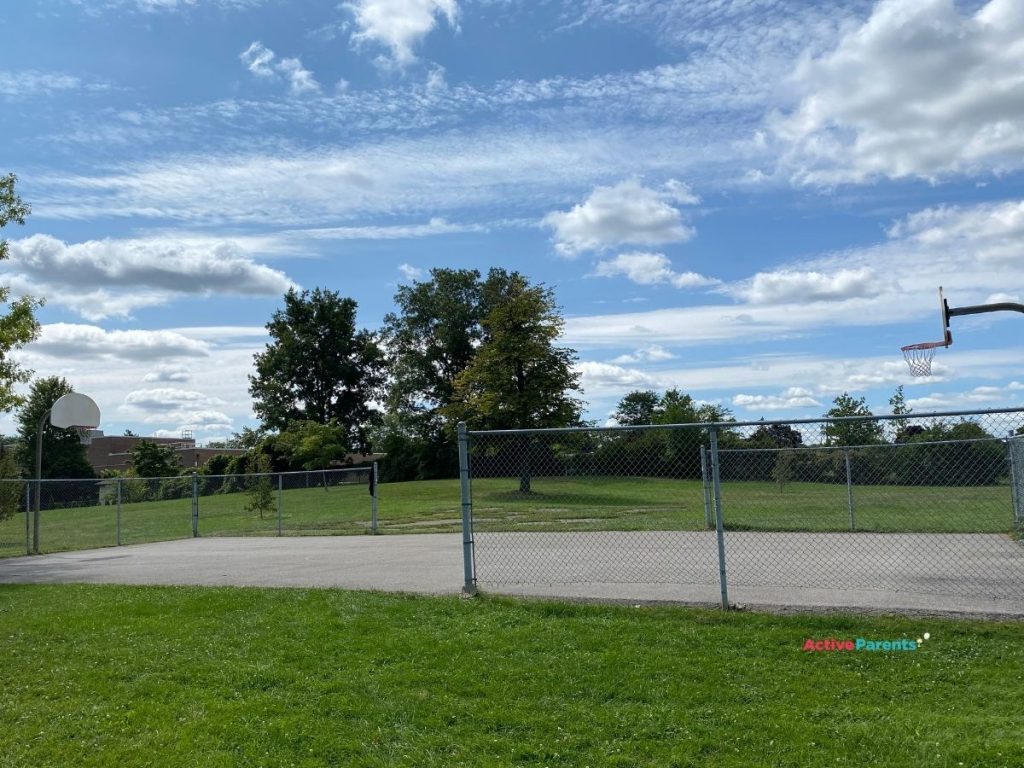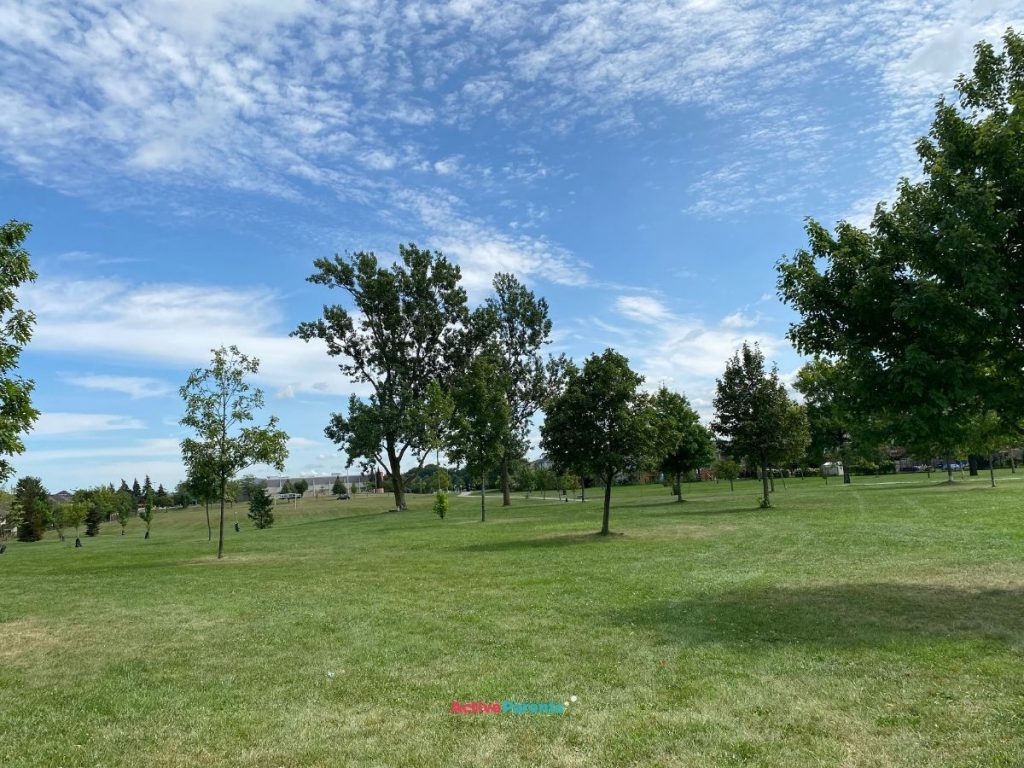 Mountview Park sits in the nook of San Antonio Drive, right next to Mountview School. You can also access it from the other side if you're coming from the Chedoke Twin Pad arena (Chedmac Dr and Southridge Dr) via a nice paved path along some soccer fields. The path circles right up to the play park, and the kids can easily bike back and forth. Unfortunately, there isn't a dedicated lot for the park on either side, but street parking is available.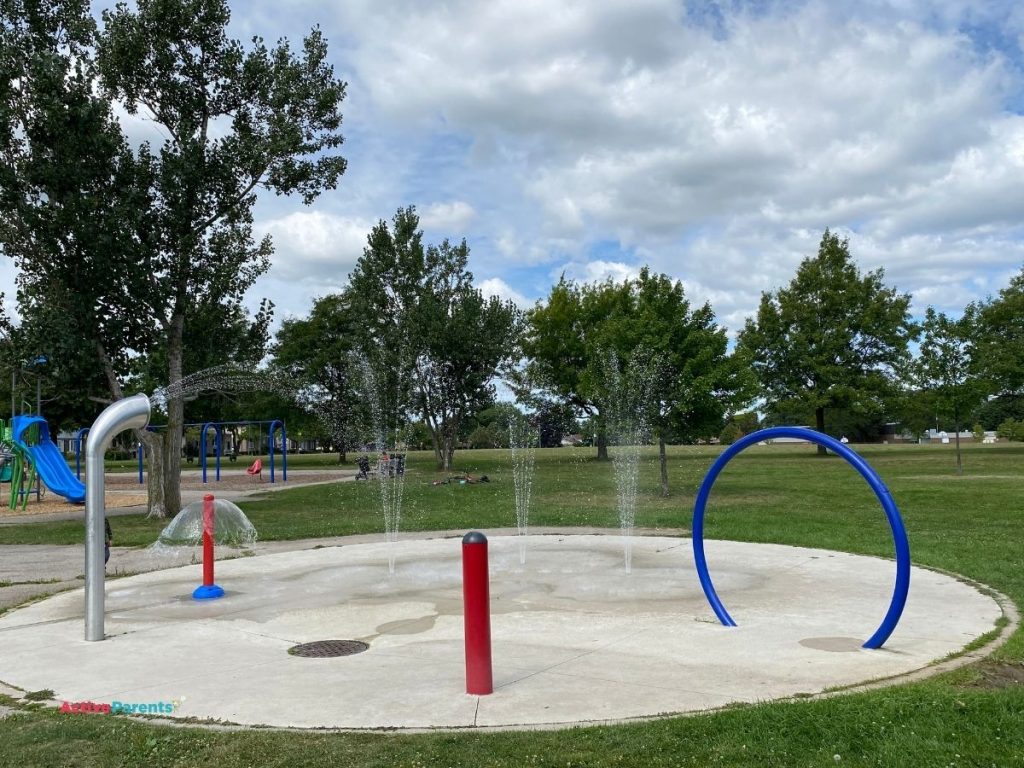 Hamilton's Mountview Park Highlights:
Brand new colourful play structures to try out: swings, slides, and lots of things to climb
Splash Pad for a quick cool off
Wood Chips under all park structures
Paved path great for bikes, scooters and rollerblades
LOTS of green space for playing and running around
We are really enjoying the new park this summer, so if you are out and about looking for somewhere to go, come and drop by!
Mountview Park is located at 115 San Antonio Drive in Hamilton.
find more parks in the area here
We can help you find more outdoor fun here, or check our Calendar and see what's happening right now! If you're in a playground mood, we've got tons of recommendations for them below!
More Ideas For Family Fun
We've been to so many cool places, and we've made it our mission to share all the fabulous locations we find with you. Whether you're planning a day trip or looking for the best playgrounds, we've got your back. We are all about discovering the most amazing indoor play areas, farms and animal experiences, and a whole bunch of other visit-worthy local attractions. Check out our latest blog posts below to make sure you have an absolutely epic weekend!