Oakville's Coronation Park is a beautiful park situated on the shore of Lake Ontario. It's 23+ acres of beauty, and it's an ideal destination for your next day trip.
No matter the season, Coronation Park is beautiful. It offers beautiful views of Lake Ontario and a variety of ways to stay active and outdoors with your kids. Located between Third Line and Fourth Line and offering 200+ parking spots, this park is a popular spot on weekends in the summer.
Two Playgrounds for Double the Fun!
Coronation Park is home to two playgrounds, each catering to different ages. The smaller playground looks like a treehouse village and has equipment that lets little ones safely climb, crawl and explore at their own pace and at appropriate heights. 2 slides, 3 baby swings and 1 special needs swing, climbers and imaginative play make this park a favourite for the under 5 kiddos.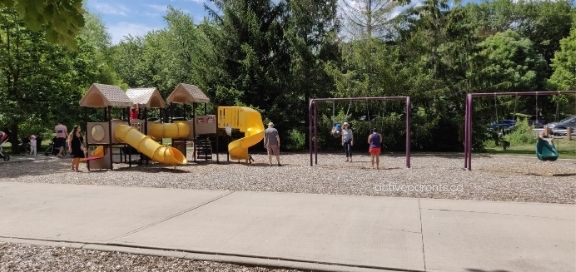 The second park at Coronation Park is perfect for your climbers! The playground structure offers a variety of ways to climb up and 5 ways to slide down. And once they make their way to the top there are 4 slides for them to zoom down. There are also swings and 3 large, separate rock climbing walls.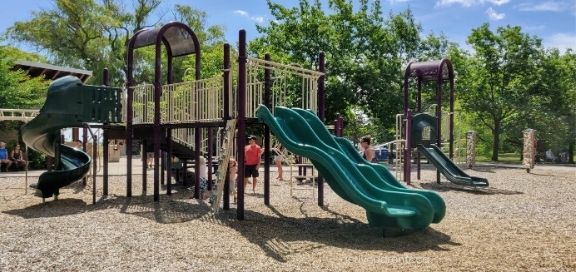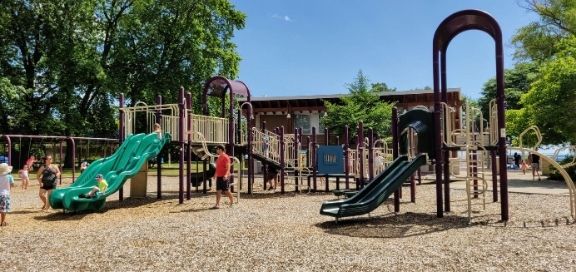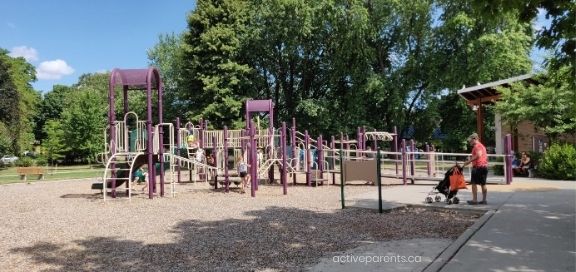 Coronation Park Splash Pad
This just might be the coolest splash pad we've been to this summer. With it's regal them and super-sized crown that dumps a TON of water, it's as fun to watch as it is to play in. There are lots of interactive ways to play at this spray pad like directing the trupmets or shields that shoot water. Coronation Park splash pad also features a little misting/low-pressure spray zone for the little ones. Just sitting around the splash pad keeps you cool because the mist floats over.
As you can tell from the pictures, there are lots of shady spots at Coronation Park, even on the playground itself.
Coronation Park Features and Amenities
200+ free parking spaces
Almost 24 acres of beautiful park space
Splash pad

dumping bucket
low-pressure misters and sprinklers for toddlers
moveable water shooters

2 beach volleyball courts
2 playgrounds – 1 pre-school size, 1 regular, both with woodchip groundcover

the preschool playground offers tree house style with appropriately sized swings, slides and climbers
the other playground offers big swings, 3 slides, and 3 climbing walls

Washrooms
Snack bar facility
Covered pavilion with picnic seating
Picnic benches and park benches throughout the park
A small stream running through
Lake Ontario beachfront access
Lots of mature trees offering ample shade, even in the playground
Tips for Your Visit
If you can visit through the week, do it. This summer Coronation Park has seen a huge influx of visitors and weekends make it harder to find parking and spaces to socially distance.
Coronation Park is located at 1426 Lakeshore Road West
Now Trending…
Find more fantastic Parks and Playgrounds here
Try one of our kid-approved hikes
Dip your toes in the lake at one of the best family beaches around