Have you been to Hidden Valley Park in Burlington? Many parents agree it's one of Burlington's best free things to do. And get this, Hidden Valley is home to 2 playgrounds, each completely different and so worth talking about.
Hidden Valley Park needs to be high on your list of parks to visit if you've not been yet. Located in Aldershot, we were originally drawn to it because my kids love monkey bars and geocaching. If you have a monkey bars fan, they'll get a good challenge here.
Hidden Valley Park is located off of Plains Road West, just west of Waterdown Road. There is a large gravel parking lot, with enough parking for about 40-50 visitors. When you arrive, you'll breathe a huge sigh of relief as you see the – cue the angels singing – public washrooms. Yes, it has public washrooms!
The park is fenced in on the side facing the parking lot, with the perfect mix of enough fence for safety, but not feeling like it's closed in. As I mentioned, we were on a mission for monkey bars, so my trio of terrors took off for the play structures. Hidden Valley Park has a larger structure and a smaller one. My kiddos were 6 and 8, so they had no trouble with any of the equipment. I saw little diapered kiddos roaming all over too, but on the above-ground structure there are openings, so they'll need to be supervised.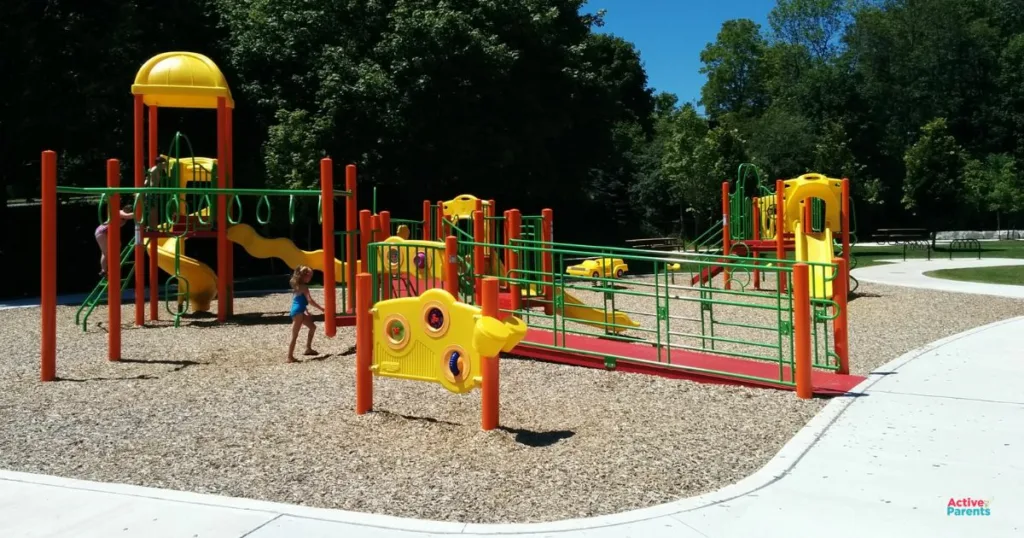 Playground Equipment At Hidden Vallery Park
Hidden Valley has a variety of climbers and slides, and the ramps that connected them provided just as much entertainment. The kids imagined that the structure was everything from a tree house a la Swiss Family Robinson, a pirate ship, a space ship and an apartment for superheroes. There were swings for big kids and swings for little kids and a high-back full-support swing. We were happy to see that the picnic tables were wheelchair accessible.
When you walk the Hidden Valley Park grounds, you'll come to the Burlington Model Railway Club. It was closed on the day we were there, but it is open to the public during its various free events throughout the year.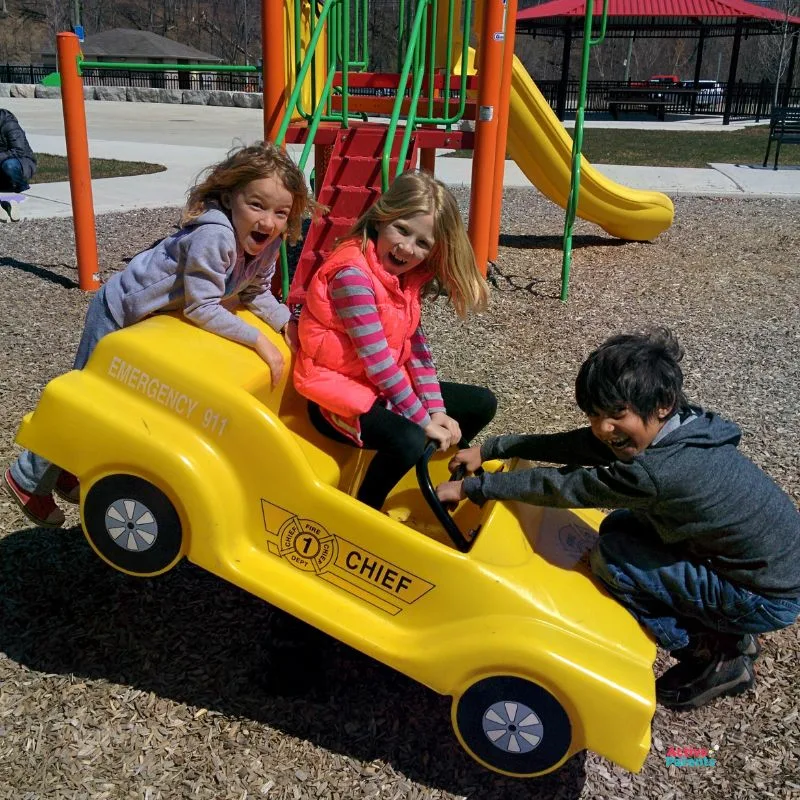 Geocaching and Exploring
Walk to the wooded side of the parking lot and you come across a bridge that takes you over Grindstone Creek, and to a clearing with what my kids described as a "ghost cabin". I'm not sure what it was before, but now it's just a boarded-up stone building no bigger than a shed. And it's not scary, so don't worry. We were hot on the trail of a geocache, so we climbed the steep hill and were met with two amazing treasures.
Much like the "ghost cabin", the history of the rusted-out car is unknown to me, but we had tons of fun imagining how it got there. Was it an off-road ride gone awry? I'd love to know more about either of these little gems, so if you have details, leave them in the comments below.
After our geocache adventure at Hidden Valley Park Burlington, we sat in the gazebo to have a snack and rehydrate, then we hit up the (surprisingly clean) restrooms before getting in the truck and going home. Disclaimer: The restrooms had toilet paper, were checked throughout the day, and didn't smell, and to me that is clean.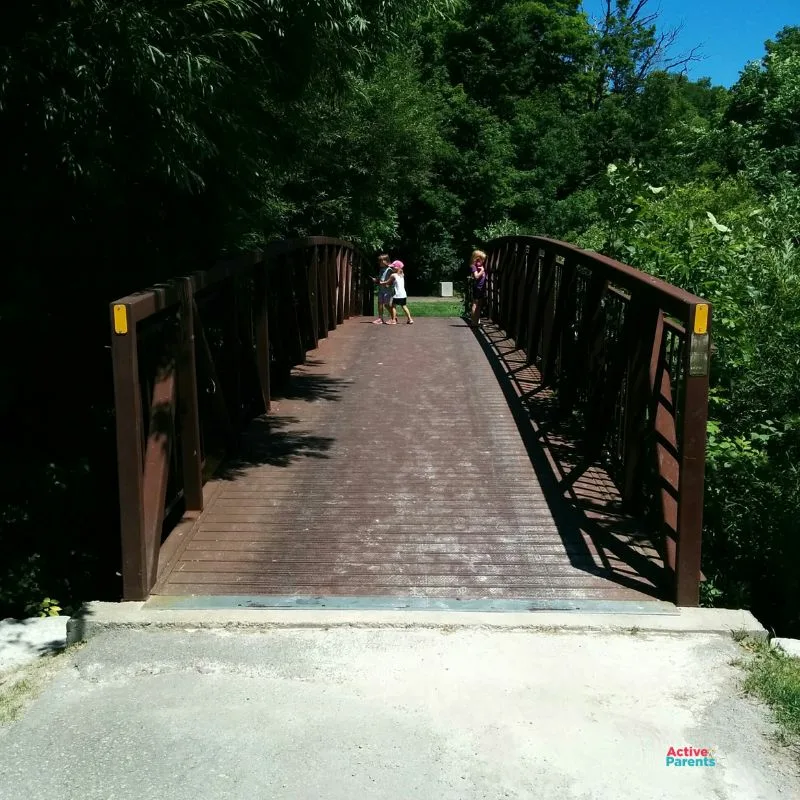 Amenities at Hidden Valley Park Burlington
slides
swings
spring-mounted rescue car
those seats you spin like crazy on
monkey bars for days
splash pad operational during summer
washrooms open seasonally
lots of parking
10+ picnic benches
5+ park benches
shaded gazebo
But That's Not All!
We promised you two parks and we are bringing you two parks! Hidden Valley has a large footprint, so it crossed a road and continues on the south side of Lemonville Road you'll find more fun and adventure.
While we love the spray pad at the park details above, we love the easy access to Grindstone Creek in this section of the park the most. My kids are huge into creek walking and nature exploring so this is one of our favourite places to visit in Burlington. Bring your rubber boots, a bucket and a small net. You can catch some wee little fish and crayfish to check them out up close. Just remember to catch and release.
And keep your eyes peeled for awesome discoveries like this skull from a furry friend who either died of old age or at the paws of a predator. Science at its finest! There is a pathway that has a great canopy cover from the spring through the fall. It's shady and packed gravel which makes it perfect for families, wagons and strollers.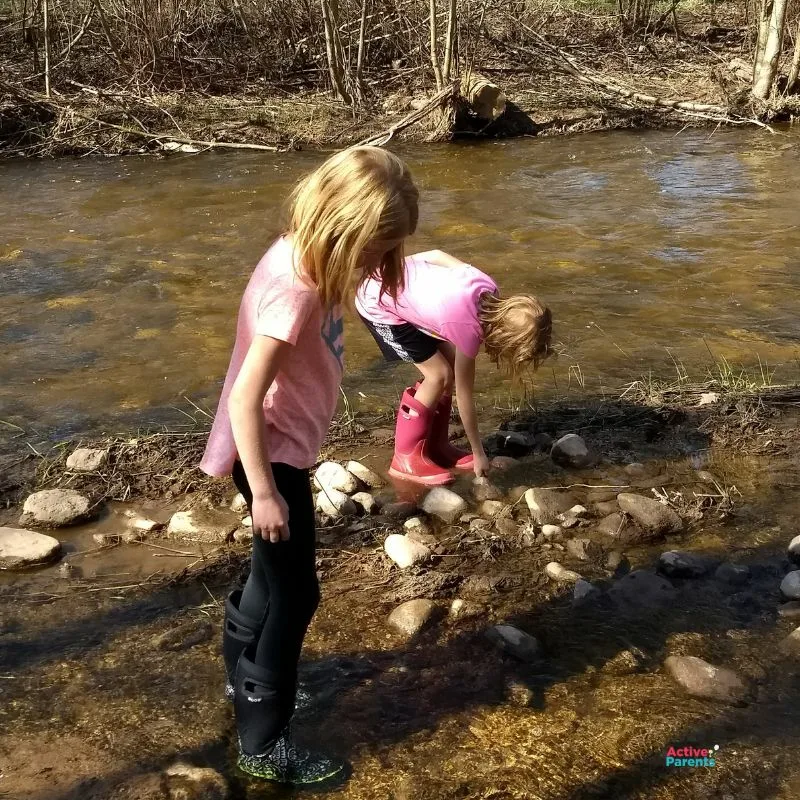 This portion of Hidden Valley Park is also home to a playground with a dinosaur theme. Plus swings and climbers, and another shaded gazebo. Pack a picnic because there are dozen of picnic tables to take full advantage of.
find more parks in the area here
We can help you find more outdoor fun here, or check our Calendar and see what's happening right now! If you're in a playground mood, we've got tons of recommendations for them below!