Maple Park in Burlington's south-west had a makeover and the upgrades make it ideal for toddlers! But bring your big kids too, because this park has fun for all ages!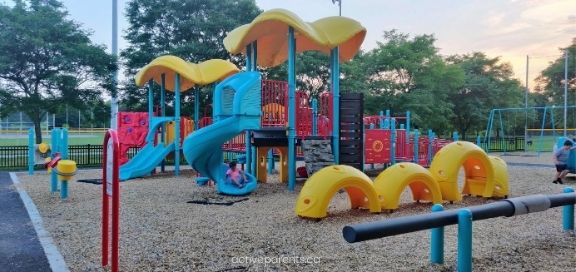 All About Maple Park
Located just south of Mapleview Centre in Burlington's west end, this park has a ton to offer families and kids of all ages. Maple Park's playground was recently renovated and the addition of a fence around the perimeter of the playground means less worrying about your little one running out into the parking lot. The playground is home to swings, slides and a variety of ways to climb and balance. There are small and medium-sized rock climbing walls and the play structure is easy to climb and manoeuvre around on. Little kids will love the slides in 2 sizes and see-saw. They can bang on the drums and balance on the wobbly balance beam. Bigger kids will love the various ways to climb and jump, and everyone loves a merry-go-round! We are seeing more merry-go-rounds appear in parks lately and kids love them.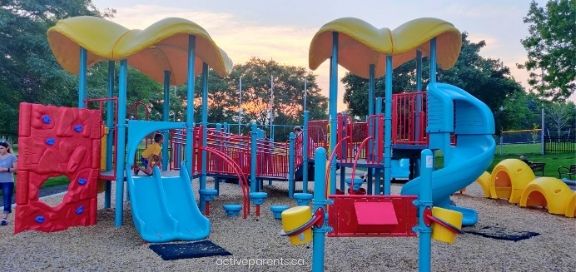 Maple Park is also home to one of Burlington's five community gardens. Wander your way from the parking lot (shared with the Burlington Gymnastics Club) towards Mapleview Centre and you'll stumble upon a quaint strolling path complete with plants and flower gardens maintain by the community. It's a great spot to sit and read while enjoying your tea. You can also add a few steps to your day by taking a longer stroll along the gravel path that stretches from the flower garden all around the perimeter of the park. Perfect for walking with friends or a family pet.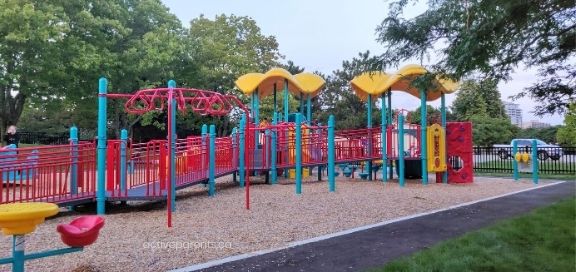 Bring a ball and glove because there are 2 baseball diamonds at Maple Park. There is also one soccer field, and a ton of wide-open space, so no matter what your favourite sports are, you can play them here. Ideal for kite flying and picnicking too! The mature trees offer lots of shade in the summer months and there are a few picnic benches and metal benches spread around the grounds.
Let's roll! Maple Park skate park is a top draw for kids on wheels. The skatepark sees kids of all ages and abilities rolling around on their skateboards, scooters and bikes. There are sections perfect for a newbie and larger parts that challenge even the adults. Picnic tables and concrete seating offer the preferred perches for parents who will surely be spending lots of time here as spectators.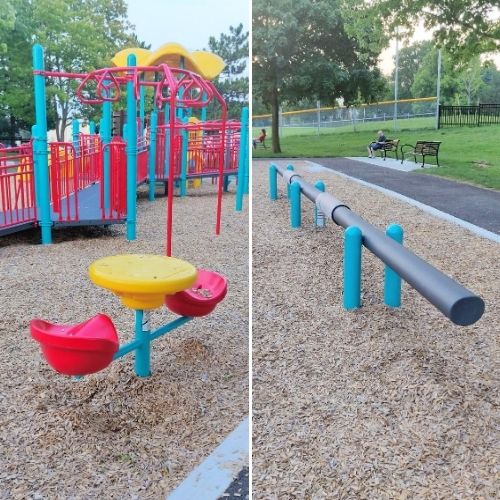 Maple Park Playground Features and Amenities
Free Parking in 2 connected parking lots
Skatepark with ramps, stairs, quarter pipes and a bowl
2 baseball diamonds
1 soccer field
Wide-open fields
Playground

fully fenced in
woodchips groundcover
merry-go-round
balance beam
rock walls and "tires" for climbing on
5 swings (2 big, 2 baby, 1 special needs)
imaginative play parts like truck and drums
2 slides

Benches inside the playground and around the skate park
Water bottle refill station
Shade from mature trees
What's Near Maple Park?
The park is located just south of Mapleview Centre and is easily accessible by transit and close to the QEW/403.
Tips for Your Visit
Bring a refillable water bottle and fill it at the Blue W refill station at the rear of the Burlington Gymnastics building.
Bring wheels and a helmet for the skate park
Keep your pets on a leash and use the garbage receptacles provided throughout the park.
Maple Park – 750 Maple Avenue, Burlington, L7S 2J8
Now Trending…
Find more of our top-rated parks and playgrounds here
Splash pads and pools and water fun – oh my!
Looking for other Burlington skate parks? We've got them here.