Once you read about Riverside Park in Guelph, you're going to want to spend the entire day – or multiple days – there!
Riverside Park in Guelph
Riverside Park is a huge green space measuring about 80 acres in total. It's right beside a portion of the Speed River and that gives it a beautiful gurgling soundtrack for your visit. The park is easy to get to and provides ample free parking. Access to the park is also free.
When you visit, bring a picnic because Riverside Park is set up perfectly for picnickers with dozens of tables and mature trees. Some trees even have outdoor lights strung up between them for a little evening ambience.
Looking for more parks to visit, click here.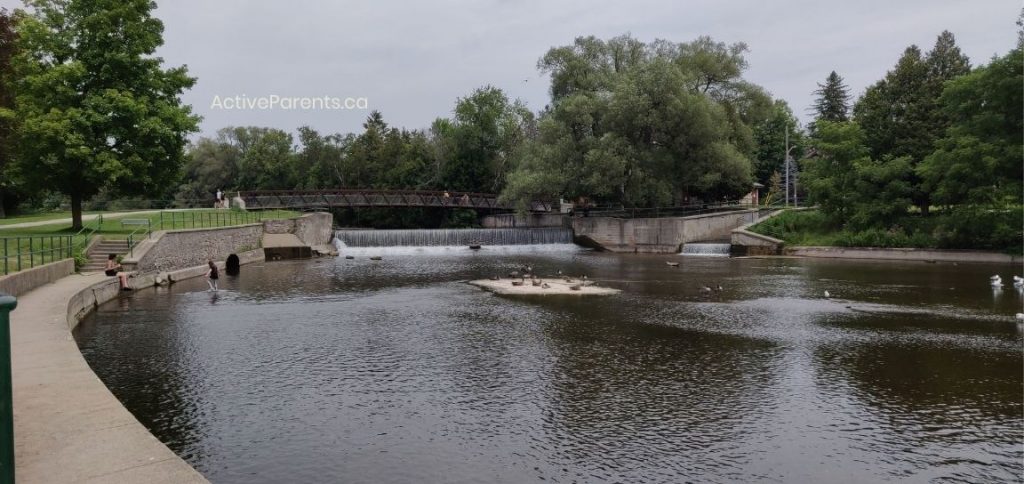 The Park Lives Up to its name!
Speed River runs alongside the park and brings with it lots of Canadian geese, seagulls and ducks. There is a manmade waterfall of sorts and a pedestrian/bike bridge that spans the width of the river. Speed River eventually connects with the Grand River. Access to the river is very easy, so parents of little ones will want to keep one hand on their kiddos.
a natural playground hybrid
The playground structures are very large and offer lots of space for running and playing. The structures are a mix between natural pieces and modern equipment including a wooden fish and a grasshopper-shaped climber. Kids of every age will like the swings, slides and varying sizes of climbing and balancing that this playground promotes. The park surface is a mixture of rubberized ground and woodchips, with paved paths around the perimeter.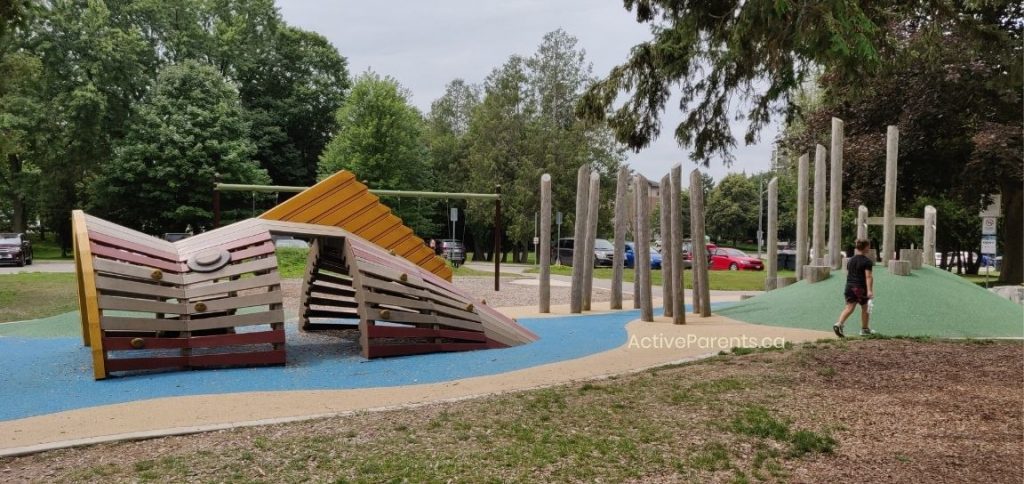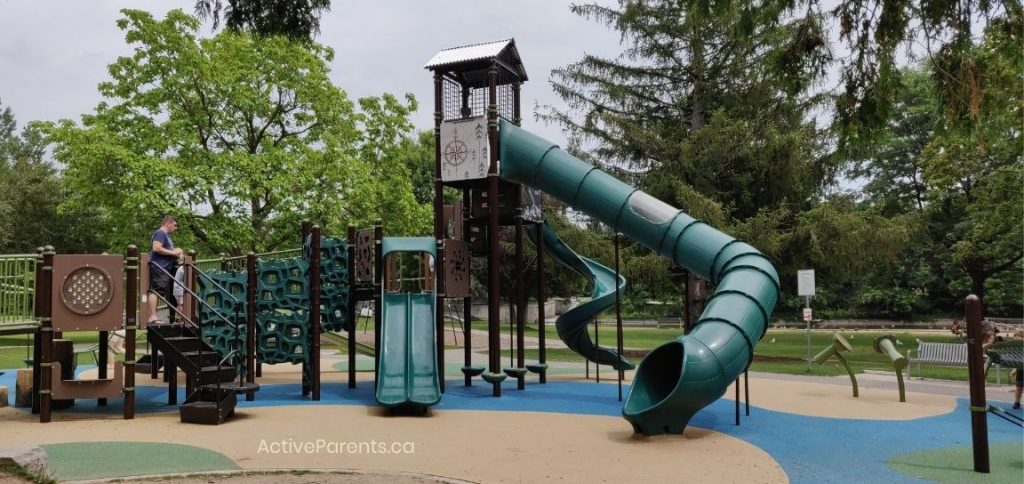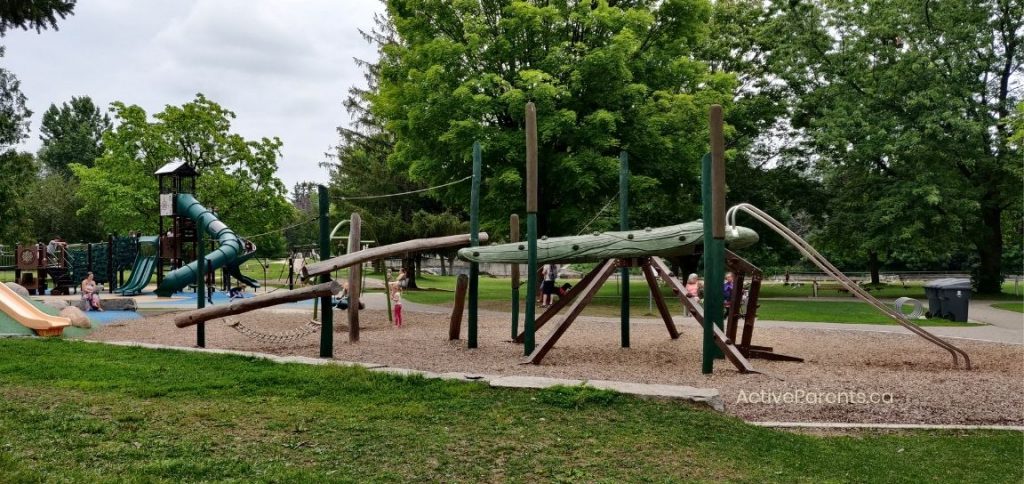 Bike, stroller and wheelchair friendly
Speaking of paved paths, the grounds are home to paved walkways all through the park, and leading into and out of Riverside. They're not perfectly smooth but are definitely wheel-friendly. Bring your wheels and have fun riding around Riverside Park in Guelph.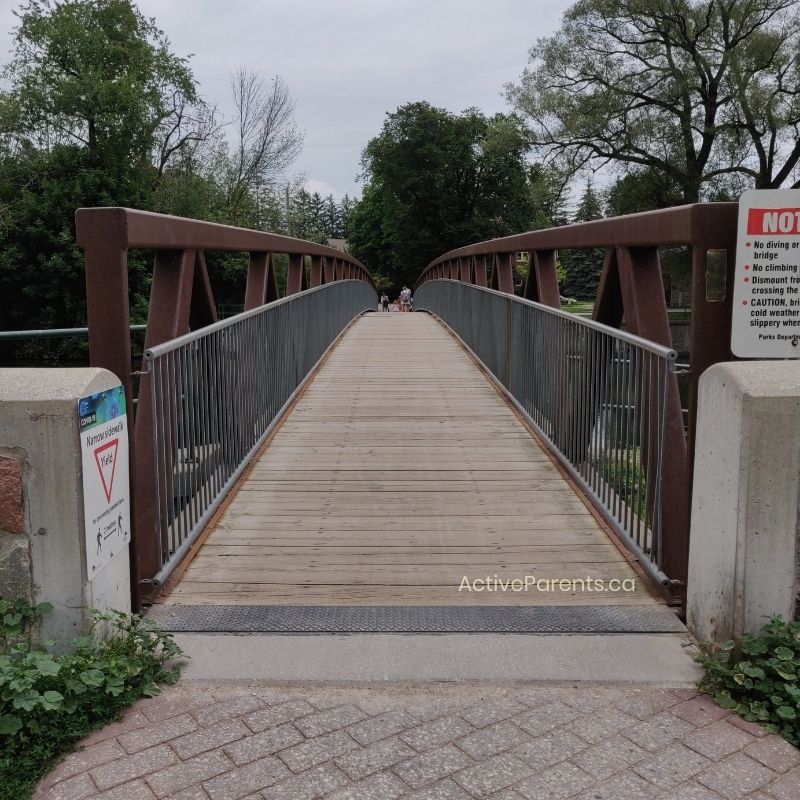 stay for the day
With so much to do, you can plan an entire day at Riverside Park. They allow barbequing and have 4 covered pavillions available to rent (click here to do that). We saw a bridal shower and a couple of long-awaited family reunions happening when we visited. It was great to see the park alive with excitement.
In the future…This park is also home to a carousel, a concession stand and a little train track that normally runs on weekends, but all are currently closed due to the pandemic. We were extremely thrilled to see a Dickie Dee bicycle ice cream treat wagon roll through the playground while we were there though!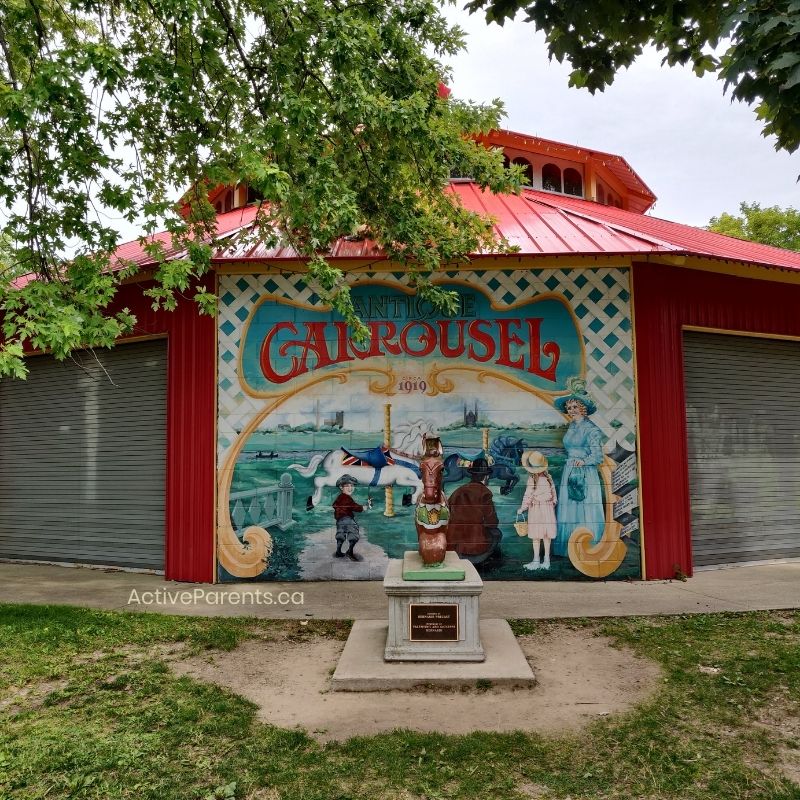 more playgrounds you'll love
We love when a friend recommends something great to do, and that's what we strive to provide you with here. We hope you'll also check out a new playground to visit after reading our reviews.
More Ideas For Family Fun
We've been to so many cool places, and we've made it our mission to share all the fabulous locations we find with you. Whether you're planning a day trip or looking for the best playgrounds, we've got your back. We are all about discovering the most amazing indoor play areas, farms and animal experiences, and a whole bunch of other visit-worthy local attractions. Check out our latest blog posts below to make sure you have an absolutely epic weekend!