A sweet hidden gem in the heart of Milton is Rotary Park. If you've never been, this summer is a great time to visit. It has something for everyone, even in the winter! 
>> Find more must-visit playgrounds with photos, tips and more right here.
>> Have you been to one of these super unique natural playgrounds?
What To Expect At Rotary Park in Milton
The playground is located behind the tennis courts, which are open for public use from spring thru fall. Bring your rackets and tennis balls because an empty tennis court is a great place for kids to whack around a ball and tire themselves out chasing after it.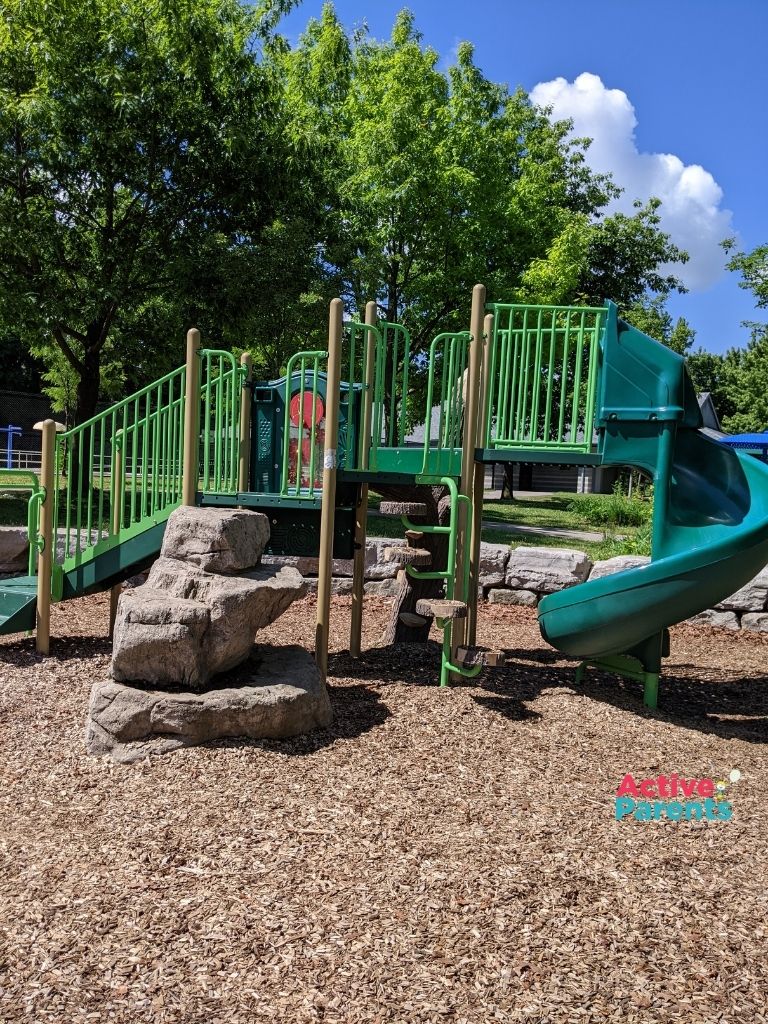 This playground has apparatuses for various ages and skill sets. The climbers feature some cool natural designs of rocks and logs to climb on and through. There are slides of different heights. The playground itself has both big kid and baby swings, as well as more swings in the shaded trees with some sand underneath. It also has this awesome swing great for the bigger kids to practice their balancing on! 
Next, you have the splash pad and pool (It opens up on June 25!) The splash pad has several tables and benches around it as well as some shady trees for a blanket. The snail was a hit amongst my kids as their favourite water feature. Other than the pond of course!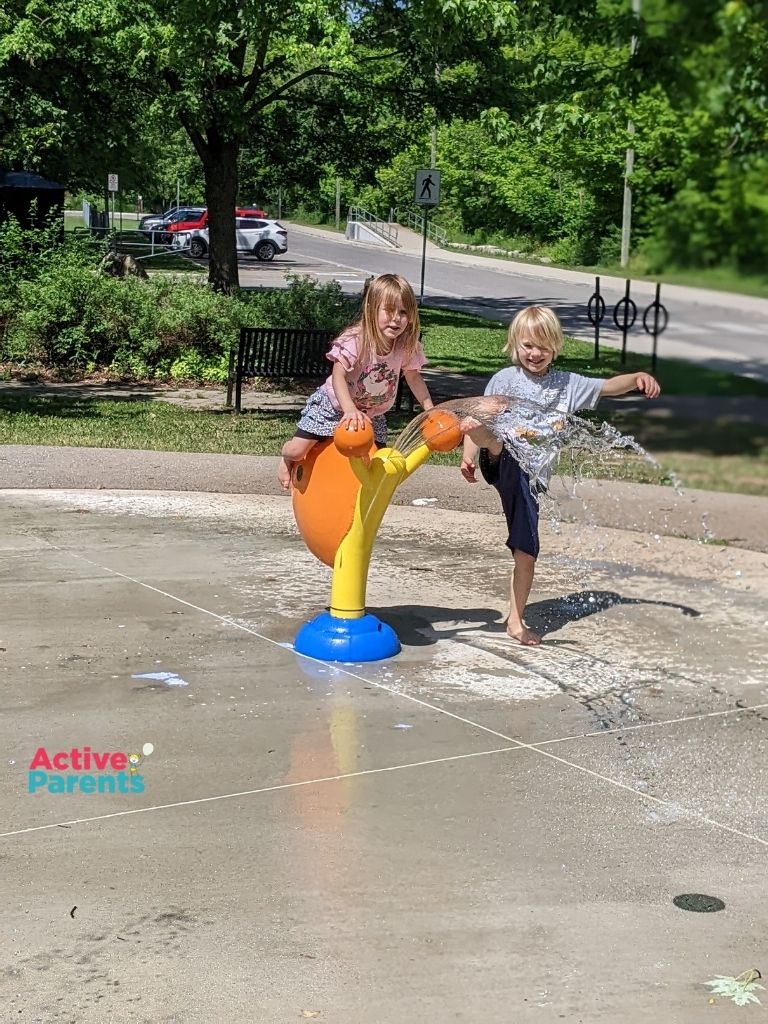 Walk the Mill Pond Loop at Rotary Park
Mill Pond is a beautiful short loop trail. Loops are the best with young kids as I find mine at least do not like the idea of backtracking. The trails are shaded by massive trees and water on either side of some of it. There is a dam at the back that has huge rocks the older kids can cross in the summer, and the water is shallow enough on one side to get your feet wet. We have spotted all sorts of wildlife and some people even go fishing. They host a fishing derby each year where they stock the pond.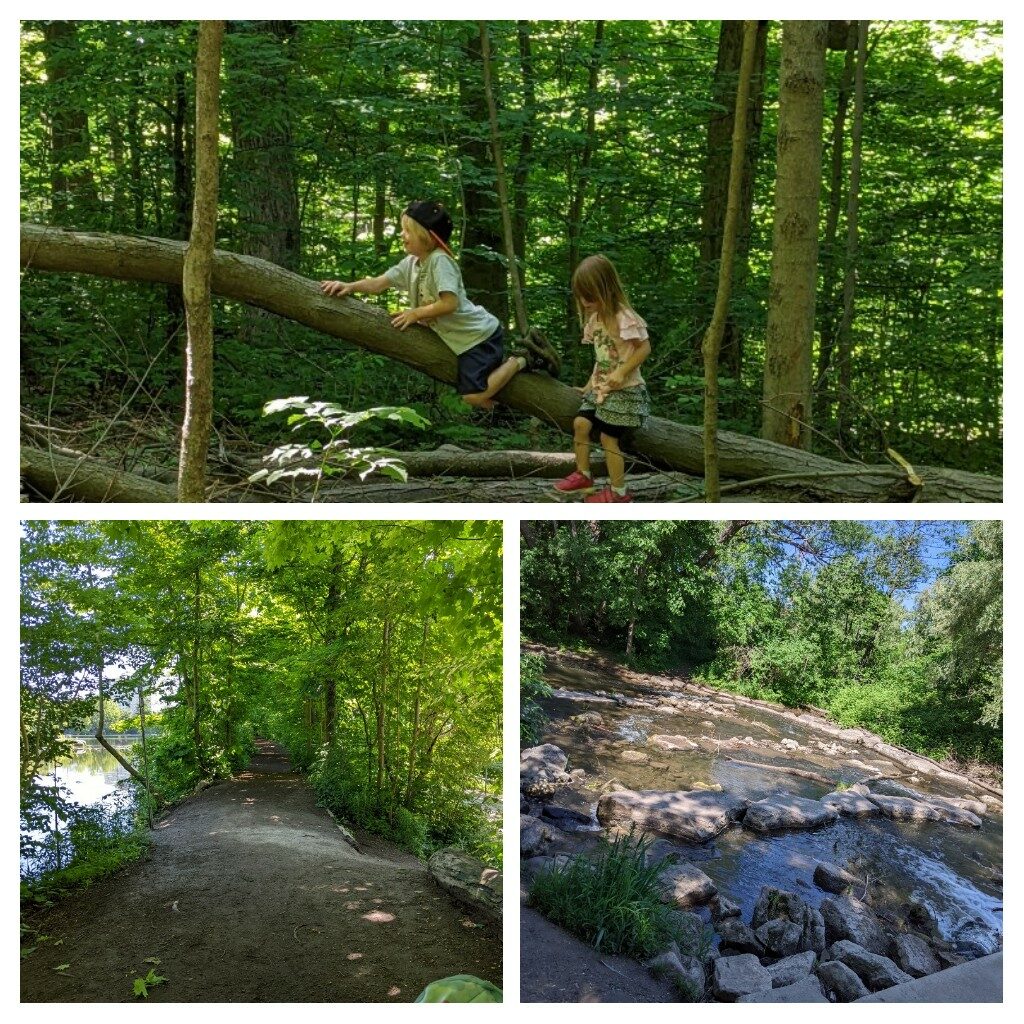 In Wintertime, Mill Pond is an ice rink. It is kept in great condition by staff but not supervised. A great place to play a local game of hockey or teach your kids how to skate. 
The best part is downtown Milton is just a short walk away. There are so many great places to eat and get some amazing desserts. Rotary Park is definitely worth a visit! 
Tips For Your Visit
Registration for swimming is not required but recommended to guarantee a spot
Bring bug spray for the pond walk 
There are outhouses in the spring-fall 
No water bottle refill station so bring lots to stay hydrated 
The trail around the pong is not stroller or wheelchair friendly.
Rotary Park is located at 100 Garden Lane in Milton Ontario.
More Ideas For Family Fun
We have visited hundreds of places and written about them to help you find the very best destination for your next day trip or outing. We love sharing indoor play places, playgrounds that go above and beyond, and more! Here are a few of our latest blogs to help you have a great weekend.