Janelle and her girls ventured off to Mountainside Park recently and were pleasantly surprised with what they found. It has everything for a variety of age groups between its two parks. That's right, TWO PARKS!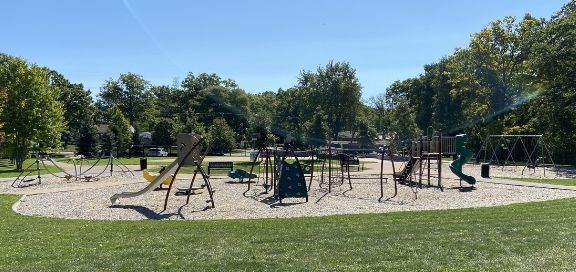 Mountainside Park in Burlington is centrally located beside Mountainside Community Centre, home to a 50m outdoor pool with diving board and a waterslide! The outdoor spray pad is a kid favourite with its water shooters, dumping/tipping buckets and mini water slides. During regular times, the Community Centre is home to a variety of City and private programs including after school clubs and hockey.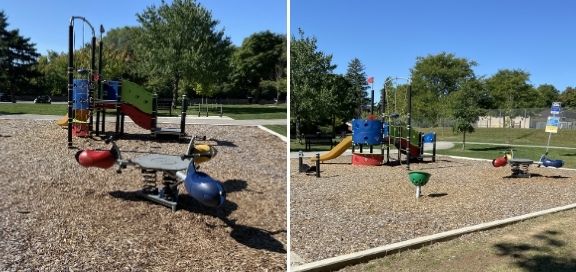 Let's call the smaller park directly in front of Mountainside Recreation Centre, Park A. Park A is a smaller park, geared towards the under 5 crowd and has mulch for its base. It is bright and colourful and full of fun for toddlers to pre-schoolers. There is a lot of shade near the forest for a quick picnic snack before you adventure off into the forest for a short family-friendly hike over to the other Mountainside Park.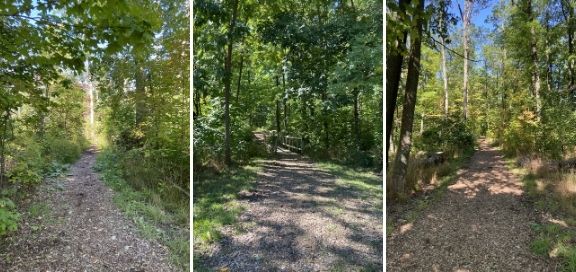 The trails in and around Mountainside Recreation Centre are perfect for all ages. Mulch ground makes it doable with a stroller. There are many different pathways throughout that intertwine, so you can make the hike a short or as long as you'd like. The forested area includes a few bridges, lots of large tree stumps and plenty of forest animals roaming about. There are some great geocaches hidden there, and this is one of our fave "starter spots" for newbies to geocaching. See the map at the bottom of this post to see an overview of the forested area as well as its relation to the two parks.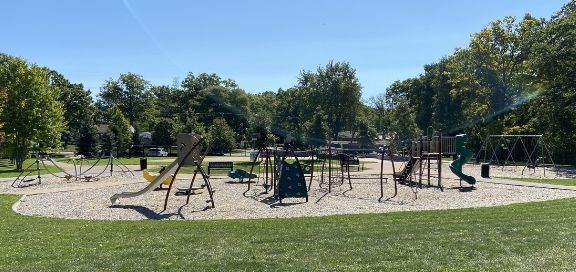 Park B, or the other Mountainside Park has plenty of entertainment as well. The playground equipment is perfect for your adventurous toddlers and school-aged kids. Park B has a paved path all around it, a small skate park, a playground, one basketball net as well as a ton of green space.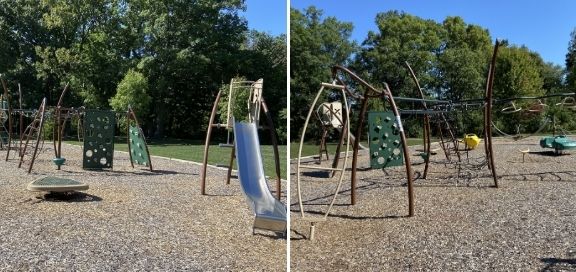 Mountainside Park is home to a playground designed for adventurous kids, it has so many unique features. Some that I don't even know what to call them! There's something here for everyone from swings, to steep slides to monkey bars and more!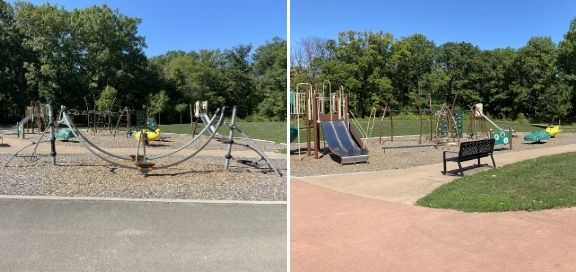 You can easily spend a few hours between these parks and the forested area and still not feel ready to go home yet. We definitely recommend checking out these parks.
Mountainside Park A Amenities:
Plenty of free parking
2 benches
Shade from the nearby forest
Small hiking trails connecting the two parks
Small playground with mulch as its base

Side-by-side slides – perfect for a race
Small rope climber
Triple bouncer to get those wiggles out
3 regular swings and 1 baby swings
Mountainside Park B Amenities:
4 parking spots
4 benches
Shade from the forested area all around it.
Small hiking trails connecting the two park
Skate park
Basketball net
Short paved path
Playground with mulch as its base

4 regular swings, 1 baby swing and 1 accessibility swing
3 tall steep straights slides and a spiral slide
Balance beam
Wobble board
Triple bouncer
Monkey bars
Rope climber
Wobbly car & place
Unknown Contraption
Mountainside Park is located at 2205 Mount Forest Drive in Burlington.