If you're looking for a park that has it all, Nelson Park in Burlington is where you want to be! Read on to find out why this park sees us at least once a week when the weather is good.
Nelson Pool and Splash Pad
Located centrally in the south Burlington area this park and pool combination truly has something for everyone, during every season. Nelson is Burlington's most recently renovated pool and it's beautiful. The pool is huge (50 metres long!) and clean, and offers diving boards, diving platforms, small dumping buckets in the gradual-entry shallow end and an awesome rock-climbing wall twill hopefully be back for 2023.
There are Muskoka chairs and permanent umbrellas along three sides of the pool and shady trees provide some relief from the sun on a hot day. The renovations included adding a variety of great water amenities such as:
a gradual entry shallow end (not just stairs)
small "dumping buckets" in the shallow end
3 depths of water: very shallow, medium shallow and of course the deep end
a rock-climbing wall in the deep end
an awesome splash pad, fenced off from the large pool that includes

a large dumping bucket
misters
sprinklers
a small playground with slide
The pool and attached splash pad make Nelson a destination perfect for any age.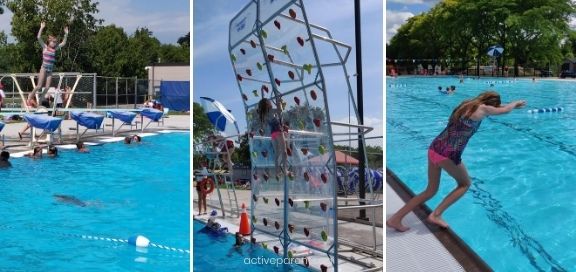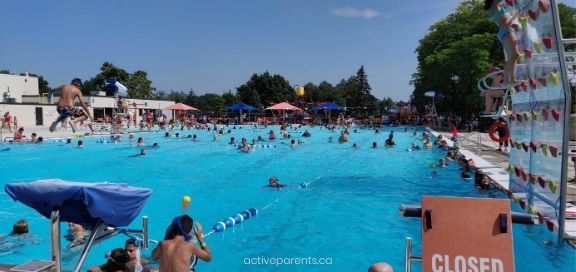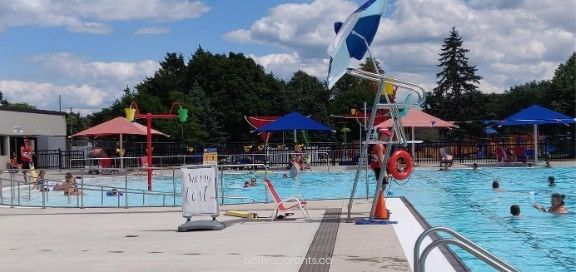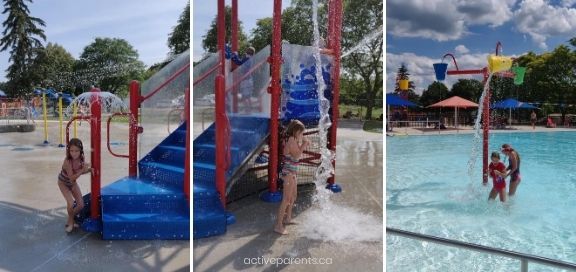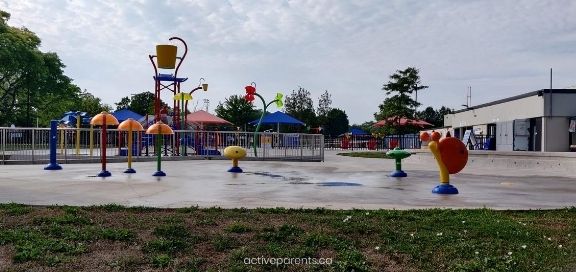 A Great Playground
The playground has two big swings three baby swings and a special needs swing. The kids will love the four slides and various climbing apparatuses. Nelson Park playground has a circus vibe to it, so kids flock to its bright colours. For parents, there are a few benches and lots of shady trees. The playground surface is rubberized in parts and small rocks for the remaining.
The parking lot is shared with the community centre, so there's lots of free parking, and being on New Street, there is easy access to Burlington Transit.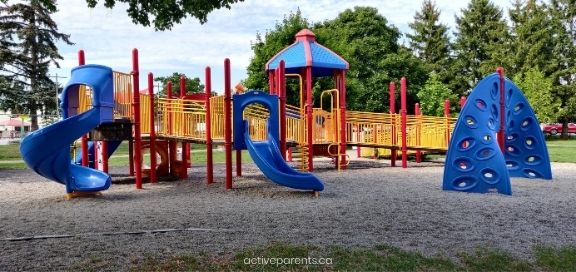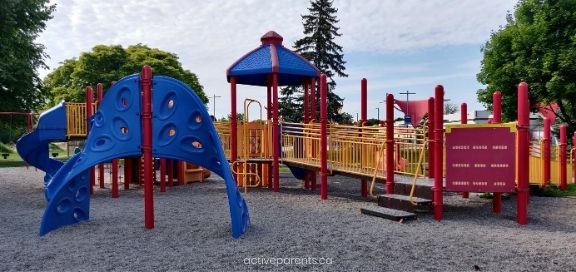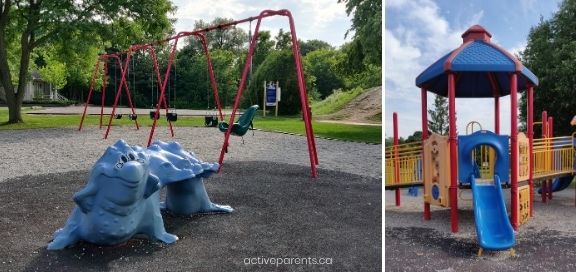 Nelson Park Has a Skate Park, Too!
The skate park is long and thin, perfect for kids just learning and ones who want to add a few tricks to their repertoire. There's no shade at the skatepark, but some shade-giving trees around.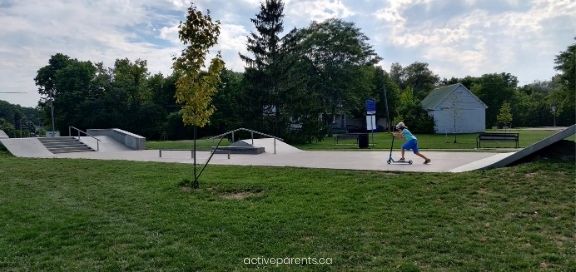 Did I Mention the Dirt Jumps?!
The dirt jumps at Nelson Park were only installed a few years ago and they are the cherry on top if you ask my kids. My adventurous 10-year-old made it through with some strong peddling, but the signage posted does recommend adult supervision for kids under the age of 10. Remember your safety gear for this one.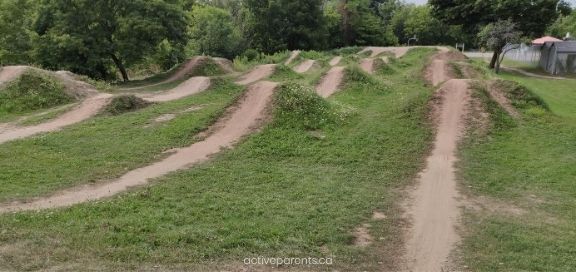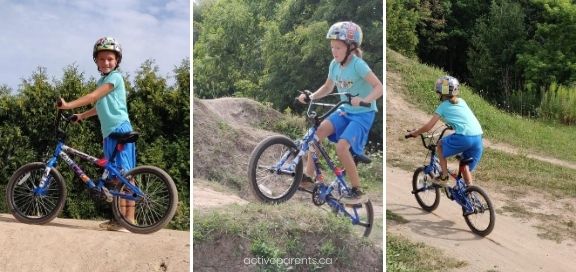 A Few Tips for Your Visit
Bring a chair if you have one, there are only a couple of benches, and they were used when we were there
Not a ton of shade, so SPF yourself up
Make a day of it! Swim, then play at the park while you dry off
Check Out These Parks, Too!
Maple Park in Burlington has a fenced playground and one of the cities best skate parks
Take a short drive to Waterdown Memorial Park for a huge skate park, a large playground and a splash pad
Oakville's Coronation Park has the area's best splash pad (as voted on by my kids)
More Ideas For Family Fun
We've been to so many cool places, and we've made it our mission to share all the fabulous locations we find with you. Whether you're planning a day trip or looking for the best playgrounds, we've got your back. We are all about discovering the most amazing indoor play areas, farms and animal experiences, and a whole bunch of other visit-worthy local attractions. Check out our latest blog posts below to make sure you have an absolutely epic weekend!