There is another day off school coming up and if you need a cheat sheet for PA Day activities, you have come to the right place. We've put together a couple of dozen ideas for indoor activities, free things to do and outdoor PD Day activities that will keep your kids busy.
Indoor PA Day Activities
Score huge parent points when you take the kids to an indoor water park for the day. This list of local spots will help you pick the best one.
Check out a Burlington indoor play centre, or trampoline park or better yet, visit one that's further afield in Hamilton and Niagara and your kids will think you've discovered a fantastic new land!
There are indoor sports for every skill level – bowling, batting cages, laser tag, and rock climbing to name a few! We have a huge list of facilities in the area, whatever your athlete wants to try!
Turn the tables on the weather this PD Day, and let the kids decide if they want to go for a swim or an indoor skate. Find the times here for Burlington, Oakville, Hamilton, and Milton.
Dreaming of a tropical getaway? The warm temperatures, fluttering butterflies, and even a waterfall at the Cambridge Butterfly Conservatory will make you think you've taken a trip to a sunny destination!
Get creative at one of the area's studios – whether pottery painting, making things with clay or both!
Indoor PA Day Activities For The Big Kids
Work your skills at freeing yourselves from an Escape Room. We've got the lowdown on locations in Kitchener/Waterloo, Cambridge, and Guelph with kid-friendly storylines, too!
Golf isn't just for the good weather when you head to Putting Edge in Oakville. The glow-in-the-dark surroundings are fun for all ages.
Thinking of going to the movies? Check out Cinestarz and Film.ca for more budget-friendly outings – the bonus is there's more money for popcorn!!
There are tons of museums and galleries in our area that are not only educational but have lots of creative ways to get involved and have fun. One of our favourites is to visit the Bruegel-Bosch bus at the Art Gallery of Hamilton or go back in time for a historical visit to Dundurn Castle.
We've got 5 great tips for visiting the Canadian Warplane Heritage Museum – and bonus it's next to the airport, so you can spend some time watching the planes!
Bored of the same old games? Try new ones at Board Game Cafes in Hamilton like Never Board Games or Mancala Monk.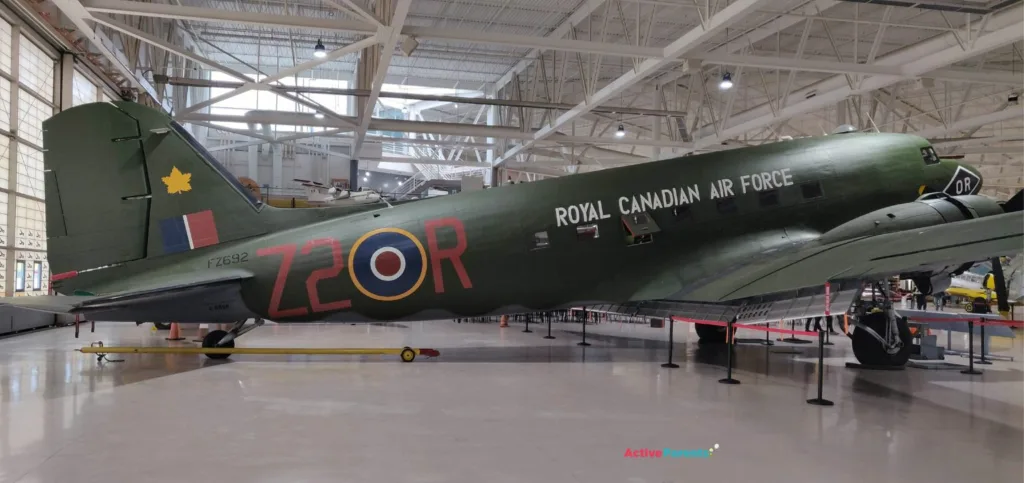 Outdoor PD Day Activities
A visit with animals is always a top-notch PA Day activity. We are so lucky to have so many places to see zoo animals, farm animals, and wild animals close by. You check them out at Brantford Zoo, Triple C Farm, and Bronte Creek Provincial Park. Feel like making a full day out of it? Check out our reviews of more farms, parks, and sanctuaries in the area.
Have you explored all of the Royal Botanic Gardens properties? The Rock Garden is amazing at tulip time, or take a hike at Cherry Hill.
Hike the Hide and Seek trail at Crawford Lake – the giant wooden sculptures are fun to find while you learn more about species at risk. Mountsberg Conservation Area is one of our favourites – with birds of prey, farm animals, trails, and a lake there are tons to do whatever the weather.
Make a splash by taking your kids to one of the local outdoor waterparks. The perfect answer when you need an exhilarating PD Day activity.
Ski hills can get crowded so maybe try tubing or cross-country skiing!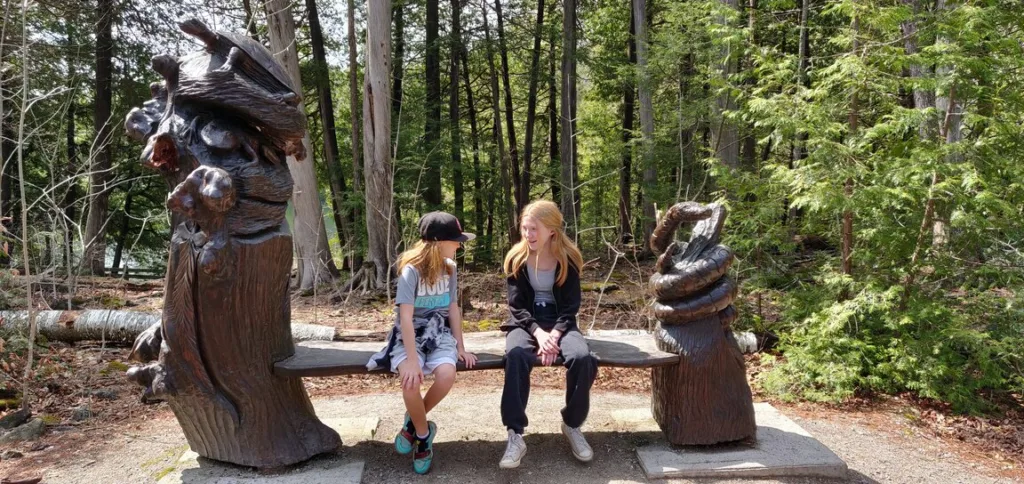 Free Things to Do on A PA Day
If waterparks are a bit too much for your littles, check out our splash pad guides to Burlington, Hamilton, and Oakville. Discover pirates, crowns, elephants and more! We love free things to do on a PA Day!
Dress for the weather and play at a new (to you) park. We love this one in Burlington, and this one is just a short drive away. Check out our searchable parks directory – plug in the features that are important to you and find your new favourite playground.
Walk your neighbourhood and find a Little Free Library. Their take-a-book leave-a-book philosophy makes finding a new read for kids or adults easy-peasy! We love educational PA Day activities.
Go on a real-life treasure hunt by geocaching! Using the free app and GPS tracking you can find hidden containers in lots of public spaces. Some caches are tiny, some are big enough to leave small treasures in – whatever you do, don't forget a pencil – you'll want to sign the log and let other people know you were there!
Ignore the world and stay home for the PA Day. Fresh baked cookies, snuggles, and a movie sounds delightful, doesn't it?
Want a wheelie good time? Check out our guide to the best skateboard and scooter parks in Burlington, Hamilton, and Oakville
Visit the library. It's way more than just book-borrowing. Movies, video games, activity kits, plus a ton of other activities are all waiting for you!
If sledding is more your speed find the City approved hills in Burlington and Hamilton here.
Download our Winter Bingo, Scavenger Hunt, or Indoor Scavenger Hunt cards and see how many activities you can do – maybe the winner can choose a treat from our 'Shop Local' list!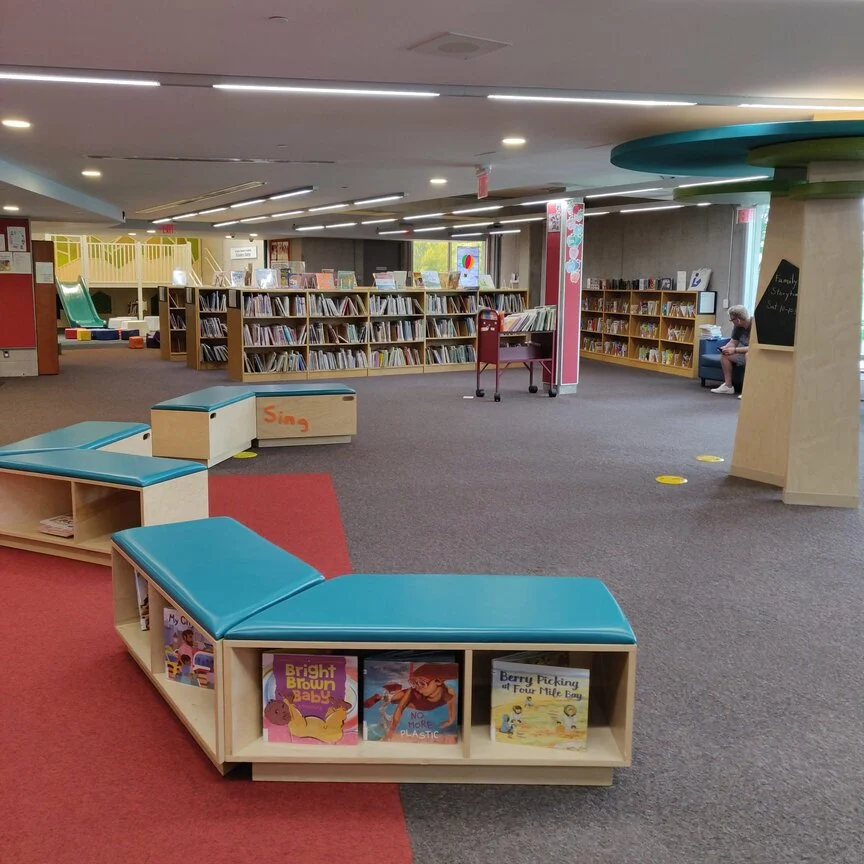 Shop Local
Eat out at one of the restaurants that offer a Kids Eat Free option throughout the week.
Do-nut forget a sweet treat! We asked and you voted for the best doughnut shops in the area. Why not plan a doughnut crawl and tasting session?
Embrace the great weather and support one of the local ice cream shops on our list of Hot Spots for Cool Treats. What a delicious PA Day activity!
Have you eaten the best fries in town yet? We took a very scientific poll and here are the results. You're welcome.
There you have it! We've provided some inspiration for great things to do on a PA Day, but if you have other plans share them with us! Whatever you do, enjoy the day with the family.
Read Our Latest Articles
Catch up on what we've been covering! Here are our latest reads, hot off the presses just for you. Never miss an article when you subscribe to our weekly newsletter filled with kid-friendly fun and events.