Fresh snow is on the ground and you need a toboggan hill in Burlington and Hamilton! Tobogganing is one of the easiest and cheapest ways to keep kids entertained on a snowy day. Grab a sled and your snow pants and use our list to find a tobogganing hill in Hamilton and Burlington to visit. We like to choose a new hill each time so we can compare and see which is the best!
These hills are the city-approved sledding hills in Burlington and Hamilton because the city inspected these locations and determined them to be safest for sledding. Always watch the hills and make sure they're clear to sled on.
Tobogganing is a Canadian winter past-time that almost makes our frigid winters bearable! While it may look like any hill will work, choose a tobogganing hill that is city-approved as you know it's a safer alternative to other hills. Get bundled up, and bring your helmets, because you can never be too safe. Here are the designated toboggan hills in Burlington and Hamilton.
City-Approved Toboggan Hills in Burlington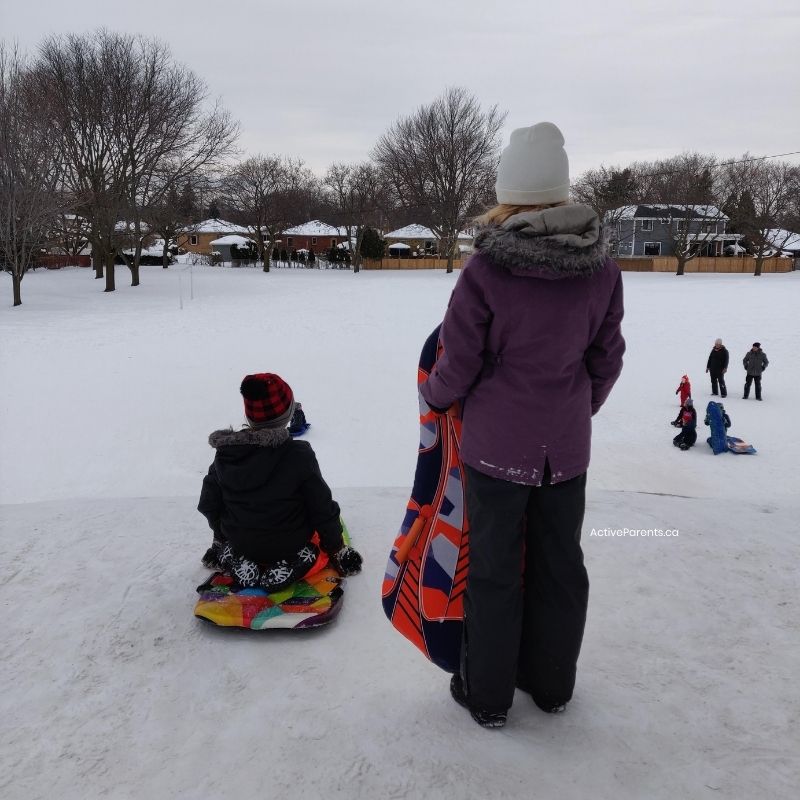 City-Approved Tobogganing Hills in Hamilton
toboggan safely
Here are a few tips to play safely while tobogganing in Burlington and Hamilton.
Toboggan during daylight hours, not when it is dark.
Toboggan when the hill is snow-covered, not when it is icy or bare.
Check the hill and make sure it is free of obstacles and toboggan in the designated area.
Wear a helmet designed for winter sports.
Use a toboggan that is in good shape and has brakes and steering.
Avoid wearing scarves or any clothing that could get caught in a toboggan and cause injury.
Always sit down and face-forward on a toboggan.
Do not build jumps or other obstacles on the toboggan hill.
Walk up the side of the hill and leave the middle open for others coming down the hill.
If you fall off of your toboggan, move out of the way to avoid being hit.
Reminder, tobogganing is an activity that you do at your own risk. The city is not responsible for any personal injury or damage to your personal items. Find more info here.
More Ideas For Family Fun
We have visited hundreds of places and written about them to help you find the very best destination for your next day trip or outing. We love sharing indoor play places, playgrounds that go above and beyond, and more! Here are a few of our latest blogs to help you have a great weekend.