We have some fabulous locations for snow tubing in Ontario thanks to our cold winters. It's definitely one of the positives of living in the snow belt. Lots of people ask themselves "Is there snow tubing near me?" because many of us forget that ski hills, zipline hills and the like convert easily into snow tubing hills. A perfect example of this is Chicopee snow tubing; in the summer they run an awesome zipline and in the winter a thrilling snow tube hill.
Read More:
Have you tried these cross-country skiing trails?
Grab a sled and toboggan these hills with the family.
Ice skate at one of these 23+ outdoor ice rinks nearby
Snow tubing Hills Near You
Chicopee Tube Park
Address: 1600 River Road East, Kitchener, Ontario, N2A 4K8  |    website
You saw us zipline at Chicopee this summer, and now that the snow is here, it's time for Chicopee snow tubing! This hill is one of the most popular in the area, and it's just a short drive away. Booking your visit in advance as very limited amounts of walk-up passes will be available. Bookings are in 90-minute timeslots for $34.00 per person. Kids must be at least 4 years old and 42 inches tall to tube. Kids under 12 must wear a helmet and you can bring your own or rent one at Chicopee.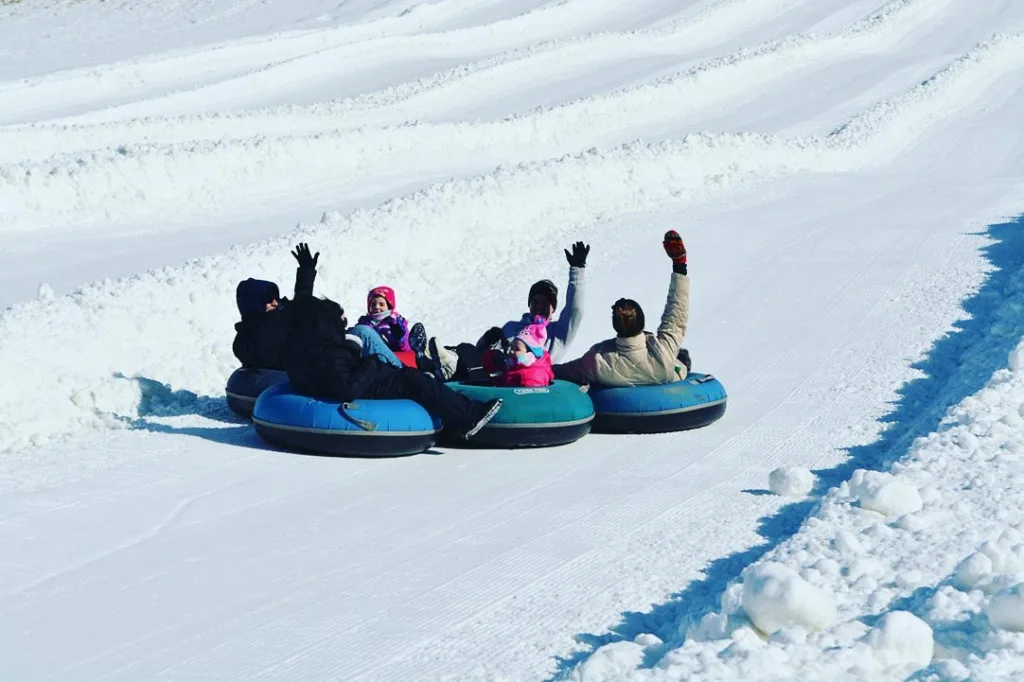 Mount Chinguacousy
Address: 9050 Bramalea Rd, Brampton, ON L6S 6G7  |   website
Looking for snow tubing near Mississauga? Our readers recommend Mount Chinguscousy. This hill is very popular for snow tubing in Brampton. Purchase your tickets at the hill in packs of 6, 12 and 18 runs starting at $15.28 for the 6 pack (2022-23 pricing). There is a minimum height requirement of 42″ and a maximum weight of 250 lbs for the snow tube hill.  Patrons are encouraged to bring their own helmets to use for tubing. Rentals are not available.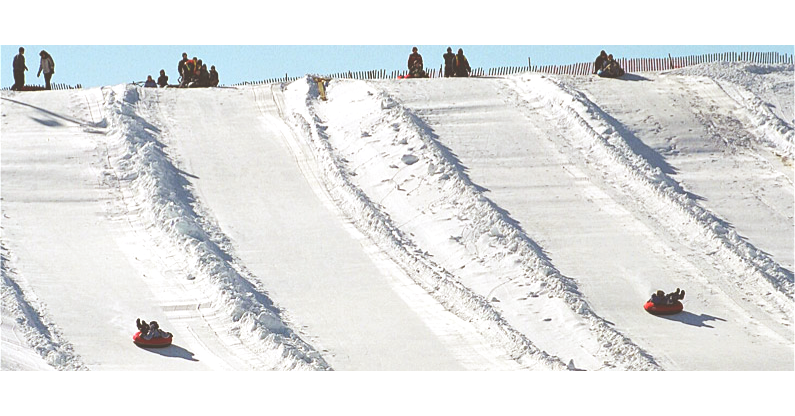 Snow Valley Tubing in Barrie
Address: 2632 Vespra Valley Rd, Minesing, ON L0L 1Y3    |    website
Barrie (Minesing) is 90 minutes from Burlington, so definitely a day trip option for families looking for winter adventure. Barrie snow tubing, skiing and skating are very popular with families and for locals. Snow Valley tubing boasts 3 lifts and 14 chutes over 10 storeys high, so book your visit in advance to avoid disappointment. Start planning your visit by pre-purchasing your tickets online here.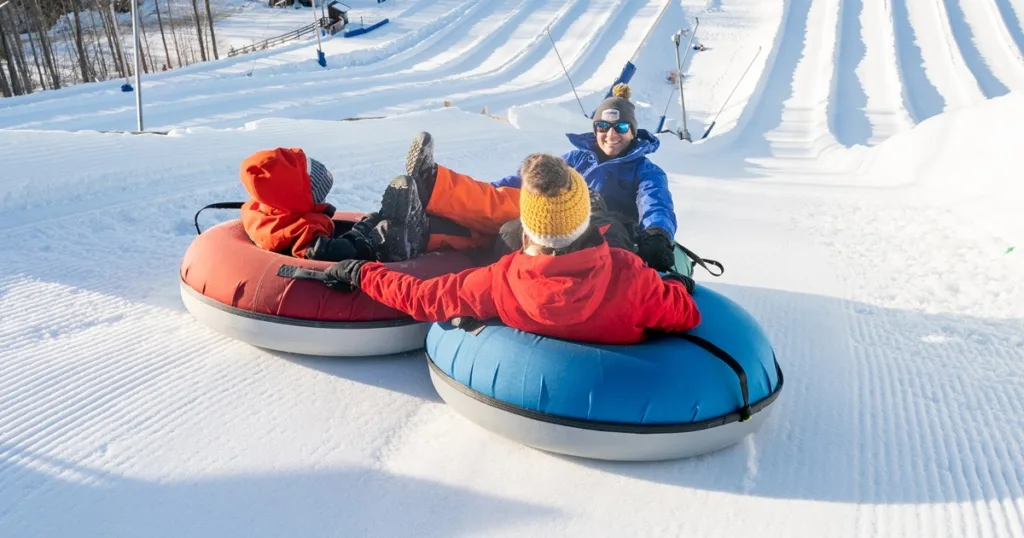 Boler Mountain
Address: 689 Griffith Street, London, Ontario | website
We loved the spring and summer action at Boler Mountain, and winter is going to be just as exciting! Boler Mountain Tube Park boasts 3 tube runs that are 10 stories high, where you can reach speeds of 70 km/hr!
Must be a minimum of 42 inches in height to ride
Helmets are mandatory and are provided
Tickets are valid for 2 hours
Tickets must start on the 1/2 hour
The number of tickets per heat is limited and some heats will sell out. The number of slides in 2 hours will vary from 4 to 8 depending on how busy it is.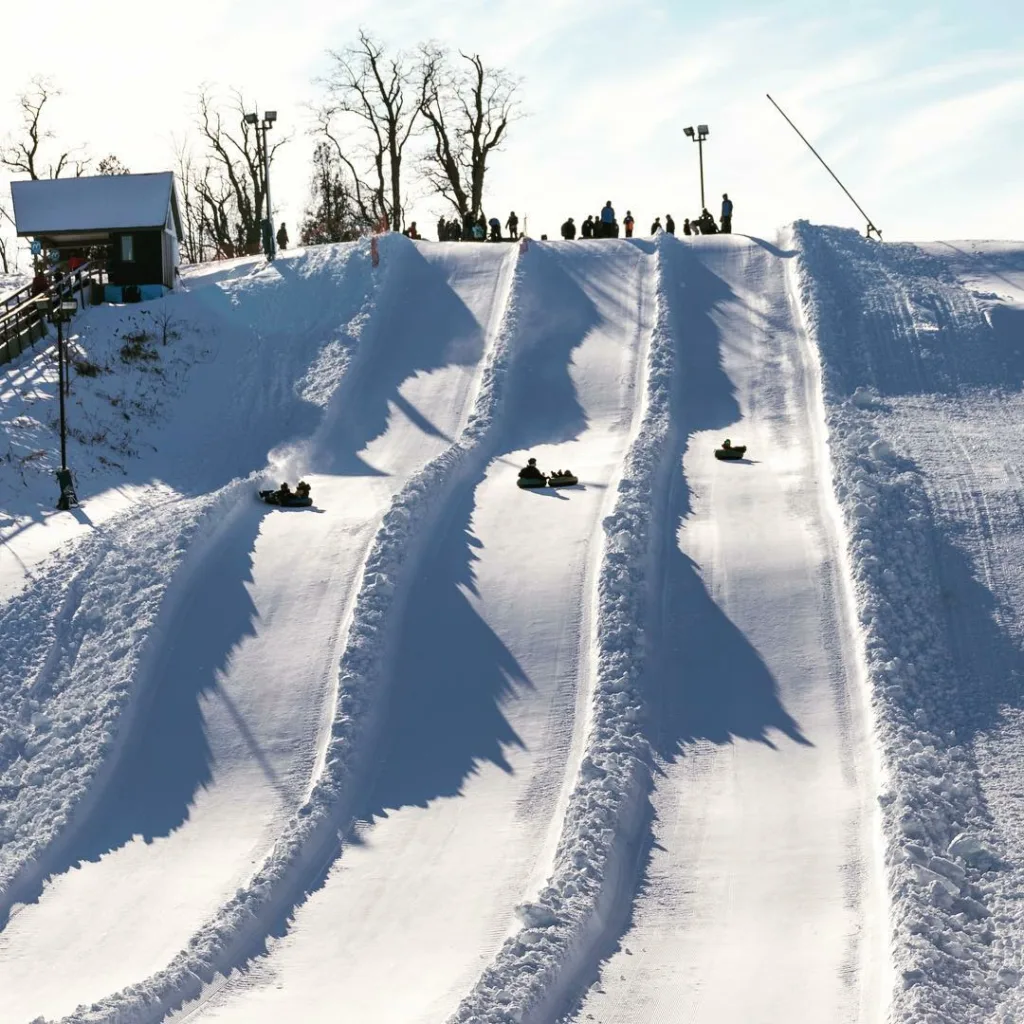 Lakeridge Snow Tubing and Ski Resort
Address: 790 Chalk Lake Rd, Uxbridge, ON L9P 1R4   |   website
Make the 120 minutes drive to Uxbridge and you will enjoy 2 hours of snow tubing for $35 per person (2022-23 pricing). All tubers need to measure at least 42″ tall. Tickets must be pre-booked before your arrival using a credit card, then you pick up and pay for your tickets upon arrival.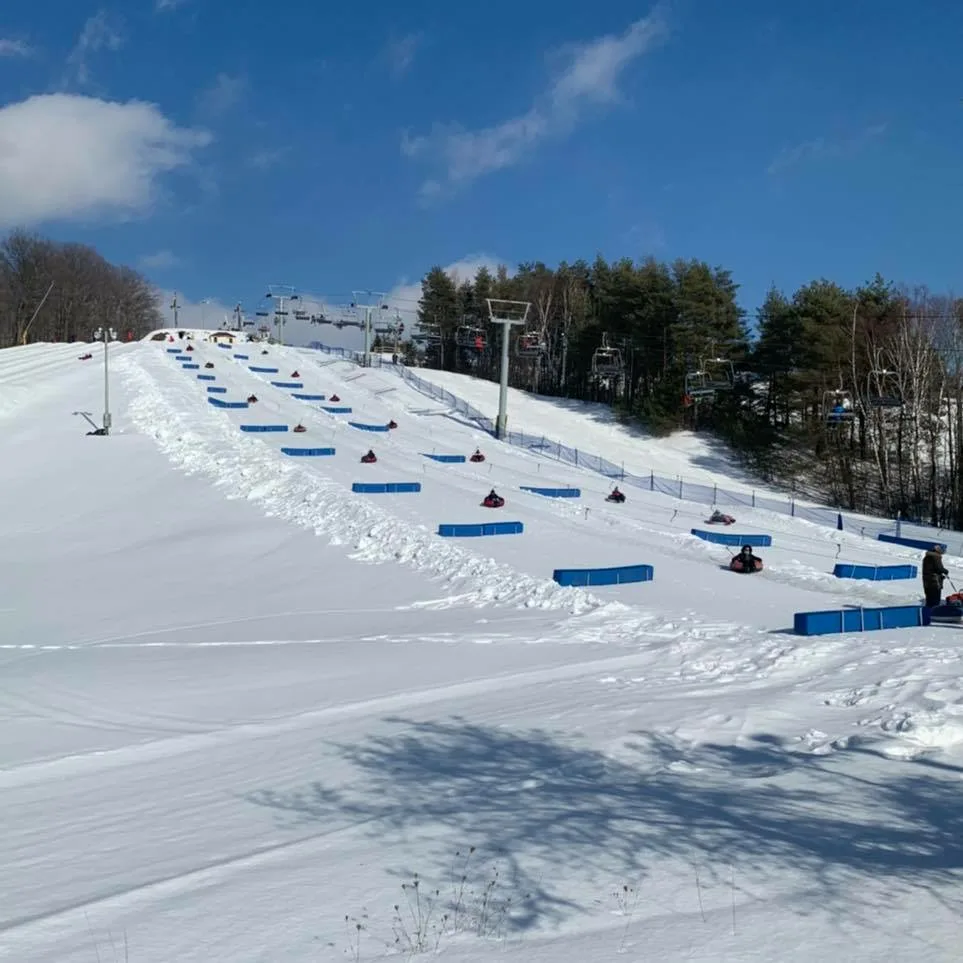 Horseshoe Valley Snow Tubing
Address: 1101 Horseshoe Valley Road West, Barrie, Ontario, L4M 4Y8 | website
Ontario's Longest Snow Tubing Hill! Get your heart pumping with the all-thrill, no-skill fun of snow tubing. Fly down the hill and then let the magic carpet whisk you back up to the top! Don't miss this must-do winter activity.
Height Requirements: 42″ (3 ft 5 in)
No age requirement as long as the height requirement is met
All riders will ride down the hill in their own tube
Proper winter footwear required
Helmets are recommended, but not mandatory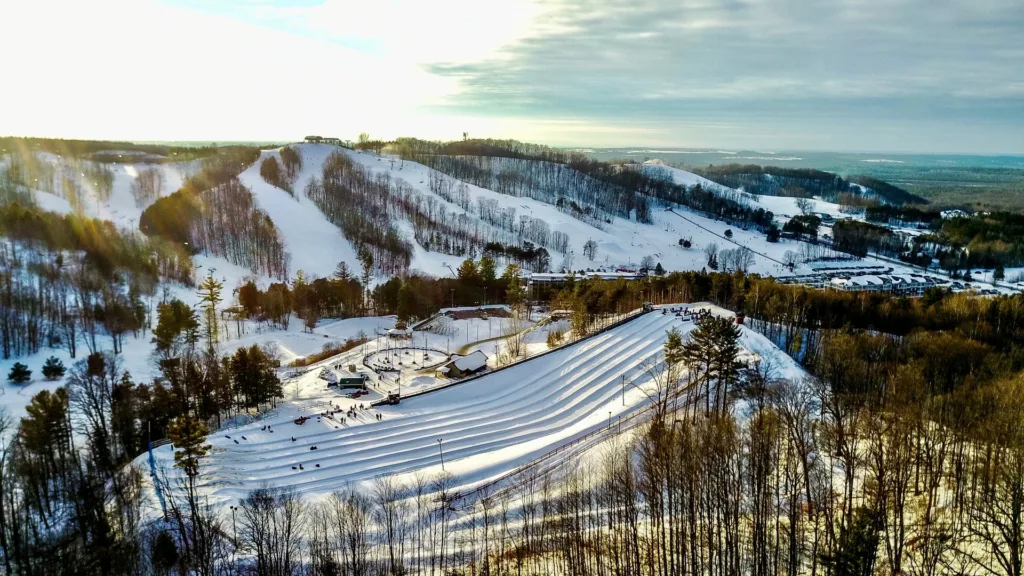 Blue Mountain
Address: 150 Jozo Weider Blvd, Unit AW1, The Blue Mountains, ON L9Y 0P7 | website
Snow tubing provides guests with a genuine downhill experience without the speed and equipment associated with skiing and snowboarding. Tubing offers old-fashioned winter fun for the entire family and gives all participants a gentle introduction to the Blue Mountain slopes.
All tubers must ride alone, including Tykes (age 4 and under)
Purchase a Play All Day pass for tubing. Tyke rates (age 4 and under) starting at $22, youth rates (ages 13-17) starting at $30 and and adult rates (18+) starting at $42.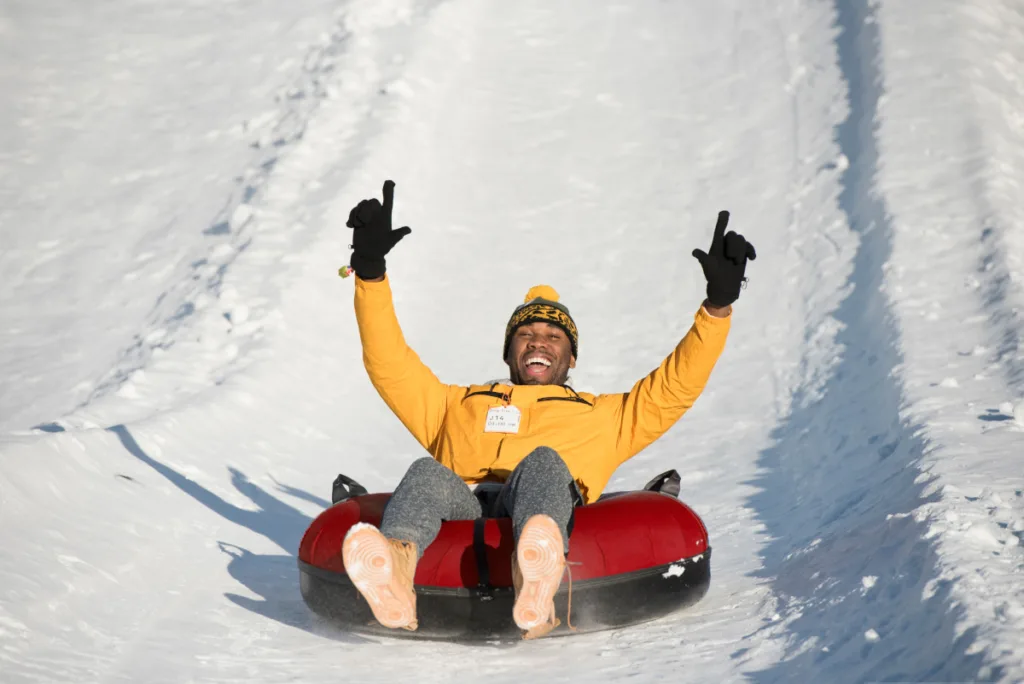 I had no idea there were so many options for snow tubing near me! Did you know?